| | |
| --- | --- |
| Thomas Mason Lightweight Blackwatch Plaid Tuxedo Front Plain | |
Thomas Mason Lightweight Blackwatch Plaid Tuxedo Front Plain
$140
Free Shipping on orders over $200.
Shirt Design Details
President Spread II Collar

Our 2016 update to the President Spread. A modern spread collar of traditional proportions.

Rounded French Cuff

The go-to choice for tuxedo shirts. This crisp, fused cuff has a rounded corner on the back edge nearest to the wrist. Requires cufflinks.

Tuxedo Front Plain

Similar to the French front in look, but the top four buttons are removable in order to be replaced with tuxedo studs. Meant for formalwear only.

Black Buttons

Made from strong, black resin, these go well with dark navy or black shirt designs.

Thomas Mason Lightweight Blackwatch Plaid Fabric
Change any of these shirt details, add a monogram, chest pocket, and more by customizing this shirt.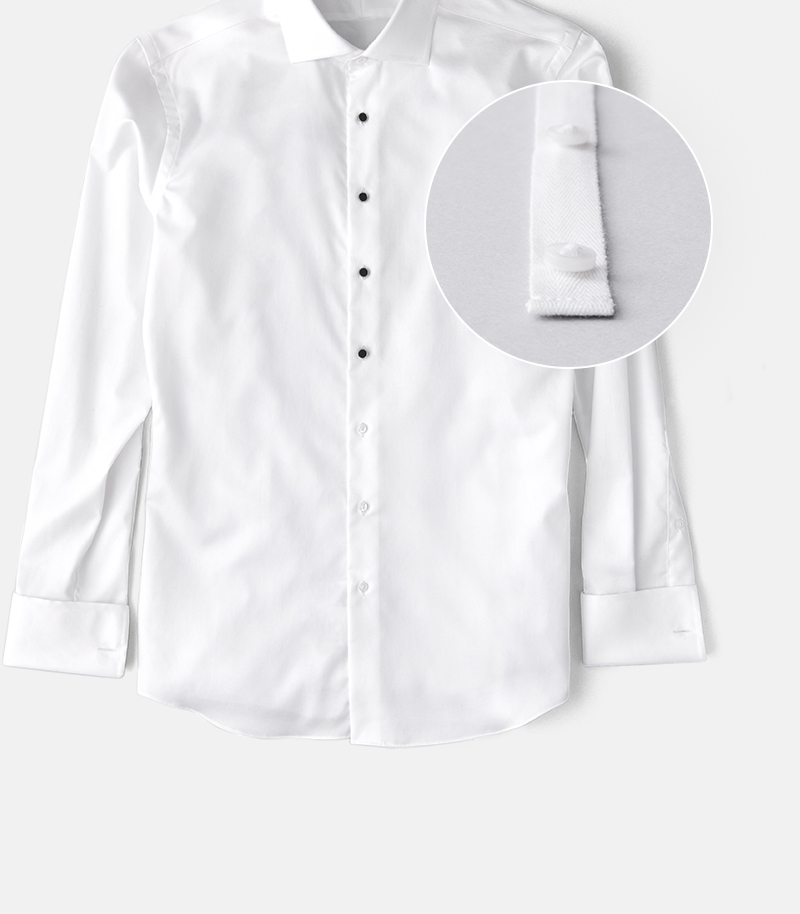 Plain Tuxedo Front Details
The Plain Tuxedo Front is identical to a French Front, with the exception that the top four buttons can be removed and substituted with tuxedo studs, sold separately.

The removable buttons are smaller than normal buttons, and are attached together on a strip of fabric. It is possible to wear the shirt using the removable buttons, but is not recommended.
More about Tuxedo Shirts
Customer Reviews
76 reviews. Average rating 4.64/5
Recommended by 91%.
"The color is excellent. It is a dark blackwatch with good color saturation of both the blue and green. As noted elsewhere the fabric is very very thin (lightweight); I am hopeful that it stands up over time. As well, "

steve in San Carlos, CA

"The fabric is soft and the pattern is nice and crisp, my favorite new shirt."

Tyler in New York, NY

"Thomas Mason always has great feel and deep colors, but this fabric is top notch. The feel on your skin is smooth and the color looks great. I went with the mother of pearl buttons, but one could easily go with the slate"

Michael in San Diego, CA
View more reviews
Fabric Description
A luxurious, lightweight black watch perfect with an incredibly smooth feel. While most tartans we see are made in lower thread count fabrics with a more casual vibe, this one is great for those who want to dress it up. It has a very nice crispness to it that makes it a good pick as a unique tuxedo shirt. You can always dress it down with a Soft President Spread collar and soft cuff, though. Learn more about Thomas Mason here.
Our Perfect Fit Guarantee
It's pretty simple. Try one of our shirts. We guarantee a perfect fit. We send it. You try it on. If it doesn't fit perfectly (it usually does), let us know what needs to change and return the shirt. We'll alter or remake your first shirt for free and save a new size on your profile for convenient reordering.