We make it easy for men to buy
dress shirts that fit perfectly.
Our Story
The idea was simple: make it easy for men to buy custom dress shirts.
In October 2008 we launched the first version of propercloth.com. We were not an instant success. The first two years were particularly humble. We didn't come from fashion. We didn't have fancy investors. We made a lot of mistakes. Our manufacturing was slow. Our selection was limited. Our website was confusing. And then there was the financial crisis...
But we stuck with it. Listened to our customers. Improved our systems. Became experts on shirts and fabrics. Photography and user interface. Supply chain and logistics. Our growth has been strong and steady, but we've kept our team small. We do all of our design and customer service from our showroom in Soho, New York.
Considering fabrics, fit, service, speed and just overall value, we're way ahead. But that's not enough. We want to be the best that it's possible to be. So, we're always searching for better materials. Analyzing our customer service. Expanding our fit options. Refining our UX.
Technology is what enables us to streamline operations, reduce errors and deliver a better value. Technology helps power new and delightful customer experiences. We're pioneers in 3D visualization, statistical size regression and personalized ecommerce. We look at the future of retail and see massive opportunities.
We aspire to build a leading menswear brand. This is about more than technical metrics. Style matters. Taste matters. The people that help you with your purchase matter. It's the feeling you get when you touch our products or come to our showroom or browse our site. Our brand is driven by who we are. As designers, entrepreneurs, and as friends living and working in New York City. We stand behind our products. We take pride in what we do. We hope you will too.
How It Works
Order Online

Use any of our methods to find your perfect size. Then, easily place your order on our site.

Custom Made

Each shirt is custom made and hand-assembled specifically for you.

Quick Delivery

Your shirt is shipped and arrives at your door in about two weeks.

Guaranteed Fit

If it's not a perfect fit, we'll alter or remake your first shirt for free – guaranteed.
Fabrics
It all starts with the fabric. Over the years we've become experts in dress shirt fabrics, working directly with some of the world's greatest fabric mills across Europe, Japan and China. We're also endlessly digging through the archives of Thomas Mason, Canclini, Albini and others searching for the perfect styles.
Increasingly, we've been designing our own custom fabrics, selecting the precise colors, patterns and construction to achieve the ideal look, comfort and performance. In all categories, we carry a wide range of fabric qualities from relatively basic constructions up to luxurious 120s two-ply sea-island cotton.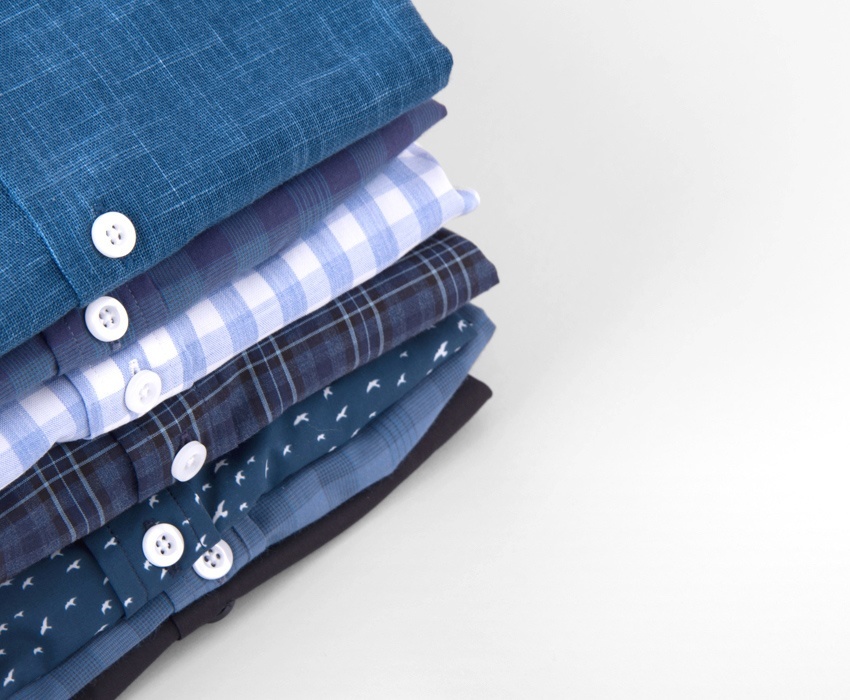 Precise, Quality Construction
Our construction methods combine sophisticated technology with traditional shirt making methods. We use computer generated patterns and robotic fabric cutters that are fast and reliable, with assembly by experienced tailors who carefully hand-sew shirts with care to help achieve a perfect fit every time – guaranteed.
Our collars come in a range of constructions, from crisp, fused business collars to soft, casual, unfused collars. Side seams are always reinforced with gussets for increased durability. We employ split yokes by default with beautiful pattern matching behind the collar. Brass collar stays are standard.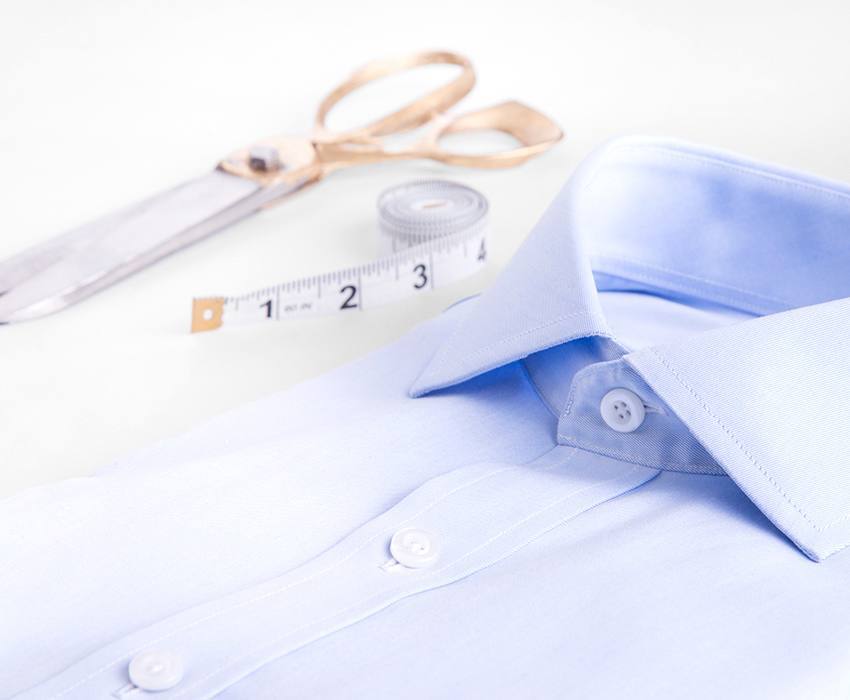 Custom Fit
If you're particular about how a shirt fits, you're in good company. Our custom size options are incredibly comprehensive for any body type. We have a powerful custom sizes interface, combined with clear, helpful advice and videos to give you full control of your sizing and fit.
We've also pioneered new size technologies such as Smart Sizes, which leverages powerful statistical algorithms and our large dataset of sizes to predict your perfect fit. And it's our perfect fit guarantee, complimentary alterations and expert customer service that help ensure you end up with shirts that fit exactly right.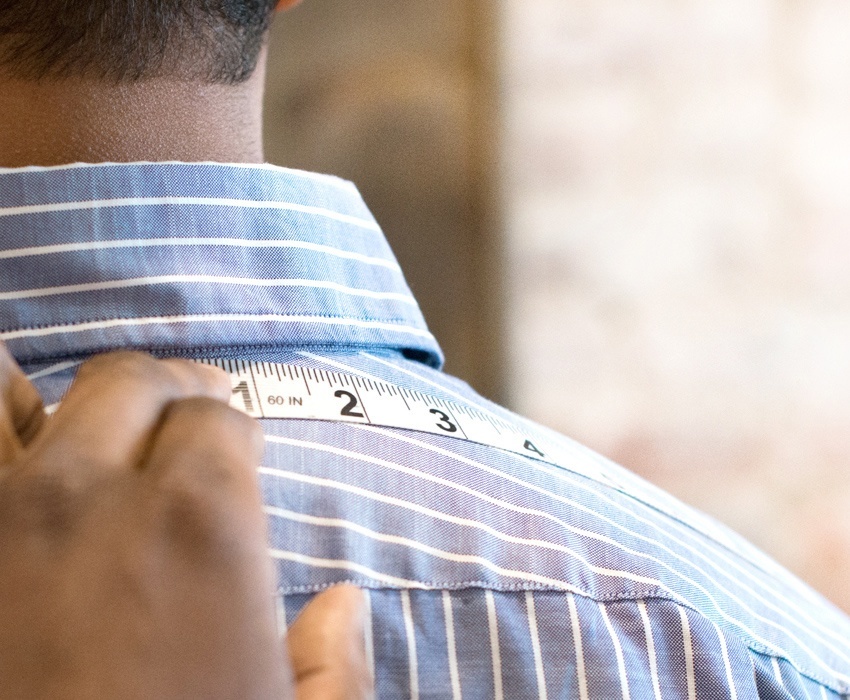 Personal Style
Sometimes it's about being unique and standing out. Sometimes it's about dialing in your own version of a classic look. Regardless, we provide the options to get you there.
With over 600 fabrics, and new ones rotating in every week, we cover a wide range of styles — not to mention, more than 20 collar, cuff, and button styles to help you tailor your look. Finish it off with a collar or cuff accent and personalized monogram.
You can design your own shirt from scratch or customize one of our featured designs to get exactly the look you're going for.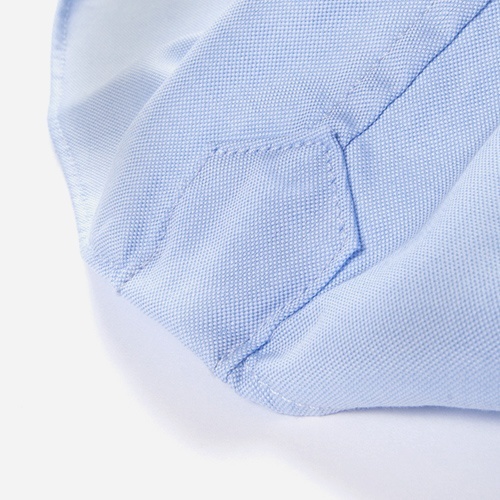 Specific Shirt Details & Options
Reinforced shirt tail gussets
Rear pleats and rear darts optional
Minimum of 16 stitches per inch
Small button on sleeve placket
Split yoke cut on the fabric bias (one piece yoke optional)
Mother of Pearl or durable resin buttons optional
Buttons securely attached with heat-sealed shank.
Fused as well as soft unfused collars and cuffs optional
Shallow 2" curved shirt tails
Standard 1 1/4" front placket (other front styles optional)
First button 2 7/8" below the collar band (adjustable at custom size)
Spare buttons and collar stays provided
Removable brass collar stays standard