Blue University Stripe Heavy Oxford Soft Ivy Button Down
$90
Select Shirt Size
Collar
i
Don't worry about shrinkage — we'll account for that automatically based on fabric choice. You can fine-tune your collar size down to 0.1" or adjust any of the 16 other customizable size parameters when you create a custom size.
Sleeve
i
Sleeve length is measured from the center back to the edge of the shoulder and down to the end of the cuff. Fine-tune your sleeve length down to 0.1" or adjust any of the 16 other customizable size parameters when you create a custom size.
Fit
i
Slim Fit will be nicely fitted, yet comfortable. Super Slim Fit is for those that prefer a particularly trim fit and are not bothered by slight tightness or limited range of motion. Classic Fit is a more generous, roomy fit that won't hug the body closely.
Shirt Style Details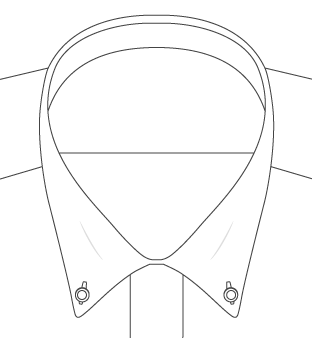 Soft Ivy Button Down Collar
Collar roll. And plenty of it. This decidedly casual collar style is more expressive than most modern button down collars.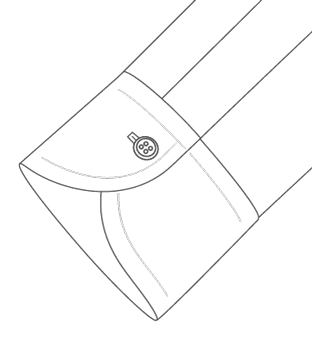 Soft Long One Button Cuff
The same shape as our long one button barrel, but without the stiff fusing. Soft, comfortable, and a good match for casual style shirts.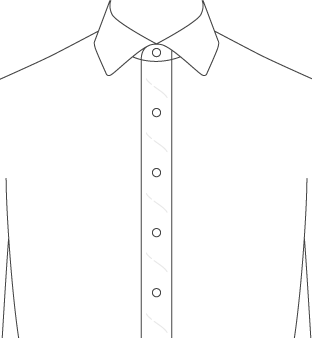 Soft Front Placket, No Pocket
Great for casual shirts. A soft, unfused front placket makes for a relaxed look.
Buttons

Roma Buttons i

A beautiful off-white faux mother-of-pearl button. Made from a high quality plastic resin. Very durable.

Bottom Hem

Rounded i

A 2" curved front and back shirttail hem with reinforced side seam gussets.
Change any of these shirt details, add a monogram, chest pocket, and more by customizing this shirt.
Fabric Info
Fabric Description
Every man should own an oxford shirt. Comfortable, hard-wearing, and incredibly versatile, oxfords are an absolute wardrobe staple. Our heavy oxfords have just the right amount of heft to them—they're woven with a 40/1 x 21/2 construction for a fabric that feels substantial, but not overly thick. They're also highly resilient, meaning they'll last for years and only get better the more they're washed and worn. You can dress an oxford up under a sport coat or dress it down with your favorite pair of jeans. It's one of the few fabrics that can just as easily be worn with a tie as it can be worn rumpled and untucked. Our blue university stripe heavy oxford is is as timeless and easy to wear as it gets. Try it with our Soft Ivy Button Down Collar, Soft Front Placket, and a Soft One-Button Cuff for a classic oxford cloth button down (OCBD), or go with one of our soft spread collars for more of a sprezzy Italian vibe.
Color & Pattern

Performance
4.72 / 5 Average rating
Recommended by 97%.
"Great Oxford with the right amount of weight. Refined and durable."

Brad in Winnipeg, MB

"Classic university Oxford with comfort."

Alexander in Edgeworth, PA

"Nice sturdy oxford cloth. The stripes aren't quite as bright a blue as they appear in the photos, which might make this fabric more appealing for more business-y settings but for me, I'd like them brighter. STill completely wearable, just 5% more conservative than I need."

Dustin in Henderson, NV

"moderately high shrinkage."

Samuel in PORTLAND, OR

"Thick fabric but maybe it will soften after a few washes. Great look."

Chris in Kenilworth, IL

"Nice heavy fabric"

Scott in Springboro, OH

"Great Oxford fabric perfect for layering."

Anthony in Long Island City, NY

"Nice pattern and good weight (not extremely heavy, but substantial)."

Jeffrey in Foster City, CA

"Feels and looks great"

Nicolas in Brooklyn, NY

"Very pleased"

John in London,

"exactly as expected. a classic ocbd style with heft. conservative enough for casual work, relaxed enough for after it."

Aaron in Brooklyn, NY

"An absolute must-have, foundational shirt. If you're just starting out, this should be one of the first three dress shirts you should buy! Looks just as good after ironing as it does straight out of the dryer. With more and more of my job being work from home, I find myself reaching for PC Heavy Oxfords more and more…, as they're the perfect comfortable-but-camera-ready shirt."

Jason in Redlands, CA

"This is shirt turned out perfect for business, it's crisp and works great with my suits."

Todd in Havana, FL

"Comfort is amazing. Ideal for a cold winter day. The shirt also dresses very well with a tie."

Soufian in ASTORIA, NY

"Strong and keeps colour bright. Minimal wear. Looks great"

Bart in Oegstgeest, Zuid Holland

"Love the way the shirt looks. The fabric is very thick and a little rough against the skin and neck. We'll see how it softens up after several wash and wear cycles. However, due to the thickness of the fabric, I do expect it to last a long time before it wears out."

Paul in Chino Hills, CA

"old school oxford!"

bob in Cary, NC

"Another great Oxford shirt fabric. The blue is a little more washed out in person vs. the photos so keep that in mind - I personally like it but worth noting. Fit was spot on as always, shirt continues to soften after a few wash and wear cycles."

Sam in Sydney, New South Wales

"This pattern is a classic. The fabric dried well by hanging after a wash. The fabric of the shirt did not require an iron even being all-cotton."

Jack in New Holland, PA

"Great choice for the office"

Samuel in Brighton, MA

"didn't fit right. The stripes were a lot wider than i thought. The fabric is very wrinkle prone"

Walter in COLUMBIA, SC

"I've ordered heavy oxford in the past and idk if anything has changed, but this just feels smoother and better all around!"

Robert in Atlanta, GA

"Perfect fabric for an oxford style shirt. Does wrinkle, but a great value for the fabric."

Robert in Tiburon, CA

"Loved it."

Jason in ESSENDON, VIC

"Great cut and accurate view of fabric"

Ryan in Huntersville, NC

"Perfect OCBD shirt. Love the weight of material and pattern. Only thing I would note is the color is a touch more grey ish shad of blue than shown in the picture. As always, shirt fit was perfect."

Scott in EDINA, MN

"The perfect oxford for a spread collar dress shirt. The width of the stripes is ideal. Great fabric and really good value."

Brandon in Birmingham, AL

"A classic Oxford shirt with more heft than I was expecting."

Marco in Key Biscayne, FL

"Nice and sturdy oxford"

Ben in CLEVELAND, OH

"Very nice weight with attractive stripes. Looks great with or without a tie and feels very comfortable."

Patrick in Glen Rock, NJ

"Very suitable for casual shirt where you would fold up your sleeve. The thickness is just right where you can wear in summer time."

Calvin in Hong Kong,

"A bit heavy but perfect fopr old school dressers with a desire for well crafted and Ironed shirts"

Olufemi in Toronto, ON

"Nice fabric and pattern. Quite heavy. Wears a bit stiff."

John in Auckland, Auckland

"I like the classic look and it seems like a shirt I wore in college and really liked. This fabric is pretty thick and gets wrinkly easier than most."

Whitney in Greenwood Village, CO

"Solid heavy oxford."

Cooper in Charlottesville, VA

"A nice staple for the wardrobe"

Andy in ORLANDO, FL

"Sturdy and crisp, like a good Oxford should be."

Doug in Creve Coeur, MO

"Love the pattern. Can dress up or down. Given the fabric, it does have a lot of wrinkle memory."

Matthew in BURBANK, CA

"I bought three of them."

daniel in Glendale, CA

"Very nice shirt with good fit"

Steve in Springwater, on

"Dressy in an Ivy League way but otherwise terrific. A lovely fabric."

Stephen in Spring, TX

"Love the look and feel of this Oxford."

Scot in AUSTIN, TX

"Fabric is heavy and just what I expected in terms of performance. Blue isn't a deep blue color - more like blue/gray."

Michael in Carlisle, Ontario

"A little thinner than expected but all in all very soft"

Andrew in Jersey City, NJ

"Nice fabric for Oxford enthusiasts"

Stefano in Agno, Ticino

"The fabric was a little heavier than I expected however it works & the shirt looks great"

Frank in NIAGARA FALLS, NY

"Pretty classic heavy oxford cloth. Nice color. After a few washes it began to break in and it's on its way to being a regular in the rotation."

Joe in Brooklyn, NY

"Doesn't fit!"

Matthew in Morganville, NJ

"Oxford cloth, just what I wanted."

Ben in BATON ROUGE, LA

"Classic, oxford fabric. It seems to be hearty fabric that will hold up. I needed this for a work wardrobe."

Steve in Omro, WI

"Maybe I'm spoiled by PC's other fabrics. This felt crispy (not soft) and the pattern was a more muted than expected."

Joshua in Tijeras, NM

"This was exactly what i was looking for - a classic striped oxford. I used to have one about 25 years ago - called it my good luck shirt because when I wore it, my favorite college basketball team almost always won. So I loved the fact that this is called "University". This is a thick fabric, so pay attention to th…e word heavy in the title. If you want something lighter weight, you won't like this."

Trey in Walton, KY

"Love this for the summer"

Michael in BROOKLYN, NY

"Great shirt great price!"

Chadrick in Adairville, KY

"The Heavy Oxfords are a bit too stiff and coarse, and wrinkle easily. Wish they had this university stripe in an American Pima version. That said, it's nice as an affordable, hard-wearing oxford."

Andrew in AUSTIN, TX

"Nice Pattern and colour. Rather course, but that is expected from a heavy oxford. Warm and hard-wearing, it would be a quality day-to-day fabric. But it could shrink a tad more at first."

Derek in Newmarket, Ontario

"Nice heavy fabric. A classic OCBD."

Josue in Haddonfield, NJ

"Absolutely exceptional fabric for casual and business shirts."

Oliver in Muelheim an der Ruhr, NRW

"Nice and opaque but still wrinkles. Feels a little warmer than expected but it is a heavy oxford after all."

Zhen Ming in Singapore,

"Just heavy enough."

Richard in Norwich, VT

"Material is fine, I'd give it an B+ or A-. Softer, denser would warrant an A. Of course, higher grade of material would be more expensive, so happy with this level."

Richard in FAIRFIELD, CT

"the quality was lower than expected. will try another fabric on next order"

Michael in ARLINGTON, VA

"Love it. Classic"

Perry in Milton, MA

"Great!"

Adam in REDONDO BEACH, CA

"Great fabric. It's indeed heavy and can wrinkle quite a bit. But, it adds to the character of the classic OCBD style."

Htin Linn in San Carlos, CA

"Nice weight"

David in Califon, NJ

"One of my favorite shirts. Love the blend of the colors along with how heavy the fabric is to wear versatile."

Stephany in Bronx, NY

"Great heavy Oxford"

Del in Albany, GA

"Thicker and heavier than expected, but believe it performs well"

Aaron in New York, NY

"This style is timeless."

Michael in COLUMBIA, SC

"See above."

philip in bad neuenahr, rp

"heavy weight"

Ward in Marblehead, MA

"Classic button down"

John in Toronto, ON

"Excellent fabric for business-casual dress. A bit darker in person than expected from the online photos."

Robert in LOS ANGELES, CA

"I like this fabric. Meets my expectations."

Linda in Hillsborough, NC

"Great quality fabric."

Dominic in Palmerston North, Manawatu-Wanganui

"Classic Oxford pattern, high quality mid/heavy weight material."

Ben in New York, NY

"Nice, muted blue stripe, not loud, very casual, about as stiff as should be expected"

Peter in Siblingen, Schaffhausen

"The material is relatively thick and is best worn on cooler days."

Christopher in LOS ANGELES, CA

"Great"

Christopher in PASADENA, CA

"The fabric could be a bit more wrinkle resistant but it is overall of a very good quality."

Matthias in Berlin,

"I love the color and the fit. It feels like I can take out for the day or a casual business office attire. It's flexible enough to do all. Recommended if it's office wear and if the weather is within 60-70s F. At 80s it will start to feel warm"

John in Bay Point, CA

"Like the hand on these ocbd. Smooth without being too course and tough"

Hector in Irvine, CA

"It was what I was expected"

Luis in SAN ANTONIO, TX

"Love this fabric!"

Alex in North Augusta, SC

"Fantastic fabric for a casual, laid-back shirt!"

Tobias in Zurich, ZH

"The fabric is a little heavier and coarser than I like, but is great for an old school heavyweight oxford."

patrick in HOUSTON, TX

"Really like this, a classic casual shirt"

Kieran in New York, NY

"Nice"

Herbert in NORMAN, OK

"This is one of my favorite oxford fabrics so far, the blue really pops up close and creates some nice vertical interest at a distance. The stripe width is perfect, not so thin as to look like a work shirt and not so wide that it feels like you can only wear it in the summer."

Chase in BROOKLYN, NY

"Heavy Oxford as expected"

Doug in KALAMAZOO, MI

"Nice heavy Oxford material and good color."

David in CHAPEL HILL, NC

"Quality and fit were on point!"

Shiful in Flushing, NY

"Classic striped oxford, fabric a bit heavier than I expected but should age well."

Michael in Chicago, IL

"Great value, great fabric"

Josh in Orion, MI

"Good oxford shirt, great for WFH, but the fabric is a bit stiff and unforgiving!"

Jeremy in London, England

"I am used to heavy weight fabrics, but this felt a bit more like cardboard on the skin, despite two washes. Perhaps, it will soften with time."

Sameer in WASHINGTON, DC

"Great fabric!"

Zachary in San Francisco, CA

"Nice and hefty Oxford that rumples rather than wrinkles. Blue stripes are slightly more muted in person than in photos, which is perfect."

Nicholas in New Orleans, LA

"A classic oxford, can't go wrong."

James in Amherst, NY
FAQs
How do I get started?

First, welcome to Proper Cloth. We specialize in custom dress shirts, suits, jackets and pants.

The first step would be to create a size using our Smart Size Quiz. We'll use your answers and data from thousands of satisfied customers to generate custom dress shirt sizes in your account.

To order, you can browse our gallery of curated, pre-styled options and purchase them, made to order in your custom size (and style, just click 'Customize' to modify).

Or

You can use our Design-A-Shirt tool to create a custom designed shirt from scratch, selecting the fabric and all style details (collar, pocket, buttons, etc), before applying your custom size! We highly recommend only getting one shirt to start so we can lock down the Perfect Fit (Guaranteed!).
How long does it take to have a custom shirt made?

Standard finish, casual wash, and non-iron shirts generally take 12 to 14 days to produce and deliver. In all cases, the promised delivery date range at checkout should be accurate (if not slightly conservative). Click here to see our typical delivery times based on product.

Orders including shirts with any style of Mother of Pearl buttons must undergo special Fish and Wildlife inspections that may cause delays. For this reason, the expected delivery date range will be extended by an additional 14 days.
Can I change the collar or cuff style? Can I add a pocket? Short sleeves? etc.

As a made-to-measure shirtmaker, we offer a wide variety of style features. Proper Cloth shirts can be styled with any of our 30+ different collar styles, 12 different cuff styles, and one of our 9 different pocket options can absolutely be added.

Just click the 'Customize' button next to any of our pre-designed, photographed shirts to edit the design however you wish!

Short Sleeve shirts can be ordered by specifying as such under the Cuff/Sleeve section of the Design-A-Shirt tool.
Do you offer rush delivery?

Rush delivery is not available for custom made products. With ready-to-wear and stocked products, we have a little more flexibility.
Still have a question? Get in touch or start a chat
Ready to create your custom shirt size?
Answer 10 easy questions about your body and fit preference to create a custom size.
Our Perfect Fit Guarantee
If you're not entirely happy with the fit of your custom shirt (or anything else about the shirt) you can return it to us for a complimentary remake in a new size or style. We excel at making remakes quick and hassle-free. If remaking the shirt doesn't suit you, you can also return the shirt for a full refund.