Albiate Washed Lightweight Slate Blue Denim
$150
Select Shirt Size
Collar
i
Don't worry about shrinkage — we'll account for that automatically based on fabric choice. You can fine-tune your collar size down to 0.1" or adjust any of the 16 other customizable size parameters when you create a custom size.
Sleeve
i
Sleeve length is measured from the center back to the edge of the shoulder and down to the end of the cuff. Fine-tune your sleeve length down to 0.1" or adjust any of the 16 other customizable size parameters when you create a custom size.
Fit
i
Slim Fit will be nicely fitted, yet comfortable. Super Slim Fit is for those that prefer a particularly trim fit and are not bothered by slight tightness or limited range of motion. Classic Fit is a more generous, roomy fit that won't hug the body closely.
Shirt Style Details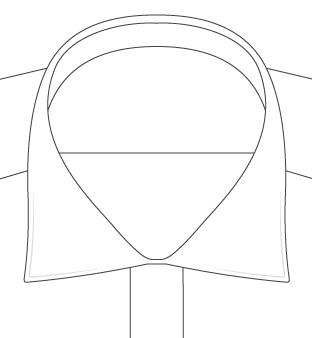 Soft Roma Spread Collar
A relaxed take on our tall spread collar with points that tuck under jacket lapels very well.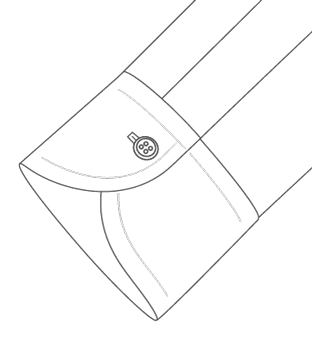 Soft Long One Button Cuff
The same shape as our long one button barrel, but without the stiff fusing. Soft, comfortable, and a good match for casual style shirts.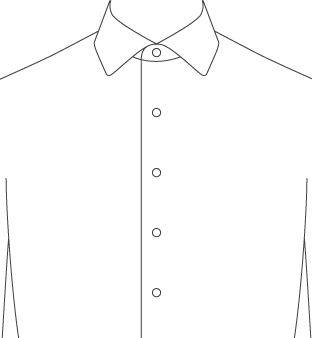 No Placket, No Pocket
The front of the shirt simply folds back on itself for a cleaner yet less structured look.
Buttons

Slate Horn Buttons i

Unique slate blue button that pairs well with dark, casual fabrics. Made from a durable faux-horn.

Bottom Hem

Rounded i

A 2" curved front and back shirttail hem with reinforced side seam gussets.
Change any of these shirt details, add a monogram, chest pocket, and more by customizing this shirt.
Fabric Info
Fabric Description
A unique, must-have slate blue.
This super soft and versatile 60s 2-ply denim works year-round, drapes beautifully, and looks fantastic as a Western shirt, overshirt, or dressed up under a sport coat. We give it a heavy bleach wash to achieve the beautiful slate blue color. It's one of our absolute favorite colors, and one every guy should have in his closet.
From sourcing the perfect denim from a 185-year-old mill in Italy to testing washes with our factory for months on end, we labor over every detail of our washed indigo shirts. Each of them starts out as a plain or textured weave fabric that's been dyed heavily with indigo. After being cut and sewn, the shirts are then garment washed using either a light enzyme, soda, or bleaching process. It's this process that gives each shirt its beautiful color and unique fading around the seams. While garment washed indigo and denim shirts are a popular product in the ready-to-wear market, they haven't previously been available in a custom fit or design due to the bulk production required for the washing process. We've worked closely with our suppliers to bring you the first truly custom garment washed indigo and denim shirts on the market. Premium, carefully crafted shirts, made to your exact specifications. Learn more about our washed indigo and denim shirts here.
Recommended Styling: Try this one with our Soft Franklin Spread collar, no placket, and Slate Horn buttons for an elevated denim look. Note that, due to the special nature of the garment washing process, this fabric can only be made using soft, unfused collars, cuffs, and fronts/plackets.
Color & Pattern

Performance
4.84 / 5 Average rating
Recommended by 96%.
"Such a great color. Can dress it up with a suit and tie, or great for more casual occasions with jeans or slacks. Color is very rich and appealing."

Philippe in New York, NY

"Great looking. Kind of a strange smell with the fabric but otherwise love it"

Ryan in Charlotte, NC

"Instantly became one of my go-to shirts. Comfortable out of the box and a truly unique color. Slightly light than depicted online."

Daniel in CHICAGO, IL

"Loved this fabric but apparently so did others as it sold out"

Pablo in New York, NY

"Excellent weight and fabric."

Johann in Doral, FL

"comfortable travel shirt, no wrinkling looks great all the time"

Mac in BOISE, ID

"Great shirt"

Ayman in Springfield Gardens, NY

"This shirt is exceptional. Paired with some chinos and you're all set for business casual. It has quite a soft, silky feel to it which is wonderful. Very glad I purchased this one."

Aaron in Moonee Ponds, Victoria

"Nice fabric, comfy"

Jonathan in Tallahassee, FL

"Heavy Oxford cloth … I like it"

Kelley in Orange Beach, AL

"Great fabric!!!"

Naphtali in Lanham, MD

"Really a personal preference rather than a real criticism but the fabric felt a little too floppy for my taste, and I didn't like the puckering around the seams."

Bryan in Maplewood, NJ

"Another winner from proper cloth. My wife urged mr to get this shirt and I was skeptical. Boy was I wrong. This is a medium weight soft fabric that wears quite well."

David in Cutchogue, NY

"Great blue denim casual shirt"

Michael in Kensington, NSW

"A nice Lightweight Denim. The color appears to be more Mallard."

GLENN in Manteca, CA

"It's incredibly comfortable"

Scott in MOUNTAIN VIEW, CA

"Substantial with very soft touch."

John in Easton, MD

"Excellent fabric."

Mike in Anchorage, AK

"Great fabric, instant favorite"

Boaz in Chestnut Hill, MA

"I wouldn't describe it as denim in the traditional sense, it's much thinner than I expected, but it is a great fabric."

Jacob in Evanston, IL

"perfect"

rogers in Melrose, TN

"I liked the fabric's textured and nuanced dye. It has multi-dimensional subtleties. I am looking forward to natural fading of the color over time."

Kenichi in Holliston, MA

"Light and colorful"

john in Stillwater, OK

"Great shirt that exceeds my expectations"

Frank in Sapphire, NC

"Feels more comfortable than a t-shirt!"

Michael in Bronxville, NY

"Very casual faded appearance."

Aaron in Santa Barbara, CA

"I like the texture for casual wear"

david in Fitzroy, Victoria

"A bit more purple than expected"

Max in COLUMBUS, OH

"Awesome color. Really like."

Gregory in Hoboken, NJ

"Light, soft and supple."

David Renae in Cape Coral, FL

"It's fine. Not as soft as anticipated."

James in Houston, TX

"Returned this shirt on account of it being too thin/lightweight to look and feel like a denim shirt. Description says lightweight, so it's my fault, I just didn't expect it to be quite so lightweight. Soft franklin collar also came way more understated than expected. My inexperience more than the fabric led to my d…issatisfaction."

Alex in Chicago, IL

"I love the deep indigo color, and the fabric is nice and light. It has a soft feel but nice drape when I wear it."

Gary in Norwood, NJ

"This came out great!"

michael in Ojai, CA

"So light weight, so soft that you would hardly guess that it denim. The stitch crinkles at collar reveal the secret."

Anthony in AUSTIN, TX

"Airy and light. Doesn't feel like most denim shirts... much less structure, but very comfortable."

Matt in North Canton, OH

"Looks good but nothing unusual. Not one people will really notice, but should be really fun to wear."

Thomas in Greensboro, NC

"As expected"

Richard in Lutz, FL

"Looks great, quite lightweight."

Scott in Coburg, Victoria

"Really great fabric and wear."

Jeffrey in New York, NY

"The fabric was just as advertised. The color was described well online and met my expectations. This fabric is lighter in weight and thinner than the typical "denim" shirt you would buy from Levi's for example. This washed denim shirt can be dressed up under a sport coat - with or without a tie - and can also …be worn in a more casual way with a lighter color of jeans. I'm pleased with very aspect of the fabric."

Mike in Pittsburgh, PA

"My favourite denim shirt. Lightweight but still enough weight to drape well. Really soft."

Steven in Waverley,

"Looks great and feels good!"

Miles in SANTA BARBARA, CA

"Tremendous slate blue colour. The Italian denim is soft to touch and feels like an old favourite from the first wear."

Mark in MASCOT, NSW

"Very comfortable"

TOM in Campbell, CA

"super soft, drapes well."

Geoffrey in Milford, CT

"Really like this one"

Stephen in Monroe, NC

"Soft and great feel !"

Jan in Copenhagen, DK

"heftier than I suspected. good hand"

Joseph in Gallup, NM

"This has a very classic look in a western styled shirt."

William in DENVER, CO

"This color is absolutely gorgeous, and the washing process makes for a refined, very cool look. Highly recommend this fabric."

Timothy in Greenback, TN

"just like it looks"

Lachlan in Solana Beach, CA

"very pleased"

EDWIN in GREENVILLE, SC

"Denim in a shirt never disappoints."

Michael in Dublin 8,

"I just love these wool shirts, this is my 3rd wool shirt. Love the feel and comfort."

Kim in West Perth, WA

"Super comfortable with excellent drape."

Guido in Dunmore, PA

"Such a great fabric. I hope another round of washed indigo is available soon."

GERARDO in FORT WORTH, TX

"Lighter weight than I would have expected. Pleasantly surprised!"

Bill in Apache Junction, AZ

"Seems a bit heavy!!"

Michael in Mableton, GA

"Lovely fabric but it will shrink. Should be pre-shrunk."

Anthony in Dallas, TX

"Went western style. Everybody needs a denim shirt. Great three season fabric."

William in Hendra, QLD

"Love the garment dye and fabric weight."

Guha in Latham, NY

"Amazing Fabric and fit was perfect."

Srikar in Millburn, NJ

"have 3 with different colors. great dressed up or down"

Adam in Westminster, CO

"Great mid blue denim. Shirt has more substance than typical denim shirt."

Gerard in NAPLES, FL

"Great"

Lansana in Le Grand-Saconnex, GE

"Amazing color and fabric."

Dimitrios in NEWARK, NJ

"Love all the denim fabrics."

Erik in DALLAS, TX

"Although my shirt was beautifully made, the fabric was so soft and lightweight that it never looked crisp even right after laundering (with light starch). It seems suitable for very casual occasions, therefore, but not as versatile as I had hoped. I would still recommend it to a friend with these reservations."

Alan in Spring Lake, NJ

"great fabric"

lawrence in London, uk

"Love it!"

Philip in Garden City, NY

"The best fabric for So Cal living"

Russell in Los Angeles, CA

"Exactly as pictured! I love the mellow slate shade, and the coloration of the seams is beautifully pronounced. I own 8 PC washed shirts now and I think this is the softest - and they're all the softest shirts I own!"

Jacob in Waban, MA

"Nice colour and fade that differs from tradtional denim blues"

Chris in Wollstonecraft, NSW

"Not a heavyweight which suits me fine! Love the slate blue button option. Fabric is soft and exquisite. Perfect with tan chinos. Dress it up or dress down, so quite versatile."

Robert in Winnipeg, MB

"Great value and very comfortable to wear. Love the color options to choose from."

James in RALEIGH, NC

"Nice light denim with cool seam expression."

Pete in South Salt Lake, UT

"love this"

Victor in Brooklyn, NY

"The grey tones down the denim look, and makes it generally smarter."

George in Peterborough,

"I think the color is a bit drab / gray. Not the denim color I had hoped for."

Allen in Los Angeles, CA

"Offer this more frequently! Best Denim shirt ever."

Matthew in dallas, TX

"Fabric is a bit more grey than shown. Feels pretty good on the skin for a denim."

Mark in Brooklyn, NY

"Beautiful shirt: I keep getting vsarious shades of this denim. This one is very nice not too dark, not too light."

Paul in Laguna Beach, CA

"Very nice fabric in terms of look, feel and texture. Be aware that even though this is technically a denim, it is much, much lighter weight than you'd typically expect denim to be, and as such it doesn't really wear or drape like typical denim. Still, the light weight makes it cool and easy to wear even in the summ…er and makes for a very versatile and comfy shirt."

Aaron in Tucson, AZ

"Great, fabric. Perfect, casual wear."

Elliot in New York, NY

"Decent"

Parth in New York, NY

"Only received the shirt today but fabric is awesome. Very soft and nice on the skin. Was also ordering the slightly darker fabric from the same type of garment and was surprised how similiar the two colors were. Was hoping for a little bit more contrast. But love them both."

Robert in Zurich,

"This shirt exceeded my expectations. The washed denim fabric feels rich and soft....obvious high quality. Please make this shirt in additional colors and a short sleeve option!"

Gerald in Flintridge, CA

"Soft, with a bit of shine, rugged looking but very stylish. Unique find, will treasure this for a long time!!"

Sujay in West Windsor Township, NJ

"Color is perfect. Expected more of a traditional 'denim' feel and this is quite light and thin but not necessarily a negative. Overall solid."

Collin in BROOKLYN, NY

"I'm addicted to PCs indigo dyed fabrics This one is a deep luxurious slate blue that's a real knockout. Cool and comfortable it grows ever softer with each washing."

Dennis in Williamsburg, VA

"Good light weight flannel in a handsome fabric."

Thomas in Reno, NV

"A little heavy"

Andrew in Naples, FL

"Wish it came in dome colors"

Hartman in PALM BCH GDNS, FL

"It's a bit lighter weight than I expected but that increases the versatility. I'm happy with the shirt & fabric."

Robert in Calgary, AB

"Another A+++ Washed Indigo--get them before they are gone!!!"

Will in Fort Worth, TX

"A cool, sophisticated fabric, and a great way to bring some added edge to an already sharp suit."

Mark in Evanston, IL

"Classic workshirt"

Jeff in BOULDER, CO

"Has a nice feel to it."

Roger in Santa Monica, CA

"Very lightweight and comfortable, unlike most denim shirts I've experienced. Love it!"

Eric in Portland, OR
FAQs
How do I get started?

First, welcome to Proper Cloth. We specialize in custom dress shirts, suits, jackets and pants.

The first step would be to create a size using our Smart Size Quiz. We'll use your answers and data from thousands of satisfied customers to generate custom dress shirt sizes in your account.

To order, you can browse our gallery of curated, pre-styled options and purchase them, made to order in your custom size (and style, just click 'Customize' to modify).

Or

You can use our Design-A-Shirt tool to create a custom designed shirt from scratch, selecting the fabric and all style details (collar, pocket, buttons, etc), before applying your custom size! We highly recommend only getting one shirt to start so we can lock down the Perfect Fit (Guaranteed!).
How long does it take to have a custom shirt made?

Standard finish, casual wash, and non-iron shirts generally take 12 to 14 days to produce and deliver. In all cases, the promised delivery date range at checkout should be accurate (if not slightly conservative). Click here to see our typical delivery times based on product.

Orders including shirts with any style of Mother of Pearl buttons must undergo special Fish and Wildlife inspections that may cause delays. For this reason, the expected delivery date range will be extended by an additional 14 days.
Can I change the collar or cuff style? Can I add a pocket? Short sleeves? etc.

As a made-to-measure shirtmaker, we offer a wide variety of style features. Proper Cloth shirts can be styled with any of our 30+ different collar styles, 12 different cuff styles, and one of our 9 different pocket options can absolutely be added.

Just click the 'Customize' button next to any of our pre-designed, photographed shirts to edit the design however you wish!

Short Sleeve shirts can be ordered by specifying as such under the Cuff/Sleeve section of the Design-A-Shirt tool.
Do you make shirts that can be worn untucked?
How do I order a short sleeve shirt?
Do you offer rush delivery?

Rush delivery is not available for custom made products. With ready-to-wear and stocked products, we have a little more flexibility.
Still have a question? Get in touch
Ready to create your custom shirt size?
Answer 10 easy questions about your body and fit preference to create a custom size.
Our Perfect Fit Guarantee
If you're not entirely happy with the fit of your custom shirt (or anything else about the shirt) you can return it to us for a complimentary remake in a new size or style. We excel at making remakes quick and hassle-free. If remaking the shirt doesn't suit you, you can also return the shirt for a full refund.