Faroe Islands Behind the Scenes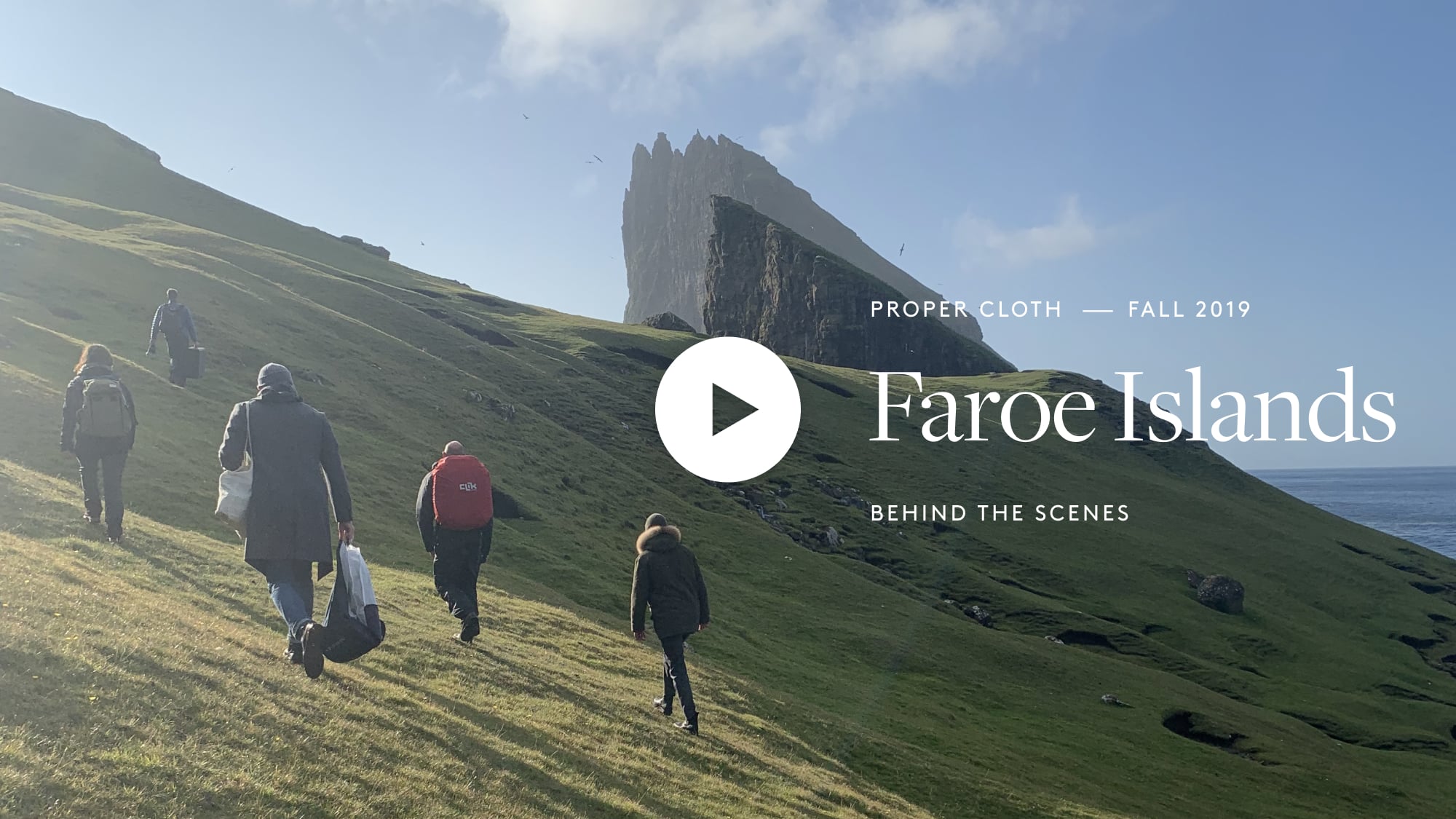 View the Collection
We were ready for an adventure. It'd been three years since our trip to Iceland, and over two years since our road-trip through Scotland's Isle of Skye. But for the last year, we'd been largely head-down in New York; working on new products and new site features and the challenges of growing our team. All important things… but we found ourselves craving an experience. Something visceral, with a bit of danger, a bit of the unknown. So when this remote cluster of islands in the North Atlantic Ocean came on our radar, with impossibly green mountains, steep cliffs and waterfalls, we knew we had to go to the Faroe Islands.
Our trip began (as it often does), with a questionable bacon cheeseburger at JFK Terminal 1, and a red-eye flight in economy. We wake up in Copenhagen. Go through customs, retrieve our gear, check our gear back in, and go back through customs. In the process we're reunited with our friends Josh and Dom from Compass Coalition who've just had a similar, albeit slightly longer, flight from California. Sleep deprived and delirious, we catch up over coffee and sandwiches at the airport's best Joe and the Juice.
We board the second leg of our trip from Copenhagen to the Faroe Islands and go straight back to sleep, but are awoken suddenly with the rattle of heavy turbulence. I look out the window to see what's happening - we're just coming down through the clouds and getting a peek at the ocean. The sun is low, and it illuminates a sharp green mountain to our right, shooting out of the water, waves crashing around the perimeter. This is going to be—for lack of a better word—epic.
The airport is tiny. We might be the only flight that lands there that day. We quickly find our bags and the rental vans out front, unlocked with the keys on the floor, and begin the drive to Torshavn. The sun sets, and we spend most of the drive in darkness.
The hostel we're staying in is nice enough, and after dropping off our bags we head to a nearby restaurant for dinner. At this stage, we're totally beat, still need to get organized for the next day, prepare our equipment, hang and steam the clothes, and get some sleep, so we're in a bit of a hurry, but the restaurant takes its time. The menu is great, if not similar to what you'd find in New York, with the exception of a "three-legged sea bird" that nobody has the guts to order. Three hours later, we're fed and head back to prep and sleep.
Day 1.
Up before dawn, we gather in the lobby. There's no breakfast, but someone made a pot of coffee. We load up the vans, and begin the drive to Hvithamar mountain which (based on our research) promises an incredible view. Due to the hour it's still quite dark, but it's also rainy, foggy, and very windy. We drive on anyway. One thing we've learned on shoots like this is that the weather often changes quickly. So no matter how hopeless it seems, the best thing you can do is position yourself for the perfect shot and hope for the best. An hour drive and a dozen hairpin turns later, we're on top of the mountain. Or at least that's what the map tells us. In reality, we can only see about 20 feet through the fog. It's as if we've driven up into the middle of a very thick, very windy cloud. Undaunted (6 out of the 7 of us have rain gear on) we get to work. Quetzal is a trooper and looks reasonably comfortable in the Red Brera II Vest and Charcoal Bleecker coat we had planned for this location.
Eventually we head to the next location—it's at a lower elevation and visibility is a bit better. Actually, it isn't a "location" at all, we just pulled over on the side of the road. The Faroe Islands are like that—everywhere you look seems worthy of a photo.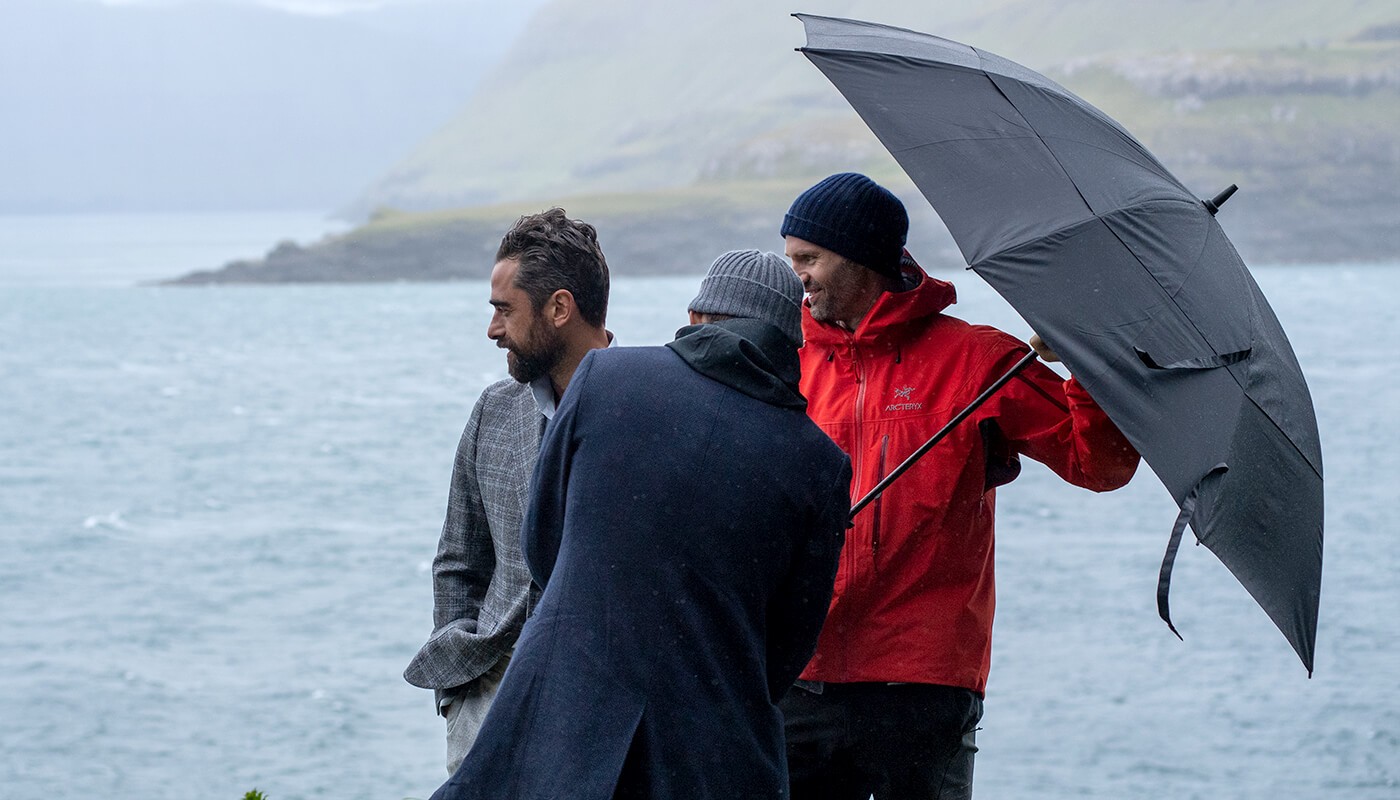 The rest of the morning continues on like this. Driving along, coming around a corner, seeing an incredible view. Pulling over, changing clothes, taking pictures. The weather is still intermittently raining, but we're working through it. We see very few people. We see hundreds of sheep.
Around midday we arrive in Gjogv, a cute little town (population 49) on the northern point, with an interesting narrow inlet between two cliffs. After shooting a couple of looks we find a place serving lunch with a remarkably simple menu: asparagus soup and crepes. We load up.
Next up we head towards Tjornuvik, another small town on a black beach. At this point, fatigue is catching up to me and I'm struggling to keep my eyes open (not good when you're driving), so I stay in the car for a bit while the guys go shoot on the beach. Twenty minutes later (or was it forty?) I wake up a new person. I find the guys wrapping up shooting the Grey Brera vest and Blue Satoyama look. Chris had spotted a sign promising "Waffles and Coffee", so we follow the arrows looking for the cafe. Instead we find a small house with a sign on the door. We knock and are greeted by a nice old lady and her husband. We politely try to apologize for the confusion, but they insist we come into their home and squeeze in around their dining table as they bring out the waffles and coffee they had advertised. They were a charming couple, both born and raised Faroese. The husband had lived in this house for over 40 years. It was fascinating to hear their thoughts on how the world is changing and to imagine what life must be like for them out here on the tip of nowhere.
Next up we begin a long drive out to Saksun (population 8) on the Northwest side of the main island. We're hoping for a sunset coming through the bay, but as time goes by it becomes clear that's not happening. The clouds are still heavy and threatening rain. We arrive and there are no other people in sight, but we soon meet a nice lady walking her dogs. After a few questions, she warns us of reclusive farmers who won't tolerate any trespassers. Unfortunately the land isn't that well marked. We take our chances. It's misting and incredibly cold, but we get some great shots of our most layered look in front of some beautiful stone houses with grass roofs. A few local dogs check us out, but no farmers come try to shoot us.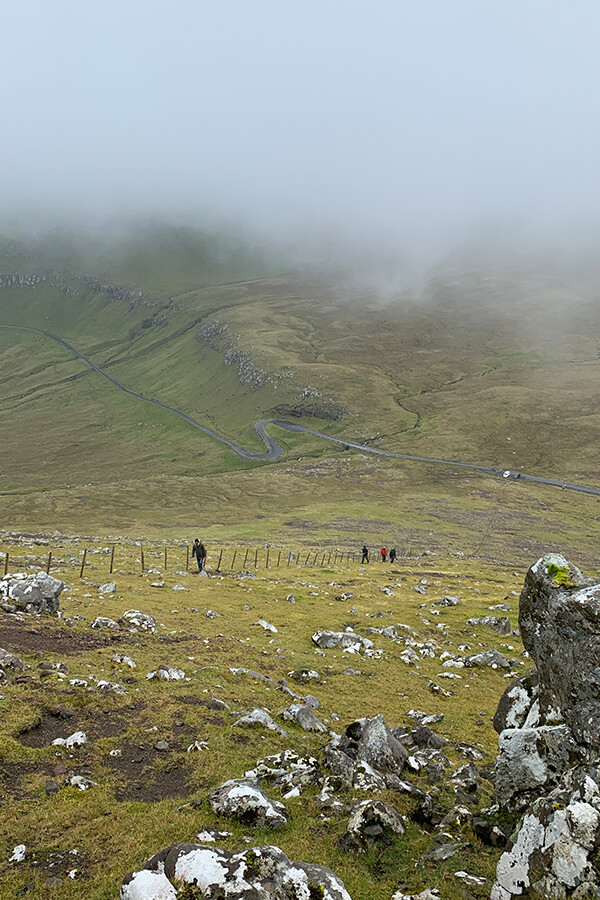 We return to Torshavn well after dark and wearily head to the same restaurant as the night before. James and Chris feel brave and order the 3-legged sea-bird. Later they determine it's basically a seagull. Do not recommend. We head to bed, the day a success.
Day 2.
With the trip off to a good start, on day two we allow ourselves to sleep in past sunrise and eat some breakfast before hitting the road.
We start with a drive to an Eastern island called Klaksvik where we find Captain Kari Gardarnar and his boat Dragin. The weather is darkly overcast, as if it could rain any second, but there's much less wind, so it's not as cold as yesterday. We board the boat and motor towards Mikladalur. Meanwhile Dom drives ahead in one of the vans and sets up for some drone shots and Ricky and James follow with the long lens camera in a tiny chase boat. As we sail out, the weather gradually improves, and we get some great pictures with Kunoy island in the background. The boat provides a unique perspective, and we can see a tiny cluster of houses with a giant canyon rising up behind them. The sailors explain that Kunoy is the "Grand Canyon of the Faroe Islands", and that the land here is basically free if you want to live there. You just have to pay to develop it. We have some fun climbing out on the bow mast as we frame different shots of the Cortina II Donegal Vest and Grey Tweed Flannel shirt.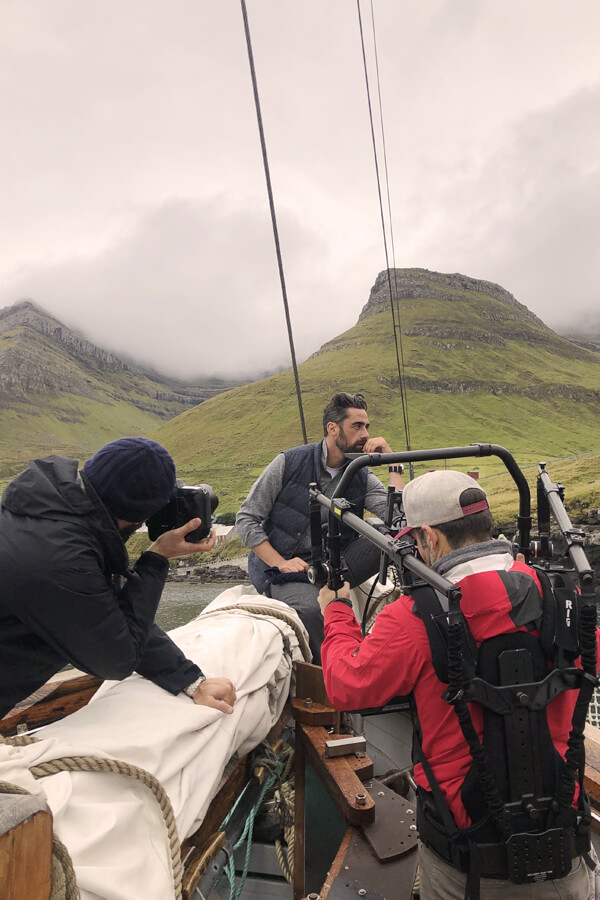 After a few hours on the boat, we head back to Klaksvik, have a quick lunch, recharge some camera batteries, and start the drive towards Sorvagur, a town on the western side. About halfway there something happens that seemed impossible a few hours ago: a bit of blue sky begins to show. We're ecstatic! Then the sun starts to peek out from the clouds. As we drive through a large valley, incredible beams of light begin to shine down onto a shallow lake. We pull over immediately. Quetzal puts on our new Duca Visconti Terra Cotta Corduroy shirt and Harrison gets some great photos. The rest of us stretch our legs and enjoy the new warmth of the sun.
In Sorvagur we quickly find a man named Pol and his friend, whom we've hired to take us to a remote point by Drangarnir rock. Pol has a little outboard dingy, and we motor out of the harbor smoothly. However, the drop off point is close to open ocean, and there's no dock or beach, or even calm area to unload. We pull up alongside a giant rock slab and the two men try their best to hold the boat steady using some poles with hooks, but we're going up and down several feet with each wave. Occasionally a larger wave comes and knocks us hard against or completely away from the rocks and we have to regroup entirely. One at a time we try to time things just right, climb out of the boat and scramble onto the slippery rock shelf. Teamwork prevails, and eventually, we make it out, fragile camera equipment intact. Slowly but surely hike to the top of the point—and are thrilled to find one of the most amazing view points I've ever seen. The hill is perfect green grass, with a 100ft drop on either side to the ocean. And directly in front, jutting out of the ocean like the bow of an enormous, ancient ship, is Drangarnir rock. It's incredible. It feels like what you would get if you asked a 5-year old to draw an island, and then somehow turned that into reality. At this stage, the clouds have completely cleared, the temperature has warmed, the light is amazing, and we're all feeling incredibly blessed to be here in this truly unforgettable moment.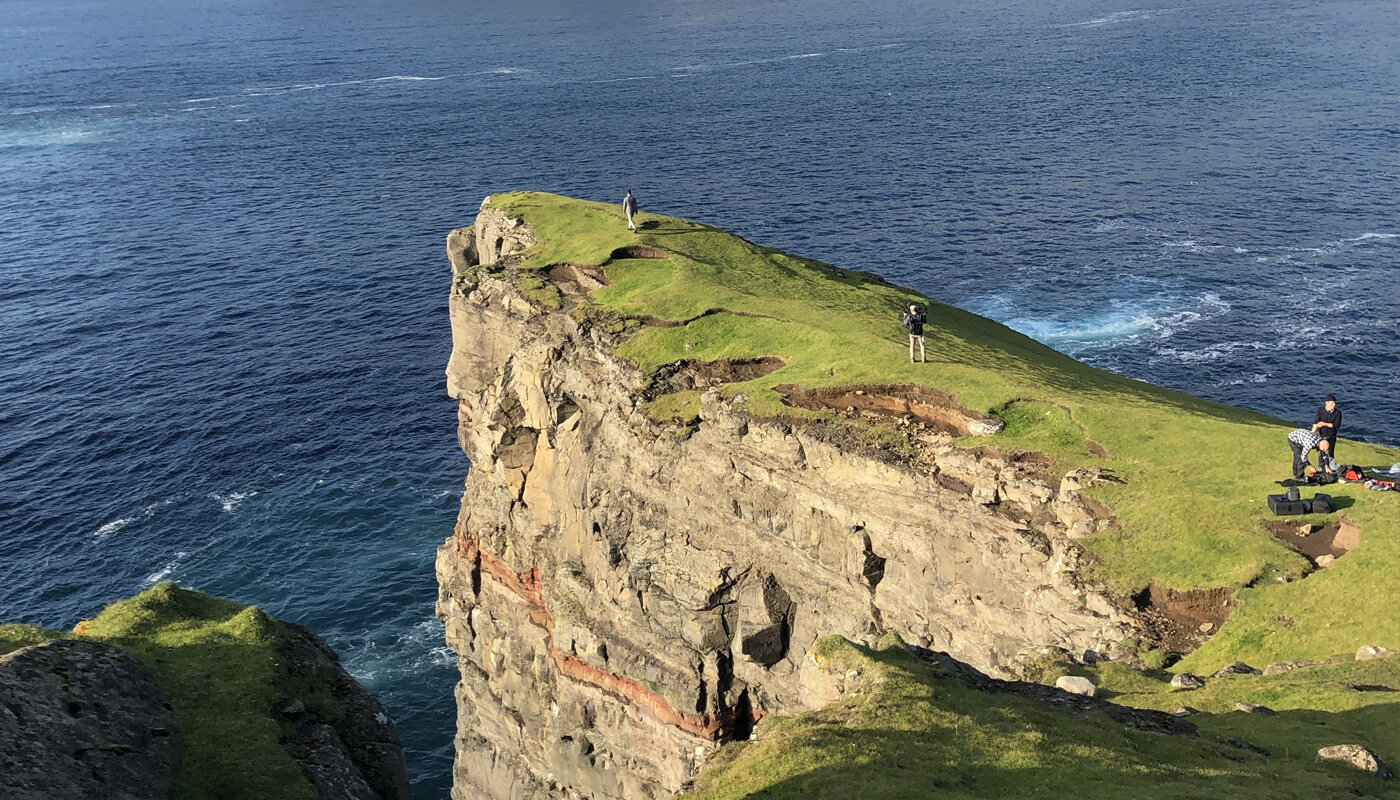 We wrap up this location, make the precarious jump back into Pol's boat and motor back to Sorvagur. The sun is low in the sky, but there might be time for one last location. Quickly we load up the vans. A stranded French tourist asks us for a ride so we squeeze her in the back with Ricky and speed off towards Gasadalur. Gasadalur is perhaps the most famous scene of the Faroe Islands. It's a tiny town (population 18) perched over an incredible cliff with a waterfall plunging to the ocean below. It's something out of a fairy tale. On the West side of the island, it's also perfectly situated to catch the sunset. And this time, with the weather clear, we're in luck. As we pull up, the sun is just inches from the horizon, so we move fast, getting Quetzal into a Grey Wool Flannel Tuxedo and running down to the view point. Drones are launched. Video rolls. Photos are taken. Everything looks amazing.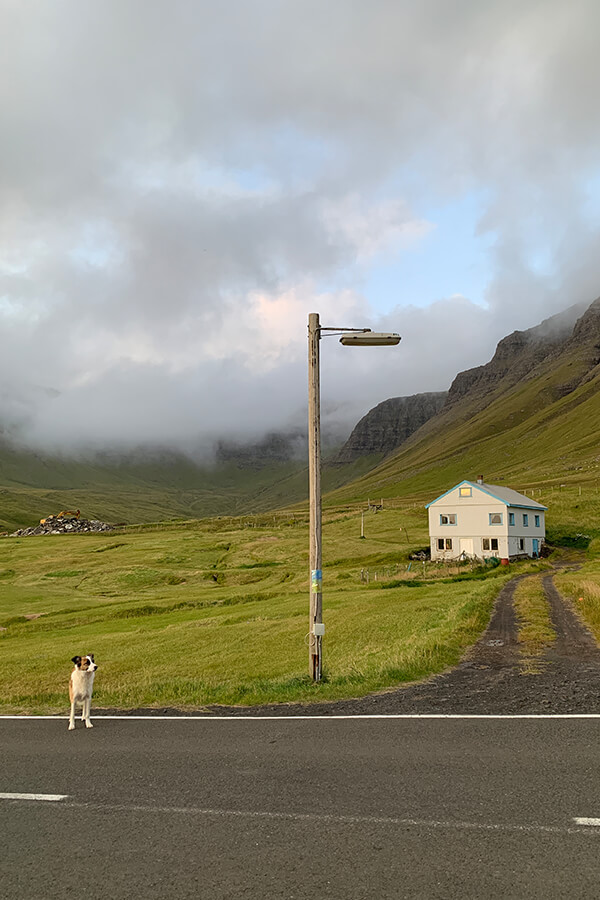 We continue until the sun is completely gone. In this moment life feels easy. All the preparation, all the hard work, all the moments of stress were worth it. We've had a successful shoot and an amazing adventure. Now it's time to celebrate.
Seph Skerritt, Founder/CEO