The Definitive Guide to
Wedding Guest Dress Codes

for Men

Wedding dress codes might as well be in a different language, so we're here to help you translate. Look your best at every event with our guide—no cipher required.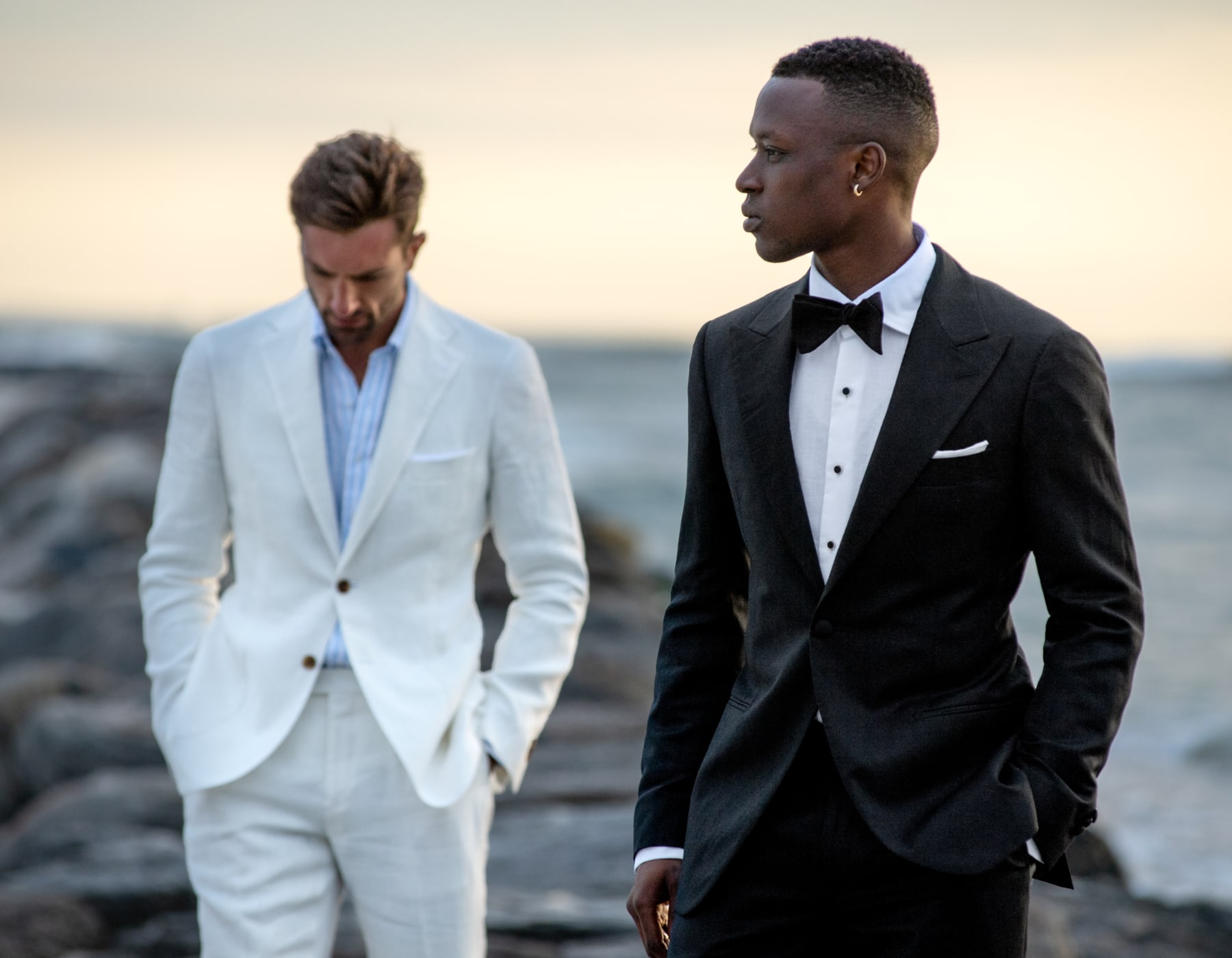 Invite says:
White Tie
What to Wear:
This is the most formal wedding attire out there and is pretty uncommon these days because of how restrictive it is. There is absolutely no wiggle room here—you'll have to wear a tuxedo with tails, a white bibbed wingtip collar shirt with French cuffs, white piqué bow tie, and white waistcoat. If you live in the U.K. this might be a dress code you run into from time to time, but elsewhere it's very rare.
Styling Tip
This is not the place to show your individuality. Embrace the traditional look and imagine you're on the set of an episode of The Crown.
Invite says:
What to Wear:
You're in tuxedo territory here and a timeless black tux is the only way to go. Have your best black lace-ups shined in advance (patent leather shoes are traditional but not required these days). A bibbed tuxedo shirt is the most traditional and formal, while a covered placket or plain front is less formal and more modern. A peak or shawl lapel is the order of the day; a notched lapel is acceptable, but is best avoided if at all possible.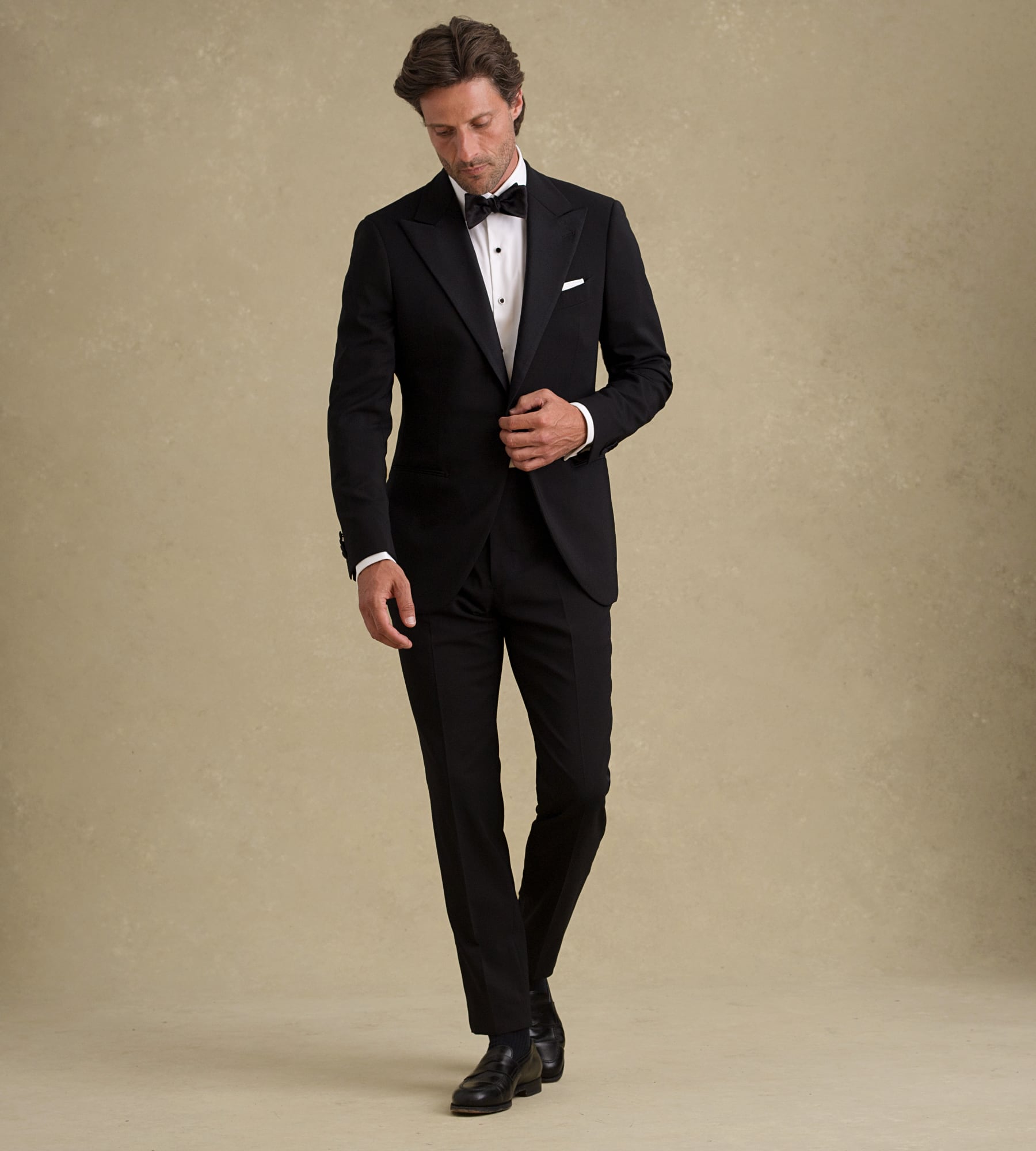 Styling Tip
Make sure you have your accessories lined up—cufflinks, studs, and black bow tie (not a necktie)—as these are often what separate a good black tie look from a great one. Depending on the occasion, accessories that show off your personal style a bit may be appropriate, too. A covered placket tuxedo shirt is a slightly unexpected choice (in a good way).
Invite says:
What to Wear:
We suggest sticking with formalwear of some sort here (better to be overdressed than underdressed, as they say) unless you absolutely cannot get a tuxedo, in which case a dark navy or black suit will work fine. This is a great time to have more fun with your look and show off some sartorial know-how. Midnight blue tuxedo? We love it. Dinner jacket with velvet lapels? Absolutely. If you opt for a suit, go with a dark navy or black one, a white shirt, and a dark (preferably solid) tie. Avoid button down collars at all costs.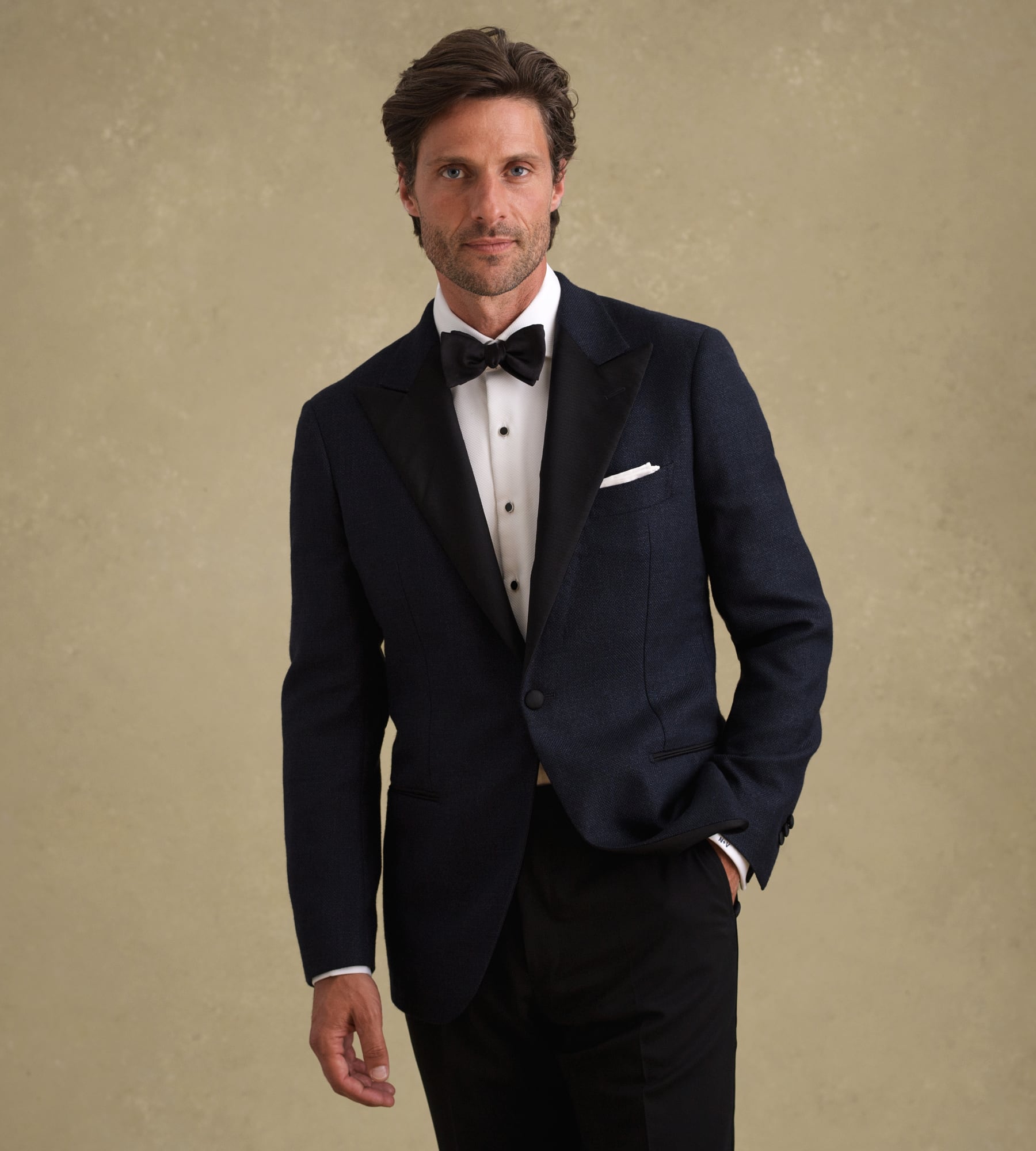 Styling Tip
For shoes, go with black leather lace-ups or slippers.
Invite says:
What to Wear:
These dress codes are typically reserved for the evening and indicate that something slightly less formal than black-tie is acceptable. So, a tuxedo isn't required, but the event is still formal enough for one to be appropriate. You still have the option to wear a tuxedo, but a dark formal suit, white shirt, and dark tie will likely be the most popular choice. A tie is a must here.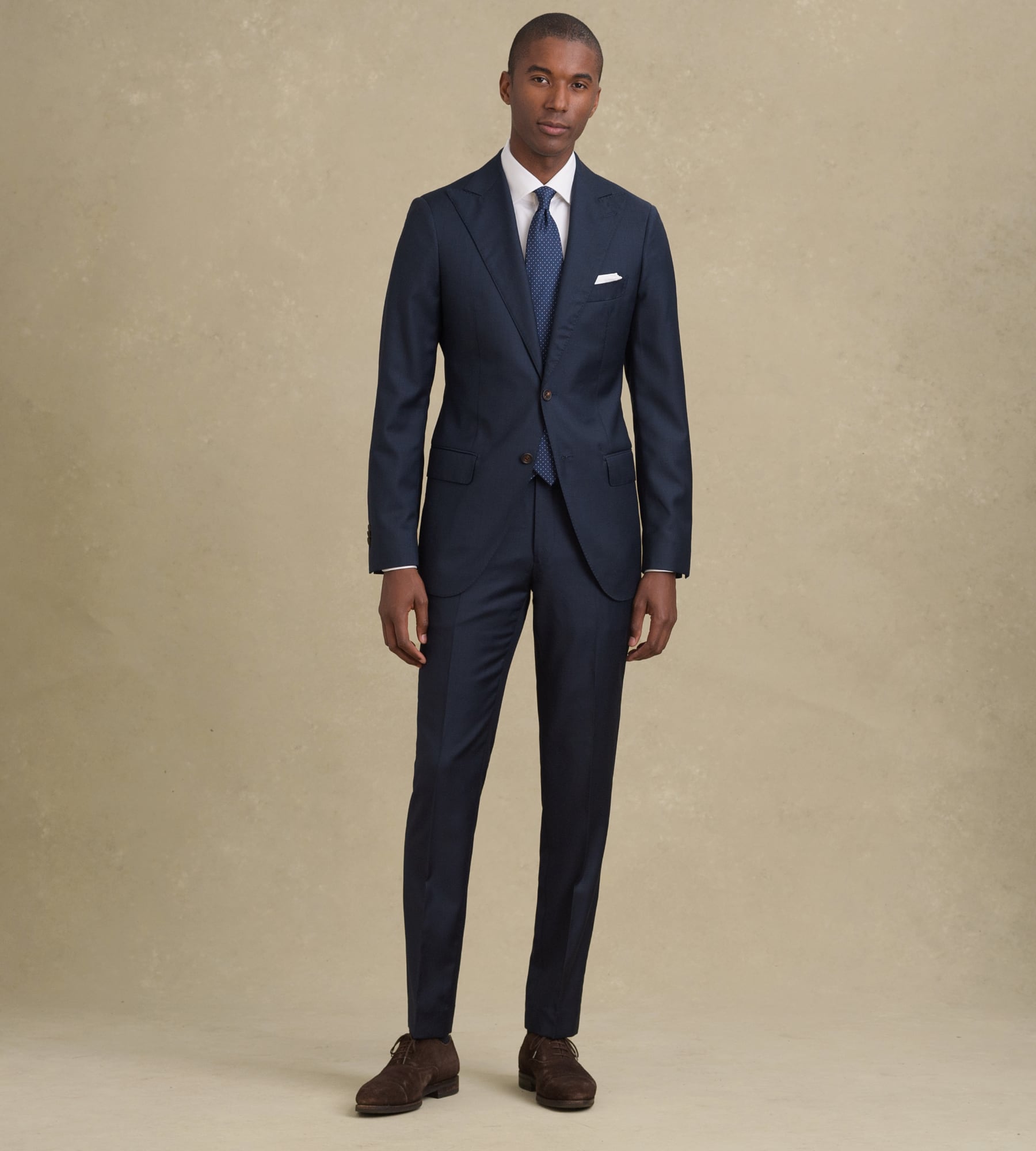 Styling Tip
A peak lapel can add a little extra formality to your suit and works perfectly in this situation. Avoid bold colors so you don't steal the spotlight from the bride and groom—navy, dark grey, and black are your palette.
Invite says:
What to Wear:
Cocktail attire has become one of the most popular wedding dress codes and is pretty ambiguous for those who haven't attended a lot of weddings. Cocktail attire is a smidge more formal than semiformal attire, and is often for weddings held later in the day, while semiformal is usually for afternoon weddings. Avoid a tuxedo and go for a well-tailored suit with a solid shirt—tie optional but encouraged. Take cues from the wedding's location. At a private club or mansion? Don't forego the tie. At a country home or farm? You'll likely be okay with an open collar. Again, a solid shirt is your best bet, but you can deviate from white into blues here. Loafers and lace-ups are both approved footwear.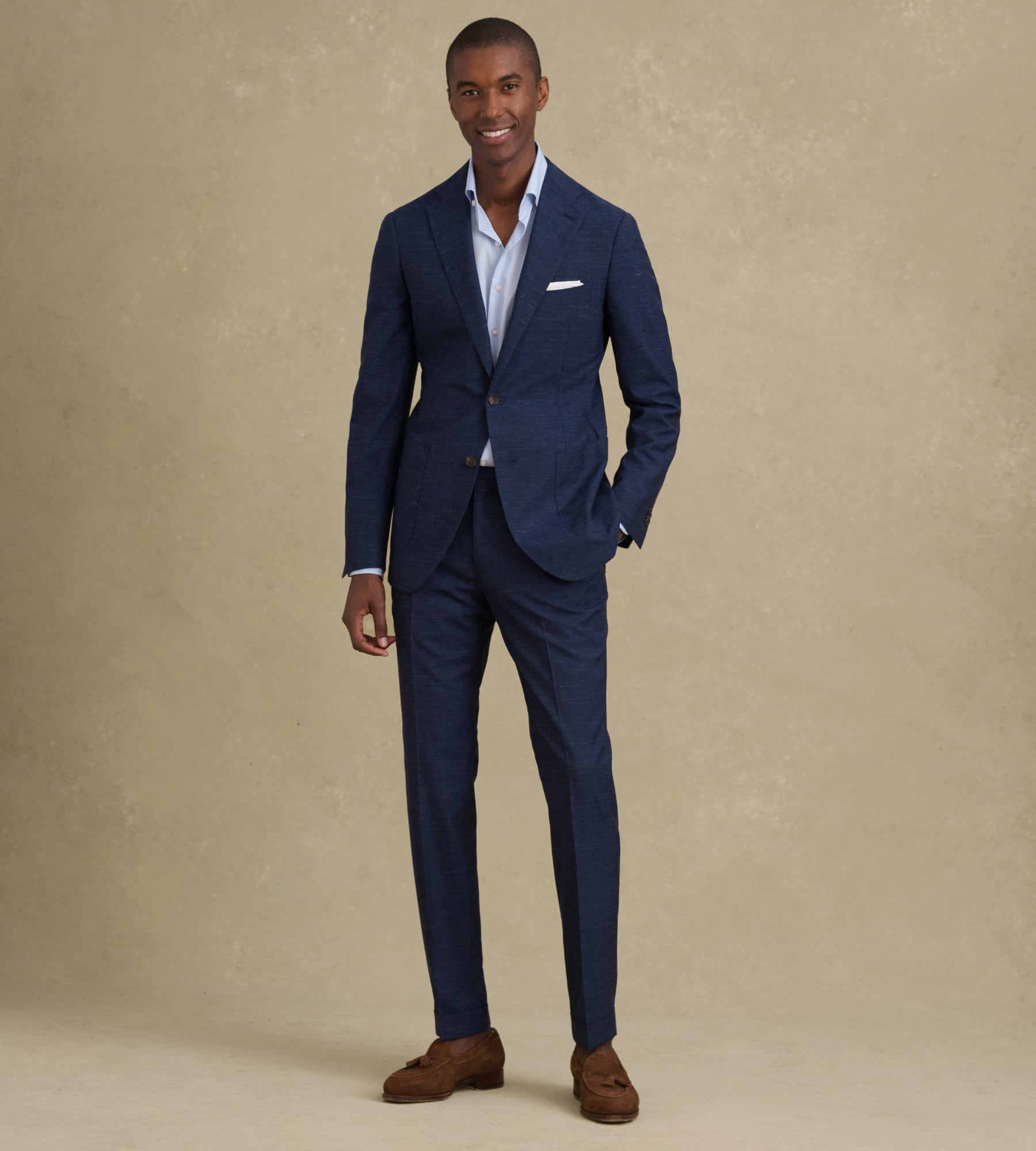 Styling Tip
Let the time of day dictate the color palette of your look, too. If it's an afternoon wedding, a suit in a light shade of blue or grey is perfect, while evenings call for darker shades.
Invite says:
What to Wear:
Time to have some fun. We love a lighter-hued seasonal suit (cream, beige, light grey, or faded blue) with a relaxed shirt. Linen blends are perfect for most, and the bold shouldn't overlook a printed Aloha shirt. Pay attention to specific attire requests from the couple (pale neutral shades only, for example). Skip the tie. Loafers or espadrilles are the play here.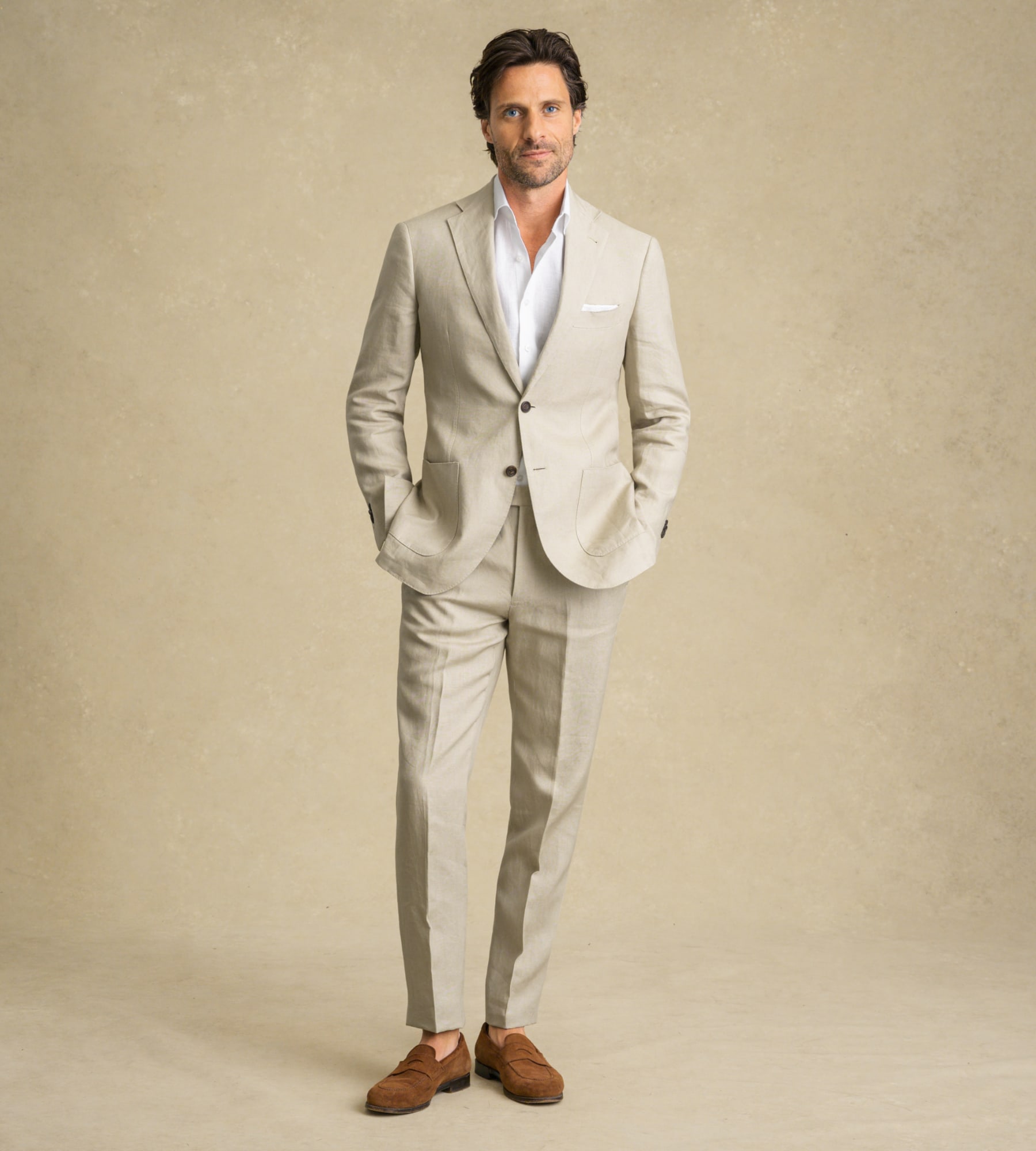 Styling Tip
Pure linen fabrics are naturally wrinkle prone and don't travel well, so we prefer wool/linen blends for tailored clothing and cotton/linen blends for shirts. You get all of the character of linen and much better performance.
Invite says:
What to Wear:
Just because it says 'casual' doesn't mean you should just show up in jeans and a t-shirt. While a suit is too formal, we think a sport coat with trousers (no tie) strikes the perfect balance between relaxed and refined. It respects the importance of the event without seeming out of place. Patterned or more textured fabrics for your tailored clothing (linen in the summer, wool flannels in the winter) are a great play here. Go for loafers or monkstraps (avoid lace-ups and sneakers).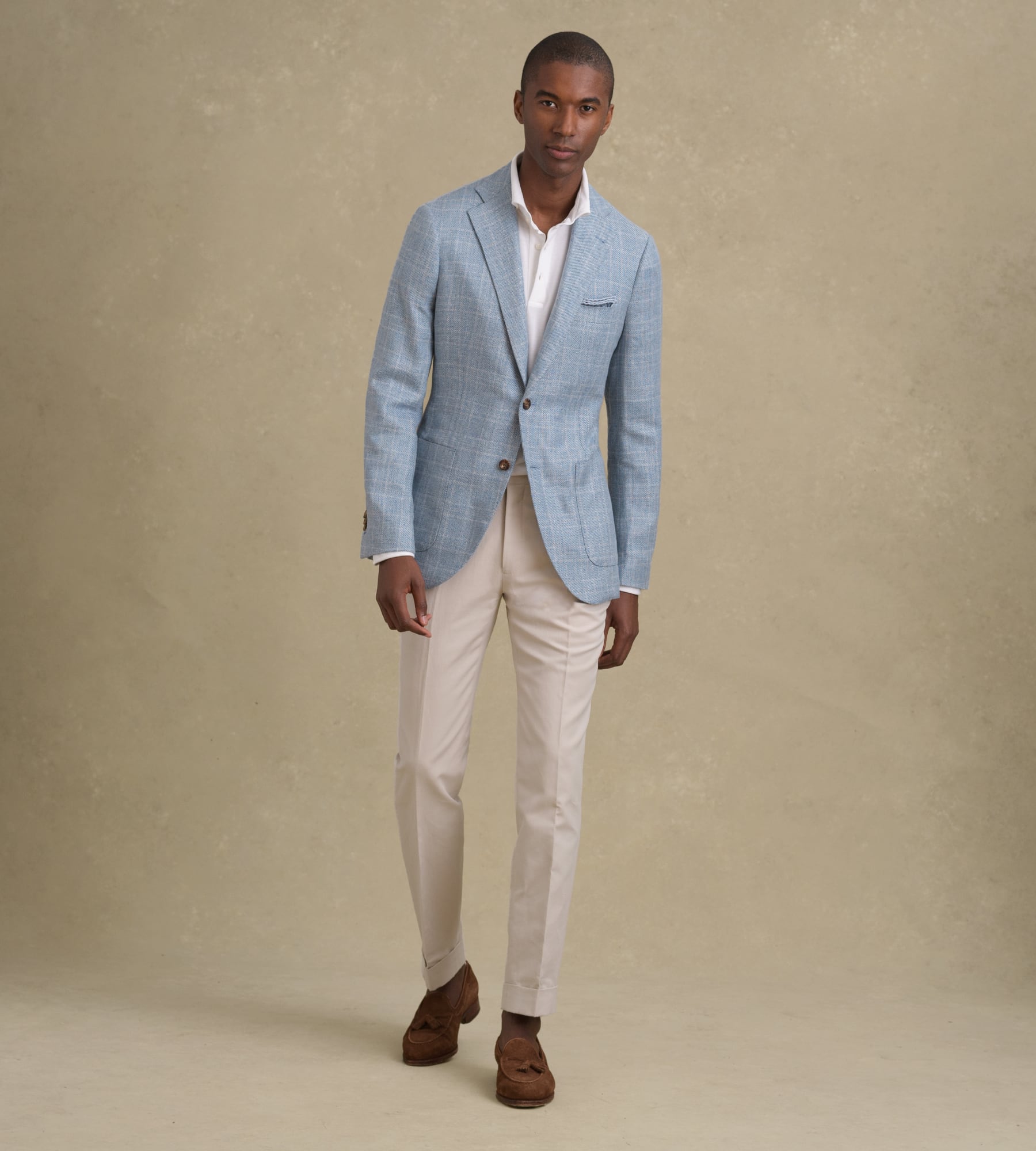 Styling Tip
This is a good opportunity to wear fun shoes and accessories. Solid or subtly patterned shirts and trousers are your best friends if you want to play it safe, but experimenting with the details shows you put some thought into dressing for the occasion.
More in Wedding Attire for Men
We love helping grooms and groomsmen look their absolute best. We can help make your wedding as stylish (and stress-free) as possible.

Our guide to nailing the look at your next your black tie event.