Weston Blue Pinpoint Button Down
$70
Select Shirt Size
Collar
i
Don't worry about shrinkage — we'll account for that automatically based on fabric choice. You can fine-tune your collar size down to 0.1" or adjust any of the 16 other customizable size parameters when you create a custom size.
Sleeve
i
Sleeve length is measured from the center back to the edge of the shoulder and down to the end of the cuff. Fine-tune your sleeve length down to 0.1" or adjust any of the 16 other customizable size parameters when you create a custom size.
Fit
i
Slim Fit will be nicely fitted, yet comfortable. Super Slim Fit is for those that prefer a particularly trim fit and are not bothered by slight tightness or limited range of motion. Classic Fit is a more generous, roomy fit that won't hug the body closely.
Shirt Style Details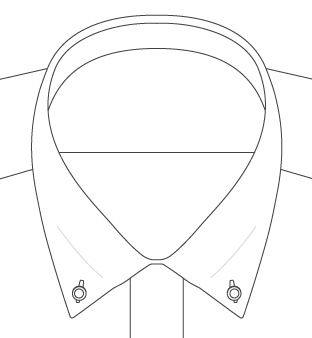 President Button Down Collar
A classic button down collar with a modern, business-appropriate appeal.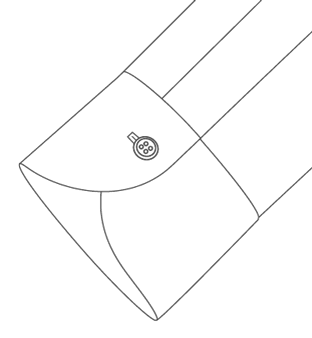 Long One Button Cuff
A slightly longer version of our one button barrel cuff. Fused. Great for for guys with longer arms.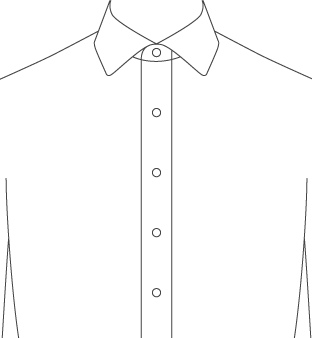 Front Placket, No Pocket
A slightly stiff, fused interlining runs down the front of the shirt behind the buttons for a crisp and structured look.
Buttons

Standard Buttons i

Our standard button. Made from high quality plastic resin. Very durable.

Bottom Hem

Rounded i

A 2" curved front and back shirttail hem with reinforced side seam gussets.
Change any of these shirt details, add a monogram, chest pocket, and more by customizing this shirt.
Fabric Info
Fabric Description
An ideal day-in-day-out workhorse dress shirt that is neither too stuffy nor too casual.
It's a finer weave than a heavy oxford cloth and has less shine than a twill or royal oxford. We think it's ideal for those who like a comfortable feel, but aren't looking for a formal look. We developed this one has just the right shade of blue, too. A traditional mid blue that goes with just about anything. It's woven with a four season 80s two-ply pinpoint construction that's soft to the touch and only feels better the more its worn and washed. With a quick iron press it'll look crisp for those who want a sharp, professional look, but it also looks great without ironing for a more easy-going vibe. It's a very similar style to our popular Bowery Pinpoint, but the Weston forgoes the wrinkle-resistant finish to achieve a soft feel and better drape.
Put a President Spread on this one if you're wearing with a suit and tie, or a Button Down II collar for a clean casual look.
Color & Pattern

Performance
4.65 / 5 Average rating
Recommended by 92%.
"It's lightweight enough for work but not as much as linen. I would use it again"

Tim in Princeton, NJ

"Soft and comforting"

Richard in West Fargo, ND

"Might be my favorite shirt to date."

Patrick in Pawleys Island, SC

"Nice dress shirt"

Robert in Weehawken, NJ

"Just an excellent, all-round work horse of a shirt."

Robert in Jupiter, FL

"A nice shade of blue, and a soft feel without any of that scratchy feeling. Also irons very easy."

Peter in Woking,

"Great value, has a slightly iridescent sheen. Staple shirt to wear with a suit. A bit prone to wrinkles."

Michael in Chicago, IL

"Fits very well. Very form fitting. Looking for more. Not sure if it's just my excessive sweating or what but could do a cooling fabric next time if there is one. I hate sweat stains and haven't found a way around that yet. Nothing to damage this review though because that's on me."

Ali in Crawfordsville, IN

"Nice looking comfortable shirt. The blue was a little lighter than I expected."

Benoit in CHANTRAINE, VOSGES

"Great stuff"

Jack in Ammon, ID

"Great value"

John in Pacific Palisades, CA

"Beautiful color and iridescence. Highly recommend tucked in or not. Solid and versatile piece for your wardrobe."

Heath in Grosse Pointe, MI

"Excellent"

James in Darien, CT

"Very comfortable"

Michael in New York, NY

"same as the white shirt - great quality fabric for the evenings"

James in Brewster, NY

"Lovely colour, not too pale but a bit too shiny and prone to wrinkles for my liking."

Tim in Faringdon, Oxfordshire

"Works well for business shirts."

Mikael in Utrecht, UT

"Classic"

Dave in Wesley Chapel, FL

"Fabric feels good"

Fabrizio in SANTA CLARA, CA

"Exactly as described."

John in Indian Harbor Beach, FL

"The pinpoint is a bit more casual but still a great blue dress shirt for business casual environments."

Ben in CHICAGO, IL

"Would have preferred darker blue , but wasn't available in my price range. Like the pattern and fit ."

Joel in Jupiter, FL

"very comfortable"

james in KNOXVILLE, TN

"A bit rough but nice"

David in BOISE, ID

"i like the fabric"

alexander in Oella, MD

"A little shinier and more wrinkly than I'd have liked. Soft and light fabric."

Joshua in LOS ANGELES, CA

"Fine"

Mark in Grayslake, IL

"Beautiful texture. I got lots of positive comments. Looks like a $300 shirt."

Scott in North York, Ontario

"Came as described!"

Kristopher in Kenmore, NY

"A real classic."

John in Washington, DC

"Great feel"

James in Shaker Heights, OH

"I quite pleased."

Daniel J in Cypress, TX

"It feels luxurious and has a very elegant sheen which exudes luxury and sophistication"

Andrew in Port Saint Joe, FL

"Not comfy against the skin, rather harsh. Not a huge fan of the blue color either, will be returning this shirt!"

Jon in Vista, CA

"Great everyday blue shirt"

Aldo in Ambler, PA

"Poor quality"

Tri in PRAHRAN, Victoria

"Crisp "hand," high sheen."

Juan in SANTA MARIA, CA

"I like it."

Adam in Irvine, CA

"Cheapest fabric I have ordered and lovely shirt. I think with a few more washes it will soften up nicely."

Christopher in PROVIDENCE, RI

"Quality"

David in DALLAS, TX

"Should mention in the description that this fabric has quite a sheen"

Andrew in NAPLES, FL

"Fabric is quality. Not too thin and flimsy."

Mark in PONTE VEDRA, FL

"Looks good"

Richard in MIAMI, FL

"Basic never gets old!"

Doron in New York, NY

"Its a basic plain blue shirt, goes well with a tie. The fit is impeccable as always"

David in Deep River, CT

"its great"

Steve in Fort Wayne, IN

"AS described"

Michael in Naugatuck, CT

"Nice"

Stephen in Marion Heights, PA

"Makes a classy looking shirt"

Nick in Lexington, KY

"So easy to iron and feels good."

Gregory in Toronto, ON

"I really like the color and quality of this fabric."

Kevin in Alpharetta, GA

"Great fit, no complaints"

Jacob in NEW YORK, NY

"very much like the fabric and quality"

John in Mill Valley, CA

"Excellent fabric"

Svetlin in Versoix, Geneva

"This is one of my favorite shirts."

Ron in Shawnee, KS

"Soft texture, high quality stitching"

Andre in Brooklyn, NY

"Very comfortable"

William in Normal, IL

"Good everyday blue shirt"

Edward in WESTMINSTER, MD

"I really appreciate that this does not wrinkle"

Scott in New York, NY

"a little too much sheen in the fabric for me. not evident in pictures."

Paul in SAN ANTONIO, TX

"Beautiful fabric. A very quick run over with the iron and it looks perfect again. Very soft and comfortable."

Nick in Corinda, QLD

"Great color and fabric for a basic work shirt"

john in North Andover, MA

"It has a slight iridescence to it. Very soft."

Zack in TUCSON, AZ

"Fabric was of high quality, strong blue for both formal & casual wear."

Nikolas in Georgetown, ON

"Decent and inexpensive, but is slightly shinier than I would prefer."

Samuel in PARIS, PARIS

"Have only had for a couple weeks but have washed and worn it a few times already. Fabric has softened up quite a bit after just a few washes, which is great. Wash and dry normally, take out of the dryer as soon as it's done and hang it and there will be no wrinkles. With a 30 second iron job (just collar, cuffs and p…lacket) it looks great. Better natural wrinkle resistance than I expected but still has great drape. Hard to be happier for $70 and will be a staple of my work wardrobe."

Lee in NORWALK, CT

"Great color blue for work"

Owen in WASHINGTON, DC

"Classic shirt for a straightforward look. A solid staple in any business casual setting. Can be worn stand alone or with a sport coat."

Joshua in Santa Monica, CA

"Love it!"

Bernard in District Heights, MD

"Very nice feel of the fabric, very comfortable to wear."

Christopher in Pittsfield, MA

"Great fabric for a classic 4-season dress shirt."

Jerome in Sebastopol, CA

"I own it in white and thought it was about time to expand my general-purpose business shirts"

Paul in NEW YORK, NY

"nice color, bit more sheen than was hoping for"

Jack in WASHINGTON, DC

"Good shirt for the price. Hope the fabric holds up."

Ken in Madisonville, LA

"I don't especially like the sheen of this fabric."

Michael in West Orange, NJ

"Great for the price."

Christian in HOUSTON, TX

"This is the best fabric. One of the most comfortable shirts I own."

David in Govans, MD

"Great shade of blue, not too dark and not too light."

Andrew in New Orleans, LA

"It's amazing"

bogen in New York, NY

"Love the feel of th we fabrric."

Mark in Mount Angel, OR

"A must-have!"

Azhar in Woodside, NY

"Good value fabric. A bit of a pest to iron, but feels nice to wear."

Simon in Kambah, ACT

"Great looking fabric - perfect for all seasons"

Gabriel in New York, NY

"The fabric is fine. Much like any other blue oxford."

Keith in DECATUR, GA

"Not my favorite. Too shiny."

Matt in CHAMPAIGN, IL

"My new goto blue fabric for a dress shirt,"

Niall in Dalkey, Dalkey

"Great pinpoint - casual shirt that is super comfortable and durable"

David in NEW YORK, NY

"There was a slight sheen to the fabric. Fit was good."

Ryan in Lutherville, MD

"Great fabric. It's very similar to a royal oxford cloth and has a slight iridescence so beware what design details you choose. Pretty hearty but shows perspiration easier than most fabrics I've purchased."

Cameron in Flowery Branch, GA

"Very nice shirt for the money."

Joseph in Stoneham, MA

"The fabric looks cheap and tacky, it has this weird shine to it that just looks gross. I will return this shirt because I can't see myself ever wearing it. It's also the scratchiest dress shirt I've ever put on, it feels terrible on my skin. In all of my previous Proper Cloth orders, every shirt I got was soft an…d luxurious. In this latest order, all 3 shirts I got were scratchy and uncomfortable, but this one was the worst. I wonder if the quality of Proper Cloth has just gone down hill in the past year or two, because this was just not the same experience that I've had in the past. At all."

Ryan in Washington, DC

"Great"

jeff in Marietta, GA

"Light and comfortable"

Jonathan in Hong Kong,

"Perfect staple to wardrobe."

James in North Andover, MA

"Felt very rigid and the color had much more sheen to it than what you could tell from the photos"

Sean in MINNEAPOLIS, MN

"Solid blue shirt option. The fabric does have a significant sheen to it, which may be polarizing for some, but does add visual interest."

Chase in Stamford, CT

"Very nice fabric. Not dramatic, but perfect for an everyday shirt."

Michael in St Albans, Herts

"Very comfortable and the wrinkle resistance quality is great"

Martin in Saskatoon, SK

"Good, everyday blue shirt fabric."

Joseph in Dumont, NJ

"The fabric was a little below average."

Kevin in Wyckoff, NJ
FAQs
How do I get started?

First, welcome to Proper Cloth. We specialize in custom dress shirts, suits, jackets and pants.

The first step would be to create a size using our Smart Size Quiz. We'll use your answers and data from thousands of satisfied customers to generate custom dress shirt sizes in your account.

To order, you can browse our gallery of curated, pre-styled options and purchase them, made to order in your custom size (and style, just click 'Customize' to modify).

Or

You can use our Design-A-Shirt tool to create a custom designed shirt from scratch, selecting the fabric and all style details (collar, pocket, buttons, etc), before applying your custom size! We highly recommend only getting one shirt to start so we can lock down the Perfect Fit (Guaranteed!).
How long does it take to have a custom shirt made?

Standard finish, casual wash, and non-iron shirts generally take 12 to 14 days to produce and deliver. In all cases, the promised delivery date range at checkout should be accurate (if not slightly conservative). Click here to see our typical delivery times based on product.

Orders including shirts with any style of Mother of Pearl buttons must undergo special Fish and Wildlife inspections that may cause delays. For this reason, the expected delivery date range will be extended by an additional 14 days.
Can I change the collar or cuff style? Can I add a pocket? Short sleeves? etc.

As a made-to-measure shirtmaker, we offer a wide variety of style features. Proper Cloth shirts can be styled with any of our 30+ different collar styles, 12 different cuff styles, and one of our 9 different pocket options can absolutely be added.

Just click the 'Customize' button next to any of our pre-designed, photographed shirts to edit the design however you wish!

Short Sleeve shirts can be ordered by specifying as such under the Cuff/Sleeve section of the Design-A-Shirt tool.
Do you offer rush delivery?

Rush delivery is not available for custom made products. With ready-to-wear and stocked products, we have a little more flexibility.
Still have a question? Get in touch
Ready to create your custom shirt size?
Answer 10 easy questions about your body and fit preference to create a custom size.
Our Perfect Fit Guarantee
If you're not entirely happy with the fit of your custom shirt (or anything else about the shirt) you can return it to us for a complimentary remake in a new size or style. We excel at making remakes quick and hassle-free. If remaking the shirt doesn't suit you, you can also return the shirt for a full refund.