Washed Natural White Heavy Oxford
$85
Select Shirt Size
Collar
i
Don't worry about shrinkage — we'll account for that automatically based on fabric choice. You can fine-tune your collar size down to 0.1" or adjust any of the 16 other customizable size parameters when you create a custom size.
Sleeve
i
Sleeve length is measured from the center back to the edge of the shoulder and down to the end of the cuff. Fine-tune your sleeve length down to 0.1" or adjust any of the 16 other customizable size parameters when you create a custom size.
Fit
i
Slim Fit will be nicely fitted, yet comfortable. Super Slim Fit is for those that prefer a particularly trim fit and are not bothered by slight tightness or limited range of motion. Classic Fit is a more generous, roomy fit that won't hug the body closely.
Shirt Style Details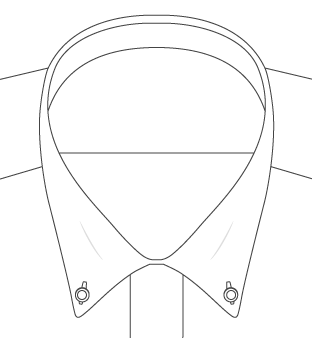 Soft Ivy Button Down Collar
Collar roll. And plenty of it. This decidedly casual collar style is more expressive than most modern button down collars.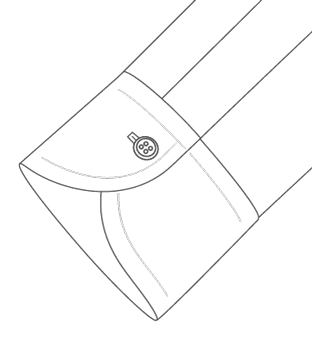 Soft Long One Button Cuff
The same shape as our long one button barrel, but without the stiff fusing. Soft, comfortable, and a good match for casual style shirts.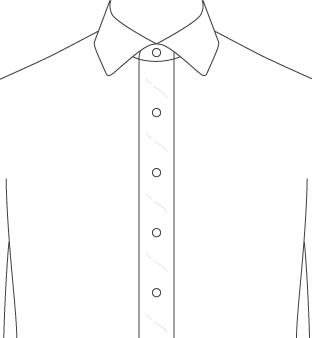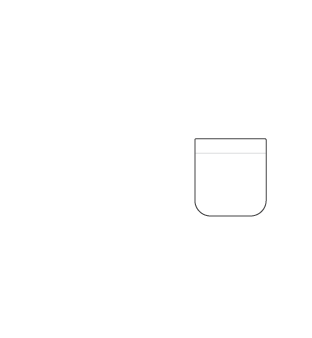 Soft Wide Front Placket, Rounded Pocket
A traditional take on the casual soft placket. The wider 1.5" unfused front makes for a perfect relaxed look.
Buttons

Roma Buttons i

A beautiful off-white faux mother-of-pearl button. Made from a high quality plastic resin. Very durable.

Bottom Hem

Rounded i

A 2" curved front and back shirttail hem with reinforced side seam gussets.
Change any of these shirt details, add a monogram, and more by customizing this shirt.
Fabric Info
Fabric Description
Comfortable, hard-wearing, and incredibly versatile, the oxford is a staple every man should have in his closet.
Our heavy oxfords have just the right amount of heft to them—they're woven with a 40/1 x 21/2 construction that feels substantial but not overly thick. They're also highly resilient, meaning they'll last for years and only get better the more they're washed and worn. Oxford cloth is one of the few fabrics that can be worn just as easily with a suit and tie as it can be worn rumpled and untucked with jeans. Our natural white version is a timeless and easy to wear choice. Learn more about oxford shirts here.
Recommended Styling: Try it with our Soft Ivy Button Down Collar, Soft Front Placket, and a Soft One-Button Cuff for a classic oxford cloth button down (OCBD), or go with one of our soft spread or cutaway collars for more of a sprezzy Italian vibe.
Casual Wash: Shirts cut in this fabric are washed after being sewn. This process gives the shirt a softer, broken-in feel with puckering around the seams.
Color & Pattern

Performance
4.69 / 5 Average rating
Recommended by 95%.
"An absolute steal. Old school oxford look and feel."

Patrick in DURHAM, NC

"It's great, as classic as it gets"

Alejandro in Jesus Maria, Jalisco

"Good low-cost fabric. Not great feel."

Griffin in New York, NY

"I really like this fabric. It provides the heft of a typical "heavy oxford" fabric, but with some softness that usually occurs after several washes."

Cameron in Houston, TX

"This is the quintessential Oxford button down for jeans and khakis!"

Lou in Bentonville, AR

"I don't like the heavy fabric. Poor choice on my part."

Jeremy in LUBBOCK, TX

"Solid feel but a little stiff."

Michael in Phoenix, AZ

"Wrinkles a bit more than expected."

Eric in Coopersburg, PA

"Just buy it"

Alexander in AURORA, CO

"Exactly as described"

Harold in New York, NY

"I prefer shirts that are substantial. This shirt fits the bill nicely."

Ron in RALEIGH, NC

"This fabric is just "stiff" enough to ensure I feel the shirt all day and know that my "armor" is perfect!"

Trevor in OMAHA, NE

"good basic shirt"

Sander in Haverford, PA

"Never received"

Julian in Chicago, IL

"Not widely available at this fabric weight and the price was OK, it looks great."

Brian in Cooks Hill, NSW

"Versatile and stylish"

James in Apex, NC

"Perfection for a classic OCBD."

Philip in Santa Barbara, CA

"Nice fabric but a little stiff"

Xavier in New Farm, QLD

"Quite a stiff fabric, but ideal for a heavy Oxford."

Adam in BRIGG, Lincs

"Good texture. Fits well. Strangely a little more difficult to iron. But looking forward to wearing this summer."

kelsey in New York, NY

"Love the fabric. It may look thick but comfortable even on the hot day in California."

Rattana in LONG BEACH, CA

"Great shirt!"

Chris in Kirkwood, MO

"Fine Oxford."

Hugh in Weston, MA

"Classic thick, quality fabric. Nothing stetchy. Just high quality classic fabric."

William in Lafayette, CA

"This fabric was a little heavier than expected but wears nicely"

Aaron in New York, NY

"Solid Oxford cloth"

Nicholas in CHICAGO, IL

"I like a little better than the heavy Oxford previously listed."

Elliott in Addison, TX

"I like the fabric, I expected to wrinkle while wearing, which is why I iron it before wearing. Thickness is on point - if you work at an office , this would be good. If you are walking around in warmer weather, probably roll the sleeve up and it will help with cooling you a bit."

John in Bay Point, CA

"Very nice weight and finish"

Steven in Woolooware, NSW

"Can't bear heavy Oxford."

Grant in COLUMBUS, OH

"I am having alot of trouble identifying the right material. the last 2 shirts I got were not what I was expecting."

Scott in Bellaire, TX

"Great chunky fabric, mildly opaque."

Tamlyn in SALEM, OR

"feels smooth yet sturdy; wrinkles as expected. very opaque, so I can wear on any occasion. the shrinkage was more than expected; I have to resize the next time I order one with the same fabric."

Hiro in TRAVERSE CITY, MI

"Very comfortable."

Eugene in WASHINGTON, DC

"Feels cheap"

JP in Singapore,

"So comfortable. Great color."

Michael in Suffield, CT

"The fabric is comfortable, but not wrinkle resistant."

Hugh Jingjian in Auckland, Auckland

"I love the heavy oxford fabric — perfect for most days in San Francisco."

Christian in San Francisco, CA

"This review requires an explanation. This fabric is beautiful. The reason I'm returning the shirts is the material is simply too heavy for me. It launders beautifully, and if you're looking for a heavy cotton Oxford you'll likely be delighted. It's just too thick for my taste."

Tim in NORTHVILLE, MI

"great shirt"

stephen in Columbus, OH

"a sturdy, standard Oxford fabric"

Aaron in BROOKLYN, NY

"Love the fabric, but the depth doesn't quite show in the all white. I'd probably order again, but like this less than color versions of the same shirt."

Jonathan in Merion Station, PA

"Very soft"

Andrew in Perry, OH

"Not a huge fan of Oxford it turns out but the fabric is what it is, it does what an Oxford does"

Ryan in Dalton, PA

"Excellent oxford cloth."

Donald in Galveston, TX

"Makes a nice looking Oxford shirt. Heavyweight with nice texture."

Don in Rescue, CA

"Definitely more natural looking than bright white"

Ian in BROOKLYN, NY

"Wonderful fabric"

Nathan in MINNEAPOLIS, MN

"most comfortable shirt I own!"

Shane in Carrollton, GA

"Love that you can dress this shirt up or down."

Jose in YORBA LINDA, CA

"Very smart fabric"

Juian in Kingston upon Thames,

"Great Oxford. Wrinkles a little easier than other fabrics though."

Steve in Ann Arbor, MI

"It's a really heavy oxford. it's going to be great breaking in this shirt. Already a favorite"

Tom in Wayne, PA

"A bit stiffer than expected, but high quality"

Christopher in BROOKLYN, NY

"Slightly off-white, stiff fabric for an oxford shirt. Looks great with jeans and a blazer!"

Jared in WASHINGTON, DC

"I like the fabric. When you set it on the hanger next to my old white shirt, you can see the superior quality. I had read an article that recommended Proper Cloth as a good place to get a quality 100 percent cotton shirt. Not so many people make them any more, and I also will have some no-iron shirts in the closet, but… I wanted to have one quality white Oxford to wear when my new suit comes in. This shirt should get better with use and last, well as long as I need a white shirt at this point. I just read an article this morning that suits and ties are going out of style after the long Covid lockdown, but I think a nice quality good looking shirt is still a pleasure to wear."

David in GREENSBORO, NC

"Like the feel."

John in New York, NY

"Ultimate wearability - dress it up or down"

Peter in SAN FRANCISCO, CA

"Nice and soft. Not a fabric for the office —unless it's the home office."

Joshua in Beverly Hills, CA

"I did not end up receiving this shirt."

Gary in Chicago, IL

"It's great soft but stiff. Great for any occasion"

Eric in AUSTIN, TX

"A nice solid Oxford cloth with a ton of heft and body. Not wrinkle resistant but that's part of the look!"

Kyle in NEW YORK, NY

"The material is rather stiff and somewhat uncomfortable. Nonetheless, I expect it to be quite durable, and become more comfortable with age. I'm therefore quite happy with it."

Richard in NEW YORK, NY

"A bit more wrinkle prone than I'd like, but very classic and nice."

Matt in Richardson, TX

"Same as above. Length problems"

Michael in PENSACOLA, FL

"Great weight"

Matthew in Far Hills, NJ

"Sturdy"

Marie in NASHVILLE, TN

"Great casual shirt"

Joe in Winnetka, IL

"I do but it is too casual for the collar and construction I picked."

Jeff in Port Washington, NY

"Heavy material wrinkles"

Dewey in Kerens, TX

"Lovely Oxford shirt. Nice weight to the fabric but it's still soft."

Paul in Reading, Berkshire

"Perfect weight for an Oxford cloth"

Lance in Medina, NY

"Yes not the softest but give it time, a lighter weight option would be appreciated too. You may sell that already but I'm unsure from your website"

Simeon in Glasgow,

"Thick, heavy, but soft. Perfect for a casual oxford shirt. Soft wide front placket is great. Very happy with this one."

Mathew in London, ON

"Opaque in spite of the color; good for all seasons"

Sean in BOSTON, MA

"Fabric as expected, but it was my first order and the shirt in general was too small and too short."

Michael in Wilton Manors, FL

"I like it"

Kelley in Orange Beach, AL

"Perfect - good weight. Will soften over time I think. Not too shiny."

Paul in Victoria, BC

"A hearty, thick Oxford. A nice old-fashioned (in a good way) Oxford shirt for when you need something traditional and a little more formal."

Matthew in WASHINGTON, DC

"Has a canvas feel and may be rough on the skin till you've washed it a few times. Looks great with soft ivy league collar, a wide placket and roma buttons."

Kirk in ROSEVILLE, CA

"Amazing value"

Doron in New York, NY

"This was their lowest tier oxford cloth for the money I paid for it the value was there. I was very happy with the shirts construction and six. It's a decent oxford cloth, nothing to snuff at, but now that I've had for experience I'm confident that I can obtain and possibly Taylor shirt from proper cloth, fully c…ustomize to my specifications and a perfect fit, next time I'll probably order a higher tier Oxford. In the meantime I'm very happy with my shirt and and wear it frequently."

Tucker in GAITHERSBURG, MD

"Wrinkles easy and the fabric chaffs the skin"

Jesse in New York, NY

"Just the perfect weight of heavy Oxford cloth. A quality grade of cloth"

Duncan in RICHMOND, VA

"I think the word "heavy" just about sums it up..."

Francis in Norcross, GA

"Nice heavy cloth."

David in New York, NY

"Strong, crisp and durable. Perfect construction."

Jeremy in DULWICH HILL, NSW

"My second of this fabric. Great classic shirt."

erik in Hobe Sound, FL

"Doesn't look as good as other oxfords."

Jason in Toronto, Ontario

"The fabric is easily wrinkled and comes our wrinkled even after washing and ironing. It also attracts fuzz, for lack of a better word."

Elias in WASHINGTON, DC

"It's not as white as the Supima White, but is good for casual wear and it has a good weight and soft texture."

John in HOUSTON, TX

"Great - especially like the washed feel."

Chris in Tiverton, Devon

"Classic heavy fabric. Does need breaking in though."

Ian in Rochester, MN

"Best value Oxford. The washed effect really makes the shirt softer from the beginning."

Steven in Waverley,

"Definitely heavy."

Bruce in WORCESTER, MA

"This is a typical oxford cotton fabric with the texture and drape you would expect from a medium priced oxford."

Robert in Annapolis, MD

"No issues - I liked the color and feel of the material"

Paul in Creve Coeur, MO

"Simmer weight beachy vibe is exactly what I wanted for my late summer visit to Martha's Vineyard island in Massachusetts, USA."

Bradley in SANTA MONICA, CA

"I think Oxford hearty but not too rough. And a good roll on the collar."

Ari in Bergenfield, NJ

"No issues"

Larry in Tolar, TX
FAQs
How do I get started?

First, welcome to Proper Cloth. We specialize in custom dress shirts, suits, jackets and pants.

The first step would be to create a size using our Smart Size Quiz. We'll use your answers and data from thousands of satisfied customers to generate custom dress shirt sizes in your account.

To order, you can browse our gallery of curated, pre-styled options and purchase them, made to order in your custom size (and style, just click 'Customize' to modify).

Or

You can use our Design-A-Shirt tool to create a custom designed shirt from scratch, selecting the fabric and all style details (collar, pocket, buttons, etc), before applying your custom size! We highly recommend only getting one shirt to start so we can lock down the Perfect Fit (Guaranteed!).
How long does it take to have a custom shirt made?

Standard finish, casual wash, and non-iron shirts generally take 12 to 14 days to produce and deliver. In all cases, the promised delivery date range at checkout should be accurate (if not slightly conservative). Click here to see our typical delivery times based on product.

Orders including shirts with any style of Mother of Pearl buttons must undergo special Fish and Wildlife inspections that may cause delays. For this reason, the expected delivery date range will be extended by an additional 14 days.
Can I change the collar or cuff style? Can I add a pocket? Short sleeves? etc.

As a made-to-measure shirtmaker, we offer a wide variety of style features. Proper Cloth shirts can be styled with any of our 30+ different collar styles, 12 different cuff styles, and one of our 9 different pocket options can absolutely be added.

Just click the 'Customize' button next to any of our pre-designed, photographed shirts to edit the design however you wish!

Short Sleeve shirts can be ordered by specifying as such under the Cuff/Sleeve section of the Design-A-Shirt tool.
Do you offer rush delivery?

Rush delivery is not available for custom made products. With ready-to-wear and stocked products, we have a little more flexibility.
Still have a question? Get in touch or start a chat
Ready to create your custom shirt size?
Answer 10 easy questions about your body and fit preference to create a custom size.
Our Perfect Fit Guarantee
If you're not entirely happy with the fit of your custom shirt (or anything else about the shirt) you can return it to us for a complimentary remake in a new size or style. We excel at making remakes quick and hassle-free. If remaking the shirt doesn't suit you, you can also return the shirt for a full refund.