Pink University Stripe Heavy Oxford
$90
Select Shirt Size
Collar
i
Don't worry about shrinkage — we'll account for that automatically based on fabric choice. You can fine-tune your collar size down to 0.1" or adjust any of the 16 other customizable size parameters when you create a custom size.
Sleeve
i
Sleeve length is measured from the center back to the edge of the shoulder and down to the end of the cuff. Fine-tune your sleeve length down to 0.1" or adjust any of the 16 other customizable size parameters when you create a custom size.
Fit
i
Slim Fit will be nicely fitted, yet comfortable. Super Slim Fit is for those that prefer a particularly trim fit and are not bothered by slight tightness or limited range of motion. Classic Fit is a more generous, roomy fit that won't hug the body closely.
Shirt Style Details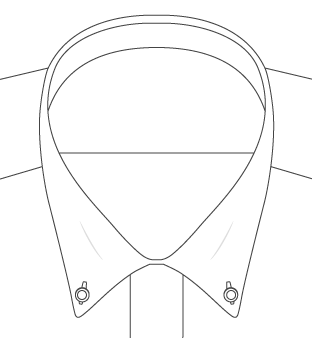 Soft Ivy Button Down Collar
Collar roll. And plenty of it. This decidedly casual collar style is more expressive than most modern button down collars.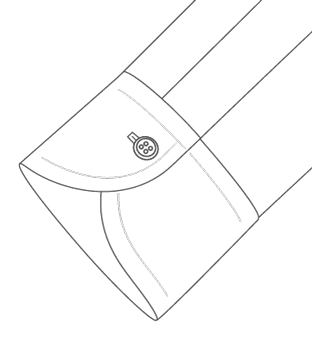 Soft Long One Button Cuff
The same shape as our long one button barrel, but without the stiff fusing. Soft, comfortable, and a good match for casual style shirts.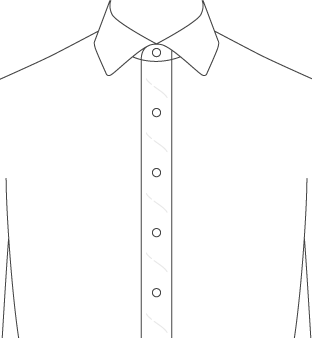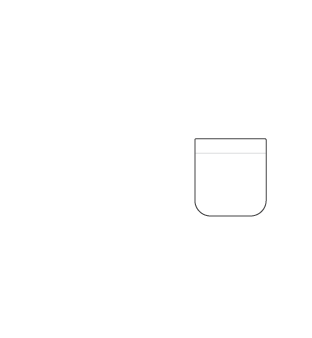 Soft Front Placket, Rounded Pocket
Great for casual shirts. A soft, unfused front placket makes for a relaxed look.
Buttons

Roma Buttons i

A beautiful off-white faux mother-of-pearl button. Made from a high quality plastic resin. Very durable.

Bottom Hem

Rounded i

A 2" curved front and back shirttail hem with reinforced side seam gussets.
Change any of these shirt details, add a monogram, and more by customizing this shirt.
Fabric Info
Fabric Description
Every man should own an oxford shirt. Comfortable, hard-wearing, and incredibly versatile, oxfords are an absolute wardrobe staple. Our heavy oxfords have just the right amount of heft to them—they're woven with a 40/1 x 21/2 construction for a fabric that feels substantial, but not overly thick. They're also highly resilient, meaning they'll last for years and only get better the more they're washed and worn. You can dress an oxford up under a sport coat or dress it down with your favorite pair of jeans. It's one of the few fabrics that can just as easily be worn with a tie as it can be worn rumpled and untucked. Our pink university stripe heavy oxford is the perfect shade of pink that's easy to wear and a great way of breaking up your whites and blues. Try it with our Soft Ivy Button Down Collar, Soft Front Placket, and a Soft One-Button Cuff for a classic oxford cloth button down (OCBD), or go with one of our soft spread collars for more of a sprezzy Italian vibe.
Color & Pattern

Performance
4.78 / 5 Average rating
Recommended by 97%.
"I would like a thinner stripe in the same fabric"

Paul in Creve Coeur, MO

"classic oxford style - i think the pink is a little brighter than the 'light pink' oxford cloth, or perhaps the latter faded slightly after consistent wear? looks great regardless."

Aaron in Brooklyn, NY

"heavy fabric like it used to be with oxfords!"

bob in Cary, NC

"Just as I hoped. Even better than the traditional Brooks Brothers shorts."

Jerry in New York, NY

"Classic oxford"

David in TEMPE, AZ

"Like the weight. Should last a long time"

Mike in Waxhaw, NC

"A little more see-through than anticipated"

Sabrina in CAMBRIDGE, MA

"Very suitable for casual shirt where you would fold up your sleeve. The thickness is just right where you can wear in summer time."

Calvin in Hong Kong,

"Great casual shirt in perfect shade of pink"

Tony in Summit, NJ

"This is a nice, relatively heavy fabric. It wrinkles very easily, but I like the way it feels on my skin."

John in CHICAGO, IL

"Nice weight"

David in Califon, NJ

"Great classic Oxford feel and weight very sturdy and I feel it will last many years"

Bill in Guilford, CT

"Love it"

Fred in LITTLE ROCK, AR

"Good weight and soft, a great casual shirt"

Aaron in New York, NY

"I'm a sucker for Oxford cloth. This one doesn't disappoint."

Jay in Corona, CA

"See above."

philip in bad neuenahr, rp

"Great fabric and a fantastic shade of pale pink. Love it!"

Lou in Bentonville, AR

"High quality."

Keith in Cary, NC

"Excellent fabric for business-casual dress."

Robert in LOS ANGELES, CA

"Perfect heavy oxford, durable and predictable shrinkage. Stripes on the wide side compared to some manufacturers."

Parth in FAYETTEVILLE, NC

"Fabric is beautiful , Crisp and nice hand— I haven't worn shirt yet so can't rate perform, but will"

Hector in Irvine, CA

"Nice contrast between the sturdy fabric and a soft color, like it a lot!"

Tobias in Zurich, ZH

"It is a workhorse and I really like it with jeans or khakis"

Gary in New York, PA

"The classic oxford fabric is great and what you would expect, but I love love love this pattern. This is like my new favorite shirt of all time."

Michael in Brooklyn, NY

"The fabric is durable and hefty without getting too hot. I wear this fabric all year. The colour of this one is a little brighter than expected but I love it."

Peter in South Hobart, TAS

"love it"

patrick in OKLAHOMA CITY, OK

"a classic"

Todd in Reno, NV

"Perfect to be worn unironed for casual or ironed for more dressy occasions"

Jerry in Daniel Island, SC

"Very nice firm fabric"

Juian in Kingston upon Thames,

"The material is a good mid-weight fabric. Nice under sweaters in a cold office or by itself on a warm day."

Chase in NORWALK, CT

"Can't wait for summer"

Doron in New York, NY

"One of my favorite striped fabrics. Very nice, heavy cotton that holds starch well. It is perfect for a works shirt."

James in Saint Amant, LA

"Excellent color/pattern for me. Good fabric weight. Seems durable--meaning the elbows won't wear through with just a few years of use."

Zenas in Nantucket, MA

"Nice oxford shirt"

Mike in Des Peres, MO

"Excellent shirt and style maker"

Daniel in Gallatin, TN

"A fun variation from blue university stripes."

Philip in Waynesboro, VA

"An iconic prep fabric!"

Drew in Bryn Mawr, PA

"Thick fabric, perfect for cooler weather"

David in Houston, TX

"Terrific"

Joe in Brooklyn, NY

"Seems to be rugged and so I expect it to be long lived."

Kendall in Gex, Ain

"Love this fabric for early Spring when the temps are still on the cool side. Heavy oxford reminds me of preppy shirts from decades ago. Classic."

Stephen in Hockessin, DE

"Fabric is thicker than expected"

Kyle in Sanibel, FL

"C'mon. Look at that fabric. It's beautiful. I've ordered probably 10 or more oxfords from PC and I will continue to. Great product."

Christopher in Annapolis, MD

"Every girl's crazy about a pink university stripe wearing man. This shirt has it all - a substantial feel (no opacity issues) and lovely patterned texture. The stripes are definitely more muted in real life. They're not bright pink, which is what makes the shirt so versatile. Already one of my favorites for cooler …weather!"

Robin in London, England

"Great color and fabric. Very pleased."

Venkata in ABILENE, TX

"Exactly what you'd expect from an Oxford fabric. Sturdy and versatile"

Ayoub in Springfield Gardens, NY

"Beautiful - smooth and comfortable, and the colour is very rich."

Subodhana in Nakano-ku, Tokyo

"Fabric is high quality and easy to iron."

Bill in Mesquite, TX

"Looks nice. Easy to care for."

Robert in Lebanon, NH

"Very good heavy oxford. Better than Brooks Brothers."

David in Punta Rassa, FL

"Excellent"

ken in New York, NY

"Rugged"

KAYARDA in Selma, AL

"Another great heavy oxford cloth from PC."

Justin in Alexandria, VA

"Great color"

Steven in Glendale, WI

"Great color, a bit thick. Now that I understand this about this fabric I will be more careful."

Jose in YORBA LINDA, CA

"Great fabric. Would order again"

James in RICHMOND, VA

"Very nice fabric. Even better than the blue."

Edwin in CHARLOTTE, NC

"Great Shirt. Fabric very comfortable and resilient."

Kwabena in YONKERS, NY

"Nice and thick material"

richard in Dix Hills, NY

"A great spring-summer shirt pattern, especially as an OCBD. Wears very well, and is an appropriately well-built shirt. The pattern is a bit more casual than a solid pink shirt for an office setting, but is excellent for casual evenings and weekends, and especially for poolside or going to the shore"

Richard in HILTON HEAD ISLAND, SC

"Great looking shirt with sturdy fabric."

John Mark in Tryon, NC

"This is exactly what I wanted."

Jim in ALBANY, NY

"Lots"

Eric in Boyne City, MI

"Great colour, very comfortable and thick cloth"

Algirdas in Brooklyn, NY

"I used to have a shirt with the same color and pattern from Ralph Lauren. Ended up giving it away because I outgrew it. When I saw this pattern on the site I had to get it and it looks great and fits better than my old one."

Christopher in Carrollwood, FL

"Too heavy."

Ch in Houston, TX

"Classic sturdy oxford cloth. Great color"

David in Green Brook, NJ

"Great thick material... makes a great casual - beach shirt."

Kevin in Austin, TX

"Nice."

John in TUCSON, AZ

"Very high quality."

Harper in South Thomaston, ME

"just as expected, a bit silkier. a luxe fabric."

Andrew in Cockeysville, MD

"great fit"

Glenn in Atlanta, GA

"Looks great, love the weight and texture"

Mark in BROOKLYN, NY

"The heavyweight University Oxfords are about as classic as it gets. Great weight for autumn/winter/spring."

Brian in Gerrards Cross,

"It is as advertised."

Will in Davis, CA

"Great pink color. Just as I expected."

Traci in GLENDALE, CA

"Exactly what I was looking for in a heavy Oxford button down."

Aaron in Washington, DC

"It is exactly what I was looking for, a custom fit oxford cloth shirt."

Paul in Toronto, ON

"Love it."

pierre in San Francisco, CA

"Nice and sturdy. Great color and good weight. I'll wear this through the fall, winter, and spring."

Clarence in Wexford, PA

"Lovely fabric, perfect pink color."

Dylan in NORWALK, CT

"Classic OBD, prep factor to a 10, heavy, but not too heavy for 3 seasons, even here in north TX."

Michael in Dallas, TX

"Great color and perfect Oxford weight"

Michael in BOSTON, MA

"Am about to order more"

Arthur in Saint Louis, MO

"Again, excellent!"

J. Michael in Cypress, TX

"Classic"

Tushar in Greenwich, CT

"I love this fabric! Beautiful texture in the weave. The pink pops, but not garishly."

Andy in San Francisco, CA

"Classic collegiate oxford cloth. I ordered it with an Ivy collar and horn buttons. Pairs well with jeans or a blazer and chinos. Fabric is heavy; great for cooler temperatures."

Corey in New York, NY

"The wrinkling on this shirt is awful. I thought it was just cause its new at first and having only steamed it. But after washing and ironing the same thing happened... You can simply sit down and you will stand up with wrinkles in this shirt. Its even worse in the arm creases and on the back as you get in and out o…f the car or up and down from sitting in an office chair. Too bad, I would order these in every color."

Matt in Huntington Woods, MI

"Solid oxford shirt great for the price"

Steven in Waverley,

"great fabric-just what I wanted"

Frank in Yakima, WA

"Very high quality oxford cloth. I did not have time to dry clean this so I threw it in the wash and hanger dried it, and it held up wonderfully. This was very easy to iron as well and looked pressed even without starch. The fabric is fairly heavy but still comfortable enough to wear in the summer. The pictures are …very accurate in terms of color and fabric."

Andy in SCOTTSDALE, AZ

"Ordered this as more of a formal shirt for the office. Fits beautifully and just the right width in the pattern to make it look great."

Michael in St Kilda, VIC

"Love that pink stripe. Soft yet sturdy cloth."

Esteban in Atascocita, TX

"great comfort, color and durability"

Putnam in Wyndmoor, PA

"the only shirt ill buy"

Raymond in Buffalo, NY

"Excellent pink Oxford."

Mark in Rye, NY

"Really nice shade of pink and feels great!"

Patrick in Port Washington, NY

"Takes a few washes to break in, first wash comes out super wrinkly, but gets much better over time. Fabric has nice weight and breath-ability though, will still get these in the future"

Tristan in SAN MATEO, CA

"very well. probably a perfect weight. I am used to slightly heavier but this is likely more suited to the general market"

George in Hernando, MS
FAQs
How do I get started?

First, welcome to Proper Cloth. We specialize in custom dress shirts, suits, jackets and pants.

The first step would be to create a size using our Smart Size Quiz. We'll use your answers and data from thousands of satisfied customers to generate custom dress shirt sizes in your account.

To order, you can browse our gallery of curated, pre-styled options and purchase them, made to order in your custom size (and style, just click 'Customize' to modify).

Or

You can use our Design-A-Shirt tool to create a custom designed shirt from scratch, selecting the fabric and all style details (collar, pocket, buttons, etc), before applying your custom size! We highly recommend only getting one shirt to start so we can lock down the Perfect Fit (Guaranteed!).
How long does it take to have a custom shirt made?

Standard finish, casual wash, and non-iron shirts generally take 12 to 14 days to produce and deliver. In all cases, the promised delivery date range at checkout should be accurate (if not slightly conservative). Click here to see our typical delivery times based on product.

Orders including shirts with any style of Mother of Pearl buttons must undergo special Fish and Wildlife inspections that may cause delays. For this reason, the expected delivery date range will be extended by an additional 14 days.
Can I change the collar or cuff style? Can I add a pocket? Short sleeves? etc.

As a made-to-measure shirtmaker, we offer a wide variety of style features. Proper Cloth shirts can be styled with any of our 30+ different collar styles, 12 different cuff styles, and one of our 9 different pocket options can absolutely be added.

Just click the 'Customize' button next to any of our pre-designed, photographed shirts to edit the design however you wish!

Short Sleeve shirts can be ordered by specifying as such under the Cuff/Sleeve section of the Design-A-Shirt tool.
Do you make shirts that can be worn untucked?
How do I order a short sleeve shirt?
Do you offer rush delivery?

Rush delivery is not available for custom made products. With ready-to-wear and stocked products, we have a little more flexibility.
Still have a question? Get in touch or start a chat
Ready to create your custom shirt size?
Answer 10 easy questions about your body and fit preference to create a custom size.
Our Perfect Fit Guarantee
If you're not entirely happy with the fit of your custom shirt (or anything else about the shirt) you can return it to us for a complimentary remake in a new size or style. We excel at making remakes quick and hassle-free. If remaking the shirt doesn't suit you, you can also return the shirt for a full refund.