Blue University Stripe Heavy Oxford
$85
Select Shirt Size
Collar
i
Don't worry about shrinkage — we'll account for that automatically based on fabric choice. You can fine-tune your collar size down to 0.1" or adjust any of the 16 other customizable size parameters when you create a custom size.
Sleeve
i
Sleeve length is measured from the center back to the edge of the shoulder and down to the end of the cuff. Fine-tune your sleeve length down to 0.1" or adjust any of the 16 other customizable size parameters when you create a custom size.
Fit
i
Slim Fit will be nicely fitted, yet comfortable. Super Slim Fit is for those that prefer a particularly trim fit and are not bothered by slight tightness or limited range of motion. Classic Fit is a more generous, roomy fit that won't hug the body closely.
Shirt Style Details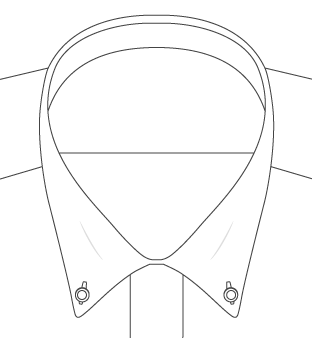 Soft Ivy Button Down Collar
Collar roll. And plenty of it. This decidedly casual collar style is more expressive than most modern button down collars.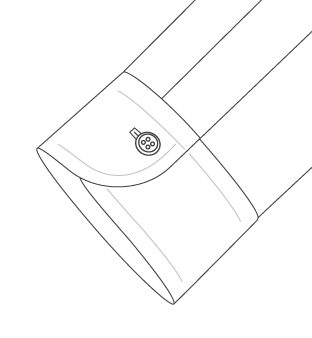 Soft One Button Cuff
The same shape as our one button barrel, but without the stiff fusing. Soft, comfortable, and a good match for casual shirts.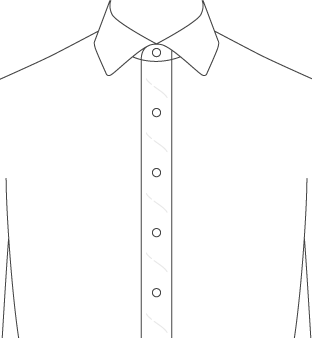 Soft Front Placket, No Pocket
Great for casual shirts. A soft, unfused front placket makes for a relaxed look.
Buttons

Standard Buttons i

Our standard button. Made from high quality plastic resin. Very durable.

Bottom Hem

Rounded i

A 2" curved front and back shirttail hem with reinforced side seam gussets.
Change any of these shirt details, add a monogram, chest pocket, and more by customizing this shirt.
Fabric Info
Fabric Description
Every man should own an oxford shirt. Comfortable, hard-wearing, and incredibly versatile, oxfords are an absolute wardrobe staple. Our heavy oxfords have just the right amount of heft to them—they're woven with a 40/1 x 21/2 construction for a fabric that feels substantial, but not overly thick. They're also highly resilient, meaning they'll last for years and only get better the more they're washed and worn. You can dress an oxford up under a sport coat or dress it down with your favorite pair of jeans. It's one of the few fabrics that can just as easily be worn with a tie as it can be worn rumpled and untucked. Our blue university stripe heavy oxford is is as timeless and easy to wear as it gets. Try it with our Soft Ivy Button Down Collar, Soft Front Placket, and a Soft One-Button Cuff for a classic oxford cloth button down (OCBD), or go with one of our soft spread collars for more of a sprezzy Italian vibe.
Fabric Details
Suggested Style

Casual

Weave

Oxford Clothi

Composition

100% Cotton

Thread Count

40s 2-plyi

Weight

Heavyweighti


Opacity Rating

5 / 5 · Maximum Opaqueness i

Wrinkle Resistance

3 / 5 · Slightly Wrinkle-Resistanti

Fabric ID

PCF533 →

Shrinkage

Please note that this fabric comes with an extra shrinkage allowance of 1% in the sleeve length and collar around. We suggest you wash and press this shirt for optimal size consistency with all of our other fabrics.
Color & Pattern

Performance
4.72 / 5 Average rating
Recommended by 97%.
"The material is relatively thick and is best worn on cooler days."

Christopher in LOS ANGELES, CA

"Great"

Christopher in PASADENA, CA

"The fabric could be a bit more wrinkle resistant but it is overall of a very good quality."

Matthias in Berlin,

"I love the color and the fit. It feels like I can take out for the day or a casual business office attire. It's flexible enough to do all. Recommended if it's office wear and if the weather is within 60-70s F. At 80s it will start to feel warm"

John in Bay Point, CA

"Like the hand on these ocbd. Smooth without being too course and tough"

Hector in Irvine, CA

"It was what I was expected"

Luis in SAN ANTONIO, TX

"Love this fabric!"

Alex in North Augusta, SC

"Fantastic fabric for a casual, laid-back shirt!"

Tobias in Zurich, ZH

"The fabric is a little heavier and coarser than I like, but is great for an old school heavyweight oxford."

patrick in HOUSTON, TX

"Really like this, a classic casual shirt"

Kieran in New York, NY

"Nice"

Herbert in NORMAN, OK

"This is one of my favorite oxford fabrics so far, the blue really pops up close and creates some nice vertical interest at a distance. The stripe width is perfect, not so thin as to look like a work shirt and not so wide that it feels like you can only wear it in the summer."

Chase in BROOKLYN, NY

"Heavy Oxford as expected"

Doug in KALAMAZOO, MI

"Nice heavy Oxford material and good color."

David in CHAPEL HILL, NC

"Quality and fit were on point!"

Shiful in Flushing, NY

"Classic striped oxford, fabric a bit heavier than I expected but should age well."

Michael in Chicago, IL

"Great value, great fabric"

Josh in Orion, MI

"Good oxford shirt, great for WFH, but the fabric is a bit stiff and unforgiving!"

Jeremy in London, England

"I am used to heavy weight fabrics, but this felt a bit more like cardboard on the skin, despite two washes. Perhaps, it will soften with time."

Sameer in WASHINGTON, DC

"Great fabric!"

Zachary in San Francisco, CA

"Nice and hefty Oxford that rumples rather than wrinkles. Blue stripes are slightly more muted in person than in photos, which is perfect."

Nicholas in New Orleans, LA

"A classic oxford, can't go wrong."

James in Alden, NY

"classic must have in every wardrobe"

Todd in Reno, NV

"Comfortable fabric."

Jay in NEW YORK, NY

"Excellent oxford cloth."

Donald in Galveston, TX

"Nice, heavy, classic Oxford with a great texture."

Jesse in MADISON, WI

""

Charlie in Collingswood, NJ

"Thick and irons nicely"

William in Colorado Springs, CO

"Great shirt, great fabric. Tremendous value for a MTM shirt at this price tag."

Bradley in MARIETTA, GA

"Fabric is nice and fit is great"

Ross in Houston, TX

"A must have oxford!"

Nicholas in MONROE, GA

"I like the pattern and heavy weight."

Gene in Howell, NJ

"Love the resistance to wrinkle"

Daniel in SAN LUIS POTOSI, San Luis Potosí

"Nice heavy oxford cloth fabric. Looks good and feels good too."

James in SAN DIEGO, CA

"Got this with a contrasting collar and cuff. Classic fabric"

Michael in SCOTTSDALE, AZ

"Fabric is great - soft and will be sure to last a long time."

Scott in Stratford, Prince Edward Island

"This a classic heavy oxford - I appreciate the weight of the fabric - looks great."

Craig in CHICAGO, IL

"LOVE the weight, going to buy another one shortly."

Mark in Delray Beach, FL

"Good weight, just wish I ordered a different collar."

Mark in CHICAGO, IL

"More casual fabric, great for a relaxed environment. When paired with a jacket, would also be quite suitable in a business setting."

Aaron in London, ON

"thick and soft. Really comfortable."

Dave in Sewickley, PA

"This fabric feels great. Hefty but not abrasive. Very comfortable."

Daniel in SACRAMENTO, CA

"Comfy and warm"

Enda in Guttenberg, NJ

"Nice color combination with traditional design. Great spring and summer shirt."

Alan in Paso Robles, CA

"Great fabric!"

James in Myrtle Beach, SC

"Slightly heavier than I anticipated but a good oxford cloth."

Brendan in New York, NY

"Love it. Nice heavy fabric."

Wendee in GREENWOOD, IN

"Exactly what I expected- great, heavyweight, university stripe Oxford."

John in San Clemente, CA

"staple. a little stiff but suspect it will get better as it ages"

Andrew in Singapore,

"A little heavier and scratchier than anticipated but a very solid oxford. Color and stripe is perfect."

Glenn in MARIETTA, GA

"Shrinks more than any other Proper Cloth Fabrics."

Justin in Holderness, NH

"One of my favorite shirts. Have ordered this a number of times."

Adam in New York, NY

"Nice and heavy"

mike in Los Angeles, CA

"The fabric is beefy and very durables."

Lance in Medina, NY

"The heavy oxfords have a good feel."

Danny in Houston, TX

"This shirt is a great bargain. The best quality for the price"

David in Severance, CO

"This was the first Proper Cloth fabric I really disliked, and I've ordered more than 10 different fabrics in the past. I know that it's labeled as a heavy oxford, but the material is so thick and stiff. It almost feels like I'm wearing a shirt stiffened with wax or something. The fabric also feels super rough and… is not comfortable on the skin at all. The collar area is extra thick and is almost like cardboard. I like the color and pattern, so I was really disappointed at the shirt material."

Howie in SAN FRANCISCO, CA

"Nice hearty fabric. Would be great to have university stripes in more colours."

Jason in Brisbane, Milton

"It doesn't perform as well as other wrinkle resistant fabrics, but I still love it."

Michael in TALLAHASSEE, FL

"It is very sturdy but somehow not block-like in the slightest."

Vedran in Zagreb, Grad Zagreb

"Great value, as every heavy oxford cloth."

Jean in Brookline, MA

"Proper Cloth custom make the BEST Oxfords! This is another beefy Oxford shirt, in a classic stripe that can be worn casual or dressed up with a club tie and blazer."

NORMAN in CHARLOTTE, NC

"Good shirt fabric"

Ben in London, England

"Very Comfortable"

Paul in Saratoga Springs, NY

"Great business casual fabric - ivy league staple"

Brian in Whittier, CA

"Classic"

Matt in Richardson, TX

"Great feel of heavy Oxford cloth. The stripes are just the right width"

Duncan in RICHMOND, VA

"Best bang for the buck"

Doron in New York, NY

"I LOVE the heavy oxford cloth fabrics from Proper Cloth. I can't wait for this shirt to slowly break in and become softer and softer with time."

Cameron in Houston, TX

"great"

Peter in BRIGHTON, VIC

"Great Oxford shirt, it's a classic"

Nick in Milpitas, CA

"Too firm. Would prefer it to be ok with machine drying."

Timothy in KNOXVILLE, TN

"A classic university stripe, can't go wrong with this."

Steven in Brooklyn, NY

"It's the perfect Oxford shirt, and I love the look of the university stripes."

Paul in St Albert, AB

"Classic pattern, good quality nice and thick fabric."

Tommi in Helsinki, Helsinki

"I use this shirt for a casual "work" shirt, where I'm not at an office, but out doing errands, visiting, etc. I still look good, and professional. The fabric is strong, has heft. You can still dress it up with a tie, but I have an order in for "silkier/smoother" fabric for more "dressy" occasions."

Stuart in GREAT FALLS, MT

"This is a HEAVY oxford. Much beefier than similar shirts from the Brethren - even the vintage ones. Makes a great winter shirt under a tweed jacket."

Ian in Pittsburgh, PA

"Fabric is heavy and feels like it will last a lifetime. It holds starch unlike my more lightweight shirts."

Cyrilla in Auburn, AL

"Lovely colour and stripe width"

Andrew in Glasgow,

"A classic pattern. Every guy needs 3-4 of these shirts in their closet. I love mine."

Nathan in Shakopee, MN

"Very nice color, sturdy, but very wearable."

Benjamin in Brooklyn, NY

"Great color and feel. Perfect for a work shirt."

James in Saint Amant, LA

"Great heavy oxford to be dressed up or down"

Tony in Summit, NJ

"Excellent!"

James in Scarsdale, NY

"Great thick Oxford. Just like it should be."

Derek in New Braunfels, TX

"Excellent casual shirt. Perfect for jeans and or chinos or an easy office day"

James Alexander in AUSTIN, TX

"Great feel to the shirt and a great fit."

JAMES in Mebane, NC

"sturdy biz casual fabric. Looks smart with or without a jacket."

Nic in New York, NY

"hard"

Moshe in Potomac, MD

"A classic"

Blake in Albany, NY

"Definitely heavy fabric as described; stiff but I would expect to reasonably soften after several washes. Color is a bit darker blue than the pictures."

Michael in SAN ANTONIO, TX

"stiff but comfortable"

Stephen in New York, NY

"Classic OCBD fabric. Solid. Does exactly what you would hope it would do. Just the right thickness and body."

Theron in Singapore,

"Fantastic look & feel."

Christian in Paderborn, Northrhine-Westphalia

"Absolute classic. The blue stripes pop against a crisp white without being too "harsh" or bold. This fabric epitomizes the iconic trad/prep look. The collar roll (when cut for a shirt with a button-down collar) is prominent without looking obnoxious."

Joshua in CHICAGO, IL

"Looks and feels good"

Robert in New York, NY

"Overall I really liked this fabric. It has a nice weight to it and looks great in person."

Alexis in Santa Clara, CA

"Heavy slightly rough fabric that will improve with age. Does the job and should last years"

Simeon in Glasgow,

"Heavy oxford shirt. A classic made as a soft button-down shirt. The blue is subtle."

Joshua in New York, NY

"It's hard to find Oxford cloth of this quality - very well done. A great weight for the fall."

Burt in Scotch Plains, NJ
FAQs
How do I get started?

First, welcome to Proper Cloth. We specialize in custom dress shirts, suits, jackets and pants.

The first step would be to create a size using our Smart Size Quiz. We'll use your answers and data from thousands of satisfied customers to generate custom dress shirt sizes in your account.

To order, you can browse our gallery of curated, pre-styled options and purchase them, made to order in your custom size (and style, just click 'Customize' to modify).

Or

You can use our Design-A-Shirt tool to create a custom designed shirt from scratch, selecting the fabric and all style details (collar, pocket, buttons, etc), before applying your custom size! We highly recommend only getting one shirt to start so we can lock down the Perfect Fit (Guaranteed!).
How long does it take to have a custom shirt made?

Standard finish, casual wash, and non-iron shirts generally take 12 to 14 days to produce and deliver. In all cases, the promised delivery date range at checkout should be accurate (if not slightly conservative). Click here to see our typical delivery times based on product.

Orders including shirts with any style of Mother of Pearl buttons must undergo special Fish and Wildlife inspections that may cause delays. For this reason, the expected delivery date range will be extended by an additional 14 days.
Can I change the collar or cuff style? Can I add a pocket? Short sleeves? etc.

As a made-to-measure shirtmaker, we offer a wide variety of style features. Proper Cloth shirts can be styled with any of our 30+ different collar styles, 12 different cuff styles, and one of our 9 different pocket options can absolutely be added.

Just click the 'Customize' button next to any of our pre-designed, photographed shirts to edit the design however you wish!

Short Sleeve shirts can be ordered by specifying as such under the Cuff/Sleeve section of the Design-A-Shirt tool.
Do you make shirts that can be worn untucked?
How do I order a short sleeve shirt?
Do you offer rush delivery?

Rush delivery is not available for custom made products. With ready-to-wear and stocked products, we have a little more flexibility.
Still have a question? Get in touch or start a chat
Ready to create your custom shirt size?
Answer 10 easy questions about your body and fit preference to create a custom size.
Our Perfect Fit Guarantee
If you're not entirely happy with the fit of your custom shirt (or anything else about the shirt) you can return it to us for a complimentary remake in a new size or style. We excel at making remakes quick and hassle-free. If remaking the shirt doesn't suit you, you can also return the shirt for a full refund.