Since before I was born, Americans have not been able to travel to Cuba. As a result, my idea of Cuba was something of a dangerous mystery based on Godfather II and Miami Vice… But in 2015, all that changed and direct flights from NY to Cuba resumed. So, when it came to shooting our Summer 2017 Lookbook, we knew where we wanted to go. The heat, grittiness, colorful cars, and the fascinating intersection of European architecture and tropical beaches was the perfect backdrop for the linen blend jackets and floral prints in our Summer 2017 collection. The chance to explore the mystery of Cuba was too much to pass up.
We booked flights, budgeting a couple days in advance for scouting, assuming we could figure out a game plan when we arrived. But as our departure date approached and we dug deeper, it became apparent that things might not be so easy. Cuba was still an authoritarian government with a complicated relationship to the US... Wait, we need permits? We can't take the drone? Police on every corner? Paranoia towards American journalists and film crews? They could confiscate all of our equipment at immigration? We could be thrown in jail? We needed a better plan.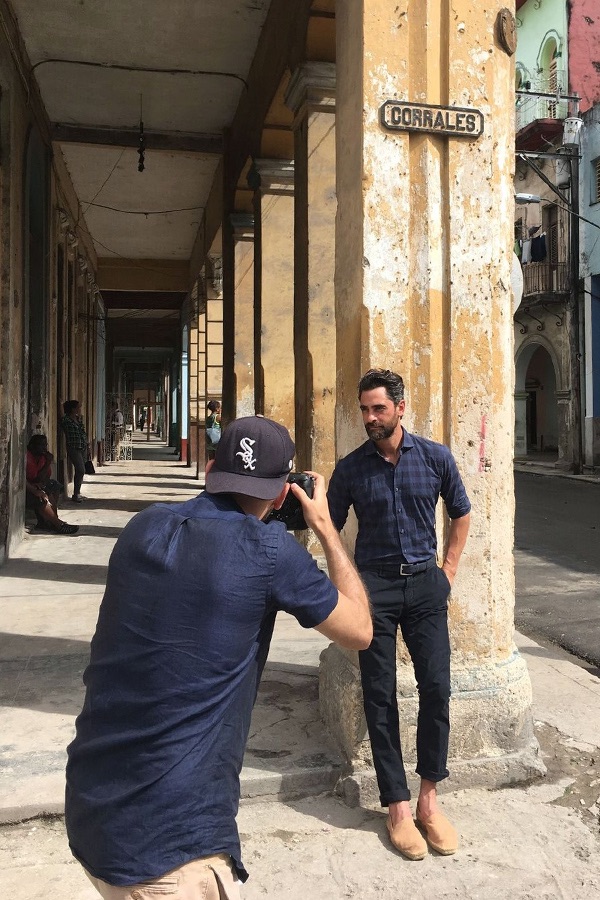 Several international phone calls later, we found a local contact with production experience. He claimed he would guide us around Havana, assist with locations, translate, and try to keep us out of trouble. There were no guarantees, but it seemed worth a shot. We boarded the plane on June 3rd, hoping for the best.
Four hours later we were in Cuba. Customs and immigration was tense. Our camera equipment triggered some alarms, and managers were called over for a suspicious interrogation. Somehow our answers satisfied them and the next thing we knew we were out in the heat of the street looking for a red and white '55 Ford Fairlane station wagon to pick us up.
The experience of Havana is like going back in time. The cars are from the 50s – not just a few classics here and there – literally every car. Internet and cell phones are rare. The buildings and architecture are incredible. Huge columns, and beautiful facades line the streets. Interiors have high ceilings with elaborate crown moldings and ornate staircases. It's not that things are poorly maintained, floors are cleanly swept and tidy, walls are clean, and everything generally works. But things are maintained without the tools or supplies that you would have in America. Paint on the walls is faded or peeling. Air conditioning is a luxury. Furniture and appliances are ancient. Doors and windows are left open to the breeze. It seems that everyone in Cuba is a resourceful mechanic, able to repair cars and items with random spare parts or tools.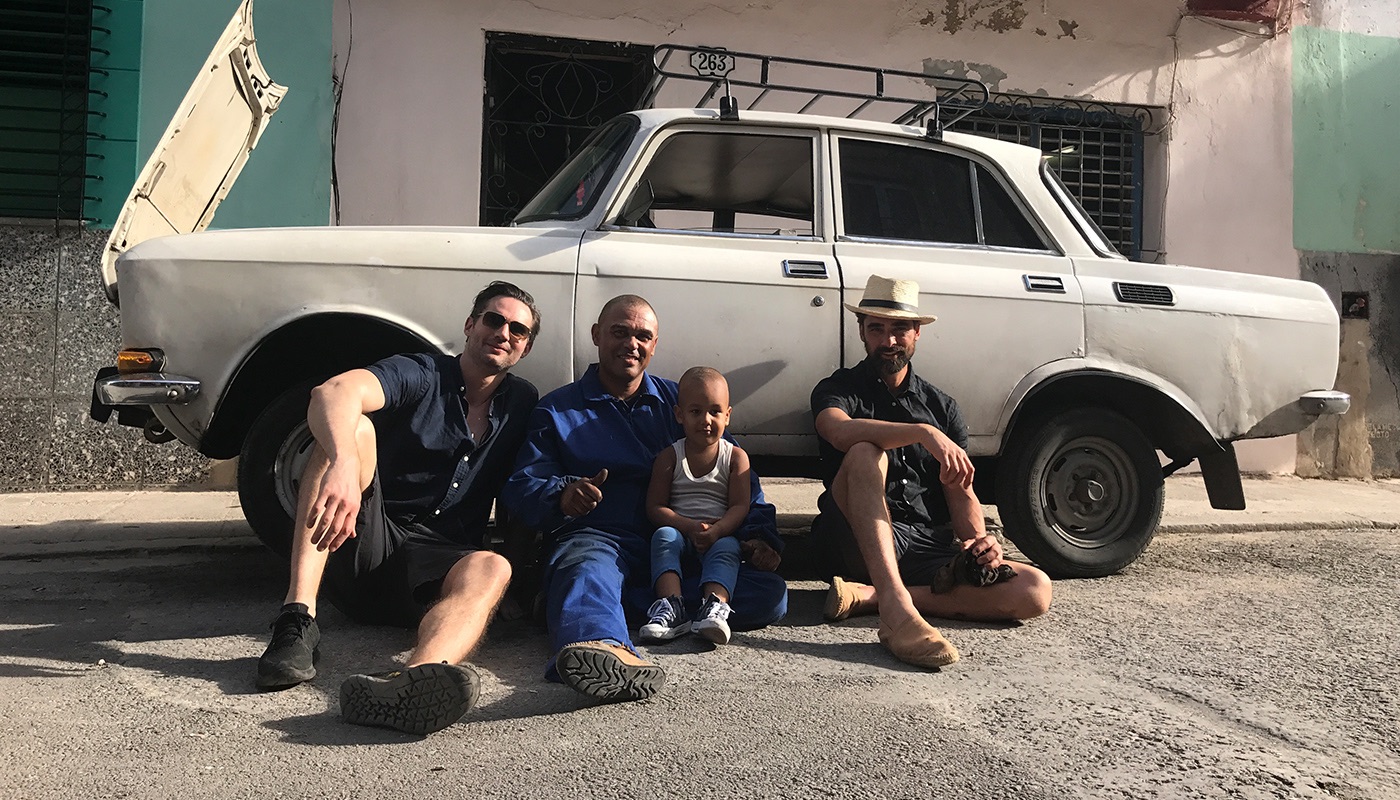 The people we interacted with were incredible. Perhaps it was the lack of tv and internet, but it seemed that many spent their afternoons just hanging out on their front stoops, chatting with neighbors. When a bunch of Americans showed up taking photos we were as much a curiosity to them as they were to us. Locals would approach us to shake hands and try out their English. They were never trying to sell us something. They just wanted to say hello and chat. When we scouted a beach at 7am Sunday morning, we were surprised to find it was already crowded with families, kids playing in the water, parents in swimsuits dancing to music. These folks liked to have fun.
The general pace of life in Cuba is slow and relaxed, but our trip was nothing of the sort. Up before sunrise and non-stop to sunset moving from location to location. We covered a lot of ground--from beaches to farms to mansions and then back to Old Havana street corners. We saw some incredible things and left with wonderful photos and memories.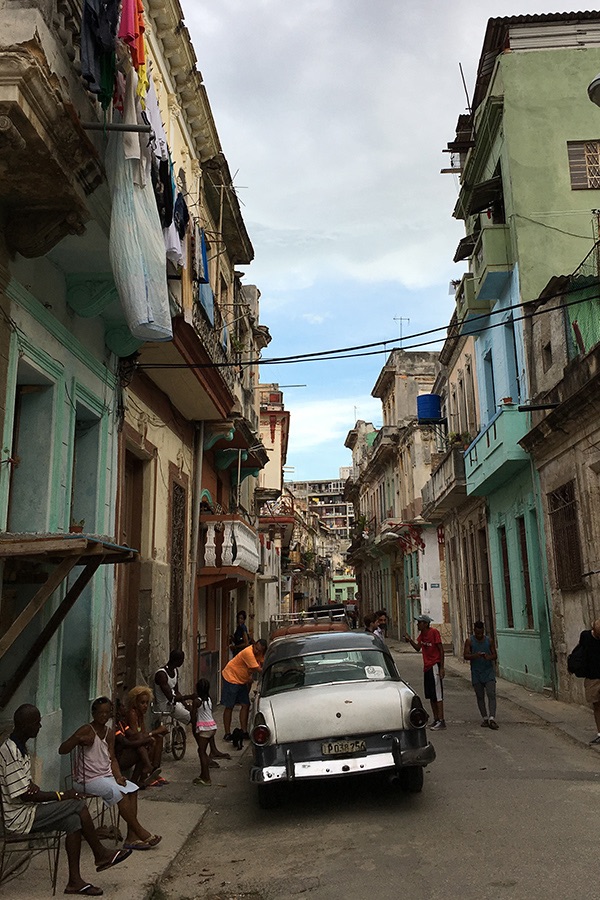 Special thanks to our local guide Robert as well as drivers Ozzie and Lazarus. Robert was everything he said he would be and more, providing access to locations we never would have gotten into on our own, hosting us at his house, and keeping us out of Cuban prison. There are a few stories that we best not share publically – but suffice it to say we owe you one.
And finally, thanks to the great video team at Compass Coalition. This was the second time we worked with them (the first was our trip to Iceland), and they were nothing but a pleasure. The team (Josh Figgs, Adam Johnson, and Dominique Claessens) are true artists and professionals, hungry to produce beautiful content. We couldn't have told this story without them.
Seph Skerritt, Founder/CEO