Wythe Grey Melange Houndstooth Flannel
$95
Select Shirt Size
Collar
i
Don't worry about shrinkage — we'll account for that automatically based on fabric choice. You can fine-tune your collar size down to 0.1" or adjust any of the 16 other customizable size parameters when you create a custom size.
Sleeve
i
Sleeve length is measured from the center back to the edge of the shoulder and down to the end of the cuff. Fine-tune your sleeve length down to 0.1" or adjust any of the 16 other customizable size parameters when you create a custom size.
Fit
i
Slim Fit will be nicely fitted, yet comfortable. Super Slim Fit is for those that prefer a particularly trim fit and are not bothered by slight tightness or limited range of motion. Classic Fit is a more generous, roomy fit that won't hug the body closely.
Shirt Style Details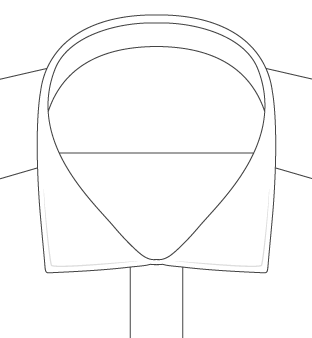 Soft President Spread Collar
Our new and improved version of our popular soft president spread collar. If you are looking for an off-duty collar, but button-down collars aren't your thing, this is going to be a great option.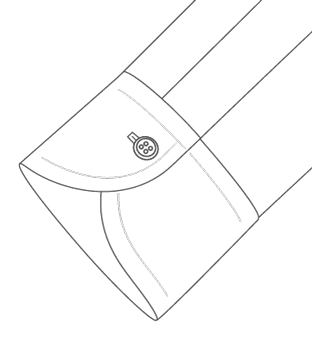 Soft Long One Button Cuff
The same shape as our long one button barrel, but without the stiff fusing. Soft, comfortable, and a good match for casual style shirts.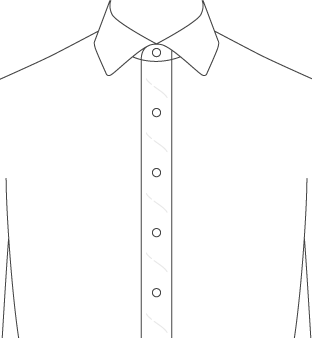 Soft Front Placket, No Pocket
Great for casual shirts. A soft, unfused front placket makes for a relaxed look.
Buttons

Grey Horn Buttons i

A subtle, dark grey button ideal for dark, casual fabrics. Made from a durable faux-horn.

Bottom Hem

Rounded i

A 2" curved front and back shirttail hem with reinforced side seam gussets.
Change any of these shirt details, add a monogram, chest pocket, and more by customizing this shirt.
Fabric Info
Fabric Description
A super soft and dense heavyweight flannel with a classic houndstooth pattern.
The hefty 32s 2-ply construction of this 100% cotton flannel gives it a beautiful drape and smooth hand that makes for a sophisticated yet casual look. The melange threads and varying grey tones creates a sophisticated casual look. It's a pattern you'd expect to find on a business shirt which, on a casual fabric like flannel, is at once traditional and unique. Wear it untucked with worn-in denim or tucked into wool flannel trousers.
Recommended Styling: Try it with our Soft Franklin Spread collar, no placket, and Soft Long One Button cuff for a minimal design that will put the focus on the pattern.
Color & Pattern

Performance
4.81 / 5 Average rating
Recommended by 96%.
"Beautiful fabric. Certainly not a Summer shirt (wears warm) but absolutely stunning under a coat or on its own."

shawn in Napa, CA

"I love this fabric. It's breathable but has a nice solid feel to it."

Vivek in SAN FRANCISCO, CA

"An interesting fabric. Takes a little bit of extra care to keep looking nice, but a great overall fabric for a casual look around fall and winter."

Shane in Frontenac, MO

"Great fabric for winter when you want to step away from the ubiquitous earth tones. The pattern is noticeable within a few feet but not from across the room."

Steven in Little Rock, AR

"I love this shirt! This is a thick, heavy flannel. It is exceptionally soft. But, understand, this is a true winter flannel. It is like wearing a blanket in that it is warm and substantial. It does not wrinkle at all. The pattern is great. From a distance, it looks a bit like grey. But, when you get closer, you… can see the houndstooth pattern. Looks great!"

Joel in Franklin, WI

"Super comfortable because it is warm, soft, and opaque. I found this very versatile for both home and office. I got the Slate Melange colour and simply had to get this Grey Melange in the following order, absolutely wonderful fabric."

Paul in NORWICH, -

"Love this fabric"

Anthony in Toronto, ON

"Excellent drape and fabric."

Johann in Doral, FL

"Melange houndstooth is an incredible look, lots of depth and texture. I wore this for the first time to dinner and noticed myself touching it a lot because it's so soft. Hope it wasn't distracting to watch."

Jacob in Waban, MA

"soft shirt, great for fall and winter"

Aaron in BROOKLYN, NY

"The look. The feel. GORGEOUS. Looks great under a suit/sports jacket in those cold months or a Barbour coat and scarf. Thanks, Proper Cloth!"

William in MINNEAPOLIS, MN

"Amazing fabric. On the heavier side but still soft and comfortable. Looks great. This is my 10th PC shirt and this may be my favorite so far."

Justin in DENVER, CO

"Soooo soft"

Laurie in NASHVILLE, TN

"Perfect fall/winter pattern. I wear this one in the office and casual."

Cody in El Reno, OK

"I don't have this fabric."

Walter in Wadsworth, OH

"Gorgeous and think"

Sam in CHICAGO, IL

"High quality fabric. I could really tell a difference when compared to retail store shirts. Even better after the first wash!"

Kemper in Kennesaw, GA

"Love the pattern and nice flannel fabric"

Dan in Gallatin, TN

"Like it"

Gene in Birmingham, MI

"Beautiful and extremely soft"

Robert in OMAHA, NE

"Nothing unexpected"

Carter in New York, NY

"Quite soft and warm without being overly thick and heavy."

Jerimy in Chagrin Falls, OH

"Did not receive"

kevin in Portland, ME

"This is my second shirt in the Wythe flannels, and I think I actually prefer them to the more expensive Canclini's. They're super-soft, and so far don't pill or fade as much as the Canclini flannel shirts I've had from PC. The houndstooth & herringbones are great, I wish PC offered more!"

Jon in Portland, OR

"Pretty heavyweight fabric (in a good way). Perhaps my favorite <$100 flannel yet from PC (have tried 5+)."

Ryan in SEATTLE, WA

"Different from my normal shirts and that's why I like it. Very nice and casual"

Mike in Des Peres, MO

"It's rare to find an elegant alternative to plaid for fall/winter flannels. This is a great choice. I miss the deep blue Donegal Tweed look I saw on Pinterest which initially attracted me to Proper Coth, and would like to see more choices in that direction. The Grey Melange Houndstooth is very distinctive, especially… with a dressy collar style. Excellent in every respect."

John in Litchfield, CT

"many complements"

stephen in Columbus, OH

"Pattern is great, and fabric isn't too heavy and is less brushed on the inside for a great feel when wearing. Also doesn't crease much and shakes out relatively easily - a super solid casual flannel that can be dressed up a bit if you need it!"

Nathaniel in SAN FRANCISCO, CA

"This is a great flannel, particularly cozy but smooth enough to dress up"

Luke in Mahwah, NJ

"Soft, heavy-weight shirt. Extremely comfortable and holds shape"

Phil in NEW YORK, NY

"Nice fabric. Soft and looks great with jeans or chinos. I wish it were just a bit thicker, but am really happy with its softness. The underside of the fabric has slightly a slightly sharper houndstooth pattern, which looks really good when the sleeves are rolled up."

Andrew in London, ON

"Perfect for winter"

TOD R in Ketchum, ID

"Good."

Harold in LITTLE ROCK, AR

"Soft, warm, a great flannel pattern if you want something other than the traditional "lumberjack" patterns everyone else is sporting"

James in Arlington, VA

"It's a premium flannel in my opinion."

Richard in Prescott, AZ

"very soft and sturdy"

Drew in DULUTH, GA

"Beautiful color / pattern, a great fabric for colder seasons."

Tony in Utica, NY

"Although it's hard to tell fabric from the photos, your guide to heaviness of the fabric helped. I was able to guess what flannel shorts needed snaps instead of buttons. The heavy fabrics I ordered are warm and fit perfectly."

Ernest in Middletown, VA

"Warm, heavy flannel. Perfect for fall / winter."

James in Costa Mesa, CA

"For the price, I was expecting a superior quality fabric. For instance, I have shirts from LL Bean (the upper end of their flannel shirt offerings) where - if you take them out of the dryer right away and hang them damp - you get virtually no wrinkles. This shirt cost twice as much and wrinkles a LOT. It really needs i…roning, which is not what I was after."

Daniel in Brookfield, CT

"I've received compliments about this shirt. the fabric in particular. Very luxurious fabric yet study and warm."

Bob in LAKE OSWEGO, OR

"The material is of a very high quality and the pattern looks great."

Robert in Oakville, Ontario

"Warmer fabric for the cooler weather. Wrinkle resistant."

Joe in Fort Mill, SC

"It's a nice shirt and the fabric seems to be warm and good for the winter. What I do miss about the fabric is the softness on the skin. I ordered some Canclini Flannels before and they are so much softer! For me Canclini is the Gold standrad when it comes to flannel shirts. This fabric is only "good". There… is another "Houndstooth" from Canclini, maybe I will order this one too."

Robert in Zurich,

"Very interesting fabric w an unusual pattern. Very soft / fuzzy, almost sweater like."

matthew in SAN FRANCISCO, CA

"Very cozy. And I love the subtle detail."

Brian in Florence, SC

"Substantial but soft winter weight fabric."

Jerome in Dublin, CA,

"V soft and luxurious."

Kenny in New York, NY

"Great stuff"

samuel in SAN MATEO, CA

"Love the weight and feel!"

Matthew in New York, NY

"Great fabric. Very soft."

Gil in NORTH LAS VEGAS, NV

"Great"

Peter in Syosset, NY

"Second Wythe houndstooth I've ordered - just as good."

Chris in Tiverton, Devon

"One of a greatest PC fabrics"

Nick in Southampton, NY

"Great for winter and fall. Comforting fabric that feels like you've owned it a lifetime."

Jack in SAINT LOUIS, MO

"Very comfortable. Perfect for fall."

Thomas in Clifton, NJ

"Soft and warm material."

David in Govans, MD

"Love it. Good heavy material for winter or crisp fall days."

Nathaniel in Washington, DC

"Nice, rich fabric. A perfect cool weather casual shirt."

Jamie in SAN FRANCISCO, CA

"Subtle and sophisticated for a winter shirt. Very soft and warm. My favorite cold weather shirt! I may order a second in case the first wears out"

Ryan in New York, NY

"Great pattern and weight. Very soft"

Ryan in Baldwinsville, NY

"Thick and heavy fabric. It looks good and is warm."

James in Englewood, CO

"Love the fabric!"

Thomas in SALT LAKE CITY, UT

"Looks great and fits great!"

Chris in Northmead, NSW

"Very high quality flannel, and great for fall or winter wear."

Scott in CHICAGO, IL

"Thick. Soft. Comfortable."

Adam in Upper Saint Clair, PA

"Very nice, very comfortable, holds its shape well, great winter wear"

david in Fitzroy, Victoria

"Great for the cold days. Great texture of the fabric."

Shpend in Commack, NY

"Great feel and design."

Gerald in Hampshire, IL

"Very soft and drapes excellently."

Max in Northside, VA

"yes"

Homun in Edmonton, Alberta

"Love this fabric. There's nothing I'd change. It feels and hangs great."

Steven in Hoboken, NJ

"Thick and warm, which is what he was expecting. This fabric feels very high quality."

Jonathan in LOUISVILLE, KY

"I would buy this again in another color, perfect weight for a chilly day."

GARY in MURFREESBORO, TN

"A"

Rob in Sherman Oaks, CA

"Goes with almost anytime. Understated elegance in a casual shirt."

John in SCOTTSDALE, AZ

"It's a thicker fabric that I expected, but that is not a bad thing!"

Jonathan in Atlanta, GA

"The flannel is a good weight, not too thick or thin. It has a nice pattern to it."

Brian in Burien, WA

"Although this fabric is in fact a flannel, it is of a high grade and is not to be compared with the common "Flannel Shirts" found in the market place / stores."

Anthony K in PHILADELPHIA, PA

"Good value in flannels and a less common pattern, shrank a little even with line drying like almost all flannels so size up slightly."

Aaron in E Windsor, NJ

"A lot. Looking forward to next year"

Jim in SAINT CHARLES, IL

"A very nice shirt but such a strong color and pattern, it isn't very flexible with the type of trousers or pants you can wear it with"

Mark in Muncy, PA

"Great shirt for winter. It is a heavier flannel material and the almost charcoal grey color is great if you like darker colors. The houndstooth pattern also makes the shirt more interesting to look at, adding subtle gradations in the grey."

Darrell in Missouri City, TX

"This fabric is nearly as nice as the other Canclini flannels I own. It's a great value."

Brandt in SPOKANE, WA

"Very soft to the touch. Has a bit of sheen to it."

Steve in Nashville, TN

"Looks great and very comfortable!"

Alexander in Pleasanton, CA

"Good structure and soft"

William in New York, NY

"Stylish flannel fabric."

Brian in Los Angeles, CA

"My new favorite winter fabric, subtle yet elegant. Soft to the touch and I love the varied texture."

Robert in Bartlett, TN

"Very soft, and just-right thickness - thick enough to be cozy and warm, but still thin enough for a shirt that can be tucked in and worn on weekday business-casual settings."

Scott in SILVER SPRING, MD

"The houndstooth pattern as a flannel is very striking. As soon as it was restocked, I ordered it right away. Definitely a shirt that stands out compared to my other shirts. Very soft fabric too!"

Kenneth in Belle Mead, NJ

"Love the shirt...very glad the fabric came back"

Mike in Montrose, NY

"Beautiful fabric, just the right weight for the winter."

Merlyn in Chandler, AZ

"A beefy, soft, cozy, and damned stylish flannel."

Daniel in ST PAUL, MN

"Thick and warm. Very soft and comfortable. The lighter parts of the Houndstooth pattern has some warm tones to it, which contrasts pleasantly with the dark gray parts."

Richard in Houston, TX

"Has a l8xurious quality to it. Love the way it looks."

MATTHIAS in Thetford Center, VT

"Love the softness and overall weight of the fabric. The pattern is iconic and classic by design, but feels muted and worn in too. The perfect go to with jeans and a vest!"

John Hudson in Hapeville, GA

"need more colors!!"

Aaron in Chesterbrook, PA

"This was the bright spot of my order."

Gregory in SEATTLE, WA
FAQs
How do I get started?

First, welcome to Proper Cloth. We specialize in custom dress shirts, suits, jackets and pants.

The first step would be to create a size using our Smart Size Quiz. We'll use your answers and data from thousands of satisfied customers to generate custom dress shirt sizes in your account.

To order, you can browse our gallery of curated, pre-styled options and purchase them, made to order in your custom size (and style, just click 'Customize' to modify).

Or

You can use our Design-A-Shirt tool to create a custom designed shirt from scratch, selecting the fabric and all style details (collar, pocket, buttons, etc), before applying your custom size! We highly recommend only getting one shirt to start so we can lock down the Perfect Fit (Guaranteed!).
How long does it take to have a custom shirt made?

Standard finish, casual wash, and non-iron shirts generally take 12 to 14 days to produce and deliver. In all cases, the promised delivery date range at checkout should be accurate (if not slightly conservative). Click here to see our typical delivery times based on product.

Orders including shirts with any style of Mother of Pearl buttons must undergo special Fish and Wildlife inspections that may cause delays. For this reason, the expected delivery date range will be extended by an additional 14 days.
Can I change the collar or cuff style? Can I add a pocket? Short sleeves? etc.

As a made-to-measure shirtmaker, we offer a wide variety of style features. Proper Cloth shirts can be styled with any of our 30+ different collar styles, 12 different cuff styles, and one of our 9 different pocket options can absolutely be added.

Just click the 'Customize' button next to any of our pre-designed, photographed shirts to edit the design however you wish!

Short Sleeve shirts can be ordered by specifying as such under the Cuff/Sleeve section of the Design-A-Shirt tool.
Do you make shirts that can be worn untucked?
How do I order a short sleeve shirt?
Do you offer rush delivery?

Rush delivery is not available for custom made products. With ready-to-wear and stocked products, we have a little more flexibility.
Still have a question? Get in touch or start a chat
Ready to create your custom shirt size?
Answer 10 easy questions about your body and fit preference to create a custom size.
Our Perfect Fit Guarantee
If you're not entirely happy with the fit of your custom shirt (or anything else about the shirt) you can return it to us for a complimentary remake in a new size or style. We excel at making remakes quick and hassle-free. If remaking the shirt doesn't suit you, you can also return the shirt for a full refund.