Portuguese White Cotton Linen Oxford
$125
Estimated Restock: Late May
Shirt Style Details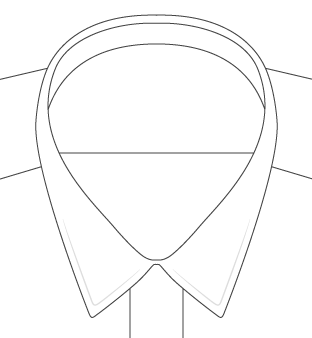 Soft Point Collar
A timeless point collar in a soft, unfused construction. Perfect for no-nonsense casual shirts.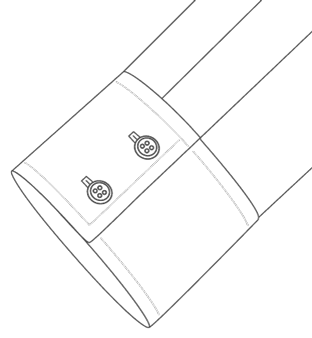 Soft Square Two Button Cuff
A longer casual cuff with squared edges, soft unfused construction and two button closure. Pairs well with larger watches.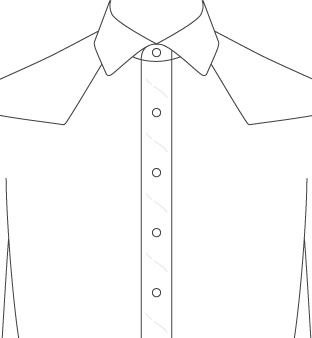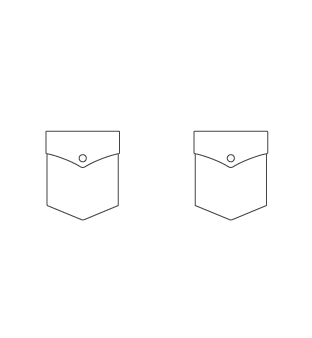 Western Front, Western Flap Pockets
Curved front yoke. Comes with soft front placket. Combine with Western back yoke and snap buttons for a true western shirt.
Buttons

Snap Buttons i

A beautiful off-white snap button. Slight color variation that replicates the look of vintage bone buttons. Perfect for a western shirt.

Bottom Hem

Rounded i

A 2" curved front and back shirttail hem with reinforced side seam gussets.
Change any of these shirt details, add a monogram, and more by customizing this shirt.
Fabric Info
Fabric Description
In our minds, there's no situation in which you can't wear an oxford cloth button down (OCBD). There are times, however, when a pure cotton oxford wears a bit too warm. Our solution: the cotton and linen oxford.
This 55% cotton/45% linen blend we developed with our favorite Portuguese mill breathes incredibly well while retaining the substantial feel of a classic oxford weave. The fabric has a bit of slub from the linen which gives it beautiful texture and character, and it's more durable and opaque than most cotton/linen blends, too. Expect it to age phenomenally and become your go-to warm weather shirt. This crisp white pairs well with jeans or chinos, and is equally at home under an unlined sport coat.
Recommended Styling: Go with a Soft Ivy Button Down collar for a classic oxford look or a Soft President Spread collar for an easygoing casual look. Forego the placket for a sleeker design.
Color & Pattern

Performance
4.72 / 5 Average rating
Recommended by 95%.
"Beautiful texture and feel to this lightweight fabric"

James Edwin in Miami, FL

"Loved the Portuguese White Cotton Linen Oxford. Feels substantial, while being an appropriate weight to wear in summer. Barring staining the white shirt, I would expect this to be wearable for many years. Would order again."

Scott in WAUKESHA, WI

"Fabric looks and feels great"

Raymond in Montgomery, TX

"PERFECTION!"

Holley in Wellington, AL

"It's a linen blend and acts like it - so some wrinkles come with the territory. But it feels great and wears cool."

Charlie in Shorewood, WI

"nice fabric"

John in ROGERS, AR

"Perfect for my wedding shirt"

Jeremy in BIRKDALE, QLD

"My favorite linen shirt. Just the right amount of wrinkles, yet doesn't need ironing after washing."

Jared in WASHINGTON, DC

"Great warm weather shirt fabric. Has a nice visible texture like a linen but doesn't wrinkle as easily"

Luke in Long Island City, NY

"Great fabric and fit as always"

William in Tampa, FL

"Scratchy and a little more translucent than I would like"

Michael in NEW YORK, NY

"gorgeous"

Adam in SAN CLEMENTE, CA

"Light and airy, will be perfect for my summer wedding!"

Samuel in Garden City, ID

"Classic white fabric. A little heavier than the usual white."

Justin in Brooklyn, NY

"Great fabric"

Michael in New York, NY

"Very Soft"

Alistair in New York, NY

"Held up well overtime"

Patrick in New York, NY

"Great shirt"

John in Weehawken, NJ

""

Eric in New York, NY

"Very comfortable and well made. Looks great."

Craig in DPO, AA

"I like the fine details of the fabric, having that subtle to my eyes 'linen' style visual aesthetic. Seems to suit a nice balance for australian winter and summer."

Lewis in Brisbane, Queensland

"Not a bad choice for a summer oxford fabric. It has a little texture to make it interesting, breathes well, and is durable. Do watch how you launder them, though — I've found the Portuguese Cotton/Linens shrink more than expected."

James in Costa Mesa, CA

"Really nice fit and finish"

Sam in CHICAGO, IL

"Amazing soft feel"

Joseph in London,

"Excellent!"

James in Scarsdale, NY

"classic"

Doron in New York, NY

"Excellent breathability, but a bit more opaque and just slightly more formal than pure linen. I feel comfortable wearing this with nice trousers in the office."

Patrick in Hoover, AL

"Overall great but I discovered I don't like the feel of linen on my skin..."

SAMYEL in Long Island City, NY

"Airy oxford, but doesn't wrinkle too much despite the linen mix. Great for warm weather."

Thomas in WASHINGTON, DC

"Great fabric! Opaque enough to wear in a business environment as well."

Liam in Milton Keynes,

"Light but tough."

Dean in San Miguel de Allende, GTO

"I misread the opacity of the shirt, so this is my fault, but this is definitely thin like a poplin vs a sturdier Oxford (that I'm used to, anyway). I can't wear this without an undershirt."

Clint in LENEXA, KS

"Good as a casual of dress shirt"

TOD R in Ketchum, ID

"Nice standard dress shirt fabric"

John in SAN DIEGO, CA

"I love this cotton linen fabric. So breathable, lets me wear a OCBD all through the hot Hong Kong summer. This white version is exactly what you would expect. Instantly looks a bit more dressed up which contrasts nicely with the more informal OCBD style."

Theron in Singapore,

"Perfect for work or casual"

Ben in San Francisco, CA

".."

Albert in Morganville, NJ

"Hit with an iron and this shirt is perfect for summer."

Robert in Mountain Brook, AL

"Great everyday white shirt."

Joshua in Raleigh, NC

"The shirt tries to blend linen and oxford and results in an translucent itchy shirt. I would rather have order a linen shirt or a typical oxford. This was a miss."

Nicolas in Toronto, Ontario

"excellent summer white shirt"

Ryan in Springville, UT

"Loved it"

Colin in Roswell, GA

"great"

Matt in SAN CLEMENTE, CA

"Beautiful drape, pleasant to wear."

John in Old Greenwich, CT

"Great"

Novak in Doncaster, vic

"Classic white linen. I got it with short sleeves, so this is my go-to shirt for nice functions in the summer."

Steven in San Carlos, CA

"The fabric is comfortable & durable. Color is unique."

William in Palos Verdes Estates, CA

"Love it"

James in BROMLEY,

"soft yet formal. Fit is perfect and looks great with my lightweight summer suits."

Perry in WILMINGTON, NC

"much more substantial than 100% linen. very soft and supple fabric."

Hiro in TRAVERSE CITY, MI

"Performance white material and great cut"

Daniel in Gallatin, TN

"Very good after washing"

Imran in WASHINGTON, DC

"Wonderful!"

Paul in NEW YORK, NY

"Another great shirt"

David in PITTSBURGH, PA

"Love the fabric"

Ralston in Teaneck, NJ

"Beautiful fall color that pairs very well with a pair of crisp brown chinos."

Gabe in CHICAGO, IL

"Great quality fabric!"

Michael in FORT MYERS, FL

"It's a little stiff. It looks more like a standard white shirt than linen."

Morgan in Seattle, WA

"Great shirt."

Aaron in Edmonton, Alberta

"This is a great looking and comfortable fabric to wear. It is a versatile fabric that could be styled for casual or dress. it will have some wrinkle to it and may need an iron."

Larry in Camp Hill, PA

"A nice mix between pure linen and cotton"

Mikhail in NEW YORK, NY

"Not so transparent that it is unsightly. Definitely a go to for all year."

Jonathon in IRVINE, CA

"Great linen fabric. Heavier than some but I knew this before I ordered. Remains breathable but I would not consider this a tropical weight fabric."

Sean in Clarendon Hills, IL

"This is my favourite Proper Cloth fabric, I will be buying more"

Robert in Hendra, QLD

"Not happy"

William in New York, NY

"great fabric"

Christopher in Mattituck, NY

"Really solid shirt fabric"

Daniel in Jersey City, NJ

"Nice and soft"

Humayun in Stamford, CT

"A very smooth, breathable fabric. This is my go-to shirt when wearing suits in the summer, as it breathes well. Not transparent at all. Shirt holds its shape well (does not wrinkle easily)."

Josh in WASHINGTON, DC

"Makes for a nice warm-weather dress shirt. The oxford texture isn't too prominent."

Donald in Annandale, VA

"The fabric was great. I recently had a chance to wear it in 100 degree heat and it took it like a champ. The material breathed and I remained as cool as one could hope. The cotton/linen blend was one of the best I've had, as the wrinkles were really kept to a minimum. I'll likely be purchasing another."

Glenn in Monterey, CA

"Amazing feel. After 3 years of wearing it, it is still my go-to shirt for any formal event."

Richie in Monrovia, CA

"Great casual shirt for the summer"

Joshua in New York, NY

"Exquisite fabric that hints at the Algarve and brings to mind the voyages of discovery"

Steve in West Wickham, Bromley/London

"Fabric was nice"

Jerry in Dallas, TX

"A tad scratchy before 1st wash, but it's a breathable and durable fabric for jeans etc"

monty in Tenafly, NJ

"Great weight and comfort for hot humid climate."

Peter in Madison, MS

"fantastic cloth, suited the style I was going for."

archie in Faulkland, somerset

"Shirt looks great, a more casual white shirt for summer. However it's a little heavier than I had anticipated, and a bit rough on the skin, but hoping that will go away after a few more washes."

Steve in Santa Monica, CA

"Perfect for summer."

Maxwell in Plainfield, IL

"Excellent cotton/linen blend. You get the breathability and casualness from the linen and better wrinkle resistance with the added cotton."

Benjamin in Cypress, TX

"I always have the same problem with white fabric - it's too transparent. I was hoping this was different, but it's pretty transparent so I'm a little disappointed. Think I will stick with heavier oxford and denims for white shirts."

Todd in New York, NY

"Fit almost too well size up the shirt by 1/2 inch in collar and sleeve length Otherwise beatiful fabric and cut"

Paul in Cohasset, MA

"A nice linen/cotton fabric, though a little more transparent than I would like."

Colin in Chicago, IL

"hi"

Ben in Brooklyn, NY

"Guaranteed to wrinkle and feel as great as any other linen shirts I have."

Ben in Tuscaloosa, AL

"Great Fabric"

John in Hoboken, NJ

"Great summer fabric. Very breathable and great texture."

Shaun in Armadale, VIC

"Nice and soft"

Carlos in Cranford, NJ

"I have 2 now !"

Kevin in Victoria, BC

"Very comfortable and breathable"

Jim in COLORADO SPRINGS, CO

"Comfortable. Sturdy. Good value"

Mauricio in San Antonio, TX

"Great semi- formal shirt for the summer. Perfect for unexpected video conferences."

Gregory in Maplewood, NJ

"Nice fabric a little bit see through"

Jeff in Tetonia, ID

"nice linen, more opaque than expected but good for casual summer shirt"

Larry in Baltimore, MD

"Ahhh, this is the linen that I wanted. Regular linen wrinkles far too much, and requires constant maintenance. This stuff has just enough cotton to make it possible to wear it right out of the wash (still wrinkled, but not unwearable). Wish I'd purchased these instead of the linen. Beware though, they still shrink l…ike hell (and more than the allowances)."

Liam in Montreal, Quebec

"The fabric has a great casual feel and look that blends the breathability of linen with the drape of cotton. It wrinkles pretty easily, but not in a way that immediately looks sloppy."

Frederick in Seattle, WA

"I like this material as a compromise between full linen; it's a bit more sturdy but still has that linen feel."

William in FALLS CHURCH, VA

"I give most Proper Cloth fabrics 5 stars. This is only 4. It seemed to get stiffer with laundering, which is fine for office wear, but not casual wear. Looks good, however."

Mark in ROSWELL, GA

"Great for summer shirts"

Jeremy in Clayton, NC
FAQs
How do I get started?

First, welcome to Proper Cloth. We specialize in custom dress shirts, suits, jackets and pants.

The first step would be to create a size using our Smart Size Quiz. We'll use your answers and data from thousands of satisfied customers to generate custom dress shirt sizes in your account.

To order, you can browse our gallery of curated, pre-styled options and purchase them, made to order in your custom size (and style, just click 'Customize' to modify).

Or

You can use our Design-A-Shirt tool to create a custom designed shirt from scratch, selecting the fabric and all style details (collar, pocket, buttons, etc), before applying your custom size! We highly recommend only getting one shirt to start so we can lock down the Perfect Fit (Guaranteed!).
How long does it take to have a custom shirt made?

Standard finish, casual wash, and non-iron shirts generally take 12 to 14 days to produce and deliver. In all cases, the promised delivery date range at checkout should be accurate (if not slightly conservative). Click here to see our typical delivery times based on product.

Orders including shirts with any style of Mother of Pearl buttons must undergo special Fish and Wildlife inspections that may cause delays. For this reason, the expected delivery date range will be extended by an additional 14 days.
Can I change the collar or cuff style? Can I add a pocket? Short sleeves? etc.

As a made-to-measure shirtmaker, we offer a wide variety of style features. Proper Cloth shirts can be styled with any of our 30+ different collar styles, 12 different cuff styles, and one of our 9 different pocket options can absolutely be added.

Just click the 'Customize' button next to any of our pre-designed, photographed shirts to edit the design however you wish!

Short Sleeve shirts can be ordered by specifying as such under the Cuff/Sleeve section of the Design-A-Shirt tool.
Do you make shirts that can be worn untucked?
How do I order a short sleeve shirt?
Do you offer rush delivery?

Rush delivery is not available for custom made products. With ready-to-wear and stocked products, we have a little more flexibility.
Still have a question? Get in touch or start a chat
Ready to create your custom shirt size?
Answer 10 easy questions about your body and fit preference to create a custom size.
Our Perfect Fit Guarantee
If you're not entirely happy with the fit of your custom shirt (or anything else about the shirt) you can return it to us for a complimentary remake in a new size or style. We excel at making remakes quick and hassle-free. If remaking the shirt doesn't suit you, you can also return the shirt for a full refund.