Non-Iron Supima White Twill
$105
Select Shirt Size
Collar
i
Don't worry about shrinkage — we'll account for that automatically based on fabric choice. You can fine-tune your collar size down to 0.1" or adjust any of the 16 other customizable size parameters when you create a custom size.
Sleeve
i
Sleeve length is measured from the center back to the edge of the shoulder and down to the end of the cuff. Fine-tune your sleeve length down to 0.1" or adjust any of the 16 other customizable size parameters when you create a custom size.
Fit
i
Slim Fit will be nicely fitted, yet comfortable. Super Slim Fit is for those that prefer a particularly trim fit and are not bothered by slight tightness or limited range of motion. Classic Fit is a more generous, roomy fit that won't hug the body closely.
Shirt Style Details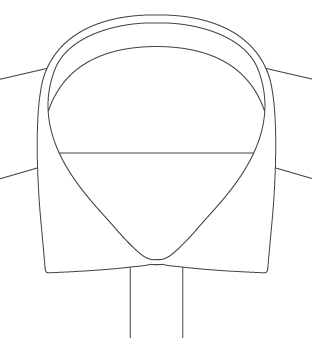 President Spread Collar
Our new and improved version of our most popular collar. We designed this to be a truly premium modern spread collar with timeless proportions.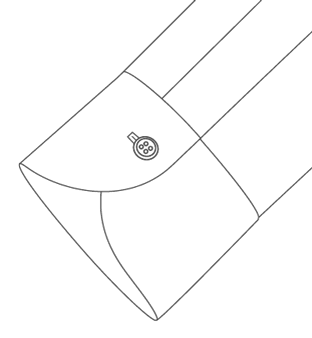 Long One Button Cuff
A slightly longer version of our one button barrel cuff. Fused. Great for for guys with longer arms.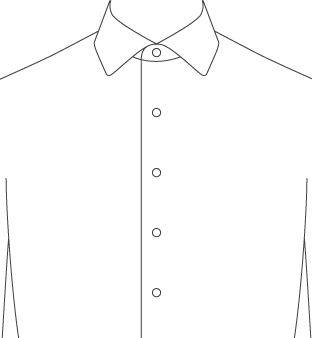 No Placket, No Pocket
The front of the shirt simply folds back on itself for a cleaner yet less structured look.
Buttons

Standard Buttons i

Our standard button. Made from high quality plastic resin. Very durable.

Bottom Hem

Rounded i

A 2" curved front and back shirttail hem with reinforced side seam gussets.
Change any of these shirt details, add a monogram, chest pocket, and more by customizing this shirt.
Fabric Info
Fabric Description
The white twill is a timeless dress shirt style, and our premium Supima Cotton Non-Iron fabric is the perfect version for your day to day. With a fine twill construction that has a bit of shine, it feels incredibly luxurious. We love how it's a medium-weight 100s 2-ply, which means it wears comfortably all year round with great durability thanks to the double twisted yarn. The premium American Supima cotton only improves the feel and performance--adding great softness and increased strength. Finished with an innovative formaldehyde-free treatment to stay wrinkle-free throughout the day, while still wearing comfortably against your skin. It's also a breeze to care for. Wear it straight from the washer and dryer, or give it quick press for an incredibly clean and professional look. Opt for the President Spread if you're planning on wearing it with suit and tie, or go Semi Spread for a more conservative look. Learn more about Non-Iron Shirts here.
Color & Pattern

Performance
4.78 / 5 Average rating
Recommended by 97%.
"Durable, easy to clean, comfortable, and looks sharp aesthetically."

Evan in New York, NY

"Feels silky smooth."

Michael in Rochester Hills, MI

"Great white shirt, not too transparent, not wrinkly."

James in New York, NY

"Great fit and wearability."

Joseph in STAMFORD, CT

"This fabric feels luxurious, it has a nice sheen to it. It's a great starter shirt if you are new to Proper Cloth, as I am. It is very comfortable, very little texture, yet I wish the wrinkle resistance was just a little better."

Isaac in Bedford, IA

"Great fabric!"

Michael in Hampstead, Quebec

"Feels like quality"

Donald in Nashville, TN

"Classic. Can't go wrong."

Aaron in Pittsburgh, PA

"a solid twill fabric"

Lars in New York, NY

"Solid white"

Dylan in New York, NY

"Its a great shirt that everyone should have in their wardrobe. Just make sure it fits properly, sometimes it can look a little parachute-y if it runs too big"

Justin in New York, NY

"Despite being non-iron, it was very soft and comfortable."

Peter in Madison, NJ

"It's a little glossy and the non-iron isn't quite non-iron, but it's all in all very good."

Ray in Ardsley, NY

"Love it"

Michele in Dunellen, NJ

"Comfortable shirt. Slightly less opaque than I'd like, but the girlfriend thinks it looks great and doesn't think it required an undershirt"

Ian in Acworth, GA

"Great quality"

Michael in LIVONIA, MI

"Great balance between care and quality."

Andrew in Indianapolis, IN

"The color is bright white and incredibly comortable."

John in Albuquerque, NM

"Fits great, nice material"

William in New York, NY

"Fits great and feels really nice"

Andrew in NEW YORK, NY

"Great shirt. Fairly translucent. I wouldn't call this fairly opaque. Regardless, it's a great, soft, malleable fabric."

Will in Silver Spring, MD

"This is a good value shirt for business. The fabric is not opaque and holds against wrinkles for most of the day."

Tom in Winchester, MA

"Great feel, texture and durability."

Mason in RICHMOND, VA

"Perfect white dress shirt"

Andy in Seminole, FL

"Excellent shirt"

Sha in OVERLAND PARK, KS

"Great professional shirt."

Cameron in Pierre, SD

"Great value, workhorse fabric / shirt for business."

Liam in LONDON,

"Also very good feel, I should have ordered a pocket"

Brayton in Pleasant Hill, CA

"N/A"

William in New York, NY

"Great fabric and easy to care for with the non iron feature"

J Bart in Edina, MN

"Great fabric, great material."

Marlon in NEW YORK, NY

"Feels great and does a great job of resisting wrinkles. Perfect for travel."

Michael in CHICAGO, IL

"Dependable"

Michael in Far Hills, NJ

"Great classic white shirt that everyone needs in their wardrobe, lightweight, very wrinkle resistant"

Richard in Playa Vista, CA

"I like the non-iron fabric, but it's a bit sheer, so you have to wear an undershirt"

Gareth in San Francisco, CA

"Everything arrived as expected"

Luis Espinal in Miami, FL

"Like this product best"

Dewey in Kerens, TX

"Great business shirt"

Tomaso in SAN FRANCISCO, CA

"It is comfortable while also durable and wrinkle free"

Paul in Brooklyn, NY

"Good!"

Robert in Toronto, ON

"Luxurious, high quality feel"

Nicholas in SANTA FE, NM

"I love white dress shirts and this is one of the best ones I have worn."

David in Rogers, AR

"very good everyday white."

Cory in Kirkland, WA

"Very solid material."

Robert in New York, NY

"I like how this fabric feels"

Andrew in Singapore,

"More colors in this fabric"

John in Springfield, KY

"Loved the fabric, built the tab color was an issue. That is being taken care of now. Thank you"

David in MOUNT JULIET, TN

"Nice weight fabric. Not as wrinkle resistant as I would like but still love this shirt"

Nathan in Georgetown, TX

"Soft, comfortable fabric. Good staple shirt"

Reed in New York, NY

"the weight of the white shirt is nice and sturdy/heavy"

Erik in NASHVILLE, TN

"Soft and comfortable. A standard white dress shirt that feels good and doesn't break the bank. I will buy more of this same shirt in the future."

Jeremy in Sherman Oaks, CA

"Very comfortable"

Jason in Woodcliff Lake, NJ

"Incredibly breathable I feel like it will be a great spring fabric"

Alexander in Fergus Falls, MN

↓

Rating Breakdown

Color & Pattern

Performance

No, would not recommend

"Elbows ended up with holes after a few uses"

Robbie in Little Rock, AR

"Nice, standard, white shirt fabric"

Danyl in Toronto, Ontario

"I've not had the opportunity to wear the shirt yet other than trying it on. The wrinkle resistance is pretty impressive, definitely can wear it right out of the dryer. There is probably a bit more sheen than I'd prefer but it's a fair trade off. Quality of the fabric and color seem great, but no meaningful info o…n comfort yet until I wear it out of the house."

Jeremy in Justin, TX

"I love the feel of this fabric. It's been a long time, a very long time, since I bought a non-iron shirt - we used call them "permanent press" in those days - and they were never satisfactory so I stopped buying them. This shirt just feels like beautiful cotton with a lovely drape. HI have not washed and wo…rn it often, so we'll have to wait to see how it holds up."

Nicholas in Amherst, MA

"great shirt!"

Chris in BROOKLYN, NY

"Nice medium weight fabric with good wrinkle resistance."

Jason in Laguna Hills, CA

"It's really bright and very comfortable."

Roman in Arlington, VA

"Color is a bright white and mostly opaque (not very see thru). Good thickness with some breathability. It seems to be decently wrinkle resistant. After hanging up post-wash it was wrinkle free, though after a bit of wear I could see some wrinkles forming."

Jordan in TUCSON, AZ

"The classic white dress shirt. The bespoke initialing on the collar is an elegant touch."

Michael in New York, NY

"Wrinkles too much"

Timothy in KNOXVILLE, TN

"great work shirt"

Sam in LITTLE ROCK, AR

"Perfect fit"

jason in Cartersville, GA

"Highly recommend it. No better way to go than non-iron for all day wrinkle free use. Looks sharp and I get compliments on how pressed it looks all the time."

Jovianus in WASHINGTON, DC

"Standard white working shirt. Great!"

Jay in Hacienda Heights, CA

"Iron free"

Manuel in Brooklyn, NY

"Love the non-iron fabric, very low maintenance"

Vinay in London, County

"Perfect white shitt"

James in Charleston, SC

"Shirt looks great and wears well."

Patrick in WASHINGTON, DC

"."

Nelson in Doral, FL

"I love it. Its smooth to the touch and fits well under a suit/blazer."

Laurent in NEW YORK, NY

"Great feel and fit"

Robert in Toronto, ON

"Beautiful shirt."

David in Atlanta, GA

"Very crisp looking white shirt. Doesn't wrinkle easy. Probably my favorite white shirt I own."

Grant in OKLAHOMA CITY, OK

"This shirt went perfect with my tuxedo."

Jon in Inverness, IL

"This is a fabric I typically order"

Chris in Overland Park, KS

"A perfect professional workhorse of a fabric!"

Brian in Queensbury, NY

"Great weight"

Darren in Denver, CO

"It's very smooth, a day of work in the hot summer and it isn't wrinkled like most other fabrics."

Brendan in Mortdale, NSW

"The shirt quality seemed great. The shirt will require a remake for a better fitting size but I was happy with the shirt quality. Just delivery of the shirt took too long"

DAVID in New York, NY

"good wrinkle resistance"

Eric in Henderson, NV

"Has a slight sheen"

Colin in San Diego, CA

"Wow, just loved this fabric. Subtle twill, amazing drape, and no wrinkles."

Jerimy in Chagrin Falls, OH

↓

Rating Breakdown

Color & Pattern

Performance

No, would not recommend

"No further comment."

Brian in WASHINGTON, DC

"Perfect weight. Not see through at all"

Brandon in Dorado, PR

"As advertised. High quality feel with a mild sheen."

James in Norwood, OH

"NON-IRON!! These are the absolute best, slowly replacing my entire wardrobe with these."

Robert in Raleigh, NC

"This is a great classic white dress shirt fabric"

John in CENTENNIAL, CO

"It's my first of your non-iron shirts. It's the first "finish" of its kind I've found that feels like other typical cotton."

Thomas in MINNEAPOLIS, MN

"Great shirt for the office or for a dressing up on the weekend."

Jonathan in Vancouver, BC

"quality material."

Joseph in Granger, IN

"shipping too slow"

Steven in Charlotte, NC

"Seems durable and nice pattern"

Richard in New York, NY

"It is a little thin."

Michael in Chicago, IL

"Great office shirt"

Paul in Toronto, ON

"Too early to judge as I have not worn the shirt yet."

Ed in Tarrytown, NY

"Softness"

DON in Louisville,, KY

"No wrinkles, no fuss"

Patrick in Vancouver, British Columbia
FAQs
How do I get started?

First, welcome to Proper Cloth. We specialize in custom dress shirts, suits, jackets and pants.

The first step would be to create a size using our Smart Size Quiz. We'll use your answers and data from thousands of satisfied customers to generate custom dress shirt sizes in your account.

To order, you can browse our gallery of curated, pre-styled options and purchase them, made to order in your custom size (and style, just click 'Customize' to modify).

Or

You can use our Design-A-Shirt tool to create a custom designed shirt from scratch, selecting the fabric and all style details (collar, pocket, buttons, etc), before applying your custom size! We highly recommend only getting one shirt to start so we can lock down the Perfect Fit (Guaranteed!).
How long does it take to have a custom shirt made?

Standard finish, casual wash, and non-iron shirts generally take 12 to 14 days to produce and deliver. In all cases, the promised delivery date range at checkout should be accurate (if not slightly conservative). Click here to see our typical delivery times based on product.

Orders including shirts with any style of Mother of Pearl buttons must undergo special Fish and Wildlife inspections that may cause delays. For this reason, the expected delivery date range will be extended by an additional 14 days.
Can I change the collar or cuff style? Can I add a pocket? Short sleeves? etc.

As a made-to-measure shirtmaker, we offer a wide variety of style features. Proper Cloth shirts can be styled with any of our 30+ different collar styles, 12 different cuff styles, and one of our 9 different pocket options can absolutely be added.

Just click the 'Customize' button next to any of our pre-designed, photographed shirts to edit the design however you wish!

Short Sleeve shirts can be ordered by specifying as such under the Cuff/Sleeve section of the Design-A-Shirt tool.
Do you offer rush delivery?

Rush delivery is not available for custom made products. With ready-to-wear and stocked products, we have a little more flexibility.
Still have a question? Get in touch
Ready to create your custom shirt size?
Answer 10 easy questions about your body and fit preference to create a custom size.
Our Perfect Fit Guarantee
If you're not entirely happy with the fit of your custom shirt (or anything else about the shirt) you can return it to us for a complimentary remake in a new size or style. We excel at making remakes quick and hassle-free. If remaking the shirt doesn't suit you, you can also return the shirt for a full refund.