Hudson Wrinkle-Resistant Blue Twill
$95
Select Shirt Size
Collar
i
Don't worry about shrinkage — we'll account for that automatically based on fabric choice. You can fine-tune your collar size down to 0.1" or adjust any of the 16 other customizable size parameters when you create a custom size.
Sleeve
i
Sleeve length is measured from the center back to the edge of the shoulder and down to the end of the cuff. Fine-tune your sleeve length down to 0.1" or adjust any of the 16 other customizable size parameters when you create a custom size.
Fit
i
Slim Fit will be nicely fitted, yet comfortable. Super Slim Fit is for those that prefer a particularly trim fit and are not bothered by slight tightness or limited range of motion. Classic Fit is a more generous, roomy fit that won't hug the body closely.
Shirt Style Details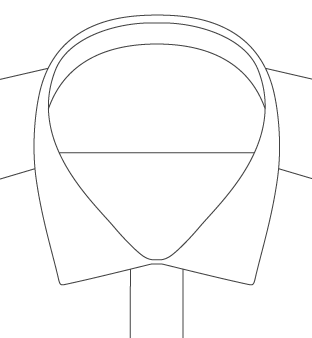 English Spread Collar
One of our most popular business collars, with a traditional spread and versatile dimensions.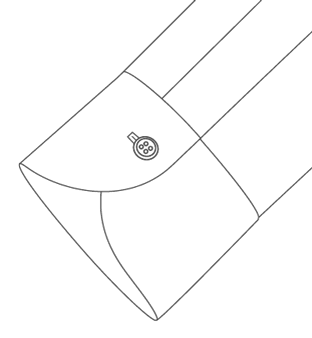 Long One Button Cuff
A slightly longer version of our one button barrel cuff. Fused. Great for for guys with longer arms.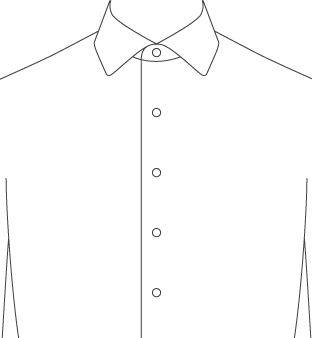 No Placket, No Pocket
The front of the shirt simply folds back on itself for a cleaner yet less structured look.
Buttons

Standard Buttons i

Our standard button. Made from high quality plastic resin. Very durable.

Bottom Hem

Rounded i

A 2" curved front and back shirttail hem with reinforced side seam gussets.
Change any of these shirt details, add a monogram, chest pocket, and more by customizing this shirt.
Fabric Info
Fabric Description
There's nothing more professional than the perfect blue dress shirt. It works really well with so many different suits and ties, and is flattering on just about any skin tone. This one is a really classic light blue, but comes in a bit darker and more traditional than our Hudson Light Blue Wrinkle-Resistant Twill (PCF1080). Woven with a 100s 2-ply construction, it has a smooth yet substantial hand feel. The twisted yarn gives it added durability, while the medium-weight twill weave adds a bit of shine for a dressier look. For those who like a more matte, shine-free dress shirt, try our Blue Bowery Pinpoint (PCF329). The Hudson has a light wrinkle-resistant treatment so that it stays looking crisp throughout the day. This treatment isn't as strong as the "Non-Iron" shirts many are used to, but we find it strikes an excellent balance between performance, breathability, and hand feel. It'll require ironing, but once it's ironed up it looks incredible. Design it with a President Spread collar and two-button barrel cuff for the perfect modern office vibe.
Color & Pattern

Performance
4.61 / 5 Average rating
Recommended by 91%.
"Still breaking the shirt in through washing, but it seems like it will wear soft. The fabric seems very durable to wear/tear too."

BJ in COLORADO SPRINGS, CO

"love the color"

Tony in ALEXANDRIA, VA

"Color is a bit lighter than expected- super close to the "light blue". It's a nice shirt, but maybe wouldn't have ordered the two of them since they're so close."

Ken in Highland Park, IL

"A lovely shade of blue. The fabric is soft to the touch, and easy to iron."

Peter in Woking,

"I like how opaque it is and feel of the fabric."

Jennifer in DALLAS, TX

"Fabric is much darker on the other side, rolling up sleeves doesn't look that good"

Charles in El Cajon, CA

"Shirt is OK. Not the best fabric I've received from PC."

Brian in Scranton, PA

"Great feel"

William in CHARLOTTE, NC

"My most worn dress shirt. Color is spot on and quality of the fabric is excellent."

Stephen in BERKELEY, CA

"Comfortable and great looking."

Benoit in CHANTRAINE, VOSGES

"Very soft"

Steven in Newtown, CT

"Fine"

Mark in Grayslake, IL

"Fabric is of a nice color and fits well, not very wrinkle resistant (ironing is still required)."

Deni in Blainville, Quebec

"Breathable, good for all year round use in formal and casual situations."

Rex A. in El Paso, TX

"Very solid every day fabric"

Matthew in Prospect Park, NY

"The fabric is comfortable and is pretty much what I was looking for."

Daniel in Franconia, VA

"This is one of my favorite shirts. It's a sturdy, high quality material without being stiff or uncomfortable. The shade of blue is perfect for professional settings and it's completely wrinkle-free."

Travis in SAN FRANCISCO, CA

"Great everyday work shirt!"

Kemper in Kennesaw, GA

"Very soft and comply"

Shirley in SAN ANTONIO, TX

"Good standard work shirt"

Josh in Alphington, Victoria

"Color in real life doesn't look like the one in the photo. I still do like it though"

Sebastian in ARLINGTON, VA

"Great feel and fit, non-iron works well!"

Greg in SEATTLE, WA

"my favorite dress shirt. feels fantastic and holds up wrinkle resistance well."

Sidanth in Clarksville, MD

"One my fabric fabrics and shirts."

Yale in Wayne, PA

"Luxurious and silky smooth shirt."

Michael in Atlanta, GA

"Love this color"

Kelley in Oley, PA

"Shirt arrived as expected. Satisfied customer again!"

Cary in BERKELEY, CA

"The shiniest of the fabric is simply alluring. So fresh, clean, distinctive. A beautiful fabric, perfect blue color for a business of classy outing. Wow. And so impressed how it is easy to wash, almost no ironing necessary."

Marjolaine in Montreal, Qc

"Wrinkle resistant as expected and advertised."

Dominique in Singapore,

"very nice"

John in Yukon, OK

"Great feel"

Ryan in Hoboken, NJ

"Performance perfect"

Greg in Circle, MT

"Color is more vibrant that I was expecting but still in the realm of conservative office attire"

Tim in Albany, NY

"Inside of shrit color is much darker than outside, not a great look."

William in Darien, CT

"Was not looking for a dressy shirt, but feels good for what it is"

Martin in SEATTLE, WA

"fabric has a sheen and thick"

John in Mullica Hill, NJ

"Outstanding"

Marc in River Forest, IL

"a little shinny - which is nice but hard in sweaty environment down here ..."

Donald in TALLAHASSEE, FL

"A little shinier than I remembered it being in the store, but still good quality."

Mike in GREENVILLE, SC

"Nice shade of blue and easy to iron and take care of. Looks great with a rep tie."

Jeffrey in DPO, AE

"It's fine."

Mike in Cumming, GA

"Nothing wrong with fabric but button fell off during first wash!"

Geoffrey in New York, NY

"Great weight for all occasions and works dressed up or dressed down with jeans."

James in Liberty, MO

"The shirt is everything i wanted."

Michael in OAKLAND, CA

"Too shiny and too thin."

Venkata in ABILENE, TX

"Probably the ultimate dress shirt. A universally flattering color. The slight sheen of the twill make this a no-brainer for business wear. The good opacity makes undershirts optional rather than necessary if concerned about showing through."

Robin in London, England

"Great shirt"

Brent in Sag Harbor, NY

"It was great!"

Griffin in La Crescenta, CA

"The inner lining was made of a darker fabric, which made rolling up the sleeves appear odd looking. This was not expected, nor was the fabric described as such on the website."

Enrico in LOS ANGELES, CA

"Good value and appearance"

Charles in stamford, CT

"Great color"

Roderick in Odessa, FL

"Nice color"

neil in Newport Beach, CA

"This shirt fabric is a sound value, looks really sharp and holds up well over long wearings (12-14 hours typical workday.) Feels comfortable around the neck with a necktie for a full day, and after 12-15 launderings still looks terrific."

Bill in HAMPTON, NH

"Great color and fit"

Anthony in Caldwell, NJ

"It's good - the inside color is dark and different than the color on the outside."

Scott in Rye, NY

"Beautiful colour"

Charles in Toronto, ON

"Good formal twill"

Wesley in Newtown Square, PA

"Go-to blue dress shirt."

Shiloh in New York, NY

"A bit shiny, but great fabric nonetheless."

Kevin in Middletown, PA

"Great shirt fabric for the rare days I now need to wear a suit! Will probably reorder one more of these!"

Joseph in Copenhagen S,

"..."

Bryan in Forest Hills, NY

"A great shirt with a nice sheen from the twill."

brooks in Tampa, FL

"Super soft and comfy. Perfect fit"

Craig in Reno, NV

"It's a little too thin"

mark in SPRING, TX

"Solid go-to for work."

Gregory in New York, NY

"Love this fabric, very soft and wrinkle resistant! Looks good all day at the office or on a night out!"

Jason in VIRGINIA BEACH, VA

"Excellent quality and style"

Stanley in Coral Gables, FL

"Shows starch stains when starched manually at home"

Alex in WASHINGTON, DC

"This was a fantastic shirt"

Wayne in Salem, MA

"This fabric is a good weight for all season."

Lynn in Snoqualmie, WA

"Fantastic"

Gregory in Dallas, GA

"I love this shirt. Easily the most wrinkle resistant shirt in my closet."

Jason in College Station, TX

"Perfect for packing, maintains appearance well. Perfect weight and drape"

Ian in Faribault, MN

"I love this shirt. With blue shirts, it's easy to go too dark or too light. This one is perfect."

David in FPO, AP

"Really nice shirt for all occasions"

Evan in Alamo Heights, TX

"Wrinkle free but does not feel like it"

paul in WASHINGTON, DC

"Good"

Ronald in Trent Woods, NC

"Good product"

Glenn in Atlanta, GA

"Like the subtle sheen of fabric."

Justin in Bayonne, NJ

"Loved it."

Bryan in Oceanside, NY

"standard. good for price"

Renn in Castleton, IN

"A simple blue in a comfortable cloth."

Robert in New York, NY

"Appeared exactly as described. I love it!"

Christopher in Saugus, CA

"I got mixed up wit the fabric sample. I was hoping it was the darker color of the back of the sample, not the lighter color of the front. That said, excellent fabric. One of my two favorite business shirts. I wear it frequently, and it has held up well."

Daniel in VIENNA, VA

"The fabric is great!"

Mondaire in White Plains, NY

"Such a crisp blue color that fits so many looks. Wears like iron. Looks great after all day what more can you ask for?"

Helen in Chico, CA

"great feel and look!"

Jeff in LONGMONT, CO

"The weight and color are versatile. A solid shirt."

Michael in Albany, NY

"dont like inverse colors"

David in Mount Pleasant, Western Australia

"Beautiful blue, with a very slight shine. Irons well and looks crisp all day. Perfect fabric for a workhorse professional office shirt. Looks great with white collars and cuffs."

Kirk in Vail, AZ

"This is a great shirt color and fabric that you can dress up or down. Ted in Texas"

Ted in Irving, TX

"Nice plain twill fabric"

Joseph in TULSA, OK

"Clean, beautiful fabric, but is a darker shade on the underside, thereby giving an unexpected look with the sleeves rolled up. Otherwise good fabric."

Mark in Springfield, IL

"Fabric and feel is good"

Leo in Auburn Hills, MI

"Fabric holds well after drying. Hardly any wrinkles. There is a two tone color. Inside is a darker color."

Nicholas in Valley Glen, CA

"good shirt"

Greg in LOS ANGELES, CA

"Nice fabric, not too expensive.the color is not 100% uniform, which is a bit odd"

RAFAEL in New York, NY

"Perfect shade of blue; excellent with dark blue and gray suits. Twill is understated."

Calvin in Lorton, VA

"it is comfortable and looks great with a fine suit and cuff-links"

Shaun in Halifax, NS

"Excellent fabric. Very nice color, very comfortable feel."

Ryan in JERSEY CITY, NJ
FAQs
How do I get started?

First, welcome to Proper Cloth. We specialize in custom dress shirts, suits, jackets and pants.

The first step would be to create a size using our Smart Size Quiz. We'll use your answers and data from thousands of satisfied customers to generate custom dress shirt sizes in your account.

To order, you can browse our gallery of curated, pre-styled options and purchase them, made to order in your custom size (and style, just click 'Customize' to modify).

Or

You can use our Design-A-Shirt tool to create a custom designed shirt from scratch, selecting the fabric and all style details (collar, pocket, buttons, etc), before applying your custom size! We highly recommend only getting one shirt to start so we can lock down the Perfect Fit (Guaranteed!).
How long does it take to have a custom shirt made?

Standard finish, casual wash, and non-iron shirts generally take 12 to 14 days to produce and deliver. In all cases, the promised delivery date range at checkout should be accurate (if not slightly conservative). Click here to see our typical delivery times based on product.

Orders including shirts with any style of Mother of Pearl buttons must undergo special Fish and Wildlife inspections that may cause delays. For this reason, the expected delivery date range will be extended by an additional 14 days.
Can I change the collar or cuff style? Can I add a pocket? Short sleeves? etc.

As a made-to-measure shirtmaker, we offer a wide variety of style features. Proper Cloth shirts can be styled with any of our 30+ different collar styles, 12 different cuff styles, and one of our 9 different pocket options can absolutely be added.

Just click the 'Customize' button next to any of our pre-designed, photographed shirts to edit the design however you wish!

Short Sleeve shirts can be ordered by specifying as such under the Cuff/Sleeve section of the Design-A-Shirt tool.
Do you offer rush delivery?

Rush delivery is not available for custom made products. With ready-to-wear and stocked products, we have a little more flexibility.
Still have a question? Get in touch
Ready to create your custom shirt size?
Answer 10 easy questions about your body and fit preference to create a custom size.
Our Perfect Fit Guarantee
If you're not entirely happy with the fit of your custom shirt (or anything else about the shirt) you can return it to us for a complimentary remake in a new size or style. We excel at making remakes quick and hassle-free. If remaking the shirt doesn't suit you, you can also return the shirt for a full refund.