Albiate Washed Dark Indigo Oxford
$150
Select Shirt Size
Collar
i
Don't worry about shrinkage — we'll account for that automatically based on fabric choice. You can fine-tune your collar size down to 0.1" or adjust any of the 16 other customizable size parameters when you create a custom size.
Sleeve
i
Sleeve length is measured from the center back to the edge of the shoulder and down to the end of the cuff. Fine-tune your sleeve length down to 0.1" or adjust any of the 16 other customizable size parameters when you create a custom size.
Fit
i
Slim Fit will be nicely fitted, yet comfortable. Super Slim Fit is for those that prefer a particularly trim fit and are not bothered by slight tightness or limited range of motion. Classic Fit is a more generous, roomy fit that won't hug the body closely.
Shirt Style Details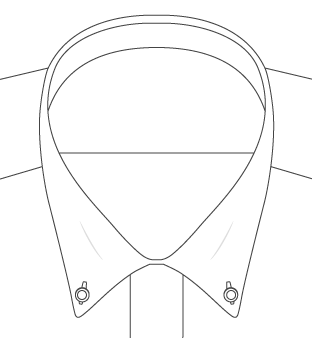 Soft Ivy Button Down Collar
Collar roll. And plenty of it. This decidedly casual collar style is more expressive than most modern button down collars.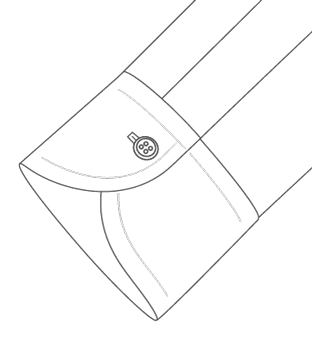 Soft Long One Button Cuff
The same shape as our long one button barrel, but without the stiff fusing. Soft, comfortable, and a good match for casual style shirts.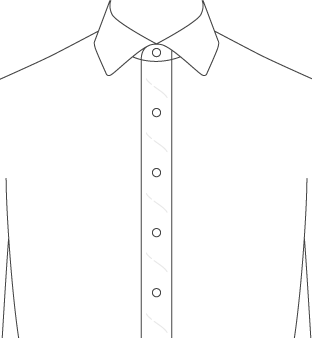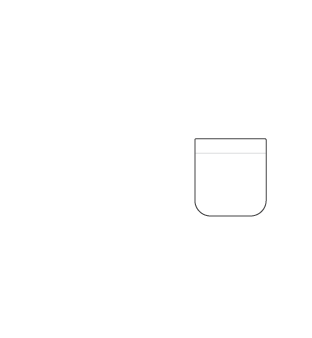 Soft Front Placket, Rounded Pocket
Great for casual shirts. A soft, unfused front placket makes for a relaxed look.
Buttons

Slate Horn Buttons i

Unique slate blue button that pairs well with dark, casual fabrics. Made from a durable faux-horn.

Bottom Hem

Rounded i

A 2" curved front and back shirttail hem with reinforced side seam gussets.
Change any of these shirt details, add a monogram, and more by customizing this shirt.
Fabric Info
Fabric Description
One of our favorite hard-wearing fabrics with a unique broken-in feel.
This 60s 2-ply oxford strikes the perfect balance of durability and easy, comfortable wear. It's definitely got the heft of traditional heavy oxfords, and its open weave provides extra breathability. We especially love how the dot-like oxford texture becomes even more prominent when dyed and washed with a heavy bleach—the result is a beautiful indigo with the effect of a matte birdseye fabric.
From sourcing the perfect denim from a 185-year-old mill in Italy to testing washes with our factory for months on end, we labor over every detail of our washed indigo shirts. Each of them starts out as a plain or textured weave fabric that's been dyed heavily with indigo. After being cut and sewn, the shirts are then garment washed using either a light enzyme, soda, or bleaching process. It's this process that gives each shirt its beautiful color and unique fading around the seams. While garment washed indigo and denim shirts are a popular product in the ready-to-wear market, they haven't previously been available in a custom fit or design due to the bulk production required for the washing process. We've worked closely with our suppliers to bring you the first truly custom garment washed indigo and denim shirts on the market. Premium, carefully crafted shirts, made to your exact specifications. Learn more about our washed indigo and denim shirts here.
Recommended Styling: Try this one with our Colorado Button Down collar, Soft Front placket, Rounded pocket, and Mother of Pearl buttons for a classic OCBD look. Note that, due to the special nature of the garment washing process, this fabric can only be made using soft, unfused collars, cuffs, and fronts/plackets.
Color & Pattern

Performance
4.86 / 5 Average rating
Recommended by 99%.
"Color is not as it appears but I still like it"

James in HIGH POINT, NC

"Couldn't believe this was an oxford! Doesn't wrinkle easily, true to size, and everyone thinks it's a denim shirt. Softer than an oxford and even a denim. Beautiful indigo color!"

Amy in Brooklyn, NY

"What's better than indigo on an oxford shirt? Still waiting for an answer... This is a great shirt!"

Adam in SEATTLE, WA

"Great sturdy shirt!"

Scott in Calgary, AB

"Nice fabric"

Adam in Chevy Chase, MD

"Good solid fabric"

David in BOISE, ID

"This is a very cool, relaxed fabric. Feels good against the skin."

Ashley in Madison, WI

"This is really cool faded Indigo. A very beautiful and unusual color."

Robert in Newport Beach, CA

"love the fabric great fall and winter fabric"

William in Rockford, IL

"Fabric is fine"

Robert in Pearl City, HI

"Great quality, just as expected."

Ove Gunnar in Kvaloeya,

"This fabric is fantastic! Its a very soft oxford and is a great casual shirt. The indigo color dye is beautiful, maybe slightly lighter than the pictures but mostly accurate. The shirt doesn't wrinkle easily and they are easy to remove when it does."

Danny in Lafayette Hill, PA

"Great denim shirt!"

Jeffrey in PITTSBURGH, PA

"A wonderful oxford cloth with a deep indigo color. It felt soft and broken-in right from the start."

Rafael in Washington, DC

"look rough but feels incredible. Great fabric for colder weathers."

Andres in Brooklyn, NY

"Good shirt overall, a little stiffer than I imagined"

Donald in SUGAR LAND, TX

"Lovely Color"

Julius in Berlin,

"Beautiful denim fabric, a little lighter than expected."

Chandra in Palo Alto, CA

"Whats better than denim and oxford combined?"

Jeo in New York, NY

"Beautiful, understated color with real presence. These are definitely much cooler than standard oxford cloth."

Thomas in Arlington, MA

"Incredible value"

Sean in Lawrenceville, NJ

"Great fabric r ic"

Whalen in ALBUQUERQUE, NM

"I really liked this shirt with blue buttons. Very business casual."

Chris in Windsor, NS

"Beautiful fabric. Can wear for buisness casual or on the weekend."

Dustin in Squamish, BC

"great fabric"

richard in Grovetown, GA

"I love this washed denim."

Robert in LEXINGTON, KY

"Great color"

Philip in Pacific Palisades, CA

"Bit stiff but I think it should break in well"

Paul in CHICAGO, IL

"This is a thick fabric, just FYI. Wouldn't wear it in the warmer months."

carlo in Brooklyn, NY

"Love it."

Scott in Coburg, Victoria

"Great"

Peter in Syosset, NY

"Good weight Oxford."

Edward in Studio City, CA

"In love with this color / fabric combo."

Christopher in New York, NY

"Looks great"

Michael in New York, NY

"Interesting indigo fabric"

Michael in Toronto, ON

"Excellent fabric, nice and thick, beautiful color"

Karl in Sweden, Skanör

"Broken in and well structured. Always a go to in my closet."

Kevin in New York, NY

"Beautiful comfortable fabric. Denim like but much softer."

Harvey in Ridgefield Park, NJ

"The fabric is soft and feels very comfortable. It is substantial, but not heavy. I am wearing it in North Florida winter weather (high of 60 degrees F). I like the shirt and am always satisfied with products from Proper Cloth."

Scott in Atlantic Beach, FL

"Great casual fabric that should fade nicely with time."

Dennis in Round Rock, TX

"Good fabric"

Cameron in Brunswick, VIC

"Darker than the pictures suggest and very heavy weight, but really comfortable"

Ian in Dulverton, Somerset

"nice heavy denim fabric"

Alvise in Blackrock, Dublin

"Very good feeling"

Emilio in Saint-Imier,

"My favourite colour and texture. It's thick fabric and has shrunk quite a bit"

Francis in Adelaide, South Australia

"Superb"

Lansana in Le Grand-Saconnex, GE

"Beautiful fabric. Great alternate dress for winter."

Guha in Latham, NY

"Not being a fan of Oxford cloths, this actually feels very different. Softer, more comfortable cloth to wear. The color Is nice, but looks like it's faded which I couldn't see well in the images. For that reason it feels like a cloth for a more casual occasion."

Martin in Dalkey, Dublin

"Knew to expect the indigo smell, but still not sure how to best address. Reddit posts are all over the place. A special note on rinsing and keeping soft would be helpful."

Jonathan in ARLINGTON, VA

"Nice warm casual shirt"

Daniel in Scottsdale, AZ

"I have showed this to at least four of my colleagues. One has ordered from your company."

Joseph in Fond Du Lac, WI

"Avesome, thick clothing. Love the rich blue and its texture."

Johannes in Hamburg, HH

"Perfect weight and fit. I kept this as an OBCD and it's great for the office or the weekend."

Marty in Elmhurst, IL

"Very soft for an oxford cloth, while still having the heavy oxford heft. Birdseye pattern is super subtle."

Mark in Brooklyn, NY

"nice heft to fabric"

Chintesh in Winnetka, CA

"with the heavier fabric, suggest increasing size a bit"

John in Royal Oak, MI

"Stunning blue."

Toby in Marlow, Bucks

"Nice and heavy"

Lawrence in Alexandria, VA

"Perfect oxford"

Louis in St Peters, Guernsey, C.I

"Really nice shirt especially with mother of pearl button. Heavy material for fall/winter"

Jared in New York, NY

"softer than their heavyweight oxford cloth which is nice as it wont take as long to break in. beautiful, casual fabric. should have ordered 2."

erik in Hobe Sound, FL

"A++ on another denim shirt. A must if you live in the south, and a plus anywhere else."

Will in Fort Worth, TX

"Great shirt for fall."

George in Peterborough,

"Ordered this shirt for travel and have been very pleased with the fabric."

Daniel in Cypress, TX

"Love the muted blue."

Mitch in Concord, MA

"Called an oxford fabric, but feels and wears more like a soft canvas. Love the depth of color."

Eric in ALEXANDRIA, VA

"Very soft after a couple of laundry cycles. Excellent color."

John in Louisville, CO

"Just wish this fabric was available more frequently"

Neal in Albuquerque, NM

"It is a little stiff initially, but should soften up with repeat washing. It is a nice thick fabric that seems durable."

Brian in Burien, WA

"Great looking shirt, and fabric"

Vijay in Brooklyn, NY

"This is a fantastic heavy duty fabric great for casual wear. Looking forward to breaking it in more in the cooler months."

Silas in Pasadena, CA

"Very nice looking shirt. A bit more washed than I expected but it still looks great."

Jose in Dundee, IL

"Color is excellent"

David in Upper Montclair, NJ

"Color is great"

mike in Johns Island, SC

"Perfect fall weather shirt."

Samuel in Lafayette, CO

"This is heavier, in my view, than some of the shirts described as heavy. I love it and can see the great color will fade beautifully."

Paul in Kenosha, WI

"Love the heavy weight and its very soft, i can tell it will be really comfortable. Color / texture was a little flatter than expected."

Daniel in Turramurra, NSW

"Beautiful color variation and fading. Perfect hearty oxford for the colder months."

Chris in NEW YORK, NY

"Fabric is beefy, yet soft and very comfortable. Color is as pictured. Overall, very satisfied with it."

Heinrich in Wien, Wien

"Perfect shirt. Great with soft Ivy BD."

Sean in Ardmore, PA

↓

Rating Breakdown

Color & Pattern

Performance

No, would not recommend

"The cloth was not as rich as the photos online."

Courtney in SAMMAMISH, WA

"Sturdy fabric, has weight and great color."

Reid in NEW YORK, NY

"Great color and weight."

Bruce in Woodside, CA

"It is unusual to find this fabric used in a well fitting dress shirt. I can find off-the-rack sport shirts in similar fabrics but they don't fit well & cannot be used as dress shirts."

Wayne in Vancouver, BC

"Soft and amazingly comfortable right out of the box. Best casual fabric so far."

Matthew in dallas, TX
FAQs
How do I get started?

First, welcome to Proper Cloth. We specialize in custom dress shirts, suits, jackets and pants.

The first step would be to create a size using our Smart Size Quiz. We'll use your answers and data from thousands of satisfied customers to generate custom dress shirt sizes in your account.

To order, you can browse our gallery of curated, pre-styled options and purchase them, made to order in your custom size (and style, just click 'Customize' to modify).

Or

You can use our Design-A-Shirt tool to create a custom designed shirt from scratch, selecting the fabric and all style details (collar, pocket, buttons, etc), before applying your custom size! We highly recommend only getting one shirt to start so we can lock down the Perfect Fit (Guaranteed!).
How long does it take to have a custom shirt made?

Standard finish, casual wash, and non-iron shirts generally take 12 to 14 days to produce and deliver. In all cases, the promised delivery date range at checkout should be accurate (if not slightly conservative). Click here to see our typical delivery times based on product.

Orders including shirts with any style of Mother of Pearl buttons must undergo special Fish and Wildlife inspections that may cause delays. For this reason, the expected delivery date range will be extended by an additional 14 days.
Can I change the collar or cuff style? Can I add a pocket? Short sleeves? etc.

As a made-to-measure shirtmaker, we offer a wide variety of style features. Proper Cloth shirts can be styled with any of our 30+ different collar styles, 12 different cuff styles, and one of our 9 different pocket options can absolutely be added.

Just click the 'Customize' button next to any of our pre-designed, photographed shirts to edit the design however you wish!

Short Sleeve shirts can be ordered by specifying as such under the Cuff/Sleeve section of the Design-A-Shirt tool.
Do you make shirts that can be worn untucked?
How do I order a short sleeve shirt?
Do you offer rush delivery?

Rush delivery is not available for custom made products. With ready-to-wear and stocked products, we have a little more flexibility.
Still have a question? Get in touch
Ready to create your custom shirt size?
Answer 10 easy questions about your body and fit preference to create a custom size.
Our Perfect Fit Guarantee
If you're not entirely happy with the fit of your custom shirt (or anything else about the shirt) you can return it to us for a complimentary remake in a new size or style. We excel at making remakes quick and hassle-free. If remaking the shirt doesn't suit you, you can also return the shirt for a full refund.