Albiate Washed Black Denim
$160
Select Shirt Size
Collar
i
Don't worry about shrinkage — we'll account for that automatically based on fabric choice. You can fine-tune your collar size down to 0.1" or adjust any of the 16 other customizable size parameters when you create a custom size.
Sleeve
i
Sleeve length is measured from the center back to the edge of the shoulder and down to the end of the cuff. Fine-tune your sleeve length down to 0.1" or adjust any of the 16 other customizable size parameters when you create a custom size.
Fit
i
Slim Fit will be nicely fitted, yet comfortable. Super Slim Fit is for those that prefer a particularly trim fit and are not bothered by slight tightness or limited range of motion. Classic Fit is a more generous, roomy fit that won't hug the body closely.
Shirt Style Details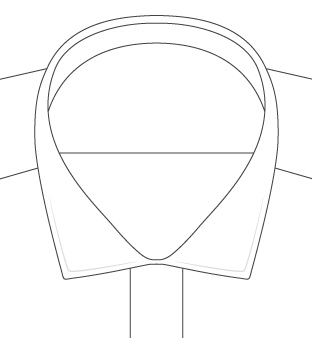 Soft Franklin Spread Collar
A casual spread collar of smaller proportions in a soft, unfused construction.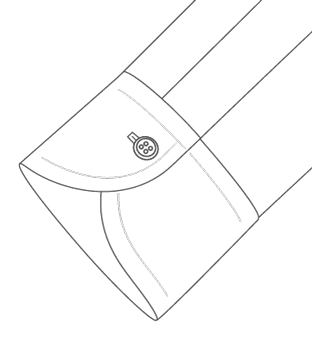 Soft Long One Button Cuff
The same shape as our long one button barrel, but without the stiff fusing. Soft, comfortable, and a good match for casual style shirts.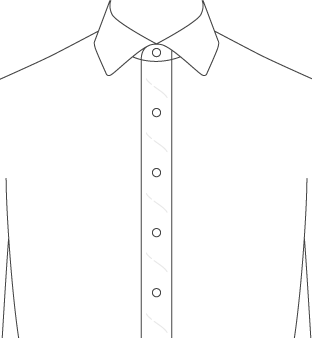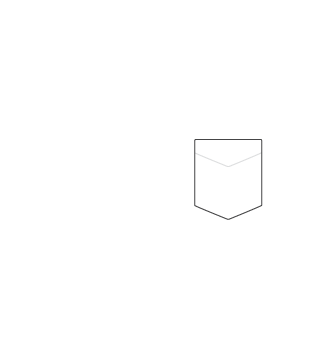 Soft Front Placket, Angled Pocket
Great for casual shirts. A soft, unfused front placket makes for a relaxed look.
Buttons

Roma Buttons i

A beautiful off-white faux mother-of-pearl button. Made from a high quality plastic resin. Very durable.

Bottom Hem

Rounded i

A 2" curved front and back shirttail hem with reinforced side seam gussets.
Change any of these shirt details, add a monogram, and more by customizing this shirt.
Fabric Info
Fabric Description
The perfect black denim shirt.
This super soft and versatile 60s single-ply denim works year-round, drapes beautifully, and looks fantastic as a Western shirt, overshirt, or dressed up under a sport coat. We give this fabric a gentle enzyme wash that removes less dye, resulting in a saturated black with subtle fading and puckering along the placket and seams.
From sourcing the perfect denim from a 185-year-old mill in Italy to testing washes with our factory for months on end, we labor over every detail of our washed indigo shirts. Each of them starts out as a plain or textured weave fabric that's been dyed heavily with indigo. After being cut and sewn, the shirts are then garment washed using either a light enzyme, soda, or bleaching process. It's this process that gives each shirt its beautiful color and unique fading around the seams. While garment washed indigo and denim shirts are a popular product in the ready-to-wear market, they haven't previously been available in a custom fit or design due to the bulk production required for the washing process. We've worked closely with our suppliers to bring you the first truly custom garment washed indigo and denim shirts on the market. Premium, carefully crafted shirts, made to your exact specifications. Learn more about our washed indigo and denim shirts here.
Recommended Styling: Try this one with our Soft Franklin Spread collar, Soft Front placket, Utility pockets, and Grey Horn buttons for a utilitarian casual look. Note that, due to the special nature of the garment washing process, this fabric can only be made using soft, unfused collars, cuffs, and fronts/plackets.
Color & Pattern

Performance
4.81 / 5 Average rating
Recommended by 97%.
"The color looks very similar to the Albiate Washed Lightweight Grey Denim. I would just purchase either the black denim or grey denim shirt. But overall it looks great."

Kieffer in Inwood, NY

"Good wash"

JP in Singapore,

"Beautiful silk like looks."

Tony in Decatur, TX

"This is one of the coolest fabrics I've got from Proper Cloth. It's got the substance of denim, but it feels light enough for three-season use."

Adam in Towson, MD

"If you're looking for a solid black denim color, this aint it. It's more of a faded black color. It almost looks like a dark grey. It's not super thick, but does feel soft. Not as thick as my JV denim shirt. However, I believe the "washed" part of this shirt is why it feels soft. The fabric doesn't allow fo…r a stand up placket which I hate."

Grant in RALEIGH, NC

"Great fabric!"

Vignesh in AURORA, IL

"Gorgeous denim that ages well."

Gabe in CHICAGO, IL

"Great shirt"

Ayman in Springfield Gardens, NY

"Soft and well structured"

Michael in Oconomowoc, WI

"Great fabric."

ALAN in MIAMI BEACH, FL

"Looks great!"

Patrick in SAN FRANCISCO, CA

"Great for weekend wear or casual workday. hits the dress up/dress down sweet spot nicely. Looks great with white buttons. Soft yet heavy duty."

Paul in Victoria, BC

"Love the shirt and fabric. Proper Cloth always shows up on the fabric side. cant say enough good things."

Heath in Grosse Pointe, MI

"It's great for an overshirt."

Gale in PASADENA, CA

"Incredible"

Alex in London, London

"Just denim"

Gary in Dallas, GA

"Perfect weight for a denim shirt and it looks great."

Ronald in Austin, TX

"Excellent weight and drape and color, wonderful with jeans. Not as black as pictures suggest, a bit darker than the grey version"

Donald in SUGAR LAND, TX

"It looks cool the way you did it. Thanks"

Pat in SAINT PAUL, MN

"I love this fabric"

Josh in Alphington, Victoria

"Great fade, comfy, and fits great. Perfect for winter layering or on it's own for warmer temps. Details on pockets and buttons are spot on too, great shirt."

Justin in Edmonton, CA-AB

"Nice fabric"

Michael in HAMILTON, NJ

"Nice fade and great weight."

Joseph in Phoenix, AZ

"This fabric took longer to make, but it's the perfect weight and has a semi-distressed look. Definitely more gray than black."

Jonathan in BROOKLYN, NY

"This shirt is nice, heavily structured."

Joseph in Toronto, Ontario

"Nice fabric, good quality"

Jonathan in Tallahassee, FL

"Great color. Black with a little character."

Michael in Madison, MS

"Love the look of this fabric paired with this style"

Nathan in Georgetown, TX

"Great casual shirt. Fabric is super soft and looks and feels great."

MATTHEW in Los Angeles, CA

"Soft and subtle"

Andrew in ATLANTA, GA

"Love the material"

inderjit in Princeton, NJ

"Great weight! Great style. It is a solid "jean shirt," without being too thick. Love it because it isn't quite a "shirt jacket." it is thinner than that. Yet still has a hard cord feel to it."

Joel in Franklin, WI

"Nice fabric, but it is not black."

David in PITTSBURGH, PA

"Looks great"

John in Hoboken, NJ

"The fabric is beautiful!"

Walter in East Harwich, MA

"It was just the look I was hoping for. A sort of washed out, worn look. It is perfect."

Joseph in SCOTTSDALE, AZ

"The perfect blend of a dark striking look, while also feeling worn-in. Great construction, not too light, not too heavy. Perfect year-round fabric."

Cory in MIAMI, FL

"Wonderful fabric."

Erik in Molnlycke,

"Great! Soft and pliable. Really nice wash."

William in Los Angeles, CA

"Casual fabric that looks worn and a little vintage. Best for the weekend or casual use."

Craig in Encinitas, CA

"Great quality shirt that I will get plenty of wear out of."

Russell in St Kilda, Victoria

"Exactly what I was looking for in a denim shirt."

Arad in San Bruno, CA

"This fabric is fantastic. Makes a great western shirt, or casual shirt with some western features. Drapes really well, softens over time. I love it."

Alexander in SACRAMENTO, CA

"Very nice fabrics wish there were more colors"

samuel in SAN MATEO, CA

"feels great"

Jeffrey in Winnetka, IL

"Exactly what I wanted. Great look for casual day."

Thomas in Fort Atkinson, WI

"Fabric looks feels great. Love this shirt"

Sergio in New York, NY

"Fabric too thin."

Robert in Crystal Lake, IL

"Comfortable and nice look."

David in CHICAGO, IL

"Great fabric, instant favorite"

Boaz in Chestnut Hill, MA

↓

Rating Breakdown

Color & Pattern

Performance

No, would not recommend

"Fabric was out of stock after order. Disappointing."

Jay in Berwyn, PA

"Makes you feel like a proper cowboy"

Jason in Brisbane, Milton

"Super soft nice draping."

Ashton in CINCINNATI, OH

"I like to be able to wear my clothes in any kind of environment. This shirt more than fills the bill."

Suzanne in San Marcos, CA

"Love it, but it is starting to fade after about 10 washings (gentle cycle)"

Michael in Austin, TX

"Nice weight and color and can be worn open over a T-shirt."

William in Richmond, VA

"Comfortable fit"

Robert in Novato, CA

"An excellent, soft denim fabric. Looks and feels fantastic. A nice, subdued, washed-out black. If you are considering ordering this, just do it now. One of the nicer shirts I've ordered."

Justin in DENVER, CO

"Fabric doesn't look like the picture on the website. I bought it based on the reviews and it doesn't disappoint. Nice looking short."

Mark in Hillsdale, NJ

"Beautiful wash and fit so well. Great quality denim!"

Joshua in WINSTON SALEM, NC

"Great fabric. Has a nice worn in look. I selected the Western front, Western flaps, and brown snap buttons."

Greg in New York, NY

"decent fabric"

Jeo in New York, NY

"Relaxed look, yet really tasteful."

David in Redmond, WA

"Listed as black, but way closer to charcoal gray - still a great fabric that will get better with age."

Scott in Arroyo Grande, CA

"Slight shrinkage with laundering. I'd maybe go a tiny bit looser than normal."

Aaron in Santa Barbara, CA

"I like the fabric. It is unique and reminds me of material from a long time ago."

Douglas in Niles, MI

"good denim"

Bruce in New York, NY

"I already have a blue washed denim shirt from Proper that I purchased a couple of years ago and when I saw this one in black it was a no brainer..."

David in Danbury, CT

"The fabric was a bit thinner and stretchier than I expected for a denim, but that made it very comfortable and easier to layer. Depending how you style the shirt you could either go for a dressy workwear or a dressed down business shirt thanks to the fabric. Work with customer service to dial in your fit since shrinkag…e on this is decent."

craig in PASADENA, CA

"The fabric is very nice but came in a little lighter in color than I expected. I expected it to be black and it is charcoal."

Steven in Brighton, MI

"Love this fabric. Soft, breathes well in the sun and warmer in the evening."

Clifford in Telluride, CO

"Exactly what I was looking for and looking better and better over time."

Adrian in Kehl-Goldscheuer, Baden-Wurttemberg

"The wash on this fabric is incredible."

Shawn in Aledo, TX

"One of the most favorite materials from PC. Will develop some nice lines and character marks over time and washes. Extremely durable."

Matt in North Canton, OH

"Great for a casual shirt"

Don in Salisbury, NC

"A nice thick-but-not-too-thick fabric pairs well with a pair of faded black jeans."

Jeffrey in Syracuse, NY

"fantastic. bought short sleeve and long sleeve"

George in mobile, AL

"Casual with a rugged structured look. Perfect with faded blue jeans."

Alexander in Pleasanton, CA

"Once again, PC has a shirt that seems like they asked me what an ideal shirt would be. Just the right weight of denim, and the washing and perfect fit made it seem like an old friend from the moment I put it on."

Alan in Chicago, IL

"Great intense color."

Johannes in Hamburg, HH

"Terrific shirt- might be my favorite in my entire wardrobe. The fit and quality are top notch, but the fabric is outstanding. Flexible, sturdy, comfortable, breathes, moves well with me."

Gabriel in Lakeville, MN

"Beautiful denim fabric."

Francisco in PHOENIX, AZ

"Love it"

Adrian in Rancho Mirage, CA

"I like the color feel and casual fabric with jeans"

Terry in Bloomington, IL

"It feels tough yet comfortable."

daniel in Glendale, CA

"Most definitely."

Darryl in West Somerville, MA

"Good quality but a little stiff"

Anthony in Lolo, MT

"Nice fabric. A minute amount too much of a shimmer, but otherwise great. Good thickness."

Aaron in Bloomfield Hills, MI

"The shirt is a perfect for the summer."

Chris in Huntington Beach, CA

"Excellent fabric."

TOM in Campbell, CA

"Great denim shirt. Fabric is just the right weight."

Kent in CHARLOTTE, NC

"Great fabric. Warmer than flannel. Yet light enough for warm weather. A look that not many have anymore."

sebastien in Midland, TX

"My new favorite shirt."

Jason in KANSAS CITY, MO

"Love this denim shirt fabric. They have the best denim shirt fabric and styles available. This shirt came ready-to-wear right out of the box. And I did!"

Phillip in Dallas, TX

"The washed black denim is the second purchase of this same shirt. I liked the first one in slate blue so much that I ordered it again in a new color. The second item is a 100% western style blue denim shirt which looks terrific but haven't actually worn it yet. Sizing has never been an issue though with PC."

Edward in Chesterbrook, PA

"Great feel and quality !"

Jan in Copenhagen, DK

"Not to heavy fabric, well made and comfortable to wear."

Abdul in Milltimber, Scotland

"Very modern"

Ronald in Cedarhurst, PA

"Love it"

Mark in New York, NY

"great fit"

Glenn in Atlanta, GA
FAQs
How do I get started?

First, welcome to Proper Cloth. We specialize in custom dress shirts, suits, jackets and pants.

The first step would be to create a size using our Smart Size Quiz. We'll use your answers and data from thousands of satisfied customers to generate custom dress shirt sizes in your account.

To order, you can browse our gallery of curated, pre-styled options and purchase them, made to order in your custom size (and style, just click 'Customize' to modify).

Or

You can use our Design-A-Shirt tool to create a custom designed shirt from scratch, selecting the fabric and all style details (collar, pocket, buttons, etc), before applying your custom size! We highly recommend only getting one shirt to start so we can lock down the Perfect Fit (Guaranteed!).
How long does it take to have a custom shirt made?

Standard finish, casual wash, and non-iron shirts generally take 12 to 14 days to produce and deliver. In all cases, the promised delivery date range at checkout should be accurate (if not slightly conservative). Click here to see our typical delivery times based on product.

Orders including shirts with any style of Mother of Pearl buttons must undergo special Fish and Wildlife inspections that may cause delays. For this reason, the expected delivery date range will be extended by an additional 14 days.
Can I change the collar or cuff style? Can I add a pocket? Short sleeves? etc.

As a made-to-measure shirtmaker, we offer a wide variety of style features. Proper Cloth shirts can be styled with any of our 30+ different collar styles, 12 different cuff styles, and one of our 9 different pocket options can absolutely be added.

Just click the 'Customize' button next to any of our pre-designed, photographed shirts to edit the design however you wish!

Short Sleeve shirts can be ordered by specifying as such under the Cuff/Sleeve section of the Design-A-Shirt tool.
Do you make shirts that can be worn untucked?
How do I order a short sleeve shirt?
Do you offer rush delivery?

Rush delivery is not available for custom made products. With ready-to-wear and stocked products, we have a little more flexibility.
Still have a question? Get in touch or start a chat
Ready to create your custom shirt size?
Answer 10 easy questions about your body and fit preference to create a custom size.
Our Perfect Fit Guarantee
If you're not entirely happy with the fit of your custom shirt (or anything else about the shirt) you can return it to us for a complimentary remake in a new size or style. We excel at making remakes quick and hassle-free. If remaking the shirt doesn't suit you, you can also return the shirt for a full refund.