Steel and Onyx Tuxedo Studs
$75
Delivery by Jun 15
Free Shipping & Returns
Product Info
Product Description
These Italian-made steel and black onyx dress studs are the sort of accessory that separates the best-dressed guy at the event from the rest. They say the devil is in the details, and that's never more true than when you're wearing a tux.
Product Details
Italian Steel Stud
Black Onyx Face
Four Studs per Set
Made in Italy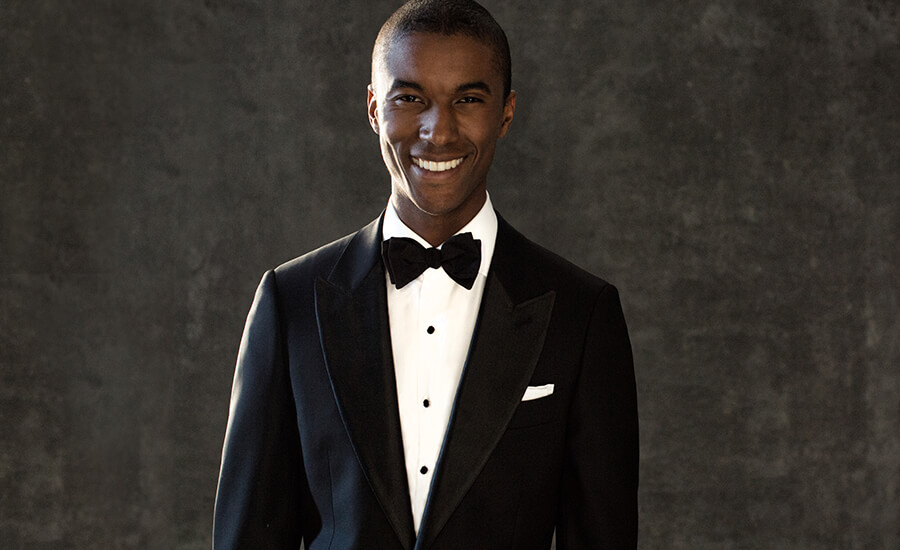 Made in Italy
These tuxedo studs are crafted in Italy, and as long as you don\'t lose them they\'re sure to last a lifetime.
4.82 / 5 Average rating
Recommended by 95%.
"Product OK not terribly nice... Something more discreet"

Carlo Federico in Geneva, Geneva

"Cheap feel to the metal. Overpriced."

Brendan in Easthampton, MA

"Easy purchase. Saved a trip to the store to look for basic studs. Nice design."

Thomas in New York, NY

"Lovely studs, they are a bit inset into the steel just as an FYI"

Aaron in New York, NY

"Great"

Rory in Summit, NJ

"well made and onyx is deep black color good enough"

Albert in SAN FRANCISCO, CA

"Solid quality. No gaudy logos. Good sizing."

Matt in New York, NY

"These I could have found elsewhere, but it was convenient to order with the shirt"

Marc in Santa Ana, CA

"Look great."

Josh in New York, NY

"Hi"

Richard in DENVER, CO

"Great quality and exactly what I was looking for."

Julian in Sugar Land, TX

"Good looking studs"

Ben in Winston Salem, NC

"Great product, but for Canadian customers... I paid $27 for fedex duties and fees - on a $50 product. Kinda nuts."

Antoine J in Montreal, Quebec

"Great Products"

Gerard in Herndon, VA

"Good value"

peter in Glencoe, IL

"Perfect."

Paul in Rye, NY

"Used these for my own wedding and nothing to complain about!"

Yeung Wang in Eastwood, NSW

"People make a comment is looks good and they were very easy to use"

Rolf in North Bergen, NJ

"Very classic and went well with the shirt."

Benjamin in BOSTON, MA

"Really nice. As advertised."

Ron in ATHENS, GA

"Nice quality"

Marco in Woodstock, GA

"Exactly what I expected."

Philip in ARLINGTON, VA

"They look great. I would say they are pricey though"

Paul W in Royal Palm Beach, FL

"I think the studs are nice and of high quality. The stainless steel really pops!"

Eliahou in BROOKLYN, NY

"Studs definitely class-up my shirt..."

Daniel in Norwich, VT

"The studs look nice with a clean look and good quality."

John in Langley, BC

"Beautiful studs. Great quality."

bryan in miami, FL

"Elegant!"

Colin in Brooklyn, NY

"Beautiful dress shirt studs. Simple but elegant."

Brian in Gerrards Cross,

"Great for a tux shirt. Look quality"

Ben in Perth, WA

"Classic tuxedo studs"

Matthew in Dallas, TX

"Received very quickly and exactly as advertised."

Joseph in NEW YORK, NY

"Great quality studs."

Paul in BOSTON, MA

"Standard good"

John in Burlingame, CA

"Functional and classic for a clean, traditional look"

David in Houston, TX

"Good price for tuxedo studs compared to other places."

Ray in Youngstown, OH

"They serve the purpose"

John in GLENDALE, CA

"Perfect fit"

David in Rockport, ME

"These studs are very high quality onyx and will last for years to come. A great buy!"

Jonathan in Brooklyn, NY

"Classy"

Sam in Boca Grande, FL

"Very nice cuff links!"

James in Jupiter, FL

"Product is exactly as show. Very nice."

DAVID in San Carlos, CA

"high quality and nice looking"

David in New York, NY

"Does the job!"

Doug in Frankfort, IL

"Product arrived as advertised. Excellent value."

MARK in Garden City, NY

"These are relatively inexpensive yet they look much better than the ones available elsewhere."

Michael in Murrieta, CA

"Simple elegance."

Eugene in Jersey City, NJ

"Sharp tuxedo studs. High quality."

Sandy in Glen Rock, NJ

"Perfectly done, high quality. Will last forever..."

Jason in San Diego, CA

"beautiful"

JL in BEND, OR

"These are great tuxedo studs. Simple and look great!"

Davis in NEW HAVEN, CT

"A Timeless classic"

Josh in New York, NY

"sharp studs"

Christopher in Canal Street, NY

"Quality product and beautiful packaging."

Jordan in Wildwood, NJ

"Nice!"

Manny in La Quinta, CA

"Really fit great with shirt with pleated tuxedo !!"

JohnMark in zebbug,

"Good quality and simple"

M in Cohutta, GA
FAQs
Do you offer rush delivery?

Rush delivery is not available for custom made products. With ready-to-wear and stocked products, we have a little more flexibility.
How long does it take to receive a 'Pre-Order' item?

Pre-Order products generally take at least a few weeks to deliver. The expected delivery date is provided in the Product Info section once you select a size.

Currently, the email receipt for your Pre-Order product will feature our ~1 week Stocked Product delivery estimate. We are working to fix this unique messaging problem.

A follow-up message clarifying the delivery date will be provided when the pre-order purchasing window closes. Finally, tracking details will be provided as soon as the items finish production and are prepared for shipment to your address.
How long does it take to receive a 'Stocked Product' order?

Stocked Products (ie. items in-stock at our offices) such as outerwear, scarves, ties, and sweaters generally take about one week to deliver.

Physical gift certificates take about one week to deliver, too.
Still have a question? Get in touch