Stanton 120s Light Blue Broadcloth
$135
Select Shirt Size
Collar
i
Don't worry about shrinkage — we'll account for that automatically based on fabric choice. You can fine-tune your collar size down to 0.1" or adjust any of the 16 other customizable size parameters when you create a custom size.
Sleeve
i
Sleeve length is measured from the center back to the edge of the shoulder and down to the end of the cuff. Fine-tune your sleeve length down to 0.1" or adjust any of the 16 other customizable size parameters when you create a custom size.
Fit
i
Slim Fit will be nicely fitted, yet comfortable. Super Slim Fit is for those that prefer a particularly trim fit and are not bothered by slight tightness or limited range of motion. Classic Fit is a more generous, roomy fit that won't hug the body closely.
Shirt Style Details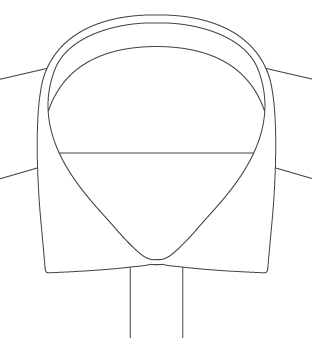 President Spread Collar
Our new and improved version of our most popular collar. We designed this to be a truly premium modern spread collar with timeless proportions.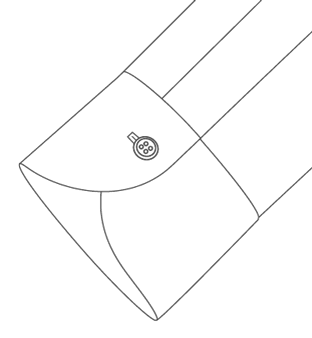 Long One Button Cuff
A slightly longer version of our one button barrel cuff. Fused. Great for for guys with longer arms.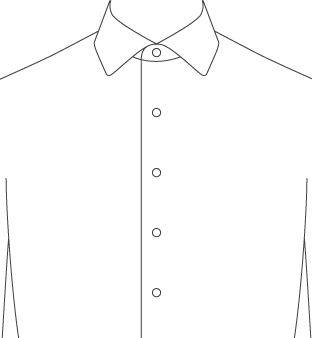 No Placket, No Pocket
The front of the shirt simply folds back on itself for a cleaner yet less structured look.
Buttons

Roma Buttons i

A beautiful off-white faux mother-of-pearl button. Made from a high quality plastic resin. Very durable.

Bottom Hem

Rounded i

A 2" curved front and back shirttail hem with reinforced side seam gussets.
Change any of these shirt details, add a monogram, chest pocket, and more by customizing this shirt.
Fabric Info
Fabric Description
A 120s 2-ply broadcloth quality woven in Europe with a great, silky smooth feel to it. The high thread count works nicely with the 2-ply construction to strike an ideal balance between feel and performance. The shade of blue is spot on, too. The color tone is beautiful, while still being light enough to feel modern. When ironed up, it'll look incredibly crisp--making it ideal for a big meeting or formal event--but it can also be worn more casually if you embrace the wrinkling. Broadcloths tend to be the construction with the smoothest feel to them, and you'll notice that right out of the box with this one. It's nice and lightweight, allowing the fabric to wear comfortably all year round. If you're looking for a particularly wrinkle-resistant or opaque shirt, you may want to consider our Greenwich or Mercer Twills instead of this one. Try it with our President Spread II collar and a long 1-button cuff for a versatile, sharp looking shirt.
Color & Pattern

Performance
4.62 / 5 Average rating
Recommended by 91%.
"Great basic"

James in WASHINGTON, DC

"Smooth looking fabric. Looks and feels luxurious, considering how affordable it was."

Scott in FULLERTON, CA

"Very disappointed. The Stanton fabric feels very stiff, rough and papery. Very surprising for a 120s fabric for $140."

James in Long Island City, NY

"Thinner than expected"

Paul in New York, NY

"Great classic blue and nice weight for a dress shirt."

Kurt H. in CHARLESTON, SC

"Solid, soft basic blue dress shirt."

John in New York, NY

"The fabric is buttery-smooth without being slippery; substantial without being thick; and well-finished without being stiff."

John in South Jordan, UT

"Great summer weight."

David in ALEXANDRIA, VA

"looks cheap"

Tyler in Phoenix, AZ

"It is very soft and fits exceptionally well."

Stefano in Vaughan, L4L3S6

"I love this fabric so much, this is my third purchase with this fabric. Proper Cloth's options around design means you will have plenty of opportunities to design shirts with high quality fabrics that wash and wear well. You can't go wrong. Thanks PC!"

William in MINNEAPOLIS, MN

"a little transparent but has a luxury look"

Andrew in Miami, FL

"Requires significant ironing to have professional look"

Nicholas in SANTA FE, NM

"GREAT!"

Mario in HAMPTON, VA

"Butter soft"

Charles in Louisville, KY

"Lightweight. I prefer this over linen for spring/summer."

Benjamin in Cypress, TX

"Can't go wrong with the color and feel of this fabric."

Conor in San Anselmo, CA

"OK"

Robert in New York, NY

"Great shirt fabric - one of the best!"

Andrew in El Dorado Hills, CA

"Fabric quality is okay, but it wrinkles easily"

Carter in Toronto, Ontario

"great fabric"

Steven in Midland, TX

"Like it"

Josh in New York, NY

"Soft hand feel"

johnson in ROUND ROCK, TX

"Love It!"

Jake in Madison, AL

"Generally like it. Shade of blue a little off what I wanted (a little duller) but really subtle difference from what I would have considered perfect"

Benjamin in New York, NY

"Nice fabric"

bryan in OKLAHOMA CITY, OK

"Very business-y fabric"

Jared in Red Deer, Alberta

"Great work shirt"

Stevan in Tampa, FL

"Lightweight and comfortable"

Michael in La Canada Flintridge, CA

"Comfortable and holds a press well. It looks great layered under a jacket."

Christian in Houston, TX

"Basic broadcloath. Not too much sheen. Some nice stiffness to it."

Shantanu in New York, NY

"Amazing fit and feel."

Jason in SPRING, TX

"Beautiful fabric"

Walner in Greenacres, FL

"Fantastic fabric and perfect for the office. Excellent breathability for summer heat."

Gregory in Stanardsville, VA

"Great pale blue color, soft fabric. More transparent than expected. Can't wear a white undershirt as the lines are too obvious, need to wear an undershirt closer to skin color. More wrinkle resistant than anticipated based on the rating."

Philip in New York, NY

"Love it"

Adrian in Rancho Mirage, CA

"I enjoy the Mayfair wrinkle-resistant twill fabric VERY much. The patterns/colors in the latest round (2021) are REALLY nice. I just ordered seven new shirts all of which arrived yesterday and I'm very pleased. I find that Proper Cloth's wrinkle-resistant fabrics are far better than other companies, which in some …cases charge more, for "wrinkle free.""

Jeffery in Hancock, MI

"Love the fabric!"

Andrew in New York, NY

"Excellent business shirt."

Joshua in New York, NY

"The fabric is lightweight weight and wears cool. It is non-iron so it is susceptible to wrinkles but that is expected. It is not the same color blue as shown in the picture. It has more yellow tones like the other examples of the same fabric shown on other shirt styles."

Daniel in West Los Angeles, CA

"Soft buttery fabric. Casual or dress"

Ryan in APO, AE

"Super fabric"

Tony in Plainfield, NJ

"Lovely fabric"

Sanket in Long Island City, NY

"Sharp looking shirt"

Michael in HOUSTON, TX

"Very nice fabric. Exactly as I imagined it."

Thomas in NEW ORLEANS, LA

"Solid blue shirt"

Taylor in BROOKLINE, MA

"Very much, the shirt is a great weight"

judd in Birmingham, AL

"Perfect fabric."

Anthony in EASTCHESTER, NY

"Great fabric."

Nicholas in Toronto, ON

"Terrific fabric for a business setting"

Michel in Hinsdale, IL

"This is a perfect example of classic men's shirting fabric. The lightness of the fabric and color add subtle class to a suit and tie combination."

B in GREENSBORO, NC

"Business or casual, you can't go wrong"

Christian in Fstrvl Trvose, PA

"The color is a nice icy blue which is perfect for a dress shirt."

Paul in Simpsonville, SC

"It is a thinner material but that's what I was looking for."

Adam in Chicago, IL

"a versatile shirt"

James in Coventry, -

"The fabric was a little thicker and slick feeling. But pretty good overall."

Max in Northside, VA

"Great fit"

John in ROGERS, AR

"it was good"

Erharuyi in Newark, NJ

"One of my favorite fabric from PC!"

Chris in New York, NY

"Gorgeous. Love it. Classy. A bit warm in the summer."

Jason in New York, NY

"The fabric is soft to the touch - better than what I expected!"

Adam in WHITE PLAINS, NY

"Nice. Not as good as the Thomas mason, but $30 cheaper. Fair trade."

Sal in Singapore,

"Nice"

Matt in Boca Raton, FL

"Great icy blue. Picture is accurate in terms of color."

Aaron in Winchester, MA

"Fabric appears a little cheap. Not as nice as I had hoped, but still wearable."

Julian in DPO, AP

"very happy with the quality of this fabric."

Josh in Newtown Square, PA

"Great knit, wears well"

Christopher in East Greenwich, RI

"Good, versatile color"

Saher in Marietta, GA

"The fabric feels very cheap and thin; in my case, 2 of the buttonholes ripped within a year of buying the shirt"

Ashwath in Jersey City, NJ

"My go-to fabric for business shirts. Has a light/silky handfeel but still holds up."

Jason in CHICAGO, IL

"Good light blue color (definitely on the lighter side of light blue). Consistent with other lightweight fabrics I've gotten from Proper Cloth."

Bradley in STAMFORD, CT

"More sheen than expected"

Theodosis in Marousi, Attica

"Outstanding. Great fabric. Thanks."

Andrew in San Anselmo, CA

"great quality"

Amit in Lititz, PA

"Perfect"

Randy in Winthrop, MA

"Nice light fabric, shrinks a bit more than others when washed."

Matthew in Summit, NJ

"Fabric is oddly thin and firm, almost paper-like with no drape. That said, it's very light and works well enough untucked on very warm days but I don't wear it to the office as often as I'd planned."

John in San Francisco, CA

"Lighter than expected but quite nice"

Franco in Waukesha, WI

"This one is on me, and more a comment on shirt itself than fabric. Unbeknownst to me, this item comes with a bright paisley liner in the collar. Far too flamboyant for officewear. It's possible I missed this in description, so shoulder my share of the blame. Still, a shirt I simply won't wear."

Tom in Studio City, CA

"Really good color fits perfectly. Nice and light fabric."

Rob in Wellesley, MA

"Good fabric. But 'light blue's could be lighter."

Urs in Adliswil,

"Nice, basic light blue dress shirt. Feels high quality."

Eric in New York, NY

"This fabric is singlehandedly the best shirt fabric I've come across -- here or anywhere. I was disappointed that the mercer broadcloth was no longer available and customer service recommended this Stanton 120s. Balance is perfect between it's incredibly smooth, almost silky hand and it's crispness/strength -- du…e i think to the very tight weave. Gorgeous shirt!"

Ted in Toronto, ON

"Nice"

Michael in Okemos, MI

"Great shirt!"

Travis in BROOKLYN, NY

"Very basic shirt fabric"

Rhett in Armonk, NY

"great color and hand feel"

brad in Dallas, TX

"Great looking classic blue shirt"

peter in New York, NY

"Great"

Brett in New York, NY

"Too transparent"

Donald in Boston, MA

"One of my favorite shirts that I have ordered. Color, weight and performance are outstanding. Broadcloth usually wrinkles easily but have not had a huge problem with this. Great summer weight shirt."

Wes in New Haven, CT

"Not too opaque looks crisp"

Christopher in Garden City, NY

"Great blue"

Alec in New York, NY

"Nice fabric for a workhouse business shirt."

Nathan in DURHAM, NC

"Gorgeous!!!! Exceptionally soft......"

Charles in Alpharetta, GA

"Stanton is my favorite fabric from the line. It feels like crispy fresh sheeting, yet still soft and has movement--the material folds around the body perfectly with the way custom measuring provides. You will want more--I have returned to buy this shirt again. More colors would be nice, but I'm glad to have the pa…le blue and white options."

Ken in Healdsburg, CA

"I would not choose this fabric again."

James in Reston, VA

"This shirt feels a tad thicker than my first order of Thomas Mason 100s, and crisps up nicely after a professional laundering. It seems a shade lighter in person than on the website, but it's definitely a keeper. I ordered mine with no pocket, no front placket and a Roma spread collar. This shirt sets the new of s…atisfaction for future orders. Well done PC....."

Lou in Vernon Hills, IL

"Soft and opaque."

Yaromir in New Albany, OH

"Classic, crisp and subtle"

Charles in Wright,
FAQs
How do I get started?

First, welcome to Proper Cloth. We specialize in custom dress shirts, suits, jackets and pants.

The first step would be to create a size using our Smart Size Quiz. We'll use your answers and data from thousands of satisfied customers to generate custom dress shirt sizes in your account.

To order, you can browse our gallery of curated, pre-styled options and purchase them, made to order in your custom size (and style, just click 'Customize' to modify).

Or

You can use our Design-A-Shirt tool to create a custom designed shirt from scratch, selecting the fabric and all style details (collar, pocket, buttons, etc), before applying your custom size! We highly recommend only getting one shirt to start so we can lock down the Perfect Fit (Guaranteed!).
How long does it take to have a custom shirt made?

Standard finish, casual wash, and non-iron shirts generally take 12 to 14 days to produce and deliver. In all cases, the promised delivery date range at checkout should be accurate (if not slightly conservative). Click here to see our typical delivery times based on product.

Orders including shirts with any style of Mother of Pearl buttons must undergo special Fish and Wildlife inspections that may cause delays. For this reason, the expected delivery date range will be extended by an additional 14 days.
Can I change the collar or cuff style? Can I add a pocket? Short sleeves? etc.

As a made-to-measure shirtmaker, we offer a wide variety of style features. Proper Cloth shirts can be styled with any of our 30+ different collar styles, 12 different cuff styles, and one of our 9 different pocket options can absolutely be added.

Just click the 'Customize' button next to any of our pre-designed, photographed shirts to edit the design however you wish!

Short Sleeve shirts can be ordered by specifying as such under the Cuff/Sleeve section of the Design-A-Shirt tool.
Do you offer rush delivery?

Rush delivery is not available for custom made products. With ready-to-wear and stocked products, we have a little more flexibility.
Still have a question? Get in touch
Ready to create your custom shirt size?
Answer 10 easy questions about your body and fit preference to create a custom size.
Our Perfect Fit Guarantee
If you're not entirely happy with the fit of your custom shirt (or anything else about the shirt) you can return it to us for a complimentary remake in a new size or style. We excel at making remakes quick and hassle-free. If remaking the shirt doesn't suit you, you can also return the shirt for a full refund.