American Pima White Heavy Oxford
$130
Select Shirt Size
Collar
i
Don't worry about shrinkage — we'll account for that automatically based on fabric choice. You can fine-tune your collar size down to 0.1" or adjust any of the 16 other customizable size parameters when you create a custom size.
Sleeve
i
Sleeve length is measured from the center back to the edge of the shoulder and down to the end of the cuff. Fine-tune your sleeve length down to 0.1" or adjust any of the 16 other customizable size parameters when you create a custom size.
Fit
i
Slim Fit will be nicely fitted, yet comfortable. Super Slim Fit is for those that prefer a particularly trim fit and are not bothered by slight tightness or limited range of motion. Classic Fit is a more generous, roomy fit that won't hug the body closely.
Shirt Style Details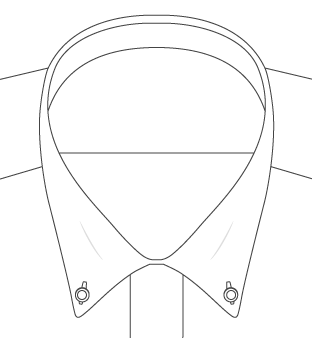 Soft Ivy Button Down Collar
Collar roll. And plenty of it. This decidedly casual collar style is more expressive than most modern button down collars.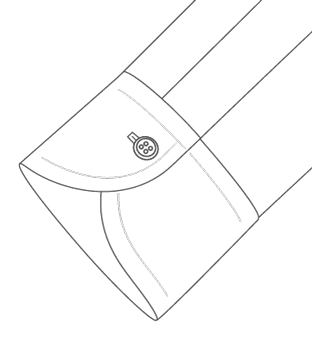 Soft Long One Button Cuff
The same shape as our long one button barrel, but without the stiff fusing. Soft, comfortable, and a good match for casual style shirts.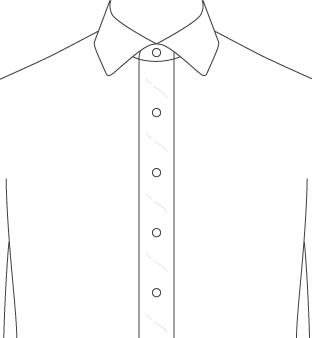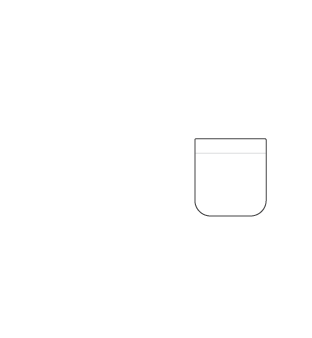 Soft Wide Front Placket, Rounded Pocket
A traditional take on the casual soft placket. The wider 1.5" unfused front makes for a perfect relaxed look.
Buttons

Roma Buttons i

A beautiful off-white faux mother-of-pearl button. Made from a high quality plastic resin. Very durable.

Bottom Hem

Rounded i

A 2" curved front and back shirttail hem with reinforced side seam gussets.
Change any of these shirt details, add a monogram, and more by customizing this shirt.
Fabric Info
Fabric Description
A classic heavy oxford in crisp, fresh white.
Woven with an 80s 2-ply construction, this fabric has a similar heft to our classic heavy oxford but with a slightly different matte finish. Hardy and incredibly resilient, American Pima cotton is ideal for oxford shirts and its look and feel only improve with wash and wear. This one in particular has a remarkably soft finish, and its beautiful bright white is an all-rounder that belongs in every guy's closet. It looks effortless whether it's worn untucked with jeans or tucked into chinos under a sport coat.
Recommended Styling: Try it with our Soft Ivy Button Down collar, Soft Front placket, and Soft One Button cuff for a classic OCBD, or go with the Soft Roma Cutaway collar for more of a sprezzy Italian vibe.
Color & Pattern

Performance
4.8 / 5 Average rating
Recommended by 97%.
"Love this fabric."

Robert in GLENVIEW, IL

"I like it a lot. Substantial but soft, as advertised. I'm not a button-down guy, but I wanted to have at least one of these classic Oxford cloth shirts."

Albert in New Orleans, LA

"Fabric is very nice"

Joseph in Pelham, NY

"Classic soft white Oxford. Can't go wrong with this as one of your core shirts in your wardrobe"

Garrett in New York, NY

"great oxford shirt"

Nicholas in HOUSTON, TX

"Love the pima oxfords, and white is as classic as it gets."

Benjamin in Long Lake, MN

"fabric weight"

Michael in Fitchburg, WI

"A refined classic. Perfect crossover fabric. Good heft without being heavy. And (thankfully) no see-through."

Edward in Saint Matthews, KY

"Rougher and looser weave than I was expecting. I swapped it out for the Thomas Mason to better replicate the OCBD fit I'm looking for."

Richard in Charlotte, NC

"Well constructed and it FITS !!!"

William in Camden, SC

"Wore this for extended family pictures at the beach. All my kids and daughters in law loved it!"

Ken in VANCOUVER, WA

"A good comfortable oxford cloth for a OCBD shirt. It shrunk more than expected in the laundry and so I needed to have it remade twice so feel free to expand your size if ordering this one."

Philip in New York, NY

"Very soft and comfy. Definitely needs an iron to look clean."

Robert in Laguna Niguel, CA

"This white shirt works best in cooler weather."

James in Garden City, NY

"nice"

Joseph in Colts Neck, NJ

"Good"

Chris in PASADENA, CA

"The most plush oxford fabric I've ever come across. Absolutely wonderful."

Noah in West Bethesda, MD

"Classic OCBD fabric. The white is pristine and versatile of course. A good year round shirt."

Cooper in Roseland, NJ

"Nice oxford fabric, as expected"

Blair in Aurora, CO

"Great heavyweight material. Very bright white. Seems like it will be very durable. The roll of the color is excellent. Just the right roll for a bit of arrogance. Does wrinkle quite a bit but that goes with the prep look."

Brian in Grand Rapids, MI

"Amazing"

Ajay in BROOKLYN, NY

"Nice weight for colder weather."

Jordan in Petersham, MA

"Classic Oxford"

Nicholas in Carlisle,

"Heavy, comfortable cotton that is perfect for cooler temperatures"

David in Houston, TX

"Classic heavy white oxford- can't go wrong."

Derek in INDIANAPOLIS, IN

"The high quality was what I expected."

William in BIRMINGHAM, AL

"Solid. Felt sturdy like an Oxford cloth should, while also feeling supple and slightly smooth."

Stephen in San Francisco, CA

"Great sturdy fabric for a sturdy white dress shirt."

edward in New York, NY

"Dependable heavy Oxford, hefty but comfortable."

Hans Kristoffer Andersen in Cambridge, MA

"Loved the fabric. Nice and heavy cotton, timeless design"

Evan in NORFOLK, VA

"Great value in an all-around Oxford."

Matthew in West Des Moines, IA

"My new go-to shirt"

George in New York, NY

"Very nice. Exactly as described."

Andy in ORLANDO, FL

"Wonderful thick oxford. Definitely more suited for the colder months."

James in Baltimore, MD

"Nice hearty, shirting fabric. Nothing special, but maybe I'll feel different in 10 years."

John in Dallas, TX

"its solid"

Jeremy in Henderson, NV

"Really great fabric, will make some adjustments to collar style"

Hunter in New York, NY

"As noted elsewhere. I love Oxford but I find the heavier oxfords a bit stiff / starchy. Hoping they break in a bit more softly."

Joel in New Rochelle, NY

"Classic oxford cloth with substantial weight."

Ken in Healdsburg, CA

"Really good quality oxford fabric!"

Daniel in WASHINGTON, DC

"Very thick shirt, like I wanted. It's an American style swanky dress shirt choice if you want a nice stark white shirt to wear without a sportcoat/jacket."

Michael in NASHVILLE, TN

"This is a great shirt, and the ideal oxford fabric. It's soft to the touch, but hardy and wears well. Nice drape, good weight for year-round use."

James in Costa Mesa, CA

"Perfect white shirt for everyday office wear."

Vince in Wilmington, DE

"Very soft, not as heavy as the less expensive option they offer. It's not as opaque, slightly thinner. But it's a very nice fabric, I love it. Favorite Oxford shirt I own."

Jason in HOUSTON, TX

"Nice and heavy fabric"

Fredrik in Antibes, Provence-Alpes-Côte d'Azur

"Really good classic Oxford shirt."

Andrew in Jersey City, NJ

"Classic heavy oxford fabric, nice and durable but still comfortable to wear all day."

Dalton in Toronto, ON

"Fantastic weight and a durable feel."

Sam in Pleasanton, CA

"Nice standard oxford."

Allen in San Francisco, CA

"good fabric"

Justin in Brooklyn, NY

"Great fabric - soft, smooth, breathes and drapes well."

Joseph in OMAHA, NE

"Miles above the cheaper Heavy Oxford fabrics. Softer, smoother, more comfortable to wear, wrinkles a little less. Definitely invest in this one, if you can swing the extra cost."

Andrew in AUSTIN, TX

"Great with jeans."

Christopher in Park City, UT

"It's nice but I will probably try something more wrinkle resistant next time."

John in Sierra Vista, AZ

"Quite a bit softer than the heavyweight fabric. And it wrinkles quite a bit less as well. It's nice for a dressier color like white, but, I prefer the heavyweight fabric for the more casual shirts like the stripe ones."

Htin Linn in San Carlos, CA

"This seems pretty durable compared to what I've been able to get recently."

judson in Nashville, TN

"A must have is a heavy Oxford button down in white. Goes with everything"

Lou in Bentonville, AR

"Love this oxford. I like it better than the heavy oxford. The fit is perfect. I wear it mostly with jeans and shorts, usually untucked."

George in Mobile, AL

"Very Soft. Softer than "normal" oxfords"

Daniel in BROOKLYN, NY

"Typical oxford"

Brian in New York, NY

"Very nice high quality Oxford"

vittorio in Roma, Lazio

"The shirt, despite being described as 'heavyweight' is still a little transparent; though in my case its likely due to tattoos. The fabric drapes well and keeps it shape."

David in Toronto, ON

"This fabric shrank more than the allowance and has gone from well-fitting to too snug in the forearms."

Alex in Chevy Chase, MD

"very good"

Marc in Lutry,

"Classic white oxford. Not much more to say!"

Srivatsa in SAN FRANCISCO, CA

"It is heavier than expected but still like it"

Daniel in Jersey City, NJ

"Excellent mid-heavy white oxford just as expected, clean white color"

Peter in Siblingen, Schaffhausen

"Great heavy oxford and I particularly like the quality button down collar with this fabric. The shrinkage allowance seems to be more than most shirts, so I found I needed to wash it multiple times before evaluating the fit."

Gregory in ATLANTA, GA

"The heavy fabric requires lots of care and wrinkles quickly. However, the fabric fits well for the intended purpose - cool weather and sweaters."

Eric in PUYALLUP, WA

"Classic and hardy. I like the lighter feel compared to the generic "heavy" oxford cloth. Worth the extra price."

Tyler in Madison, WI

"Performs as expected!"

Donald in Nashville, TN

"great, low wrinkle"

Adam in Hoboken, NJ

"While the Pima Oxford has a softer hand than the regular Oxford, I'm not sure it's worth the premium over that cloth."

Michael in Tacoma, WA

"very supple fabric"

Brian in Wilmington, DE

"Great causal shirt"

Fuad in Greenwich, CT

"I love the heft of this fabric. At first I thought it would be too heavy but after a couple wearings I'm starting to get used to it. The collars are thicker than what I'm used to but they still maintain a nice roll. I'm considering trying just the regular heavy oxford for a comparison."

Greg in Canfield, OH

"The quintessential casual/smart casual white shirt. Definitely one the of best out there! Noticeable softer than the 'normal' white heavy oxford and it also is a bit lighter too, making it 'less heavy', but that's a good thing. Also, opacity isn't an issue - one of the few white shirts where transparency is…n't a problem."

Robin in London, England

"Love it!"

Jennifer in DALLAS, TX

"Consider a lighter fabric for the warmer months."

Stephen in Toronto, Ontario

"solid and feels high quality. keeps its structure"

Ali in Trumbull, CT

"Fantastic!"

Joshua in Pineville, NC

"This fabric makes a great oxford button down. I'm really happy with how it came out, it looks much better than any off the rack store bought shirt I've had."

Adam in Sands Point, NY

"Solid white oxford.. Would recommend going with a shorter collar option."

Patrick in SAN DIEGO, CA

"Very crisp finish that looks great when it's pressed!"

Stephen in Keller, TX

"Very high quality fabric. Soft and good drape."

Dan in ACTON, MA

"Heavy weight fabric on a crisp, well made, white shirt. An excellent value and looks great on."

Brent in Fort Worth, TX

"Exceptional value at this price for a quality OCBD."

NORMAN in CHARLOTTE, NC

"Nothing better than a crisp white Oxford with a great button down collar with a roll."

Shane in Lititz, PA

"Love it.."

Foster in Palm Beach Gardens, FL

"Fantastic"

David in PITTSBURGH, PA

"All-American staple to enhance your wardrobe. Timeless classic that fits like a glove. Highly recommend"

Joe in Hinsdale, IL

"good"

Brian in Brighton, MA

"Fabric is solid, heavy as expected. Crisp white. Due to structure a bit prone to taking on staining from things it may rub against, but such is most Oxford Cloth."

Jascha in Long Island City, NY

"Very thick and comfortable fabric, drapes nicely. A bit more prone to wrinkles than i would expected but i guess it is price you pay for the weight."

Vlas in SALT LAKE CITY, UT

"Too heavy."

C in BOYNTON BEACH, FL

"Great thick oxford."

Robert in Valley Cottage, NY

"Solid feel, heavy, like BBs and JPress of old."

Todd in New York, NY

"Good"

Zhong Jin in Singapore, Singapore

"Good value"

Jeffrey in ENGLEWOOD, CO

"I like the heavier fabrics"

Paul in Creve Coeur, MO
FAQs
How do I get started?

First, welcome to Proper Cloth. We specialize in custom dress shirts, suits, jackets and pants.

The first step would be to create a size using our Smart Size Quiz. We'll use your answers and data from thousands of satisfied customers to generate custom dress shirt sizes in your account.

To order, you can browse our gallery of curated, pre-styled options and purchase them, made to order in your custom size (and style, just click 'Customize' to modify).

Or

You can use our Design-A-Shirt tool to create a custom designed shirt from scratch, selecting the fabric and all style details (collar, pocket, buttons, etc), before applying your custom size! We highly recommend only getting one shirt to start so we can lock down the Perfect Fit (Guaranteed!).
How long does it take to have a custom shirt made?

Standard finish, casual wash, and non-iron shirts generally take 12 to 14 days to produce and deliver. In all cases, the promised delivery date range at checkout should be accurate (if not slightly conservative). Click here to see our typical delivery times based on product.

Orders including shirts with any style of Mother of Pearl buttons must undergo special Fish and Wildlife inspections that may cause delays. For this reason, the expected delivery date range will be extended by an additional 14 days.
Can I change the collar or cuff style? Can I add a pocket? Short sleeves? etc.

As a made-to-measure shirtmaker, we offer a wide variety of style features. Proper Cloth shirts can be styled with any of our 30+ different collar styles, 12 different cuff styles, and one of our 9 different pocket options can absolutely be added.

Just click the 'Customize' button next to any of our pre-designed, photographed shirts to edit the design however you wish!

Short Sleeve shirts can be ordered by specifying as such under the Cuff/Sleeve section of the Design-A-Shirt tool.
Do you offer rush delivery?

Rush delivery is not available for custom made products. With ready-to-wear and stocked products, we have a little more flexibility.
Still have a question? Get in touch
Ready to create your custom shirt size?
Answer 10 easy questions about your body and fit preference to create a custom size.
Our Perfect Fit Guarantee
If you're not entirely happy with the fit of your custom shirt (or anything else about the shirt) you can return it to us for a complimentary remake in a new size or style. We excel at making remakes quick and hassle-free. If remaking the shirt doesn't suit you, you can also return the shirt for a full refund.