Getting a perfect fitting custom dress shirt on the first try is not always possible.  For many people this will require a round of alterations.  Some aspects of a shirt fit are hard to predict in advance and it's only after a first shirt has been made and worn that the finer aspects of the fit can be tuned.  With Proper Cloth, your first round of alterations are completely complimentary, though getting them done right will require a little effort on your part.  The following are our best practices to make the most out of your alteration and ensure a perfect fit on the second try.
Wash the shirt once or twice to account for shrinkage
We strongly encourage clients to wash their shirt once or twice before deciding how it fits. By no means will this invalidate our return policy or prevent us from doing alterations in the future.
Consider all aspects of the fit
Even if one part of the fit is obviously wrong, before you send your shirt back for alterations, try to evaluate the rest of the fit. Use this page as a check-list.  We don't want you to go through the trouble of one alteration only to discover the next biggest problem later.
Evaluate the fit as you plan to wear the shirt
If you plan to wear the shirt un-tucked, try it on that way.  If you plan to wear the shirt tucked into slacks, try it on that way.  If you go open collar, try it that way.  If you usually wear a tie, try the shirt on that way. This will give you the best idea of whether or not you love the way your shirt fits.
Round up
A bit loose is generally better than a bit tight.  When in doubt, round up.
Email us photos to get advice
If you want to get a second (experienced) opinion, don't hesitate to email photos of how the shirt fits to contact@propercloth.com.  We are very experienced at helping clients perfect their fit and we are more than happy to assist.  Please consider the following guidelines to make your photos most effective.
Take three photos.  The first photo should be of you facing the camera, arms at your sides, looking straight ahead. The second photo should be of you in the same position, but facing 90 degrees to the camera, so that we can assess your posture/profile. The third photo should be of you in the same position with your back to the camera. Please, no selfies.
All photos should go as high as your neck/chin and as low as your thighs.
Look straight ahead with your arms at your sides for all photos.
Wear the shirt as you intend to wear it.  Either tucked or untucked, with an undershirt or without an undershirt, and with a tie or without a tie.
If you want to send any other photos in addition to these three, that's great, but please make sure you send the three pictures described here.
Please see example photos below.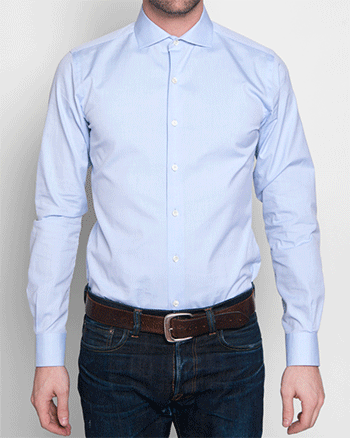 Login to your account and submit your alteration request
If you log into your account and go to your order history you'll be able to submit your request for an alteration online.  You'll be prompted to enter in the new dimensions you'd like the shirt to be made with.  You'll also have an opportunity to make changes to the style or fabric of the shirt.
Of course, if you want to discuss things first, don't hesitate to contact us and we'll be happy to walk you through the process.
Mail your old shirt back — free return shipping (US only)
After you've assessed what changes to make to your shirt size, use the free USPS return shipping label included in your order to mail your original shirt back to us in New York.
If you're reusing the box your Proper Cloth order arrived in, be sure to either remove the original postage information or apply the USPS label on top of the original.
Proper Cloth
495 Broadway, 6th Floor
New York, NY 10012