We are dedicated to helping you get the perfect Casual Pant fit, and to support that we provide each customer up to two complimentary Casual Pant remakes, as well as credit for local tailoring. Click here to learn more about our Perfect Fit Guarantee.
Requesting a Casual Pant Remake
Step 1: Wash the Pants Once (Optional)
All of our Casual Pants are garment washed before they leave the factory so most shrinkage should have already happened once you receive them, but if you're worried about shrinkage you can certainly wash them yourself to be sure.
Washing your Casual Pants once or twice will not disqualify you from returning them later for a remake or refund.
Step 2: Give Them a Wear
It's important to try your pants with the shoes, shirt, and jacket you expect to wear them with. This will help you understand if they are the right slimness to match the rest of your wardrobe and if they are the right length where they meet your shoes.
Many Casual Pant fabrics will loosen in the waist, hips, and thigh after being worn for a couple hours, so an extended wear can also be helpful to evaluate your fit.
Wearing your Casual Pants for a full day to test the fit, while not necessary, will not disqualify you from returning them later for a remake or even a refund.
Step 3: Determine What Needs to Change
Option 1: Conduct Your Own Fit Assessment
If your pants are close to perfect and you're confident you know what needs to change, you can conduct your own fit assessment and request a remake yourself without any assistance.
Request your remake by going to your Order History and clicking the button "Request a Remake" in the Casual Pants section of the page. Then follow the prompts to specify the size or style changes you want to make, confirm your shipping address, and submit the remake request.
If you're not loving how the garment fits but aren't sure of what needs to change, we are more than happy to assist!
Head to the Fit Advice Request section of your account to upload fit photos, along with comments about what you like and dislike about the fit.
After we review your photos and notes, we'll respond to the Fit Advice Request with our size change recommendations saved to a new profile for your convenience. From there, our Customer Experience Team will guide you through the remake process.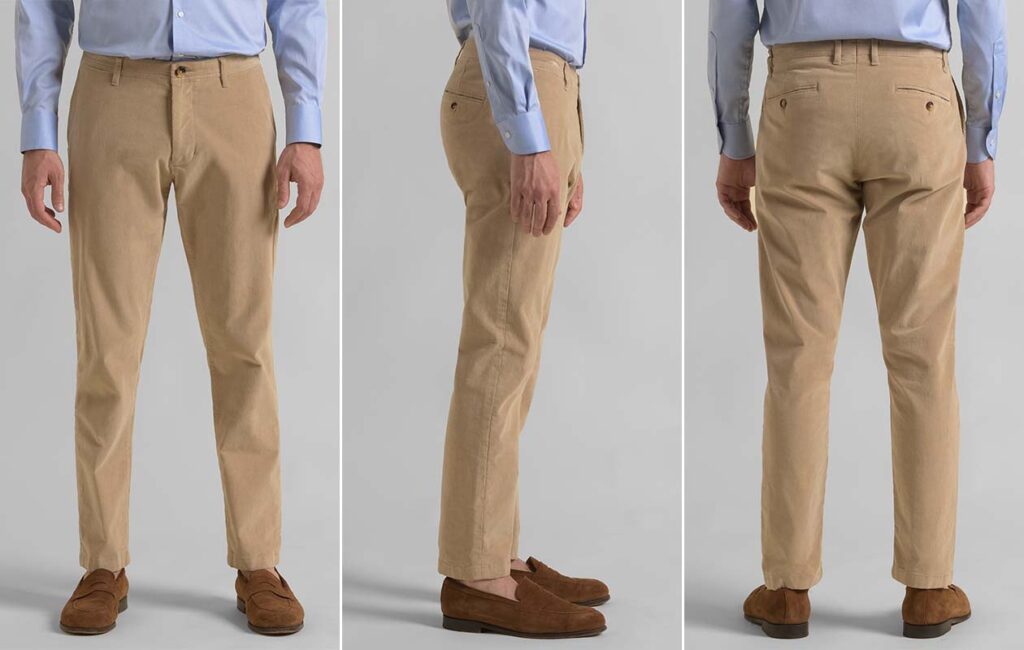 Option 3: Schedule a Showroom Appointment (New York Only)
Another way to get fit advice and request a remake is to visit one of our physical locations in New York. Click here to schedule an in-person consultation. To make the most of your in-person consultation we suggest:
At your in-person consultation we will review your fit together and discuss what to change. You will also be able to try on other pants we have in the showroom, or shop for other items entirely.
After (or during) your consultation, your fit specialist will process your complimentary remake for you.
Step 4: Return Your Pants
After you're finished evaluating the fit of your pants and your complimentary remake has been processed, we ask that you return your pants to one of our locations in New York. To mail your garment back, you can reuse the original packaging. A return shipping label will have been included in your original delivery.
If you're reusing the box your order arrived in, be sure to either remove the original postage information or apply the USPS label on top of the original. The address for Remake Returns is:
Proper Cloth – Returns
495 Broadway, 6th Floor
New York, NY 10012
Alternatively, you can drop your pants off at any of our locations in New York.