Your big day is coming up and you need to look your best. She's the woman of your dreams. Or pregnant. Maybe both. Regardless, you'll never have as many friends around, or photos taken as you will on your wedding day.  You probably want to look your best.
For a few reasons, weddings are unique events, so there are some special dress shirt considerations you want to make.  Here we pull together all the common issues to consider when selecting the perfect wedding dress shirt.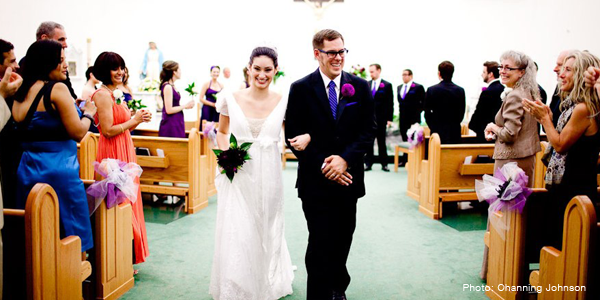 So, the question we get asked frequently is which white dress shirt should you get for your wedding? Here's our style advice – remember, it's just advice. Consider this your safe bet.
Fabric Color – White vs ecru vs ivory
A white dress shirt is usually a safe bet if the bride is wearing a white or ivory dress. If the bride or bridesmaids are wearing anything closer to cream-colored than ivory, then a white dress shirt is out of the question. It will cause the bride/bridesmaids to look dirty or dingy relative to you in photographs.  Instead you'll want to opt for an ecru or ivory dress shirt. Ecru will usually be a slightly darker color than ivory, though the thickness of the fabric can also influence the perception of the color. We find that in most cases, you'll likely want a white dress shirt.
Fabric Thickness – Do you plan to wear an undershirt?
One important thing to consider when selecting your wedding dress shirt is how opaque you want the dress shirt to be. Finer fabrics like broadcloth or poplin will be more sheer than thicker twills and pinpoints. If you don't plan to wear an undershirt, depending on your skin tone, the shirt color can look darker against your chest. One way to combat this is to wear an undershirt, which will ensure your dress shirt is brilliantly white at the chest. Though if you plan to take your jacket off, you will see the contrast of the short sleeves under the shirt at the biceps. This will be bothersome for some, but not a big deal for others. On the other hand, if you opt for a thicker white fabric that is more opaque (perhaps a pinpoint or twill), you can avoid an undershirt completely, or in the case where you do wear an undershirt not worry so much about the contrast at the sleeves.
Additionally, a thicker dress shirt fabric will usually be a bit more wrinkle resistant and for many guys will drape in a more flattering way.
If you can't handle all the options, we strongly suggest the following fabrics:
How long should the shirt be?
If you plan to keep the shirt tucked into your pants for the entire day/night, then a longer shirt is ideal.  A longer dress shirt will stay tucked in better and keep a better alignment at the bottom front of the shirt above your belt.  This can be great for when you're taking your wedding photos.  It can also give you one less thing to worry about on what is sure to be a hectic evening.  We generally recommend longer shirt tails for wedding dress shirts. The exception to this rule is if you certainly plan to cut-loose on the dance floor after the main event.  Untuck your shirt, tie your tie around your head and just go crazy with the electric slide.  No shame in that – and a shorter shirt might work a bit better in this case.
Collar Style
Wether you're wearing a tuxedo or a nice suit, we usually recommend the President spread collar.  It goes equally great with a bow-tie and a long neck tie. This is our safest bet.  If you are doing the tuxedo shirt, then you can also opt for the wingtip collar, but keep in mind that this collar style can have a tendency to move out of place which can be a pain to monitor and possibly could mess up some of your wedding photos.
French Cuff or Barrel Cuff
This depends a bit on the formality of the event. If you're marrying up, and her dad is paying for a very fancy, very formal wedding, at a castle, in Germany, then you might want to go with French cuffs. If the wedding is black tie and you're wearing a tuxedo then French cuffs are technically the way to go. In this case you'll want to give some special consideration to the cufflinks. Perhaps you have some special cufflinks that you want to wear that are a family heirloom, or a gift from someone special? Alternatively, nice black onyx cufflinks that matches the studs in your tuxedo can also be a great choice.
Barrel cuffs certainly work for weddings, so if that's more your speed then that is fine too. Usually in this case you will not be wearing a full tuxedo though.
Pocket
Don't get a pocket for your wedding dress shirt. It makes the shirt less formal.