Managing Your Sizes
In your Proper Cloth account you can save several Shirt Size profiles. Perhaps for your casual shirts, you like a looser fitting shirt with a shorter body length, made to wear untucked. On the other hand, you like your dress shirts to fit a bit closer to the body and with a longer shirt tail for tucking in. Whatever the case may be, you can save these perfect shirt dimensions under the Custom Sizes page of your Proper Cloth account.
Archiving Sizes
Archiving sizes is a great way to streamline the Proper Cloth ordering process. When you archive a size, the information remains stored, but archived sizes will no longer appear as options when creating new shirt orders. Essentially, you can only design and order new Proper Cloth shirts in active sizes.
How to Archive a Size
To archive a size you no longer wish to see as an option when designing/purchasing new shirts, click Archive next to the View button on the Custom Sizes page.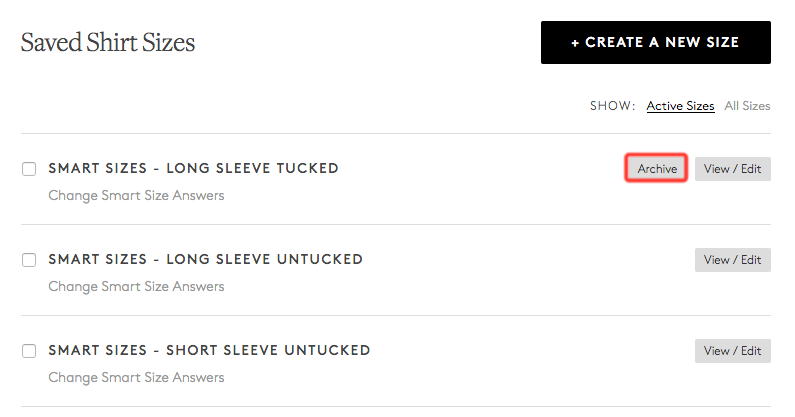 View Archived Sizes/ Activate an Archived Size
To view Archived Sizes, simply click Display and choose 'Archived sizes only' or 'All sizes' and the page will refresh. Just like archiving a size, you can make an archived size active again by clicking Make Active next to the View button.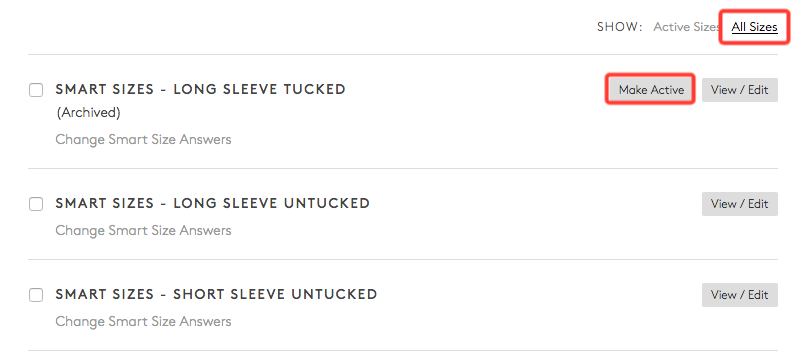 Note: Every time you place an order with Proper Cloth, we create an archived size named with that particular order number. Additionally, you can always view the dimensions of any Proper Cloth shirt you've order from the Past Orders page.
Setting a Default Size
When you mark one of your saved sizes as your default, it will pre-select this size during the design-a-shirt/purchasing process going forward. To mark a size as your default, head to the Custom Sizes page. Placing your mouse over any size will bring up the options to Make Default and Archive, right next to the View button. Only one long sleeve and one short sleeve size can be set as default sizes.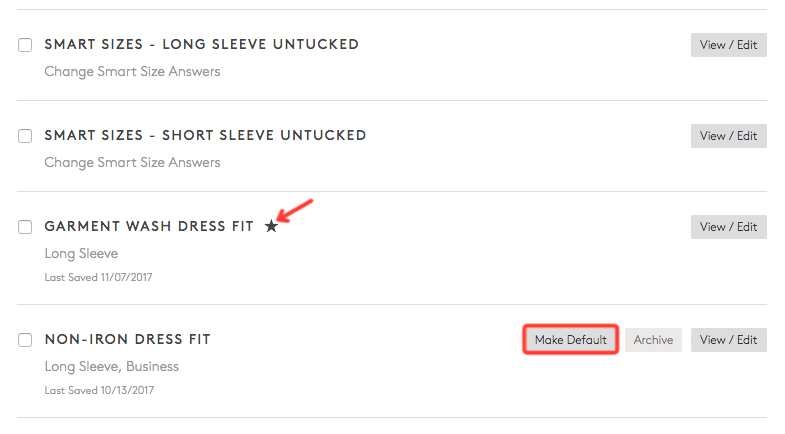 Note: A star next to a size indicates that that size is currently set as a default.
Designing a Shirt with your Default Size
When designing and ordering a new shirt, your determined default size will be pre-selected for the desired shirt dimensions.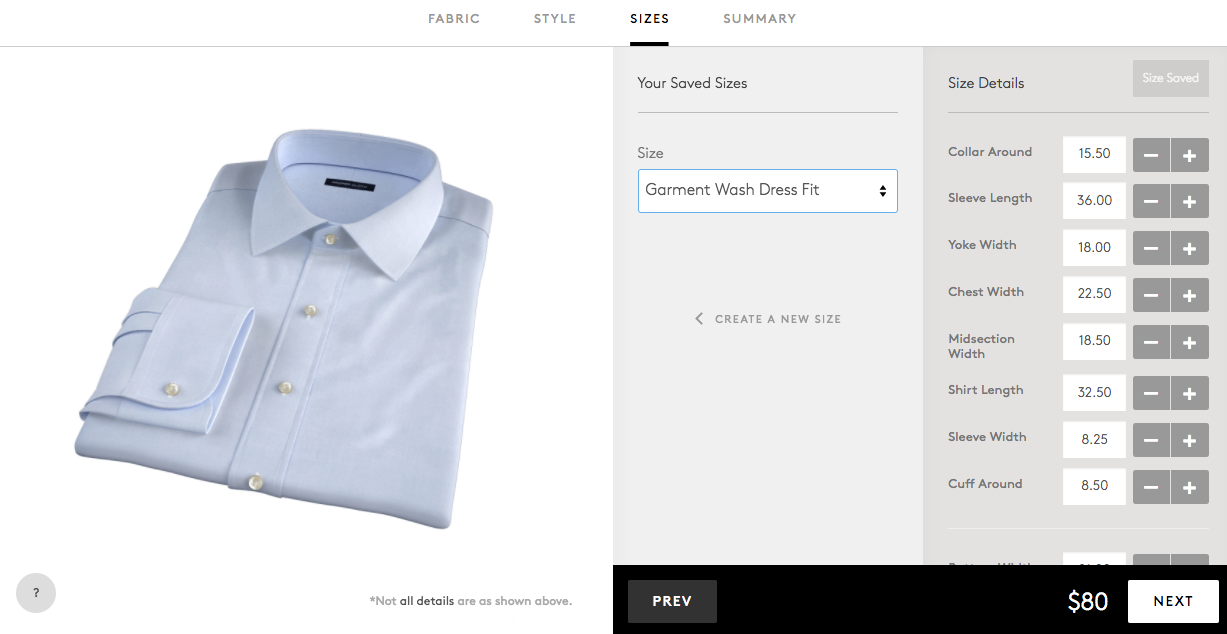 Designing a Shirt with Non-Default Sizes
When a default size is determined, you will still be able to select other active sizes before checkout (see below). However, if no other size is deliberately chosen, new shirt orders will default to the set default size.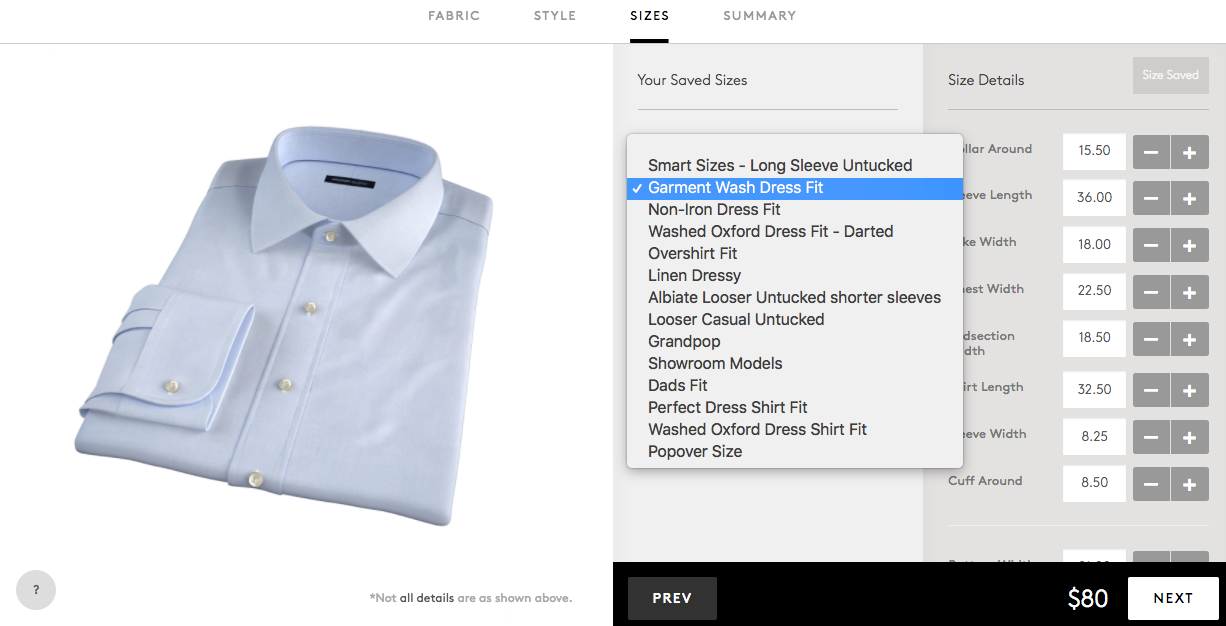 Comparing Selected Sizes
Comparing sizes can be very useful when creating a new shirt size in your Proper Cloth account. To compare two sizes, simply check the box to the left of each size and click the Compare Selected button above.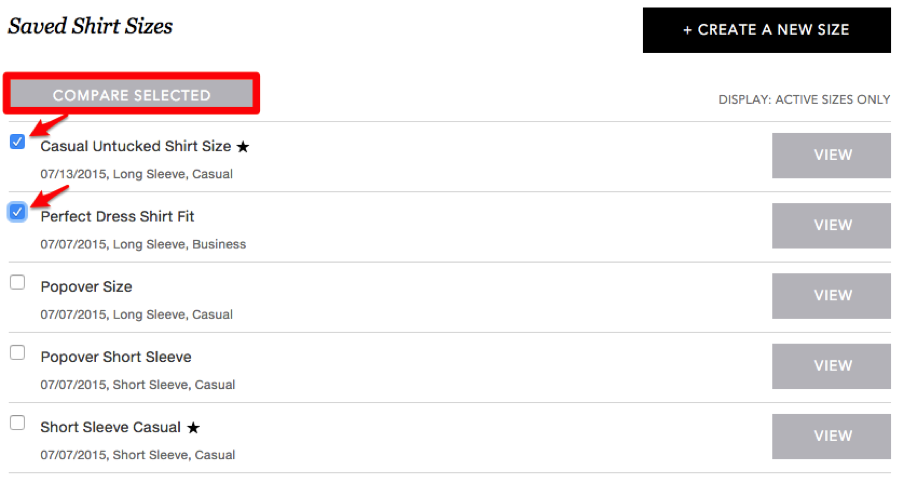 Comparing Different Dimensions
In the comparison view, shirt dimensions that are different will be highlighted in grey. In the example below comparing the "Casual Untucked Shirt Size" versus the "Perfect Dress Shirt Fit" size, you'll notice the Chest Width, Midsection Width, Shirt Length, and Bottom Width differ.