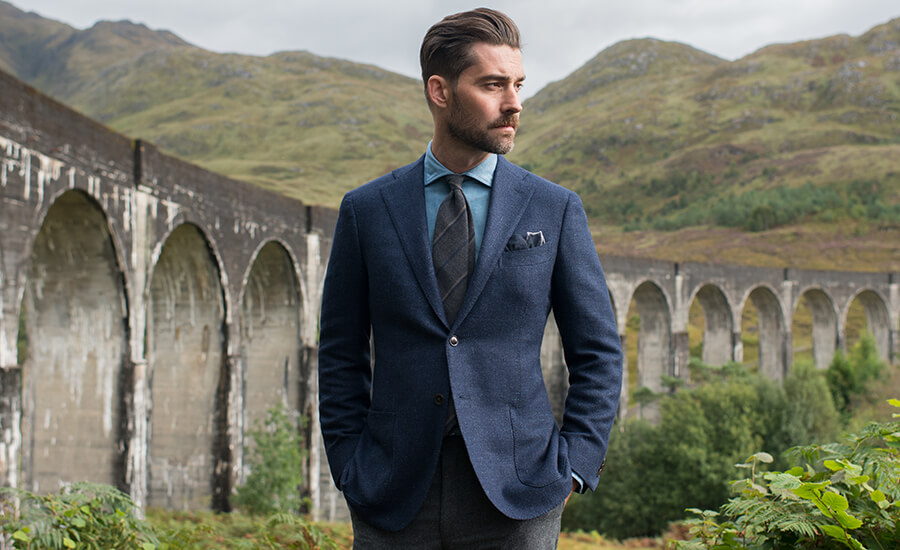 Proper Cloth offers tailored jackets in a variety of sizes, based on US sizing conventions. With the introduction of Made-To-Order (MTO) tailored clothing, Proper Cloth is bridging the gap from ready-to-wear (a limited inventory of standard size garments) to custom size by offering a vast array (nearly 300) of specially sized tailored garments, individually made, per customer.
How to Choose Your Jacket Size
If you're used to buying tailored clothing from US retailers, you'll know that your suit jacket size should roughly translate to your chest circumference as measured in inches. For a slimmer fit, choose a jacket size ~1″ smaller than your (body measurement) chest circumference. For a more relaxed, classic fit, choose the jacket size closest to your actual measured chest circumference.
If you're not familiar with tailored jacket sizes, use the guide below as a reference:
– If your t-shirt size = S, choose jacket size = 36
– If your t-shirt size = M, choose jacket size = 38
– If your t-shirt size = L, choose jacket size = 42
– If your t-shirt size = XL, choose jacket size = 44
Types of Jacket Fit – Classic, Slim and Extra Slim
Classic is a "Drop 6″ fit and a more generous, boxy cut. This has more room around the midsection and is great for guys with larger midsections.
Slim is a "Drop 8" size and is a good, standard slim fit. This is suggested for guys in good shape that want a trim fit around the waist. For reference, our ready-to-wear (in-stock) Hudson jackets are cut in the exact same size as the corresponding MTO slim fit.
Extra Slim is a "Drop 10" fit and extremely trim. "Drop" refers to the decrease in circumference from one's chest to waist. Drop 10 means the waist is 10" smaller in overall circumference than the chest of the jacket. This is suggested for muscular men with larger chest/shoulders and particularly slim waists that want a very tailored fit.
Note: While some may interpret Extra Slim fit to mean a size ideal for those of a very slender build, this is not correct. A Slim and an Extra Slim fit jacket of the same size (e.g. 40, see below) will have the same chest, shoulder, and sleeve dimensions. The main difference will be an increased drop (taper) from the chest width down to the midsection width in our Extra Slim fit models.
40 regular
slim fit                 extra slim fit
Shoulder Width
18.3″
18.3″
Chest Width
22″
22″
Midsection Width
19.5″
18.7″
Hip Width
21″
20.8″
Center Back Length
29.6″
29.6″
Left Sleeve Length
25.1″
25.1″
Right Sleeve Length
25.1″
25.1″
Sleeve Bicep Width
7.9″
7.9″
Sleeve Opening Width
5.5″
5.5″
Jacket and Sleeve Length – Regular, Short and Long Sizes
Tailored jackets can be ordered in 'Short', 'Long', and 'Regular' sizes to accommodate men of all different heights.
Long jackets measure 1 3/16″ longer in the sleeve length and body length than Regular jackets, while Short jackets measure 1 3/16″ shorter in the sleeve length and body length than Regular.
Here's a simple guide to decide whether you should choose a Short, Regular, or Long size based on your height:
– If you're under 5'9″, choose a Short jacket size
– If you're over 6'2″, choose a Long jacket size