When it comes to the fit of your jacket, the solutions to some common issues are tough to identify. Here's what our experts say you should keep in mind when you're modifying the fit of your jacket.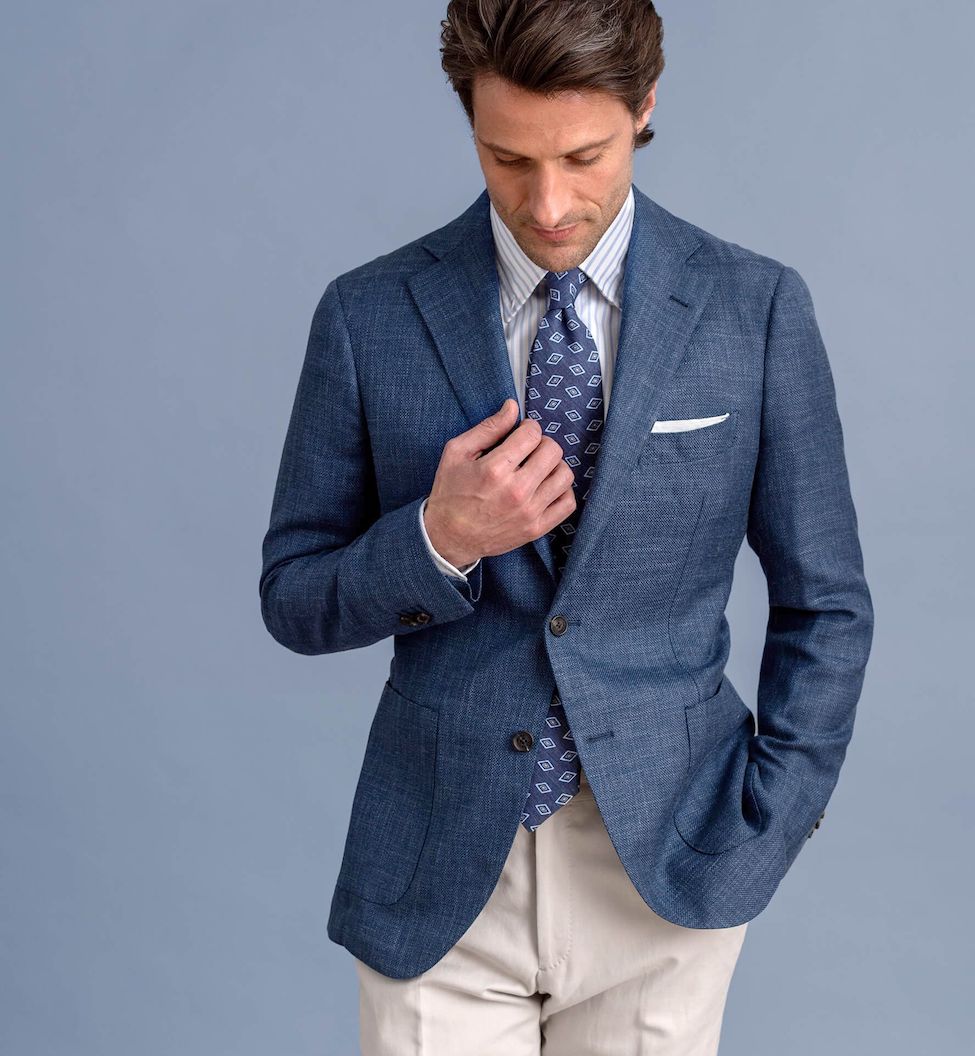 1. Shoulder Width
The shoulder width is arguably the most important part of a jacket's overall fit, as it gives an immediate impression of how well the jacket fits the wearer. The seams at the top of the sleeves should land just past the ends of your shoulders. A bump in the upper sleeve will appear just below this seam if the shoulder width is too short, and a dent will appear in the upper sleeve just below this seam if the shoulder width is too wide.
2. Sleeve Width
Whether you choose a classic fit or a slim fit, the upper part of your sleeves will limit your range of motion to some degree. Aim for a look that follows your arms closely and still has enough room for you to move your arms normally.
3. Sleeve Length
When considering the length of your jacket sleeve, you must also consider the length of your dress shirt sleeves. The end of your dress shirt sleeve cuffs should reach just beyond the wrist bone when your arms are at rest at your sides and the cuffs are buttoned. The edge of your jacket sleeve should land right on the wrist bone, exposing 0.25"- 0.5" of your dress shirt cuffs. Showing less shirt cuff will result in a more conservative look, and more will give you a more modern look.
4. Chest Width
The jacket should drape cleanly over your chest and down to your midsection without the interruption of wrinkles or folds in the fabric. There should be enough room in the chest to allow the lapels to lay flat. If the lapels bend outward and create a space between the jacket and the shirt, the chest width is too tight. Tension in the upper back and underarms can also result from a tight chest width, so you may also need to increase it if you're experiencing these issues.
5. Midsection Width
The jacket's midsection should lay smooth and with a clean taper over your stomach and hips. A tight midsection width will cause tension lines to appear around the buttons when the jacket is buttoned up, and the fabric will catch in horizontal wrinkles across the lower back.
6. Center Back Length
With both arms at rest at your sides, the center back length of your jacket should reach the base of the seat (rear) and the base of the trouser fly (front). This rule is fairly loose, however, and the actual fit will depend on the wearer and the look they're going for. A shorter jacket length makes for a more modern style, whereas a longer length is more on the classic side.