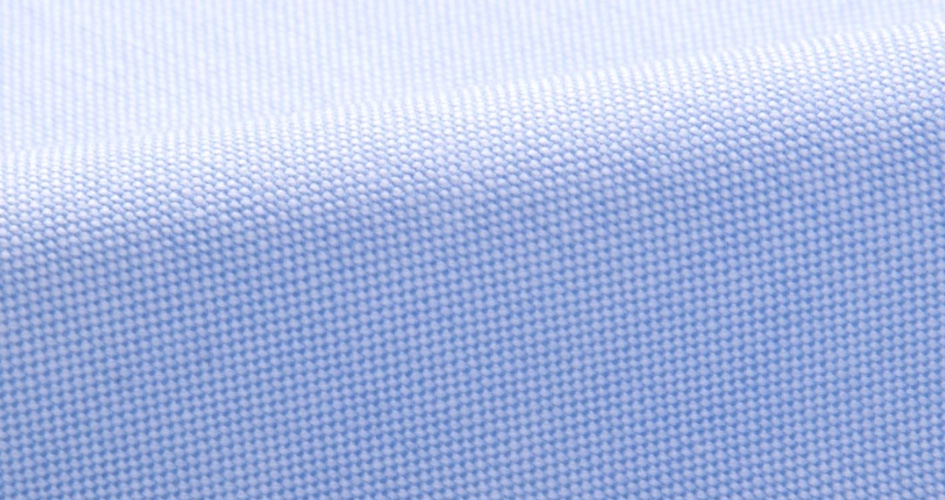 Oxford cloth is a very popular shirting fabric, particularly for more casual or sporty styles of dress shirts.  It's a bit thicker than what we'd consider "fine" dress shirt fabrics, and has a hearty feel that is both durable and naturally resistant to wrinkles.  Oxford cloths can be found in a variety of qualities.
40/1×24/2: This is the classic heavier weight oxford cloth. These are generally much thicker than the average shirt fabric. Make for really great casual shirts. They are very durable and can be washed/dried with your socks and t-shirts and worn a bit wrinkly. A good one will be quite soft to the touch and get better with age.
80s two-ply: This is the classic pinpoint oxford cloth. It's a nice quality oxford cloth weave with a dense enough texture that works well for conservative business settings. Thicker than broadcloth and relatively opaque, this is the classic Brooks Brothers style shirt.
75/2×38/3: This construction comes from Thomas Mason and is what we like to call a "premium oxford".  It has a similar thickness and heartiness to the basic heavy oxford, but it is simultaneously a bit smoother and more refined.  The result is a shirt that looks great a bit rumpled casually, but can also be ironed up sharp for a slick suited look.
50s single-ply: A crisp but lighter weight oxford. Can usually be found in interesting patterns or colors. In appropriate patterns these can make for great business shirts or relatively sharp casual shirts.
Overall, a nice casual oxford cloth shirt is a wardrobe essential for its durability and versatility. Pair it with a button down collar for the low-maintenance OCBD.