Selecting the optimal back length
Selecting the optimal (shirt) back length depends primarily on if you plan to wear the shirt tucked-in or untucked.  Other factors such as how high you wear your pants, the size of your belly, and the desired number of buttons on the front should also be considered.
How long should should a tucked in shirt be?
A tucked-in shirt should come to the bottom of the butt or slightly below. Generally speaking, the longer a shirt, the more securely it will tuck into the pants, and the straighter it will stay aligned at the front.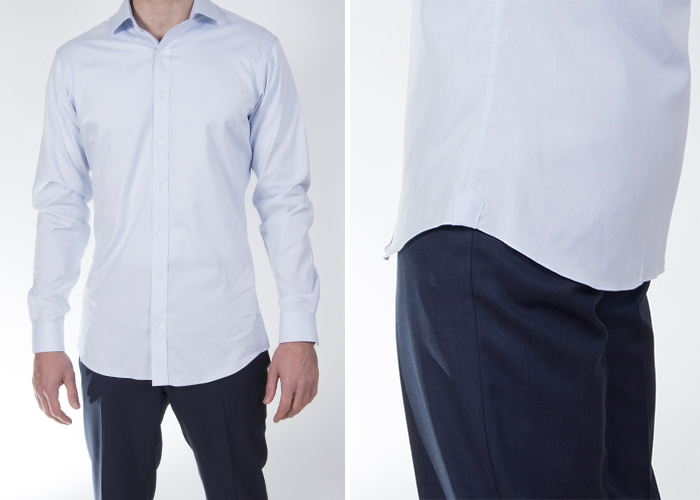 How long should an untucked shirt be?
If you plan to wear your shirt primarily untucked, you will likely want a slightly shorter back length.  But take care not to go too short!  This is a very common mistake.
A good rule of thumb is that an untucked shirt should come to the middle of the butt.  Another good rule of thumb is that the front bottom shirt tail should end midway down the fly of your pants. However, everyone is shaped differently so these rules don't always work out.  When in doubt, measure the back length of a shirt that has an untucked length you like.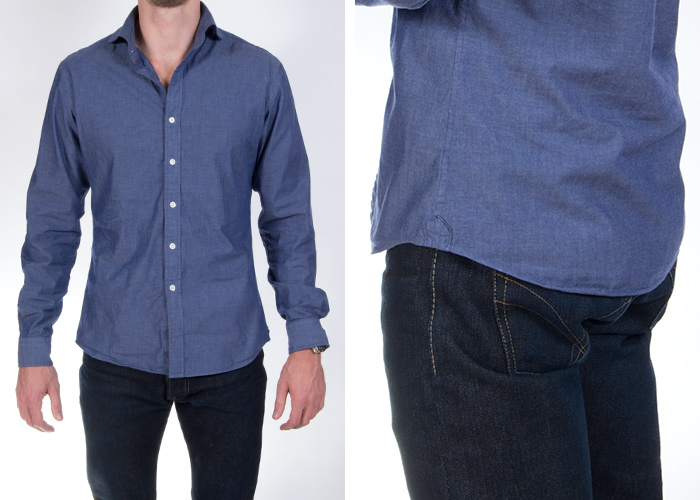 How the back length measurement works
The shirt's back length is measured from the center back of the bottom of the collar down to the bottom of the back shirt tail. Adjusting this measurement will raise or lower the entire bottom of the shirt.
Note: The sides of our standard, rounded shirt hem curve up 2" from the center bottom of the shirt, so decreasing the length of the shirt will also raise the sides of the shirt the same amount. More information on shirt hem designs here.
Converting from dress shirt to casual shirt
Many guys opt to make the shirts they wear untucked a bit shorter than shirts they always tuck in.  In our experience, an untucked shirt's shirt length should be around 1.5 – 2.5" shorter than an always-tucked shirt.
If you have a large belly
Men with larger stomachs will want to opt for increased (shirt) back length since the shirt needs to go over the belly and still tuck into the front of the pants.
Number of buttons on shirt front
The number of buttons on the front of the shirt (including the collar button) is a function of the Top Button Placement, the Back Length, and your Posture setting.
The back length of the shirt will directly affect the number of buttons on the front. With standard Top Button Placement and a Standard Posture setting, the Back Length measurement will yield the following number of buttons on the front:
-Back length = 26 to 26.3″ has 6 buttons
-Back length = 26.4 to 29.9″ has 7 buttons
-Back length = 30.0 to 33.6″ has 8 buttons
-Back length = 33.7 to 37.1″ has 9 buttons
-Back length = 37.2 to 38.0″ has 10 buttons