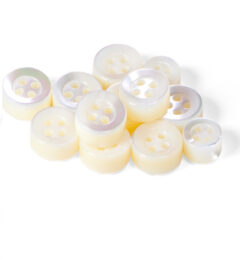 Plastic Buttons
Our Roma Plastic buttons are the default option for most custom shirts and for good reason– they're specially developed to withstand chipping and exposure to high heat. While they may not have the natural irregularities that make Mother of Pearl buttons so special, our Roma buttons do feature a unique, mottled finish and off-white hue to provide a similarly appealing, versatile look.
Mother of Pearl Buttons
Mother of Pearl buttons are a classic detail favorited by high-quality shirt makers. Made from the inner layer of pearl oysters (also called nacre), they have a little more depth of color than plastic resin buttons do. These buttons can have a tendency to crack, but usually only do this with particularly brutal dry cleaners. They do not dissolve after repeated washes like resin plastic buttons can.
Other things to consider
There are some custom shirt design restrictions to consider when selecting buttons. For example, the curing process where our proprietary non-iron treatment is applied to our non-iron shirts melts Mother of Pearl and some of our colored, casual button options.
Additionally, orders including shirts with Mother of Pearl buttons (Mother of Pearl, Tall Mother of Pearl, or Australian MOP) must now undergo special Fish and Wildlife inspections that can cause shipping delays. To be safe, we add an extra week to estimated turnaround times for the affected items.
Click here to purchase replacement Mother of Pearl and plastic resin button sets from Proper Cloth.