This article will try to help you really understand the term "Made to Measure," also referred to as "MTM" or "M2M." We're not discussing suits. We're focusing on shirts and we're focusing on how made to measure applies to fit.
The term "made to measure" can be confusing because in practice it is used to describe very different custom fit systems which produce wide ranges in fit quality.
According to Wikipedia, made to measure garments will be "inferior to that of a bespoke or 'custom made' garment, because made-to-measure garments always involve some form of standardization in the patterning and manufacturing processes, whereas a bespoke garment is truly unique."
This is generally true. The main thing to understand is that different made to measure systems involve different degrees of "standardization in the patterning".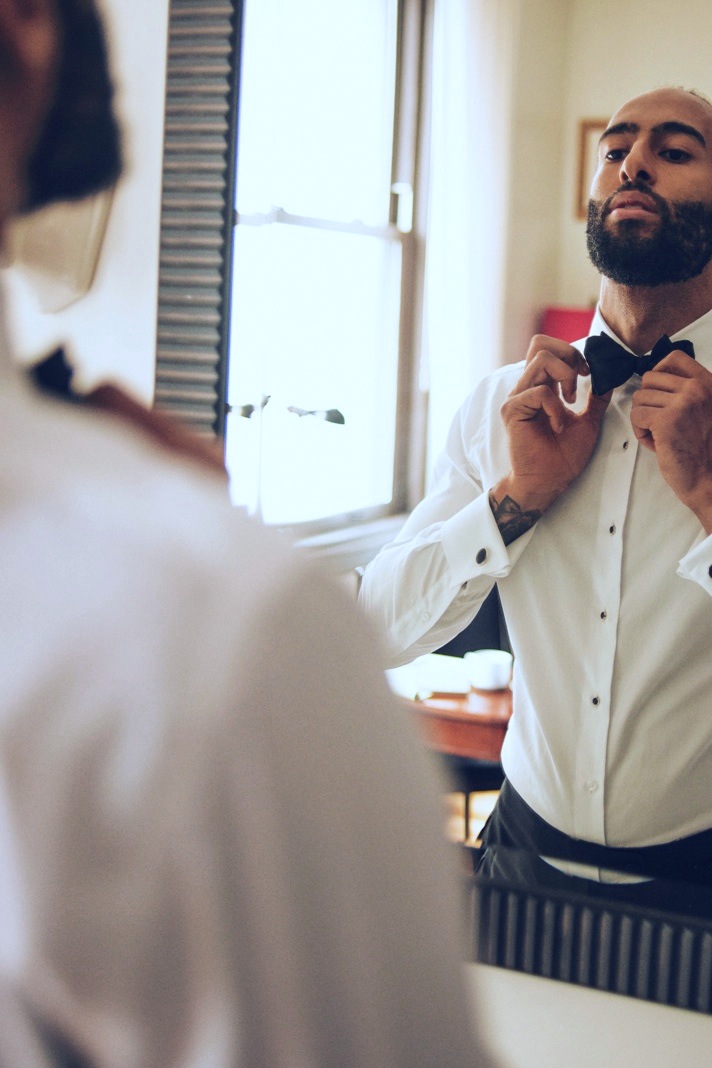 On the one extreme of made to measure, a shirt provider will simply measure a customers neck circumference and sleeve length. Additionally, they may ask the customer if they prefer a "Slim" or "Traditional" fit. The shirt's dimensions will be based entirely on these three pieces of information. For most people this results in a poor fit because every dimension of the shirt other than sleeve length is based on neck circumference. For a 16″ neck circumference, all shirts have the same chest, yoke, mid-section, arm width, cuff circumference and back length measurements. Skinny guys will find that the slim fit is not as "slim" as they really want. If you have a 16-17 inch neck and a 32-33 inch waist, the shirt is still going to fit you like a bag (even if you request "slim-fit"). Alternatively, if you have a 17 inch neck but are in the 5'6″-5'9″ height range, the shirt will be too long.
Another small detail that a lot of people overlook is the cuff circumference. With these systems, the cuffs are almost guaranteed to be too big. This means the sleeve will slide down too far on your hand and look sloppy. On the Brooks Brothers website you can purchase shirts this way (starting at $127.50!). Also, several department stores will take your neck and sleeve measurement and order you a custom fit shirt using this system. They'll also play up the "custom" story and require you to purchase 3-5 shirts minimum at $150+ per shirt.  On the other extreme is made to measure systems like the one Proper Cloth uses. We're proud to employ one of the most advanced made to measure sizing systems in the industry.
A more robust made to measure program will take a much more detailed approach to creating a custom size, which involves more measurements than the more basic system we previously described in order to get a more personalized fit. We start by taking 9 different measurements:
Neck Around
Sleeve Length
Yoke Width
Chest Width
Midsection Width
Shirt Length
Sleeve Width
Cuff Width
Shirt Bottom Width
From these measurements, we have the option to tweak all of these fit points by as little as 1/4" in order to zero in on the best fit possible. In addition, we employ various other fit improvements such as sloping or square shoulder adjustments, slim or traditional forearm fit, tailored or full armpit fit, posture adjustments, and watch allowance to personalize a customer's fit even further. Basically, what all this means is that we're set up to really understand how your body is shaped and flexible enough to create a shirt that fits you properly.
Furthermore, as a technology company, your shirt's pattern is created in an accurate, precise, repeatable fashion. We also provide great transparency into how we size your shirt. For most people this is more information than necessary but if you're real particular about how your clothes fit, you won't find a better solution.