When customizing your trousers, it's important to consider the statement you want them to make for you. Traditional or modern, formal or casual—the design details you choose will contribute to the overall impression of your outfit.
A Business Fit
Trousers worn in a traditional office setting tend to have more classic and subtle details. Most people opt for a more conservative fit—a half break to full break inseam length, with a slightly tapered leg. Reserve the extra–slim fit for more casual settings.
Wool Fabrics
Wool, in a variety of weave types, blends, finishes, is the most common business trouser fabric. It's considered more professional and suitable for office settings than other, mainly lighter, fabrics like pure cotton and linen. Darker shades and solid colors are most appropriate, like  shades of navy blue and dark or charcoal grey. 
Classic Design Details
When it comes to styling your business trousers, the classic American style keeps it simple and conservative. Belt loops are the more traditional choice for office wear, but if you'd prefer a more streamlined, modern look you can add side tab adjusters instead. Most work trousers are styled with buttons that blend in to the fabric color—usually dark brown or charcoal—as contrasting colors that stand out are distracting and less formal. Cuff choices are generally determined by personal preference and style, as they do not affect the formality of your trousers. Adding 1.5" – 1.75" cuffs will create a classic and conservative look, while a tall 2" cuff will be more of a statement. Forego the cuffs altogether if you're going for more sleek and minimal look.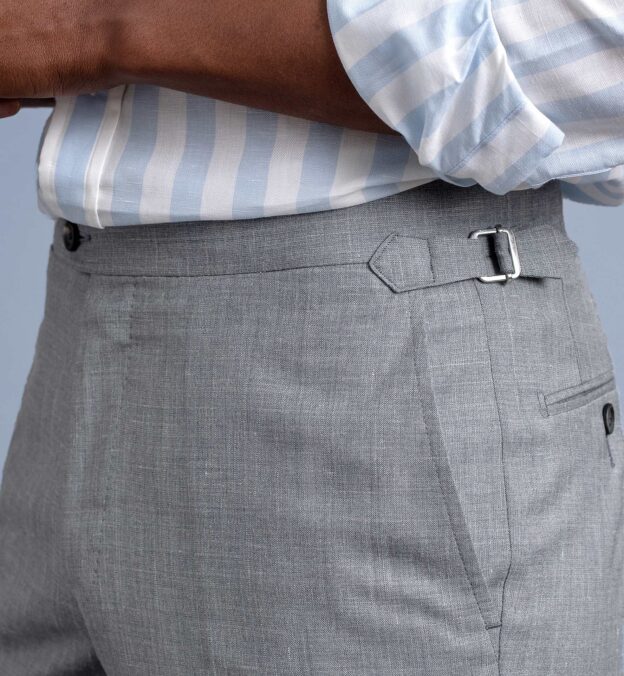 Casual trousers allow for more creative freedom in the design of the garment. The fit can be as loose or slim as you like, and the inseam can be shorter than your work trousers if you're aiming for a modern look. The pursuit in recent years of a more retro-casual vibe has increased the popularity of combining shorter inseams (no break and negative break) with a more pronounced taper in the lower leg as well.
While many wool fabrics work well for casual trousers, there's a whole host of other options when it comes to the materials you can choose for them. Patterns, light colors, pronounced textures, and combinations thereof give expression to a more relaxed vibe. Linen, cotton, flannel, and corduroy are popular materials that add interesting visual texture, that will ground your look especially when you forego the jacket. Be on the lookout for unique blends of these types of fabrics for interesting pieces with good levels of performance.
The style details of your casual trousers can be as similar to or different from your work trousers as you'd like. While belt loops and a standard waistband are acceptable in all settings, side tab adjusters and an extended waistband can help to add a little modernity and flair to your casual outfits. Most people will choose to skip the cuffs on casual pants, though it is still an acceptable style detail for all settings.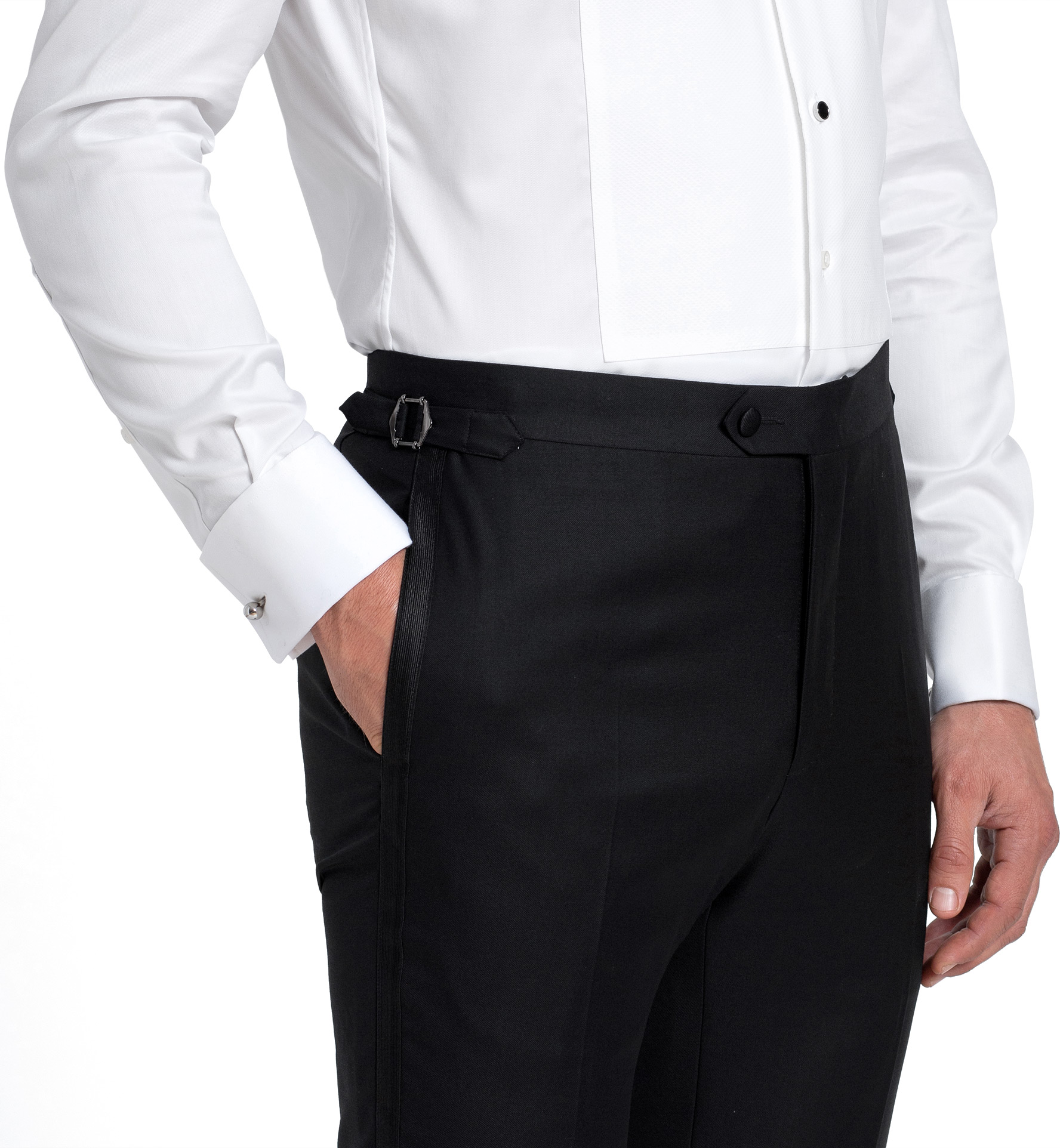 When it comes to formal events, particularly those calling for black tie dress, a traditional silhouette is key. A timelessly tailored trouser is the way to go. You probably won't be wearing your tuxedo too often, but every time you do in the years to come, you'll thank yourself for steering clear of trendy extremes. A slim but comfortable fit through the leg will never go out of style. A half break at the top of the shoe is similarly always safe.
Pure wools in solid colors, always. A classic black tuxedo pant can be a little more versatile than one imagines if you've invested in an additional dinner jacket to add some variety to your black tie look. Seasonality can be factored in of course, but the texture of the fabric should always remain subtle. A solid black, charcoal, or navy linen/wool blend is perfect for a summer wedding, just as a dark gray or navy flannel for winter events.
For traditional black tie, you'll want to apply a satin or grosgrain stripe down the leg, matching the lapels of the jacket. This finishing is the default for Proper Cloth's tuxedo trousers. 
One thing you'll never see worn with a tuxedo is a belt. Always opt for side tab adjusters to finish the waist in a clean, minimal fashion. Traditionally, tuxedo pants should also be worn with suspenders, which are provided by default with Proper Cloth's tuxedo trousers (though they can be selected for any custom tailored trouser).