Our "Perfect Fit or Your Money Back" Guarantee
100% Unconditional Money Back Guarantee
Let's just get this out of the way. If you're not 100% satisfied with your shirt, for any reason, you can return it to us within 90 days for a full refund, or within 120 days for store credit. It doesn't matter if you've had the shirt laundered once or twice. It doesn't matter if you're returning the shirt because you don't like the way it fits, don't like the fabric, or don't like the style. All you have to do is return your shirt within 90 days for a full refund.
Complimentary Remakes To Get The Perfect Shirt
You may be thinking, "Ok great, I can return the shirt for a refund. That's nice, but I don't want to go through all this trouble and end up still not having a shirt I love."
Well don't worry, this is where the real magic of Proper Cloth comes in. We're committed to working with you to get your shirt absolutely perfect - and to make the experience as hassle-free as possible. Which is why we guarantee each customer up to two complimentary remakes to fine tune the size and style of their shirt.
★★★★★
"Being able to customize the size of each part of the shirt is game-changing for a guy built like me (broad up top, narrow waist, sort of long arms). The Smart Size feature is pretty accurate, a great place to start… Overall good experience. I intend to order more.
Jeff in Lusk, Wyoming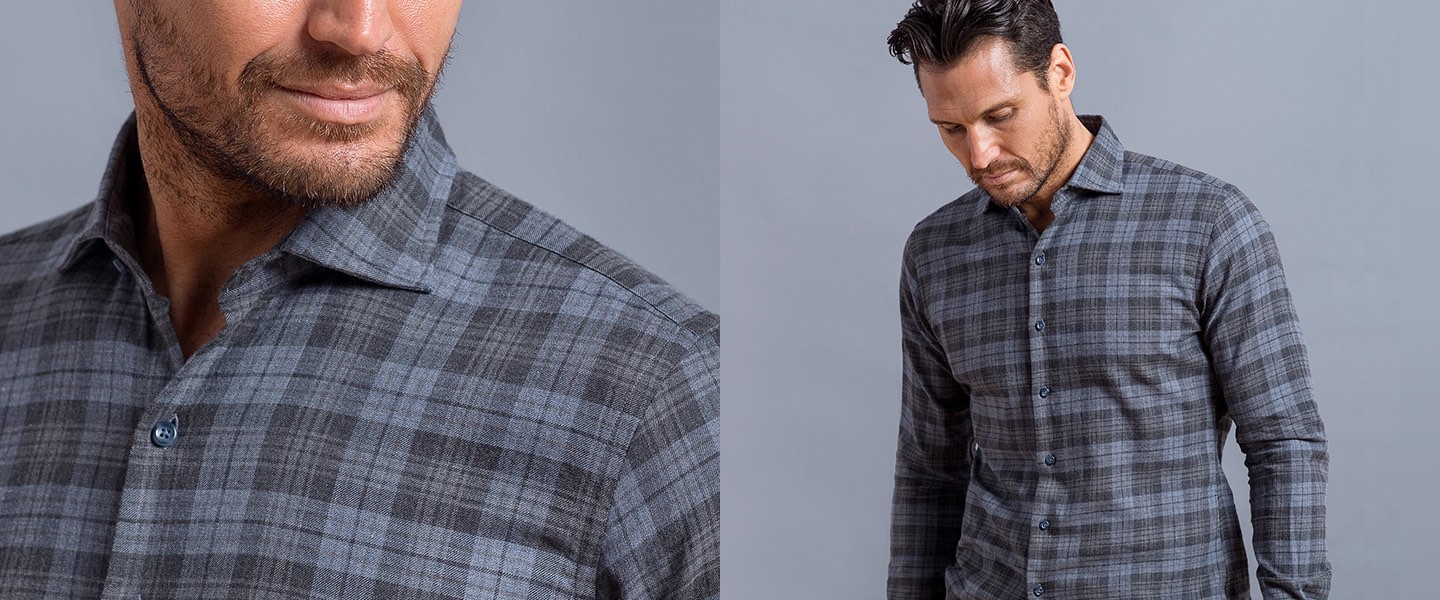 Once you have your first shirt, since we know the exact dimensions, fabric and style details used to make that shirt, it will serve as an important reference point in our conversation. Based on your feedback, we can often determine exactly what to change to get you what you want.
Real Expert Help
We have a team of experts in New York City, standing by to help via phone, email, chat, or even in-person if you want to come by our showroom.
★★★★★
"Ryan has been helping me find the perfect fit for a variety of different shirt types over the last several months, and he's just AWESOME. Fits are dialed in and the shirts are all great! Ask for input from fit experts about styles/fabrics/fit if you're new to this!
Thomas in Temple City, CA
Use a Complimentary Remake to Fine Tune Your Fit
Perhaps the best thing about Proper Cloth is the ability to dial in the dimensions of your shirt to fit you perfectly. Our finely tuned Smart Sizes algorithm is incredibly useful for getting you a great fit with minimal effort, but after you receive your first shirt, there are often ways to adjust things to be even better. And with our powerful range of custom fit adjustment options, we're able to accommodate just about everyone.
For Example
Suppose you find the shirt is just a bit too baggy around the waist?

No problem, we'll remake your shirt with a slimmer waist.

What if you find the collar is a bit too tight around the neck?

No problem, we'll remake your shirt with a bigger collar.

Or what if you notice a surprise tightness in your armpits that you never expected?

Also not a problem. We can change some things to make that go away too.
★★★★★
"This is now my 10th or so shirt with Proper Cloth. Once I got my size tweaked they all come pretty spot on now. Very happy with my collection from PC
Brian in Hatboro, PA
Use a Complimentary Remake to Fine Tune Your Fabric or Style Details
Another wonderful thing about Proper Cloth is our wide range of fabrics and styles. With so many options, if you don't love something about the design or style of your shirt, we're almost certain to be able to change it to suit you better.
For Example
Suppose you find the fabric of the shirt is shinier than you prefer?

No problem, we can switch you to a fabric with a similar weight but less shine.

What if you find the fabric wrinkles too easily?

No problem, we can switch you to a fabric that's a similar style but less wrinkle-prone.

What if you find the collar points are too short for your neck?

No problem, we can switch you to a collar with longer points that will sit taller on the neck.

Or what if you want a shade of blue that's a bit more vibrant?

You guessed it – No problem, we have hundreds of fabrics and colors to choose from. We're sure to have a shade you'll love.
★★★★★
"Proper Cloth is committed to customer satisfaction. Buying an item as personal as a made-to-measure shirt over the internet could be a risky venture. Yet Proper Cloth personalizes it with great communication and specific answers to questions.
Steve in Chapel Hill, NC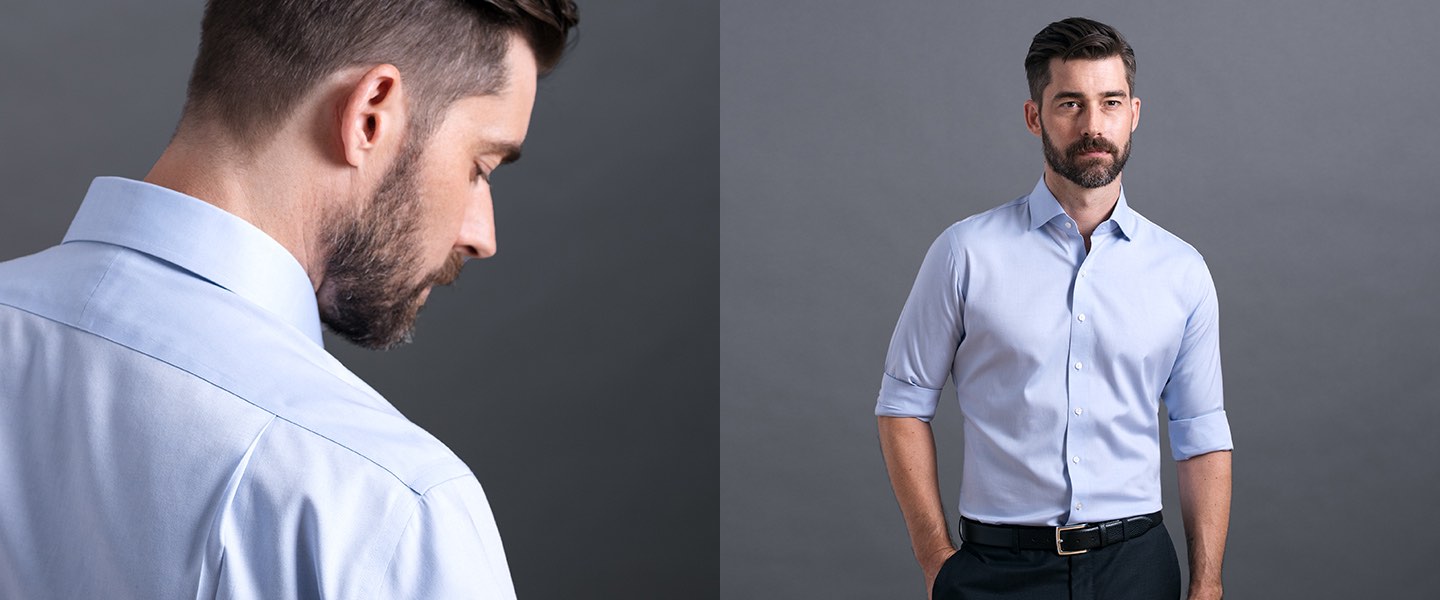 We Make Complimentary Remakes Super Easy
Most custom shirtmakers consider remaking a shirt a bad situation. They try to shift the blame around and drag their feet to get out of it, making the process as difficult as possible for the customer. But not at Proper Cloth. We consider remakes a normal part of helping you get your fit and style preferences dialed in. We do remakes without any extra charges, and we've built a special team and tools to make the process as smooth and painless as possible. We'll be more than happy to help you.
Powerful Online Tools For Self-Service
If you already know exactly what you want to change, you'll love how our online tools make it easy for you to update your custom size and save it to your account. You can even process your own complimentary remake without speaking to anyone, right from your order history online.
★★★★★
"Very simple. I changed my measurements this time, which was very simple, and the fit was perfect.
Rick in Rancho Cordova, CA
Expert Help When You Need It
We often find that customers are looking for an expert opinion, and that's where our amazing team really shines. Send us your questions or comments about what you're hoping to improve, or email photos of yourself wearing your shirt, and someone from our team will be happy to advise on what to do.
Not only will we help you get the perfect shirt, we'll help explain why we're making the changes we're making so that you can understand how it all works and be prepared to shop with us confidently in the future.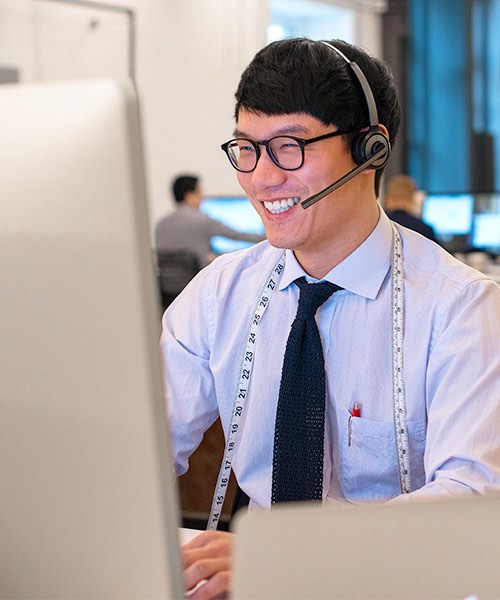 Frequently Asked Questions
How long do I have to request my complimentary remake?

Customers have 90 days from the time of the initial purchase to request a complimentary remake of the shirt. Beyond 90 days, it's probably still ok, but our lawyers say we need some kind of a limit here. Also, if you wait a really long time the exact fabric you had on the original shirt may sell out and we'll be forced to switch you to something else.

How many times can I have a shirt remade?

Customers are entitled to up to two complimentary remakes. One is usually enough, but you get two just in case.

How long do remakes take?

Complimentary remakes takes the same time as new shirts to be made and delivered to your door, typically just under 2 weeks.

If I ask for a refund, how long will it take for me to get my money back?

We promise to handle your refunds quickly and efficiently. From the day we receive your shirt, your refund will be processed within 3-5 business days.

What exactly do I have to do for a complimentary remake or refund?

(1) Let us know via email or phone that you would like a remake or refund. (2) For a remake, if you know exactly what you want to change you can enter in the remake details on your order history. If you need some help, our team of fit experts will be happy to assist. They may ask you to launder the shirt to account for shrinkage and send in photos of yourself wearing the shirt. (3) Return the original shirt to us in New York.

So wait, you're just going to give me free shirts?

Well, sort of! But note that the original shirt that is being "remade" must be returned to Proper Cloth. So you don't get to keep them all.

If I launder the shirt to see how it shrinks, can I still return it for a complimentary remake or refund?

Yes, definitely - in fact, we recommend you do.

Can I buy a bunch of shirts, wear them regularly for three months, return them all for store credit and then use the store credit to order a new bunch of shirts in an endless cycle of free shirts?

No. Our return policy is not a lifetime warranty. Shirts with extensive wear may not be accepted as returns, and customers deemed to be repeatedly abusing our return policy may be restricted from making additional purchases.

Are complimentary remakes for size changes only?

Complimentary remakes can be used to try a different size, different fabric, different collar style or different anything about the shirt.

If I do the complimentary remake, and am still not happy, can I still get a refund?

Yes! Receiving a complimentary remake does not disqualify you from a full refund. You just need to return both the original and the remade version of the shirt to us.

This seems crazy, what's the catch?

There's no catch, we're just so confident you're going to love your Proper Cloth shirts and become a happy customer for life, that we're willing to custom make you a shirt in a size specific to you. And if you don't absolutely love it, we'll remake it all over again with some changes, and if you still don't love it, we'll refund all of your money back. That's a crazy guarantee that you won't find anywhere else - and it's only because we're so confident in our smart-size technology, quality shirts and incredible customer service that we're able to make this kind of guarantee.
★★★★★
"Excellent from start to finish. I have a unique body type and was skeptical just by answering questions if I would get a proper fit. Long story short - the shirts fit great! The quality is excellent as well as the choices in fabric and style.
David in Cincinnati, OH