Your wedding is coming up and you need to get some groomsmen gifts. What should you do?
Groomsmen Gift Dress Shirt
Well, I did some research on what products are currently being marketed as groomsmen gifts and the results were incredible. For example, there was an awesome Pittsburgh Steelers clock with a name engraved on it. (By the way, do you engrave your name on it because it's your wedding or his name because (hopefully) he's going to hang it on his wall?) If that's not your style, for $17.95 you could go for a red wine glass also engraved with a name and the text "best friends". Cute. Really though, it would be a tough choice between the Personalized Cooler Tote with Cell Phone Holder and the Personalized Beach Towel – Surfboard Shaped. I take that back. It's an easy choice – I want the beach towel.
Of course, there's absolutely nothing wrong with any of these, at all. Except that it might feel kind of lame. You might even ask yourself: am I giving a gift that means something, or am I just falling victim to the $70 billion wedding industry that is manipulating me into wasting thousands of dollars on totally useless crap??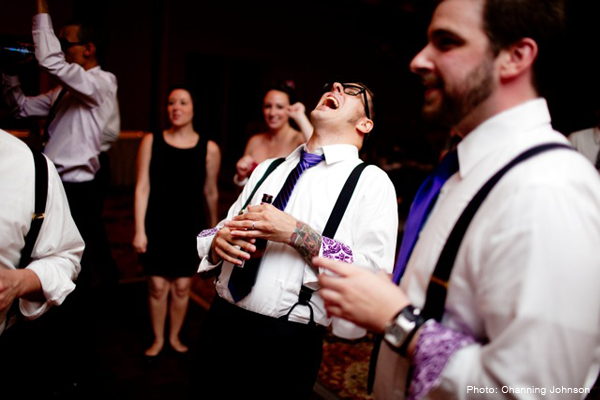 Which is where the Proper Cloth wedding dress shirt comes in. Consider the short term and long term benefits of gifting your groomsmen identical custom dress shirts.
Short Term Benefits
By choosing collar and cuff accents to match the bridesmaid dresses you'll make your soon-to-be-wife very happy. She will see that you actually do care about how things look on your special day and (hopefully) realize that marrying you is not going to be a huge mistake.
Long Term Benefits
By introducing your friends to a better fitted dress shirt, you'll help them look their best. This will increase their own chances of getting laid that night married in the near future. Which is actually the only way you'll be able to continue to hang out with them. Everyone knows married couples only hang out with other married couples.
By the way, if you're already sold on the personalized cooler tote or you simply can't spare the expense, you can still coordinate your team. Contact us and we'll help get everyone sorted out with a special groomsmen package discount.
PS: Awesome wedding photo's are from the wedding of Jesse Johnson, professional rocker from Motion City Soundtrack, as photographed by Channing Johnson Photography.