Advanced Protection, Fine-Tuned Fit
Fit and quality have always been the driving forces behind the Proper Cloth design process, and we're excited to bring that focus to face masks. Our design team has worked hard to create the most flattering, comfortable shape, select the best fabrics, find the best antimicrobial treatment, and develop the most effective air filter. The result is one of the most attractive, comfortable, and effective face masks available today.
Hand sewn from 100% cotton light blue oxford cloth.
Air filter for virus protection, lab test certified BFE >=95%.
Antimicrobial treatment to kill or inhibit growth of bacteria and virus microorganisms.
Available in two sizes.
Over-the-head elastic bands.
For every mask you buy, we'll donate a surgical mask to a healthcare worker.
Free shipping to the US & Canada.
Interested in larger quantities? Reach out on our Masks for Businesses page.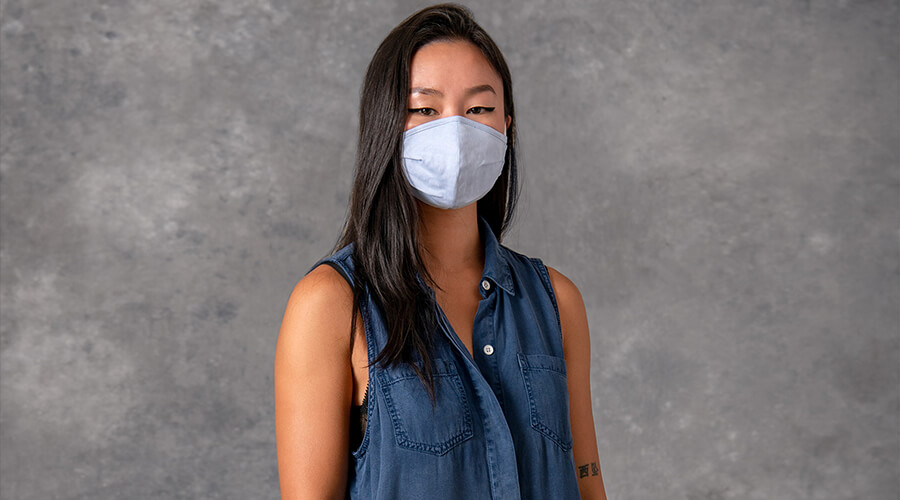 All-Day Comfort
Side pleats, a tailored design that wraps under the chin, and perfectly positioned elastic bands allow you to breathe and speak comfortably without the mask shifting down your face. A moldable nose bridge creates a protective seal and prevents steamed-up glasses.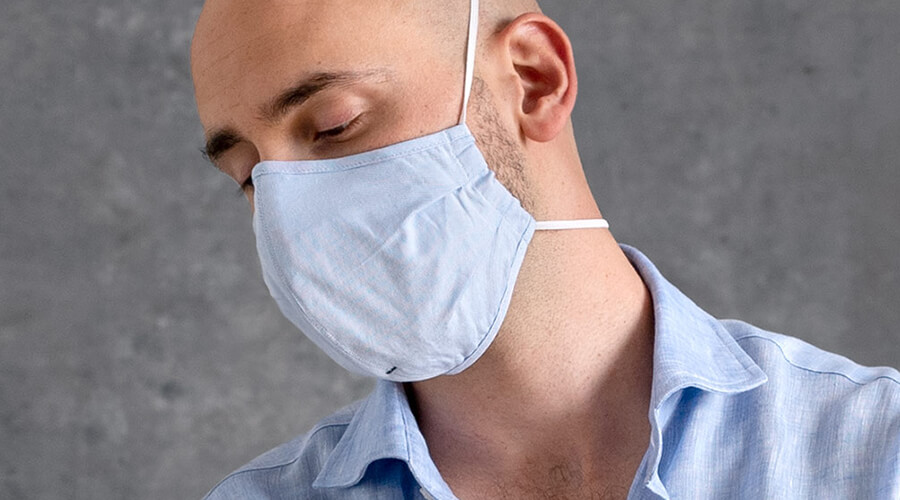 Premium Quality Construction
Made from luxury shirting fabrics from the world's finest mills in Italy, Japan, Portugal, and Ireland, and featuring excellent hand sewn craftsmanship throughout. Long lasting, washable, and reusable.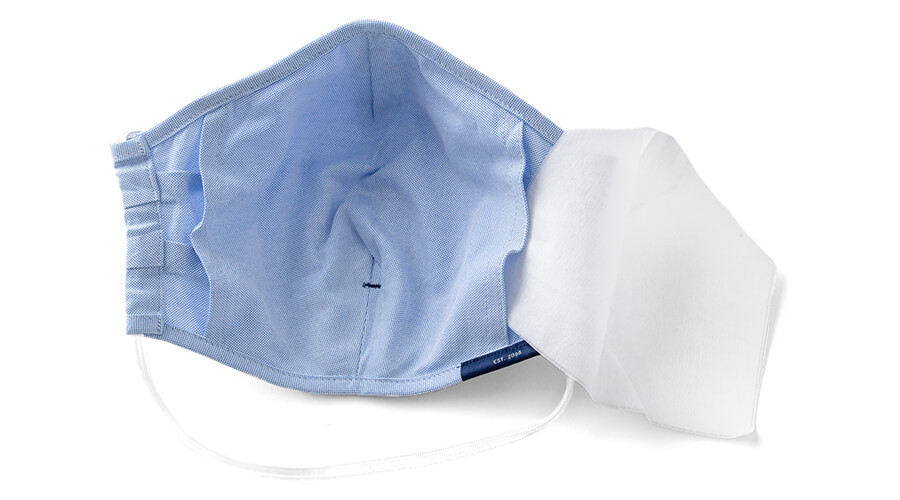 Air Filter for Advanced Protection
A three-layer filter made from non-woven polypropylene with a meltblown core. Lab tested BFE ≥95% and PFE ≥85%. Filter is washable, replaceable, and incredibly breathable.
Buy a Mask, Give a Mask
For every mask you buy, we'll donate a surgical mask to a healthcare worker. So far we've donated over 200,000 masks to healthcare workers in the US.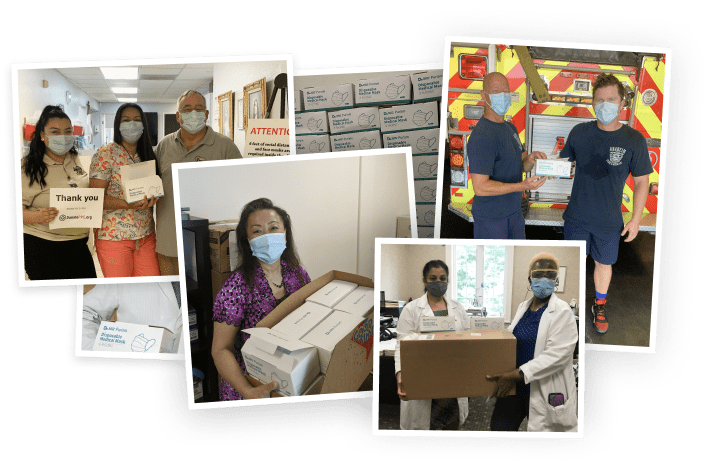 Mask Questions?
How can I wash my face mask?
We recommend hand washing our masks (including the removable filter) with soap and warm water, rinsing thoroughly and allowing them to air dry. They can also be machine washed if you prefer. Our comprehensive step-by-step guide to hand washing your face mask can be found here.
Do you offer replacement filters?
Not currently. At this time we do not have replacement filters available for purchase, however the filter provided with each mask is washable and has been lab-tested to show that it remains fully effective after at least 20 washes (we didn't test it for more washes than that). We're still working to obtain replacement filters for our masks and hope to have them available in the future.
Can I return this mask?
Due to the personal nature of these products we cannot accept returns. Our Return Policy is located here, and our CX team is always happy to answer further questions should you have them. Contact our CX team.
Which mask size is best for me?
We offer our Everyday Masks in two sizes—Large and Small. You can find our size chart, mask size measurements, and recommendations for choosing the right size on this page.
Are these masks medical grade?
Our masks are not medical grade. They are not intended as substitutes for N95, surgical, or procedural masks and are not considered PPE. The replaceable filters included in our masks are lab test certified BFE ≥95%. See the lab test results here.
Can I mix sizes in a mask multi-pack?
We are currently able to mix sizes in 10-packs. A 10-pack of masks is available in your choice of 10 Large, 10 Small, or 5 Large and 5 Small masks, a 3-pack of masks will include 3 masks of one chosen size (Large or Small), and a 60-pack will include 30 Large and 30 Small.
What's the difference between the different versions of the mask?
Each version of the Everyday Mask (v1.0, v1.1, and so on) features updates to the design or construction of the mask. Full details of these updates, as well as size specifications, can be found here.