Light Blue Cashmere Herringbone Scarf
$150
---
There are cashmere scarves, and then there are ridiculously soft, pure cashmere scarves made in the foothills of the Italian Alps. This one is the latter. Our cashmere scarves are designed to be less bulky and to wear lighter and more comfortably than traditional wool scarves while being just as warm. This light blue herringbone is varied with a subdued grey and has a lovely, almost-brushed finish. It'll pair beautifully with everything from a full suit to jeans.
Product Code: S49
100% Italian Cashmere
Length: 71"/180cm
Width: 14.5"/37cm
Fringe: 1"/2.5cm
Made in Biella, Italy
Clean Professionally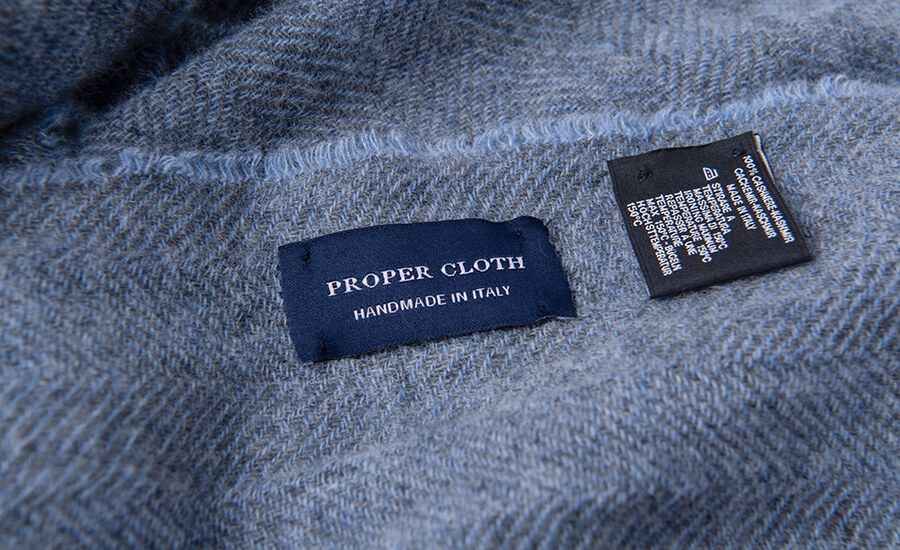 Made 100% in Italy
Premium cashmere yarn is spun in Perugia, Italy, and then shipped to Biella, Italy, where it's woven into this incredibly soft scarf.
Customer Reviews
1 reviews. Average rating 5/5
Recommended by 100%.
"Love my cashmere scarfs from Proper Cloth. THE best."

Russell in Los Angeles, CA