Italian Steel Ball Cufflink
$50
Delivery by Jul 3
Free Shipping & Returns
Product Info
Product Description
We designed this cufflink to be classic and elegant—the sort of timeless accessory that you can wear in any situation. Made 100% in Italy from durable steel, they're a subtle upgrade to your wardrobe.
Product Details
Product Code: C0006
Real Steel
Made in Italy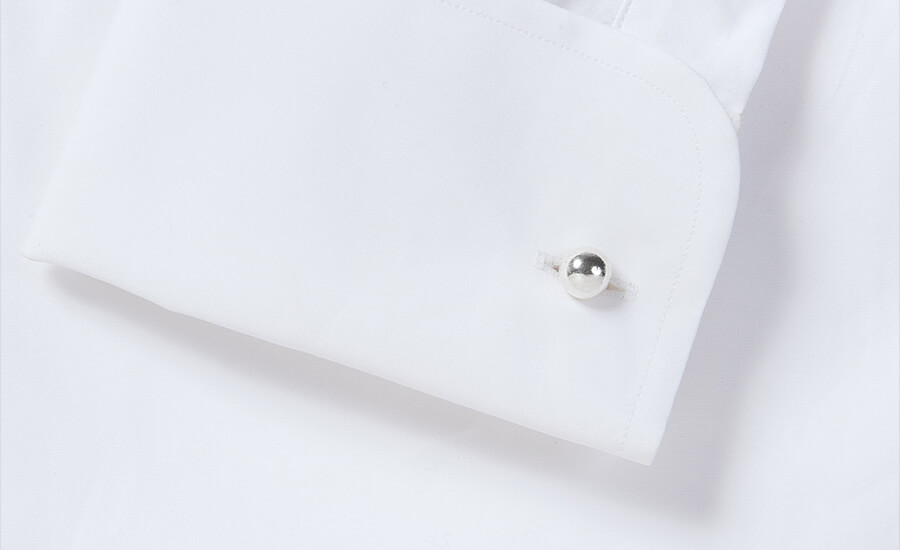 Made in Italy
Our cufflinks are crafted in Italy, and as long as you don\'t lose them they\'re sure to last a lifetime.
4.65 / 5 Average rating
Recommended by 94%.
"They're nice but smaller then expected."

Gregory in Suffolk, VA

"expected them to be a little heavier. Also since they are fairly short they are difficult to put one."

Rodrick in Milton, GA

"Simple classic cufflinks."

Simon in Vancouver, BC

"They are nice but I honestly expected something more substantial. They feel like they are hollow and extremely lightweight. Could be considered a plus to some."

Thomas C in GREENWOOD, IN

"Very lightweight (the ends seem hollow)"

Eric in New York, NY

"These are decent cuff links. Hard to make a mistake with these."

Carlton in Chicago, IL

"Love how convenient these are to slip through the button holes. Welding at the joints could be a bit cleaner, but overall, looks good!"

Cheng Hui in Singapore,

"Duty made it pricey compared to other alternatives, only suggestion would be to give total in advance."

Zachary in Toronto, ON

"The cufflinks are fine, but kinda expensive for what they are...I probably should have amazon'd it on this."

Daniel in Norwich, VT

"simple, lightweight."

Mike in Porter Ranch, CA

"these are surprisingly light. must be hollow. but they look nice, and with a lot of shirts."

Philip in San Francisco, CA

"High Quality"

Kevin in JACKSON, MS

"Good looking links"

Ben in Winston Salem, NC

"Perfect and looks more expensive than payed."

Ron in Clyde Hill, WA

"Nice finishing touch"

peter in Glencoe, IL

"Elegant"

Colin in Brooklyn, NY

"Minimal and elegant"

Paul in Atlanta, GA

"Well received by everyone who has seen me wear them."

Michael in WASHINGTON, DC

"Very nice"

Lansana in Le Grand-Saconnex, GE

"Gorgeous cufflinks for my wedding tux. Great price!"

Walter in BALTIMORE, MD

"They match the studs very well, and likewise the stainless steel pops!"

Eliahou in BROOKLYN, NY

"Very nice cut links. They are lighter than I expected because they are not solid. They don't weigh down your cuff or bang around on your watch. Overall a well made peice."

Timothy in SAN ANTONIO, TX

"Use these when you love french cuffs (all I wear) but it's not a super formal occasion. Ok with dress chinos and oxford collar look or similar, but better for wearing a suit and don't want to be too flashy with your cufflinks."

Jay in NEW YORK, NY

"nice looking on the cuffs."

Chico in Kent, WA

"A very sleek pair of cuff links. They are a bit difficult to get on by yourself but worth it."

Jonathan in Brooklyn, NY

"They look great!"

Scott in Arlington Heights, IL

"Nice size, the ball is slightly larger than I expected. Great, subtle look."

Reed in Bend, OR

"Perfect size and weightlifting"

Amnon in SALT LAKE CITY, UT

"Great cuff links!"

Bret in Long Island City, NY

"Wife loved the look!"

Scott in Hudson, WI

"These are terrific cufflinks. Simple and elegant, they suit my style perfectly"

Samuel in Evanston, IL
FAQs
Do you offer rush delivery?

Rush delivery is not available for custom made products. With ready-to-wear and stocked products, we have a little more flexibility.
How long does it take to receive a 'Pre-Order' item?

Pre-Order products generally take at least a few weeks to deliver. The expected delivery date is provided in the Product Info section once you select a size.

Currently, the email receipt for your Pre-Order product will feature our ~1 week Stocked Product delivery estimate. We are working to fix this unique messaging problem.

A follow-up message clarifying the delivery date will be provided when the pre-order purchasing window closes. Finally, tracking details will be provided as soon as the items finish production and are prepared for shipment to your address.
How long does it take to receive a 'Stocked Product' order?

Stocked Products (ie. items in-stock at our offices) such as outerwear, scarves, ties, and sweaters generally take about one week to deliver.

Physical gift certificates take about one week to deliver, too.
Still have a question? Get in touch