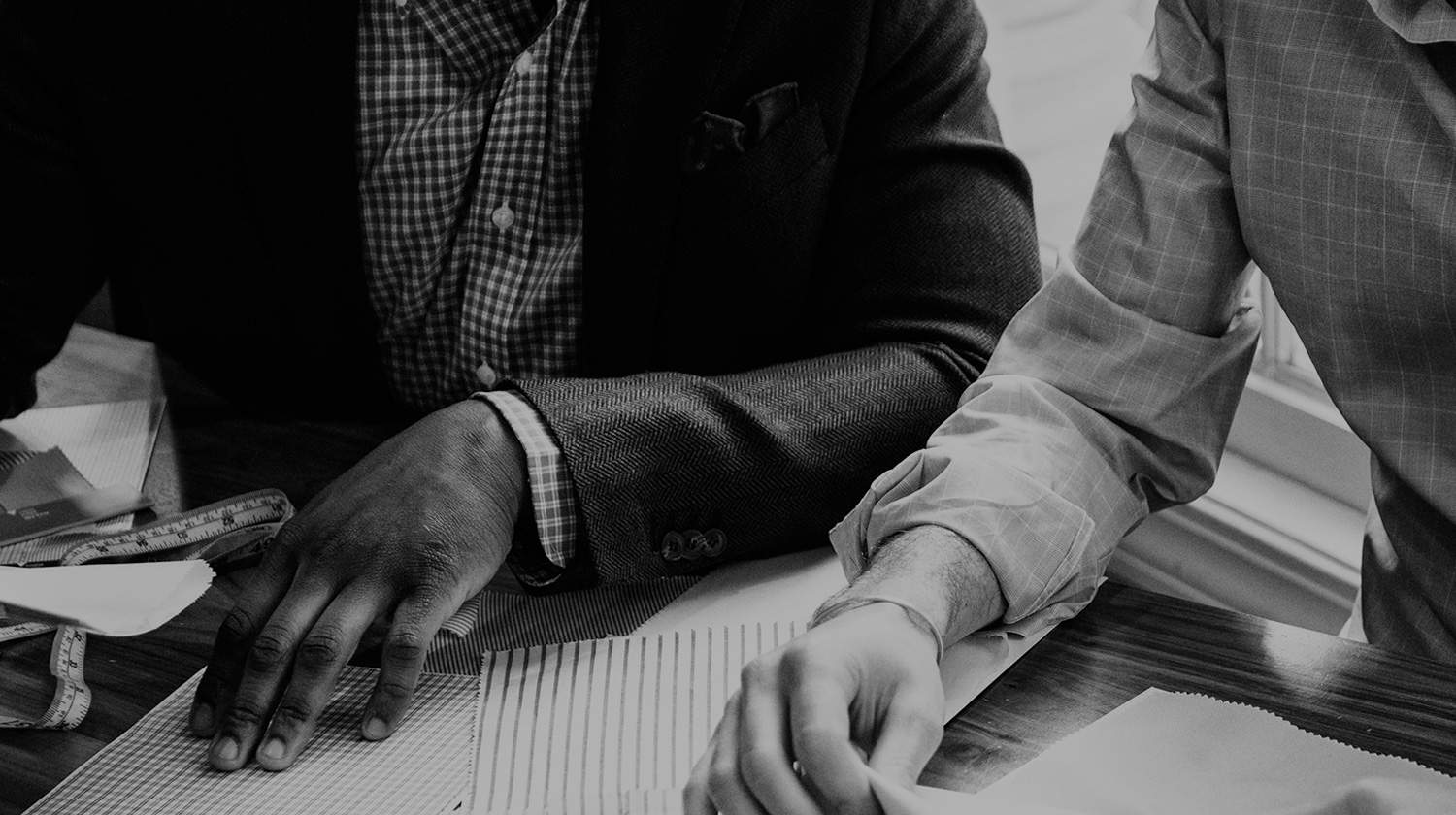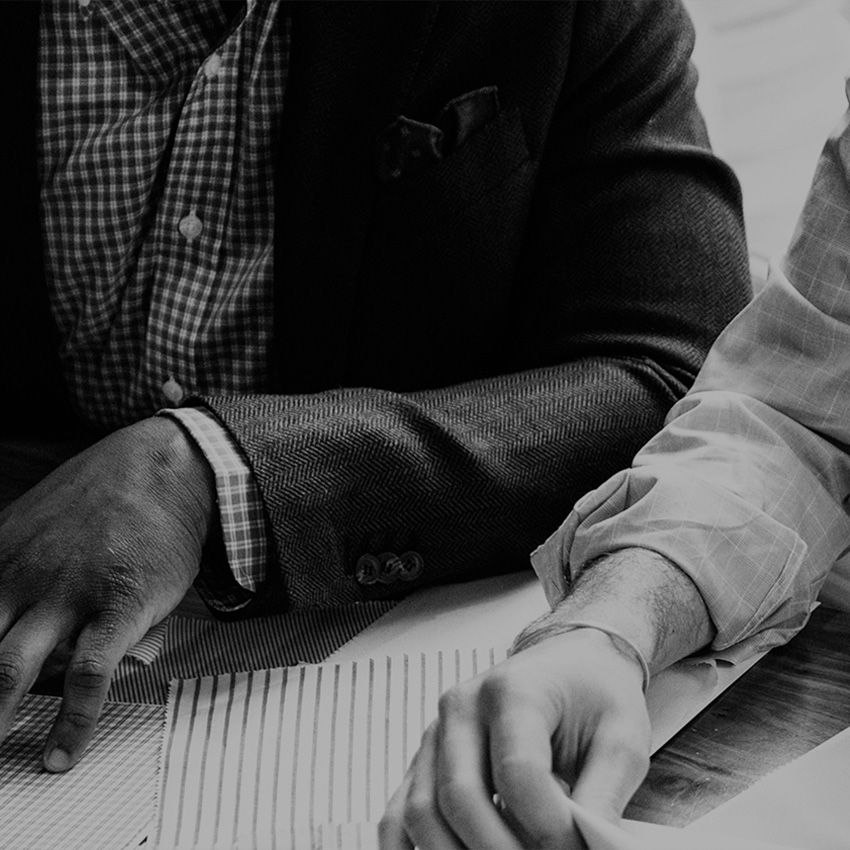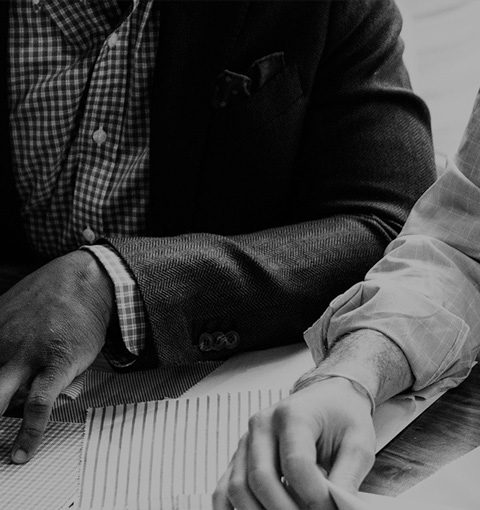 Introducing:
Grandi & Rubinelli
Uncompromising quality.
Incredible taste.
Woven exclusively in Italy.
Expert
construction
An artisanal approach.
Grandi & Rubinelli is a smaller mill than most. The entire team is 35 people and they produce all of their fabrics on just 12 looms. Their co-founder, Mr. Rubinelli still visits with clients in person to explain the fabrics. Despite their small size, the Grandi & Rubinelli name has become synonymous with textile expertise and great design. Weaving in their small facility outside of Milan, they only use the best American Supima, Egyptian, and West Indies Sea Island cotton to make their shirting fabrics. They're particular in always using 2-ply yarns to improve durability and they exclusively use natural fibers: cotton, linen, wool, cashmere, and silk. You won't find any synthetics on their looms. Regularly weaving fabrics with up to 200s thread count, they are comfortable producing smaller batches of ultra premium fabrics for specialty clients that larger mills don't have time for. Their dedication to quality is extreme, and every meter they produce goes through multiple quality control checks to ensure it's up to their standards. It's this smaller, detail driven approach that first drew us to Grandi & Rubinelli. With the ability to do nearly anything, they stay focused on producing the world's finest dress shirt fabrics.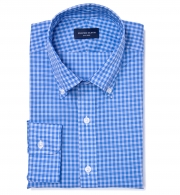 Grandi 170s Featherweight Blue Plaid
Born in Italy
In pursuit
of excellence.
Grandi & Rubinelli doesn't have the hundred-year history that some other mills claim, but its founding story is nonetheless charming and inspiring. Remo Grandi and Ubaldo Rubinelli had each spent years in textiles, though on different sides of the industry. Mr Rubinelli had been designing and selling for one of the top shirting mills in Italy, but was frustrated by the lack of flexibility and innovation he saw there. Meanwhile, Mr. Grandi had just acquired a small textile production facility outside of Milan and was trying to determine what to do with it. It wasn't until the two met and discovered their mutual passion for premium shirtings that the idea to collaborate and launch Grandi & Rubinelli was born. They realized that by working together they could design and produce some of the most luxurious and tasteful shirt fabrics in the world. After years of planning, they opened Grandi & Rubinelli just 30 miles outside of Milan in 1992. Starting small, they never strayed from shirting fabrics. The reputation and quality of their product became well known amongst premium shirt makers in Italy and they began to supply some of the best luxury brands in the world. They've made a great effort not only to build an exceptional mill, but to instill collaborative and humanist values in their company. Their team of 35 people, including the daughters of Mr. Grandi and Mr. Rubinelli, keeps a tight-knit feel. Mr Rubinelli, almost gracious to a fault, makes it clear that every person's contributions, creativity, and sense of responsibility has been key to the mill's success.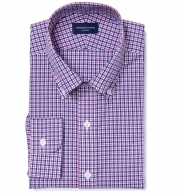 Grandi 120s Blue Check
Beautiful Colors
and Patterns
Style down to
the smallest details.
Commitment to quality and innovation lay the foundation for a successful mill, but Grandi & Rubinelli's taste level is what sets them apart. It all starts with the color of their threads. Their patterns draw from over 150 different thread colors, with beautifully descriptive names such as "Gelato di Melone," "Rosa Antico," and "Adriatico". With this palette, they're able to create some of the most tasteful, yet interesting stripes, checks, and plaids that we've seen. Their team includes four fabric designers, who are constantly working to develop new qualities and patterns for the upcoming seasons. Currently they're hard at work developing the styles for Fall/Winter 2016. They're experts in both casual and dress fabrics, but have particularly mastered the space between the two. The same space that we at Proper Cloth have a special affinity for. These checks, stripes, and grids require just the right scale and weight. To big and the fabric feels casual, too small and it becomes dressy.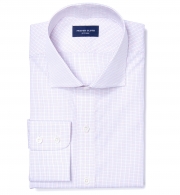 Grandi 120s Red Blue Tattersall
The Collection
Four 170's two-ply fabrics--the highest thread counts we've ever carried.
Incredibly smooth and lightweight.
Four 120's two-ply fabrics in refined checks and grids.
Two made with a super soft finish and two with a dressier, silky finish.