White Stretch Broadcloth
$125
Select Shirt Size
Collar
i
Don't worry about shrinkage — we'll account for that automatically based on fabric choice. You can fine-tune your collar size down to 0.1" or adjust any of the 16 other customizable size parameters when you create a custom size.
Sleeve
i
Sleeve length is measured from the center back to the edge of the shoulder and down to the end of the cuff. Fine-tune your sleeve length down to 0.1" or adjust any of the 16 other customizable size parameters when you create a custom size.
Fit
i
Slim Fit will be nicely fitted, yet comfortable. Super Slim Fit is for those that prefer a particularly trim fit and are not bothered by slight tightness or limited range of motion. Classic Fit is a more generous, roomy fit that won't hug the body closely.
Shirt Style Details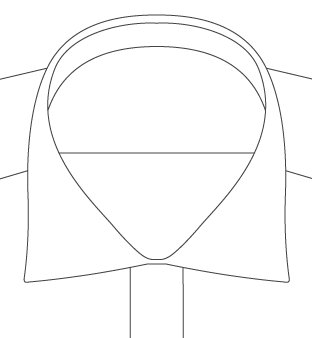 Roma Spread Collar
A tall spread collar with longer collar points made to tuck under jacket lapels.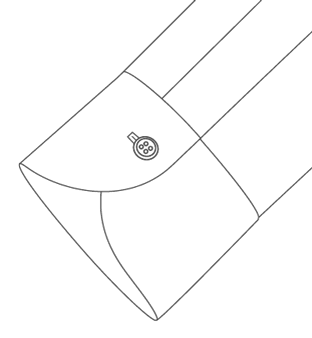 Long One Button Cuff
A slightly longer version of our one button barrel cuff. Fused. Great for for guys with longer arms.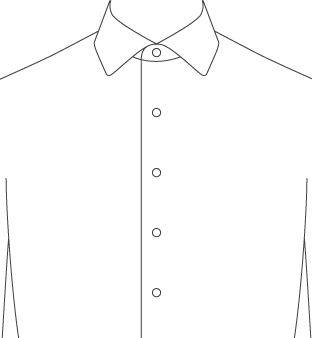 No Placket, No Pocket
The front of the shirt simply folds back on itself for a cleaner yet less structured look.
Buttons

Roma Buttons i

A beautiful off-white faux mother-of-pearl button. Made from a high quality plastic resin. Very durable.

Bottom Hem

Rounded i

A 2" curved front and back shirttail hem with reinforced side seam gussets.
Change any of these shirt details, add a monogram, chest pocket, and more by customizing this shirt.
Fabric Info
Fabric Description
An extra comfortable classic.
This classic white cotton broadcloth has a little bit of lycra woven into it to provide comfortable stretch in all the right places. The white shirt is one everyone needs in their closet, and this one is particularly great for guys who want a super slim fit or something a little more flexible than pure cotton.
Recommended Styling: Try it with our President Spread collar for a traditional and versatile look, or with our President Cutaway collar if you want to turn some heads.
Color & Pattern

Performance
4.67 / 5 Average rating
Recommended by 93%.
"Really comfortable white collared shirt. Start here."

ADAM in SAN MATEO, CA

"Light weight which is what I was looking for the summer"

Gene in Howell, NJ

"Great stretch. It will need ironed, but the wrinkles iron/steam out easily. It isn't a super luxurious fabric, but if you're looking for a performance fabric this one fits the bill."

Brint in Franklin, TN

"The fabric isn't quite as stretchy or as opaque as I thought it would be."

Christopher in Atlanta, GA

"Love it"

Brian in New York, NY

"soft, comfortable, lovely"

Michael in Valley Village, CA

"Great fit"

Brendan in Jersey City, NJ

"Nice fabric, sized correctly, but much too thin to be worn without an undershirt in a professional setting. Should not be rated "Fairly Opaque.""

Roman in RICHMOND, VA

""

BLAKE in Memphis, TN

"When paired with Marcella cuffs and collar (for a dinner shirt), it's the perfect material."

George in Taunton, Somerset

"Good fabric, not opaque"

Brian in New York, NY

"While the shirt does have some stretch to it, which is nice, the shirt wrinkles extremely easily--more so than I was expecting from a performance fabric. The shirt is also quite see through. While I don't hate it, I would not order this fabric again."

Spencer in Chicago, IL

"cool"

Ben in Brooklyn, NY

"Easily wrinkles, light weight, more of a formal fabric to be used with a tux"

Michael in Arlington, VA

"Nice fabric"

William in Mountain Lakes, NJ

"Excellent fit, quality and value."

Scott in San Diego, CA

"It's white and it stretches a little bit."

Bryan R. in Norcross, GA

"Good value for a perfectly tailored fit."

Phelyx in Foxfield, CO

"Classy"

nabin in Dix Hills, NY

"I have purchased two already and I love the fabric."

David in FARMINGTON HILLS, MI

"perfect fabric to complement a tuxedo"

patrick in West Hartford, CT

"Soft fabric, nice shade of white."

Anthony in Raleigh, NC

"Great stretch and, un like other stretch fabric shirts I have, it presses up perfect and looks good all day."

Gregory in San Clemente, CA

"This was my first order from PROPER CLOTH. The custom fit Tuxedo shirt arrived on time and fit perfectly. Looking forward to wearing it this week! The Stretch Broad Cloth material looks and feels luxurious!!"

Melvin in Whiteville, NC

"Feels high quality"

Preston in BOSTON, MA

"great feel. It Wrinkled a little more than expected"

Christopher in CHICAGO, IL

"Best fitting dress shirt I have ever used."

Robert in Hamden, CT

"Quickly became my favorite work shirt, would definitely recommend to anyone"

David in ATLANTA, GA

"Good value and great feeling fabric. Would definitely recommend it."

Michael in Philadelphia, PA

"Very comfortable"

Borje in New York, NY

"Comfortable, great white fabric."

Adriel in West Hollywood, CA

"Very strong shirt love the fabric drapes nicely."

Ashton in CINCINNATI, OH

"It was the same as the last shirt fabric, and was consistent when it arrived."

Erica in LAS VEGAS, NV

"wish stayed white , dry cleaners to blabe - great shirt"

Michael in Jamaica, NY

"Perfect for a suit."

Michael in Watersound, FL

"Very classy, almost retro but still eye-catchingly modern. It has some sheen, which I like, and is very soft to the touch."

William in Arlington, VA

"Good value"

Solomon in Rye New York, NY

"Fabric does not feel super high end but is trade off for elasticity."

Richard in New York, NY

"My expectations were met, I was confused as to what the feeling would be long term and overall matched my expectations."

Richie in Monrovia, CA

"smooth"

Martin in Englewood, NJ

"Nice stretch material. Keeps you cool as well."

Matthew in Charleston, SC

"Grest"

Mark in Warrenville, IL

"Perfect Fabric. It's a new stretch fabric I hadn't tried before, and I love it"

Eddie in Brenham, TX

"Solid performer"

Stephen in Toyohashi, Aichi

"The fabric is like the fabric on shirts that, in the high-end shops, would cost so much you don't buy them. But Proper Cloth puts you in those kinds of shirts, for a great value price point. And, a store bought shirt will never fit like a Proper Cloth one- never!"

Jay in HUNTINGTON BEACH, CA

"great material for tuxedo shirt. feels durable but not too heavy"

Devin in Atlanta, GA

"Great for traveling work shirt"

Richard in CHARLOTTE, NC

"This fabric is nice, but wrinkle easily."

Seng Tat in MONG KOK, KOWLOON

"Great simple white shirt for day to day work."

Jamie in New York, NY

"This is one of my go-to fabrics for everyday dress shirts."

Matthew in Hollywood, FL

"not very stretchy"

Steven in New York, NY

"oxfords are great quality"

Will in BOSTON, MA

"Solid fabric for white shirts, better for more casual occasions"

Andrew in MADISON, WI

"Great quality! Comfortable for a dress shirt. Looks sharp"

James in LAFAYETTE, LA

"Nice and lightweight"

Sanket in Long Island City, NY

"Great fabric, it was exactly what I was looking for. However, it didn't have as much "give" in the material as I was hoping for."

Brandon in HOUSTON, TX

"Phenomenal shirt all the way around."

Jordan in New York, NY

"Color was great, but it wrinkled vary easily and felt cheap. Great to wear but didn't look that good."

Kevin in Edmonton, Alberta

"This shirt is amazing in quality and fit. I wore it for my wedding and have used it for multiple formal events since!"

Colin in Washoe Valley, NV

"Staple of a good wardrobe"

W in Torrance, CA

"I work in a fairly conservative European office, and this is definitely a good choice - smart and crisp, and the right weight for office life. I also really like the extra movement from the stretch fabric."

Alex in London, London

"Nice summer weight dress shirt"

Bill in Santa Fe, NM

"Great shirt for work -- the bit of stretch makes it super comfortable."

Kevin in Washington, DC

"Great for the Value...sturdy and handles well multiple wears."

Shpend in Commack, NY

"Stretch makes this fabric very comfortable."

John in Andover, MA

"My favorite shirt fabric...order it over and over."

david in Charlotte, NC

"Love the stretch in this fabric, you're able to get a tailored fit, and still be able to move in it."

richard in Houston, TX

"GOOD"

Alex in Hoboken, NJ

"Excellent"

Ernie in Flemington, NJ

"Wear it too often, for some reason it fits better than shirts if the same measurement. A staple."

Michel in Hinsdale, IL

"The quality on this shirt is solid."

Sergio in San Diego, CA

"Great sheen to fabric"

Bill in Napa, CA

"I love this fabric. Perfect for a formal shirt."

Walter in BALTIMORE, MD

"The fabric feels well constructed and is comfortable in warm and cool wear."

Joe in DAYTON, OH

"The best looking tuxedo shirt I could find!"

Brian in Falls Church, VA

"Good"

darius in London, England

"solid go to shirt"

Michael in Boise, ID

"Great"

john in CLARKSTON, MI

"This was a little more opaque than I thought it would be. However, it will be perfect for DC summer. ProTip: don't go with the soft button-down collar on these lightweight shirts. It will feel like it's lacking structure."

Troy in WASHINGTON, DC

"Fabric is slightly more transparent than I expected, but appallingly lightweight and flexible. Though I haven't worn the shirt yet, coming out of the box it looks like the fabric will prove a little more wrinkly than a sturdier weave."

George in DELRAY BEACH, FL

"some of the button stitches had string still hanging, I cut them off. Not a huge deal."

Jamie in WILMINGTON, DE

"Fabric is awesome! Super light, but not see through! Great shirt for spring/summer/fall in the Northeast!"

Robert in Hoboken, NJ

"very nice fabric. good for dress shirt"

Chris in Novelty, OH

"Works well for a tuxedo shirt."

Justin in ASTORIA, NY

"Great standard white shirt fabric. Soft and comfortable. This is a good candidate to be my go-to white shirt."

Darren in Mamaroneck, NY

"Nice smooth fabric, works well with the pique."

Allan in HUNTINGTON, WV

"Performed as expected."

Finn in BOSTON, MA

"rather wrinkly. but very soft and not sheer."

dominik in Coral Springs, FL

"always make sure your shirts have some stretch !"

jackson in Greenville, SC

"Very thin, which was perfect for under the tux!"

Mike in Brooklyn, NY

"A little too light, both warmth and opacity-wise."

Andrew in Englewood, CO

"Great overall white shirt"

Sam in BROOKLYN, NY

"Just enough stretch for a slim and comfortable fit"

Timothy in Houston, TX

"Good overall broadcloth. Light/medium weight, not too opaque."

Chad in COLUMBIA, SC

"Thin and breathable."

Patrick in CHICAGO, IL

"Beautiful. I wore it last night to a wedding. The bib is superb. It ironed up nicely and looked sharp all night."

Michael in AUSTIN, TX

"Love this fabric. Very soft with a great stretch. The fabric will lay close to the skin. It isn't "fitted," but, it will lay close like a soft knit shirt. This is perfect for under a coat. Stand alone, if you have any "flaws" under your shirt, they will show."

Joel in Franklin, WI

"Awesome shirt. Best tuxedo shirt I have ever owned."

Enrico in Seattle, WA

"Has a nice, effortless look given it's not non-iron (therefore wrinkles a bit) but it still fits extremely well and has a great finish"

Theodore in BROOKLYN, NY

"Very Nice"

Casey in Atlanta, GA
FAQs
How do I get started?

First, welcome to Proper Cloth. We specialize in custom dress shirts, suits, jackets and pants.

The first step would be to create a size using our Smart Size Quiz. We'll use your answers and data from thousands of satisfied customers to generate custom dress shirt sizes in your account.

To order, you can browse our gallery of curated, pre-styled options and purchase them, made to order in your custom size (and style, just click 'Customize' to modify).

Or

You can use our Design-A-Shirt tool to create a custom designed shirt from scratch, selecting the fabric and all style details (collar, pocket, buttons, etc), before applying your custom size! We highly recommend only getting one shirt to start so we can lock down the Perfect Fit (Guaranteed!).
How long does it take to have a custom shirt made?

Standard finish, casual wash, and non-iron shirts generally take 12 to 14 days to produce and deliver. In all cases, the promised delivery date range at checkout should be accurate (if not slightly conservative). Click here to see our typical delivery times based on product.

Orders including shirts with any style of Mother of Pearl buttons must undergo special Fish and Wildlife inspections that may cause delays. For this reason, the expected delivery date range will be extended by an additional 14 days.
Can I change the collar or cuff style? Can I add a pocket? Short sleeves? etc.

As a made-to-measure shirtmaker, we offer a wide variety of style features. Proper Cloth shirts can be styled with any of our 30+ different collar styles, 12 different cuff styles, and one of our 9 different pocket options can absolutely be added.

Just click the 'Customize' button next to any of our pre-designed, photographed shirts to edit the design however you wish!

Short Sleeve shirts can be ordered by specifying as such under the Cuff/Sleeve section of the Design-A-Shirt tool.
Do you offer rush delivery?

Rush delivery is not available for custom made products. With ready-to-wear and stocked products, we have a little more flexibility.
Still have a question? Get in touch
Ready to create your custom shirt size?
Answer 10 easy questions about your body and fit preference to create a custom size.
Our Perfect Fit Guarantee
If you're not entirely happy with the fit of your custom shirt (or anything else about the shirt) you can return it to us for a complimentary remake in a new size or style. We excel at making remakes quick and hassle-free. If remaking the shirt doesn't suit you, you can also return the shirt for a full refund.