White Heavy Oxford
$85
Select Shirt Size
Collar
i
Don't worry about shrinkage — we'll account for that automatically based on fabric choice. You can fine-tune your collar size down to 0.1" or adjust any of the 16 other customizable size parameters when you create a custom size.
Sleeve
i
Sleeve length is measured from the center back to the edge of the shoulder and down to the end of the cuff. Fine-tune your sleeve length down to 0.1" or adjust any of the 16 other customizable size parameters when you create a custom size.
Fit
i
Slim Fit will be nicely fitted, yet comfortable. Super Slim Fit is for those that prefer a particularly trim fit and are not bothered by slight tightness or limited range of motion. Classic Fit is a more generous, roomy fit that won't hug the body closely.
Shirt Style Details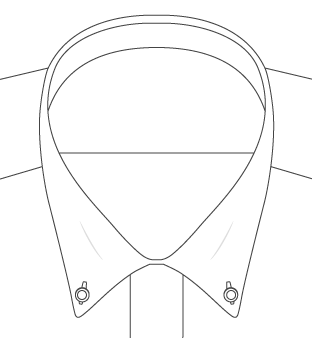 Soft Ivy Button Down Collar
Collar roll. And plenty of it. This decidedly casual collar style is more expressive than most modern button down collars.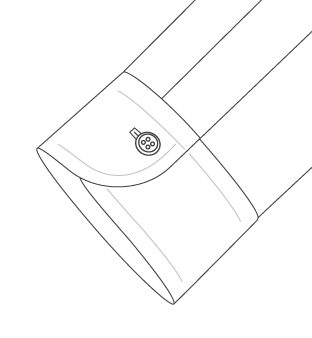 Soft One Button Cuff
The same shape as our one button barrel, but without the stiff fusing. Soft, comfortable, and a good match for casual shirts.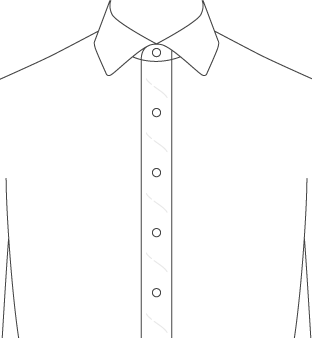 Soft Front Placket, No Pocket
Great for casual shirts. A soft, unfused front placket makes for a relaxed look.
Buttons

Standard Buttons i

Our standard button. Made from high quality plastic resin. Very durable.

Bottom Hem

Rounded i

A 2" curved front and back shirttail hem with reinforced side seam gussets.
Change any of these shirt details, add a monogram, chest pocket, and more by customizing this shirt.
Fabric Info
Fabric Description
Every man should own an oxford shirt. Comfortable, hard-wearing, and incredibly versatile, oxfords are an absolute wardrobe staple.
Our heavy oxfords have just the right amount of heft to them—they're woven with a 40/1 x 21/2 construction for a fabric that feels substantial, but not overly thick. They're also highly resilient, meaning they'll last for years and only get better the more they're washed and worn. You can dress an oxford up under a sport coat or dress it down with your favorite pair of jeans. It's one of the few fabrics that can just as easily be worn with a tie as it can be worn rumpled and untucked. Our white heavy oxford is as timeless and easy to wear as it gets.
Recommended Styling: Try it with our Soft Ivy Button Down Collar, Soft Front Placket, and a Soft One-Button Cuff for a classic oxford cloth button down (OCBD), or go with one of our soft spread collars for more of a sprezzy Italian vibe.
Fabric Details
Suggested Style

Casual

Weave

Oxford Clothi

Composition

100% Cotton

Thread Count

40s 2-plyi

Weight

Heavyweighti


Opacity Rating

4 / 5 · Very Opaque i

Wrinkle Resistance

3 / 5 · Slightly Wrinkle-Resistanti

Fabric ID

PCF485 →

Shrinkage

Please note that this fabric comes with an extra shrinkage allowance of 1% in the sleeve length and collar around. We suggest you wash and press this shirt for optimal size consistency with all of our other fabrics.
Color & Pattern

Performance
4.68 / 5 Average rating
Recommended by 94%.
"Not what's I was expecting"

Luis Enrique in Calexico, CA

"Need more time to use before I could recommend or rate performance"

Donald in Wayland, MA

"It is a heavier material and I like that for a white shirt."

Chris in SCOTTSDALE, AZ

"Very good quality, second shirt I've had made from this fabric"

Philip in Newbridge, Kildare

"Okay fabric, a little rough on the first few wears."

Collin in BOCA RATON, FL

"Heavy, yet comfortable. Radiates quality."

Ashley in Madison, WI

"fabric is perfect with a sport coat and a semi casual event"

James in Henrico, VA

"You can tell it break in well. Looks sharp."

Scott in New Canaan, CT

"Fine Oxford."

Hugh in Weston, MA

"The fabric was nice and soft."

Craig in E Falmouth, MA

"Very crisp!"

Nils in Duesseldorf,

"Classic Oxford cloth. Nice weight."

Kurt H. in CHARLESTON, SC

"My go to office shirt now. Looks good, feels great."

Lucus in Estevan, Saskatchewan

"Pretty straightforward classic with a good weight to it. Can't really go wrong with this."

Michael in Brooklyn, NY

"Exactly what I wanted it to be."

Bobby in MONTGOMERY, AL

"Nice heaver fabric. Good cool weather addition."

Elliott in Addison, TX

"i love the blue and white oxfords."

Gregory in New York, NY

"Good thickness. Very durable material."

Alexander in Regina, Saskatchewan

"Weight"

Alan in Woodstock, IL

"Love the fabric and the fit is perfect!"

Clarence in LITTLE ROCK, AR

"Definitely made to last. This fabric is quality."

Vincent in Quebec, Quebec

"feels very good, thick weave but holds shape well and fits as expected. Waiting to watch durability"

john in WALLINGFORD, Oxon

"Fabric is perfect!"

Jeremy in Washington, DC

"This is a great fabric, if like me, you prefer a heavy thick cotton! Doesn't cling to the body in any weather."

Donald in Toronto, Ontario

"This shirt and material is what led me to Proper Cloth. I had been searching out a perfect mens white long sleeve oxford and I found it with this order! After getting my sizing just right, this white oxford is perfect. I ordered with the Colorado button down collar and could not be happier. I see more PC oxfords in… my future."

Thomas in ST LOUIS, MO

"Good heavier weight white oxford."

Henry in Chicago, IL

"I enjoy the heavy oxford from PC, as they are soft and only get softer after every wash. Really easy to iron, and a good price point."

Robert in Regina, Saskatchewan

"Quality, heavy duty oxford. Great choice from Fall to Spring"

Thomas in WASHINGTON, DC

"It's fairly bright white, but I loved how it turned out. Heavy, durable fabric."

Konrad in DALLAS, TX

"great fabric"

Brian in Wilmington, DE

"Very substantial material."

eric in CULVER CITY, CA

"Great shirt. Perfectly casual, just what I was looking for"

John in Latham, NY

"Nice heavyweight oxford cloth, great for spring or fall. Definitely too heavy for summer."

Nathan in SAN DIEGO, CA

"I wish it was slightly more opaque and slightly less "rough." Overall, good, though."

John in Costa Mesa, CA

"At first I was a little concerned that the fabric was slightly too thick, but I really enjoyed how it got slightly softer and more flexible as I laundered and wore it. Really very classic fabric for an old school prep school classic. Couldn't recommend enough."

Grant in Shaker Heights, OH

"Not near Oxford material but not bad for price."

John in New York, NY

"Fabric wrinkles very easily, but that was expected. Shrunk a fair amount after first wash. Fabric is solid without being overly heavy."

John in Boston, MA

"Fabric is as I had hoped, heavy cotton Oxford"

Jim in Bexley, OH

"Great classic Oxford cloth, makes a great OCBD."

Benjamin in Snohomish, WA

"As expected and described - this is a quality heavy weight oxford."

Craig in CHICAGO, IL

"Only wore it once but the White Heavy Oxford checked all the boxes!"

Pablo in New York, NY

"Love the heavy oxfords"

Josh in Alphington, Victoria

"Very thick fabric, which is exactly what I was looking for."

Basel in Short Hills, NJ

"Great shirt. Durable."

Sha in OVERLAND PARK, KS

"Classic white Oxford."

Liam in LONDON,

"Perfect fabric for everyday, hard-working oxfords."

Kirk in Chapel Hill, NC

"Good quality. Looks great and feels great."

Wendee in GREENWOOD, IN

"As classic as it gets. Great for business casual environments, under a sweater, or on its own with jeans. This shirt can do it all."

Ben in CHICAGO, IL

"Perfect for more semi formal meetings"

Ian in Portland, OR

"This fabric makes a great oxford button down. I'm really happy with how it came out, it looks much better than any off the rack store bought shirt I've had."

Adam in Sands Point, NY

"Heavy oxford"

Stephen in New York, NY

"Fabric is very good, heavy but drapes well and will soften with time."

Tom in Ridgewood, NJ

"Great fabric, sturdy and long lasting"

Joe in KELOWNA, British Columbia

"Classic white fabric. My closet is filled with these."

Justin in Brooklyn, NY

"Great oxford cloth shirt"

Lance in Medina, NY

"Heavy enough to keep you warm. Flexible enough to move around. Worn by itself or layered in colder months, you cannot go wrong. Thanks PC!"

William in MINNEAPOLIS, MN

"Great, as were the oxford shirts I previously purchased from you."

Michael in Orlando, FL

"I want the fabric to WRINKLE. After one washing there was shrinkage, but it was minimal. Next time I will order ½ size larger."

Lawrence in STAMFORD, CT

"A great every day, tough wearing, workhorse type of fabric. When looking for a basic white, smart casual shirt for performance, this would definitely be the go to choice. Hard wearing, durable."

Petros in Nicosia, Nicosia

"Please have someone contact me to get the issue issued resolved."

Scott in HILTON HEAD ISLAND, SC

"Fabric and cut is excellent"

James in Myrtle Beach, SC

"Perfect Harvey Oxford cloth"

Matt in FISHERS, IN

"Great value"

Howard in Mansfield, TX

"Excellent quality OCBD. Definitely worthy of buying more."

NORMAN in CHARLOTTE, NC

"Very thick. Nice heavy oxford."

Zac in STERLING, VA

"Nice shirt for the price but I would rather pay more to get the American Pima Oxford."

Jesse in Cambridge, MA

"This is your standard heavy white Oxford cloth. Nothing fancy, but always reliable. Great for the ever necessary white business shirt."

Warren in MINNEAPOLIS, MN

"Medium quality Oxford cloth, easily wrinkles."

Patrick in ST PAUL, MN

"Fabric was much lighter weight than I expected, description was a heavy Oxford cloth. Definitely not a heavy Oxford weave"

Robert in Whiting, NJ

"Good clean lines and a perfect fit. Can't ask for anything more from a classic white dress shirt."

MATTHEW in Los Angeles, CA

"Can't have too many whites"

Doron in New York, NY

"Very soft and comfortable"

Christopher in Morgan, UT

"A little too heavy for my tastes, but still a quality fabric."

Chuck in New York, NY

"Nice Fabric. Warm and looks smart."

Jason in ESSENDON, VIC

"Wish it was a little more wrinkle resistant for its weight."

Joshua in LOS ANGELES, CA

"Classic oxford cloth"

Manu in South Pasadena, CA

"I thought the fabric was a great weight. I was worried it would be too thin, but I was very pleased."

Lionel in Hernando, MS

"I like how thick the material is. It feels very durable and yet classy."

Thomas in Big Bear Lake, CA

"Love it!"

Tim in Suisun City, CA

"Nice and very durable"

Kelly in Jersey City, NJ

"A very white fabric, heavy, rough, almost like canvas. I wanted a tougher shirt for riding but the western snaps don't match in color and one of them comes undone. I love my PC shirts but not this particular one."

Andrew in Frenchtown, NJ

"Nice. Crisp and heavy."

Patrick in Richland, WA

"A very nice Oxford fabric - thick and sturdy. Not as soft as the pima versions and a bit stiffer, but I suspect it'll soften with wear. Shrank a bit more than standard shrinkage allowance."

Brian in FRESNO, CA

"Classic Heavy Oxford, awesome for OCBD -has aged really well"

Cody in Dallas, TX

"Fabulous weight, Wears rough and tumble -- indestructable."

Mark in Delray Beach, FL

"Workhorse fabric that makes a perfect utility office shirt, a steal at this price."

Robert in New York, NY

"I have been looking for a particular shirt and I finally found it with Proper Cloth"

Mark Nathan in CHICAGO, IL

"Love the fabric and fit - would love it to be wrinkle free"

David in Saratoga Springs, NY

"good shirt"

Stephen in Camberwell, Victoria

"Can't go wrong"

Andrew in NAPLES, FL

"Excellent daily wear to the office our even for casual outings."

Constantino in Prunedale, CA

"Fabric is quite heavy"

stephen in Fort Collins, CO

"It had a pattern of sorts which I did not see on the website."

Thomas in Corinth, MS

"great work shirt"

Sam in LITTLE ROCK, AR

"exactly as advertised. heavy but not too heavy. creases a bit more for an oxford but not bad."

Julian in Brooklyn, NY

"A little stiff but I'm sure it will break in nicely. Very impressed so far."

Cody in El Reno, OK

"Solid typical Oxford in a nice, crisp white"

Keegan in SACRAMENTO, CA

"Love the non-iron fabric, very low maintenance"

Vinay in London, County

"Maybe the very best heavy weight button down fabric on the market. Slightly pricy but absolutely first rate."

Samuel Casey in Chevy Chase, MD

"It's okay. It wrinkles very easily."

Gabe in CHICAGO, IL
FAQs
How do I get started?

First, welcome to Proper Cloth. We specialize in custom dress shirts, suits, jackets and pants.

The first step would be to create a size using our Smart Size Quiz. We'll use your answers and data from thousands of satisfied customers to generate custom dress shirt sizes in your account.

To order, you can browse our gallery of curated, pre-styled options and purchase them, made to order in your custom size (and style, just click 'Customize' to modify).

Or

You can use our Design-A-Shirt tool to create a custom designed shirt from scratch, selecting the fabric and all style details (collar, pocket, buttons, etc), before applying your custom size! We highly recommend only getting one shirt to start so we can lock down the Perfect Fit (Guaranteed!).
How long does it take to have a custom shirt made?

Standard finish, casual wash, and non-iron shirts generally take 12 to 14 days to produce and deliver. In all cases, the promised delivery date range at checkout should be accurate (if not slightly conservative). Click here to see our typical delivery times based on product.

Orders including shirts with any style of Mother of Pearl buttons must undergo special Fish and Wildlife inspections that may cause delays. For this reason, the expected delivery date range will be extended by an additional 14 days.
Can I change the collar or cuff style? Can I add a pocket? Short sleeves? etc.

As a made-to-measure shirtmaker, we offer a wide variety of style features. Proper Cloth shirts can be styled with any of our 30+ different collar styles, 12 different cuff styles, and one of our 9 different pocket options can absolutely be added.

Just click the 'Customize' button next to any of our pre-designed, photographed shirts to edit the design however you wish!

Short Sleeve shirts can be ordered by specifying as such under the Cuff/Sleeve section of the Design-A-Shirt tool.
Do you make shirts that can be worn untucked?
How do I order a short sleeve shirt?
Do you offer rush delivery?

Rush delivery is not available for custom made products. With ready-to-wear and stocked products, we have a little more flexibility.
Still have a question? Get in touch or start a chat
Ready to create your custom shirt size?
Answer 10 easy questions about your body and fit preference to create a custom size.
Our Perfect Fit Guarantee
If you're not entirely happy with the fit of your custom shirt (or anything else about the shirt) you can return it to us for a complimentary remake in a new size or style. We excel at making remakes quick and hassle-free. If remaking the shirt doesn't suit you, you can also return the shirt for a full refund.