Vail Navy and Grey Gingham Lightweight Flannel
$95
Select Shirt Size
Collar
i
Don't worry about shrinkage — we'll account for that automatically based on fabric choice. You can fine-tune your collar size down to 0.1" or adjust any of the 16 other customizable size parameters when you create a custom size.
Sleeve
i
Sleeve length is measured from the center back to the edge of the shoulder and down to the end of the cuff. Fine-tune your sleeve length down to 0.1" or adjust any of the 16 other customizable size parameters when you create a custom size.
Fit
i
Slim Fit will be nicely fitted, yet comfortable. Super Slim Fit is for those that prefer a particularly trim fit and are not bothered by slight tightness or limited range of motion. Classic Fit is a more generous, roomy fit that won't hug the body closely.
Shirt Style Details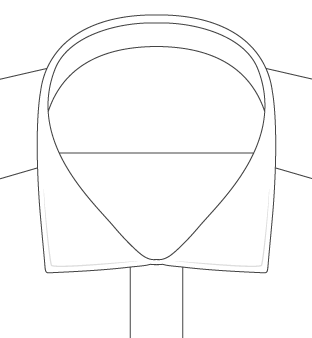 Soft President Spread Collar
Our new and improved version of our popular soft president spread collar. If you are looking for an off-duty collar, but button-down collars aren't your thing, this is going to be a great option.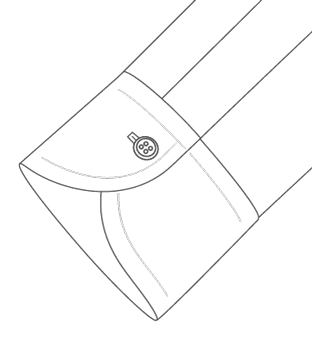 Soft Long One Button Cuff
The same shape as our long one button barrel, but without the stiff fusing. Soft, comfortable, and a good match for casual style shirts.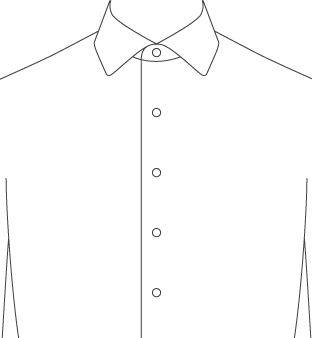 No Placket, No Pocket
The front of the shirt simply folds back on itself for a cleaner yet less structured look.
Buttons

Slate Horn Buttons i

Unique slate blue button that pairs well with dark, casual fabrics. Made from a durable faux-horn.

Bottom Hem

Rounded i

A 2" curved front and back shirttail hem with reinforced side seam gussets.
Change any of these shirt details, add a monogram, chest pocket, and more by customizing this shirt.
Fabric Info
Fabric Description
A plaid flannel we specially developed with a beautiful slate blue color palette and lighter weight. The light weight allows it to be worn throughout winter into early spring, while the subtle plaid pattern works well on its own and can underneath a sweater or jacket. The slate blue base color is somewhere in between navy and grey, setting a versatile ground for the light blue and white overchecks to pop against. It's the sort of eye-catching pattern that's remarkably easy to wear. It's made using subtle melange yarns to give the colors extra depth--making it more and more interesting the closer you get. Woven with a 30/1 x 30/1 brushed plainweave construction that's a perfect texture for the colder months. You'll want to design this one with more casual details like a Soft President Spread or Soft Franklin collar, soft placket, and soft cuff.
Color & Pattern

Performance
4.83 / 5 Average rating
Recommended by 98%.
"love it"

Bryan in Westlake, TX

"Very soft and comfortable"

Joshua in Omaha, NE

"Excellent, soft and lightweight flannel. Highly recommend."

Chris in Kenilworth, IL

"I love the Gingham pattern in general and the Vail Navy and Grey Gingham Lightweight Flannel looks absolutely great. As described by Proper Cloth, this is a lightweight flannel which sounds like an oxymoron but isn't. I would not wear this shirt during Summer months but it's fantastic for Spring and Fall, particula…rly on days when the temperature is between 60o F and 70oF."

Christian in Bentonville, AR

"Very comfortable weight for Fall and early Spring. More informal than most my shirts- perfect to lounge around in."

Brian in CHATTANOOGA, TN

"Really soft fabric I hope it holds up after a few washes."

Jordan in Miami Beach, FL

"Amazing shirt"

Ryan in River Edge, NJ

"Great feeling soft fabric."

Paul in Calgary, AB

"Very soft, great color and fits perfectly."

Benoit in CHANTRAINE, VOSGES

"Very soft fabric"

John in Munich,

"Soft and warm without being thick. Very versatile shirt."

Mark in Brooklyn, NY

"This is a nice looking and feeling fabric. The only complaint I have is the collar I chose did not give it any structure and therefore it opens up and falls down."

Bret in DENVER, CO

"Love the shirt, very suitable for dress or casual wear."

Brent in Fort Worth, TX

"Nice colors and pattern, fits well and is comfortable."

Chris in Dayton, OH

"Great shirt, one of my favorites."

Homer in NEW BERN, NC

"Lightweight flannel is great"

Andrew in Barrington, RI

"Great pattern and material. Shrunk a little"

matthew in New York, NY

"Even though this is a flannel material, it is exceptionally lightweight and can be worn year-round. The lightness of the fabric, though, doesn't dminish it's quality. It is silky and warm when it needs to be, but it breathes and doesn't smother you on days that are warmer. It is actually a bit darker than in the …photographs, but it still has a very good distinction between the blue and the gray. I chose to wear this with a medium gray wool/silk sportcoat and jeans, but it could just as easily be worn with a heavier sportcoat - say flannel or cashemere. It provides a small touch of luxury in a casual outfit!"

Gregory in Sumter, SC

"Great shirt, but flannel draws up when laundered. Be sure to hang dry!"

Robert in Mountain Brook, AL

"Great Look and feel for a light flannel shirt."

Jerry in Virginia Beach, VA

"Wearing it right now. One of my more comfortable fall/winter shirts."

Kholton in Wichita, KS

"Soft and eminently wearable"

Mark in Short Hills, NJ

"Great Fabric"

Robert in CHARLOTTE, NC

↓

Rating Breakdown

Color & Pattern

Performance

No, would not recommend

"Great style. Not as thick and warm as I anticipated, which may be suitable if you're interested in a lighter weight shirt."

David in Warren, NJ

"The fabric is a little thinner than I thought it would be, but it looks great!"

carter in Pacific Palisades, CA

"This is a versatile fabric that looks mostly charcoal and black from a distance, but shows the navy up close. It has a lightly brushed texture and is soft. I wish the weight was heavier for the winter, but that is minor since it can be worn under a sweater. I am very pleased overall with this fabric and design."

Robert in Philadelphia, PA

"Great fall fabric. Light but cozy. Looks great with button down collar and brown horn buttons."

Michael in Sonoma, CA

"Warm yet light fabric."

Darrell in Missouri City, TX

"Very soft and lightweight flannel fabric."

Robert in Boalsburg, PA

"It's a cozy flannel that dresses up well."

Levi in Winnipeg, Manitoba

"Great versatile color and 3/4 season weight for New Jersey area. Good price and value."

Aaron in E Windsor, NJ

"The fabric is comfortable. The shirt fits really well."

Roland in Los Angeles, CA

"Classic, not too heavy, so great for all seasons and layering"

Jake in Brooklyn, NY

"Lovely weight and softness. Wearing it right now!"

John in BREMERTON, WA

"It's soft like other flannels, but much lighter in weight. If you run hot, give this fabric a try. The blue-grey check goes with everything."

Stanford in Ridgewood, NJ

"The fabric is soft and very comfortable -- and lighter than I expected, which is really great!"

Subodhana in Nakano-ku, Tokyo

"Lightweight and sharp-looking flannel."

Marcello in Menlo Park, CA

"Feels great and my wife loves it."

Steven in Hoboken, NJ

"The flannel has an excellent hand and the pattern complements Levi's and a blazer. Perfect for fall in the city or country."

Thomas in NEW YORK, NY

"Very soft and comfortable. Have received many compliments on the shirt."

Jack in MURFREESBORO, TN

"A litttle darker than I thought, but a great fabric."

Gregory in Oromocto, NB

"Great colors. Accurate to description."

Gage in Deephaven, MN

"Very breathable fabric that's a good mid point in cooler months."

Devin in San Diego, CA

"lightweight, comfortable, soft and warm."

James in Alamo, CA

"nice soft flannel. Good value"

Ryan in Wilder, ID

"Good looking lightweight flannel option."

Ryan in Park City, UT

"I've been very pleased with this shirt. The fabric and comfort are excellent."

James in Gig Harbor, WA

"Originally got this as a winter mix-up shirt, but it quickly found its way into my weekly rotation."

Evan in Canby, OR

"Amazing shirt. Very soft and comfortable. The fabric is lighter than other flannels, but it means that I can wear it for longer each year. I would definitely but again."

Nick in NASHVILLE, TN

"beautiful for layering"

michael in Ojai, CA

"ok Fabric"

Sahil in Brampton, ON

"This is a great fabric and pattern. I ordered it more like the size of a fitted dress shirt and should have ordered it a little more relaxed fit."

Mark in Ridgeland, MS

"Amazing to be able to get a custom flannel shirt!"

Max in DENVER, CO

"Perfect elegantly casual flannel"

Mike in Beverly Hills, MI

"Ok shirt. Not my favorite"

Chad in Cumming, GA

"This is a very fine fabric, much lighter than most flannels, and I like that. It has kept its size well and is really the best shirt I've purchased from Proper Cloth."

Ernest in Middletown, VA

"Great color, good value, warm"

Kevin in brooklyn, NY

"This is the perfect weight flannel shirt"

Brendan in Calgary, Alberta

"Awesome this really worked during the holiday season."

Justin in Bushwick, NY

"very soft"

Alex in PHILADELPHIA, PA

"Very warm shirt!"

Robert in Brampton, Ontario

"This is a quality fabric. The flannel is not too thick."

Ekwan in Los Angeles, CA

"Great fabric still holding up really well"

Andrew in Grosse Pointe Shores, MI

"Comfy flannel"

Ed in Atlanta, GA

"This is a light weight flannel which is great for fall."

Jay in Fenton, MI

"Darker than I expected, but nice for dark jeans"

Tom in Prior Lake, MN

"fav shirt"

Lachlan in Solana Beach, CA

"Amazing"

Jordan in COLUMBUS, OH

"I like the muted dark tones, and just enough weight for winter office comfort"

Jim in New Hope, PA

"This is a great flannel for Fall and early Winter. Getting it made more like a dress shirt than a casual one really elevates it so you can wear it in professional settings, with a blazer, etc. without looking like a lumberjack or college professor. Highly recommend hanging it to dry as even with standard shrinkage al…lowances I think it tightened up a bit."

Chris in ALEXANDRIA, VA

"Extremely soft, but definitely a colder-weather shirt."

Brian in NORTH WALTHAM, MA

"Very comfortable and soft fabric"

Matthew in Keene, NH

"Beautiful light flannel .. perfect for me"

Gary in Montauk, NY

"Amazingly soft and comfortable, definitely one of my favorite fabrics from here!"

John in Redmond, WA

"I love this weight of flannel so much I've ordered 4"

Jason in Jordan, NY

"Very nice, probably a little darker than expected"

Daniel in Turramurra, NSW

"Lightweight, perfect in winter months."

Stephen in Houston, TX

"Love this flannel. Amazing for a slightly sophisticated but casual winter look."

Blair in Chappaqua, NY

"Love the weight of this flannel nice and light for evening when its not hot or cold."

Doug in Vancouver, BC

"A lighter weight flannel allowing you to wear this shirt beyond the winter months. I appreciate the extended seasonality of this shirt. The colors are quite subdued, a little flatter than i expected, so be aware of that. A quality shirt nonetheless."

John in PITTSBURGH, PA

"Love it"

J in Flagstaff, AZ

"Nice and comfortable to the feel. Great for the fall and winter. Not at all heavy or stiff; just the right weight and density."

Matthew in Washington, DC

"Great. Exactly what I'd hoped."

Michael in Brooklyn, NY

"One of my favorite shirts - soft and incredibly comfortable to wear. Versatile look that can be worn with jeans or dressed up with a solid navy or grey wool tie."

Daniel in Fairfield, CT

"Perfect for fall and winter"

Thomas in Clifton, NJ

"soft and warm"

Steve in Atherton, CA

"Extremely soft, yet light flannel fabric. Great pattern that will go with most everything."

Matthew in Daleville, VA

"Great lightweight flannel. Wears very nice."

Bill in Dallas, TX

"Incredibly soft and light. Very happy!"

Mike in Larkspur, CA

"great flannel shirt"

Wes in lakewood, WA

"Super comfortable fabric. Washes extremely well."

Justin in Houghton, WA

"Absolutely fantastic, relatively light fabric with great pattern. Really enjoying this one!"

Gerzson in Brussels, Brussels Hoofdstedelijk Gewest

"Great looking and comfortable fabric"

Rob in New York, NY

"Comfortable fabric, holding up after several washes."

Peter in SAN FRANCISCO, CA

"This in a thin flannel fabric that is great for warmth when layered, but not too warm when worn on its own."

Matthew in Mid City East, PA

"The fabric is beautiful and it's light weight is perfect for Arizona winters."

Terry in GILBERT, AZ

"great fabric. very comfortable"

Michael in Katy, TX

"Much softer then expected. Awesome fabric"

Christopher in SAN DIEGO, CA

"lightweight flannel provides warmth and all day comfort"

Mehyar in Mississauga, ON

"Very soft casual shirt fabric. Great looking and super comfortable."

Ron in KNOXVILLE, TN
FAQs
How do I get started?

First, welcome to Proper Cloth. We specialize in custom dress shirts, suits, jackets and pants.

The first step would be to create a size using our Smart Size Quiz. We'll use your answers and data from thousands of satisfied customers to generate custom dress shirt sizes in your account.

To order, you can browse our gallery of curated, pre-styled options and purchase them, made to order in your custom size (and style, just click 'Customize' to modify).

Or

You can use our Design-A-Shirt tool to create a custom designed shirt from scratch, selecting the fabric and all style details (collar, pocket, buttons, etc), before applying your custom size! We highly recommend only getting one shirt to start so we can lock down the Perfect Fit (Guaranteed!).
How long does it take to have a custom shirt made?

Standard finish, casual wash, and non-iron shirts generally take 12 to 14 days to produce and deliver. In all cases, the promised delivery date range at checkout should be accurate (if not slightly conservative). Click here to see our typical delivery times based on product.

Orders including shirts with any style of Mother of Pearl buttons must undergo special Fish and Wildlife inspections that may cause delays. For this reason, the expected delivery date range will be extended by an additional 14 days.
Can I change the collar or cuff style? Can I add a pocket? Short sleeves? etc.

As a made-to-measure shirtmaker, we offer a wide variety of style features. Proper Cloth shirts can be styled with any of our 30+ different collar styles, 12 different cuff styles, and one of our 9 different pocket options can absolutely be added.

Just click the 'Customize' button next to any of our pre-designed, photographed shirts to edit the design however you wish!

Short Sleeve shirts can be ordered by specifying as such under the Cuff/Sleeve section of the Design-A-Shirt tool.
Do you make shirts that can be worn untucked?
How do I order a short sleeve shirt?
Do you offer rush delivery?

Rush delivery is not available for custom made products. With ready-to-wear and stocked products, we have a little more flexibility.
Still have a question? Get in touch or start a chat
Ready to create your custom shirt size?
Answer 10 easy questions about your body and fit preference to create a custom size.
Our Perfect Fit Guarantee
If you're not entirely happy with the fit of your custom shirt (or anything else about the shirt) you can return it to us for a complimentary remake in a new size or style. We excel at making remakes quick and hassle-free. If remaking the shirt doesn't suit you, you can also return the shirt for a full refund.