Thomas Mason Blue Stripe
$185
Select Shirt Size
Collar
i
Don't worry about shrinkage — we'll account for that automatically based on fabric choice. You can fine-tune your collar size down to 0.1" or adjust any of the 16 other customizable size parameters when you create a custom size.
Sleeve
i
Sleeve length is measured from the center back to the edge of the shoulder and down to the end of the cuff. Fine-tune your sleeve length down to 0.1" or adjust any of the 16 other customizable size parameters when you create a custom size.
Fit
i
Slim Fit will be nicely fitted, yet comfortable. Super Slim Fit is for those that prefer a particularly trim fit and are not bothered by slight tightness or limited range of motion. Classic Fit is a more generous, roomy fit that won't hug the body closely.
Shirt Style Details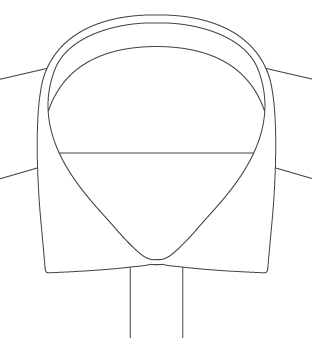 President Spread Collar
Our new and improved version of our most popular collar. We designed this to be a truly premium modern spread collar with timeless proportions.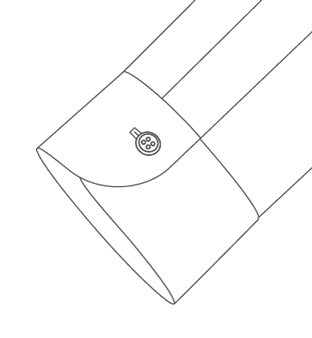 One Button Barrel Cuff
Our standard, rounded dress shirt cuff. Understated and classic. You can't go wrong with this choice.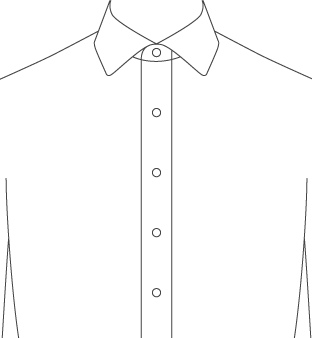 Front Placket, No Pocket
A slightly stiff, fused interlining runs down the front of the shirt behind the buttons for a crisp and structured look.
Buttons

Mother of Pearl Buttons i

A classic detail favored by high-quality shirt makers. Made from the inner layer of pearl oysters, they feature more depth of color than our plastic buttons.

Bottom Hem

Rounded i

A 2" curved front and back shirttail hem with reinforced side seam gussets.
Change any of these shirt details, add a monogram, chest pocket, and more by customizing this shirt.
Fabric Info
Fabric Description
A subtle business-ready stripe woven in a luxurious 100/2 x 100/2 broadcloth construction by Thomas Mason. This end-on-end stripe ups the ante on the typical business pattern by using alternating white and blue threads along the warp and weft to create a heathered effect to the stripe. You can practically treat thin end-on-end stripes like this as another solid and pair them effortlessly with any of your ties, jackets, and trousers. This fabric has no texture and a smooth, lightweight handfeel. Go with our President Spread or English Spread collar for your next go-to business shirt.Learn more about Thomas Mason here.
Color & Pattern

Performance
4.7 / 5 Average rating
Recommended by 96%.
"Tight stripe pattern is very stylish"

Todd in Mount Kisco, NY

"Very elegant. Versatile, can be dressed up with a dark blue tie or down with jeens."

Maximilien in Summit, NJ

"Perfect for my wedding party"

Ernesto in TRUCKEE, CA

"Fabric look great but very course against the skin and very wrinkle prone."

Sean in Clarendon Hills, IL

"Hhhjh"

Richard in Morristown, NJ

"It comes out of wash ready to wrinkle and is a pain to keep crisp if not dry cleaning."

Ashley in Lafayette, CA

"Great looking"

John in New York, NY

"Love it!"

David in New York, NY

"looks and feels great!"

michael in Fort Lauderdale, FL

"a little darker and rougher than i'd like but still a nice conservative design"

Benjamin in New York, NY

"Beautiful fabric, great quality, stunning pattern."

Johnny in Pflugerville, TX

"Soft but didnt love pattern"

Clay in New York, NY

"Nice texture"

john in Toronto, ON

"A lot."

Cameron in WASHINGTON, DC

"Somehow this fabric resists wrinkles - not in the way a non-iron does. But better than non-treated fabrics. I love it."

Mike in St. Louis, MO

"Excellent fabric and comfort; stands up well to wrinkle and long days wear in the office and travel"

Christopher in NEW ROCHELLE, NY

"High quality, holds up well"

Adam in Harrisburg, NC

"Super stylish - crisplike sheen without being shiny. very comfortable."

David in Vancouver, BC

"Great Quality Fabric"

Hadi in Belmont, MA

"Nice colours and pattern, but I find this material slightly scratchy against my skin, even after a couple of washes."

Peter in Woking,

"It's very nice. Nice pinstripe shirt"

david in LAS VEGAS, NV

"Loved the fabric. Didnt like the collar, so swapped it out instead of returning. Great shirt!"

Matthew in New York, NY

"Great"

Joshua in MESA, AZ

"nice feeling fabric"

Michael in Kensington, NSW

"Great looking pop of color, a great feel"

David in New York, NY

"Very comfortable. Beautiful fabric with soft hand and fine stripes."

robert in Brookline, MA

"Solid business shirt. Looks classy."

Jay in CUMMING, GA

"Very nice"

Marcos in Mission, TX

"Beautiful fabric"

John in Dallas, TX

"Exactly what I was looking to find. Great with jeans or muted blue plaid blazer. Looks great without a tie."

Julian in Sugar Land, TX

"Really like this shirt"

Aaron in Lawrence, NY

"Love this shirt"

Christopher in Double Springs, AL

"Great business casual fabric."

Matthew in Roxbury, MA

"Classic Thomas Mason fabric."

David in Denver, CO

"This stripe has a nice, subtle, texture to it."

Dwight in SEATTLE, WA

"beautiful twist on blue stripe dress shirt."

Alan in Columbus, GA

"Shrinks considerably, beautiful stripe pattern, not the softest handfeel but is rather crisp."

johnson in ROUND ROCK, TX

"Excellent"

stu in Toronto, On

"Very nice"

Scott in Chapel Hill, NC

"Blue is the overall color, but the pattern is great."

David in Warren, NJ

"Great end-on-end design with good aeration, does not wrinkle excessively, recommended for warm weather or climate. Handsome shirting fabric!"

Jonathan D in Jupiter, FL

"Dress up with great tie or dress down with jeans. This shirt does it all!"

Michael in Richmond Heights, MO

"Perfect fabric that straddles levels of formality--sharp enough to wear with a jacket and tie, but with a subtle pattern that dials things down a bit. Great alternative to a solid light blue dress shirt that still goes with pretty much everything. A bit wrinkle-prone, but nothing major."

Jordan in Pennington, NJ

"This is one of those cool fabrics that looks solid from afar and reveals a subtle stripe up close. The fabric has a nice texture as well."

andrew in Silver Spring, MD

"Great everyday business shirt, with the casual cut I can wear it tucked in and out...fantastic!"

Andreas in Wettswil, ZH

"weird"

Tyler in Phoenix, AZ

"Love the Thomas Mason fabrics! Have several shirts like this; all great!"

Skip in Knoxville, TN

"Staple of any man's wardrobe. Medium construction makes it a versatile fabric to be worn throughout the different seasons."

Sun in Media, PA

"Great quality."

Ben in Manchester, MA

"Love this tiny stripe - -crisp!"

David in Rancho Mirage, CA

"The fabric was slightly less "crisp" IRL than on the screen. Still a great business shirt fabric."

Fredrik in Bastad,

"The width of the stripes combined with the end-on-end texture create a true classic, a look you would find from your best vintage score."

Jacob in Waban, MA

"I love the cut and feel of this fabric. Perfect for slim fitting suits. Great thin stripe pattern."

Bernard in ARLINGTON, VA

"My new favorite shirt. Get it with b the mother-of-pearl buttons. They really pop with the material."

Bart in JOLIET, IL

"Comfortable, cool to touch feel."

Yoshi in San Marcos, CA

"Beautiful high-quality fabric. Substantial but lightweight with a silky smooth feel. My dream fabric for a dress shirt."

Erin in BROOKLYN, NY

"Looks good"

Steven in DALLAS, TX

"very nice hue of blue (more on the purple end of spectrum), nice weight, though does seem to wrinkle easily"

Sid in AUSTIN, TX

"The pattern isn't as subtle as hoped. It is a bit too transparent and thin as well."

Rob in Boardman, OH

"Very classic but at the same time unique."

Matt in Atlanta, GA

"Probably my favorite business fabric from Proper Cloth. I love this one."

Matthew in Jersey City, NJ

"Nice fabric. Non iron but looks and feels like regular fabric, which is a good thing."

Mark in Calgary, AB

"Excellent fabric"

Flavio in Sao Paulo, SP

"love this shirt and fabric"

Hugh in Short Hills, NJ

"Very dressy fabric...good for suitings"

Arthur in Herndon, VA

"Looks fantastic with the Roma cutt away collar"

Chris in Mossman Park, Western Australia

"Love how the end-on-end softens the visual impact of the stripes. Beautiful shade of blue and supremely versatile."

David in Bronx, NY

"Nice, out-of-the ordinary stripe, but a still conservative look. The appeal is in the details. Only thing to mention for consideration is that the stripe in real life is a bit narrower than I expected, but it didn't change the appeal of this fabric for me."

Brian in Maplewood, NJ

"Good one"

Ed in Atlanta, GA

",mnb.m,.mb"

Richard in Dayton, NJ

"Delighted to find the end-on-end."

David in Bonita, CA

"good design"

Chintesh in Winnetka, CA

"Probably my new favorite blue striped shirt, of which I have many. This has the formality of a blue end-on-end or bengal strip, but with the texture and interest of an oxford."

William in Seattle, WA

"Nice quality"

Larry in New York, NY

"Great bold pattern and a nice heft to the fabric"

Wyatt in Greenwich, CT

"Fabric is coarser and stiffer than I imagined."

Enrico in LOS ANGELES, CA

"This is a high-quality fabric with an interesting, yet classic pattern. You look good and feel good with this shirt on."

J PATRICK in WASHINGTON, DC

"High quality, light weight, durable."

William in West Los Angeles, CA

"Very solid blue shirt."

brian in DALLAS, TX

"Modern take on a bengal stripe shirt. Interesting texture to the blue. A staple in the office wardrobe."

Dave in PORTLAND, OR

"Good quality fabric."

Joanne in Waroona, WA

"Great"

Nicholas in Toronto, ON

"Glorious!"

Ted H in North Andover, MA

"The shirt has started to fade. Not very satisfied with the shirt. I am not sure if I can return this shirt."

Zain in Livingston, NJ

"Beautiful pattern that changes up close to show the intricacies."

Michael in Adamstown, MD

"Beautiful and interesting fabric. Not particularly wrinkle resistant but very crisp when ironed. Intended for the office."

Jonathan in Brooklyn, NY

"Felt the fabric was a bit too crisp and wrinkled fairly easily, especially at the elbow pits"

Ross in Glasgow,

"Very nice fabric!"

Nick in New York, NY

"Love it! Subtle heathering on the stripes."

Alton in SALT LAKE CITY, UT

"A subtle stripe adds visual interest while keeping it formal"

Charles in Wright,

"Very nice. All Thomas Mason shirts have been excellent quality."

Charles in New York, NY

"Very nice patterned fabric"

David in New York, NY

"A very good, business dress basic."

Ryan in ALEXANDRIA, VA

"perfect for blue suit or blazer"

jeffrey in Morristown, NJ

"OK."

NAQEEB in Waterbury, CT

"Great looking shirt. Slightly "rough", but definitely a high-quality material."

Ryder in Dulles, VA

"Great pattern but thin fabric and easy to wrinkle"

Eric in New York, NY

"Great look and fits perfectly."

Randy in Watchung, NJ

"Fabric has a great feel to it, and also quite a lot of texture close up."

Christopher in New York, NY

"Fabric is stiff, not soft."

jack in troy, NY
FAQs
How do I get started?

First, welcome to Proper Cloth. We specialize in custom dress shirts, suits, jackets and pants.

The first step would be to create a size using our Smart Size Quiz. We'll use your answers and data from thousands of satisfied customers to generate custom dress shirt sizes in your account.

To order, you can browse our gallery of curated, pre-styled options and purchase them, made to order in your custom size (and style, just click 'Customize' to modify).

Or

You can use our Design-A-Shirt tool to create a custom designed shirt from scratch, selecting the fabric and all style details (collar, pocket, buttons, etc), before applying your custom size! We highly recommend only getting one shirt to start so we can lock down the Perfect Fit (Guaranteed!).
How long does it take to have a custom shirt made?

Standard finish, casual wash, and non-iron shirts generally take 12 to 14 days to produce and deliver. In all cases, the promised delivery date range at checkout should be accurate (if not slightly conservative). Click here to see our typical delivery times based on product.

Orders including shirts with any style of Mother of Pearl buttons must undergo special Fish and Wildlife inspections that may cause delays. For this reason, the expected delivery date range will be extended by an additional 14 days.
Can I change the collar or cuff style? Can I add a pocket? Short sleeves? etc.

As a made-to-measure shirtmaker, we offer a wide variety of style features. Proper Cloth shirts can be styled with any of our 30+ different collar styles, 12 different cuff styles, and one of our 9 different pocket options can absolutely be added.

Just click the 'Customize' button next to any of our pre-designed, photographed shirts to edit the design however you wish!

Short Sleeve shirts can be ordered by specifying as such under the Cuff/Sleeve section of the Design-A-Shirt tool.
Do you offer rush delivery?

Rush delivery is not available for custom made products. With ready-to-wear and stocked products, we have a little more flexibility.
Still have a question? Get in touch
Ready to create your custom shirt size?
Answer 10 easy questions about your body and fit preference to create a custom size.
Our Perfect Fit Guarantee
If you're not entirely happy with the fit of your custom shirt (or anything else about the shirt) you can return it to us for a complimentary remake in a new size or style. We excel at making remakes quick and hassle-free. If remaking the shirt doesn't suit you, you can also return the shirt for a full refund.