Monterey Slate Cotton and Linen Blend Knit Pique
$125
Estimated Restock: Early June
Shirt Style Details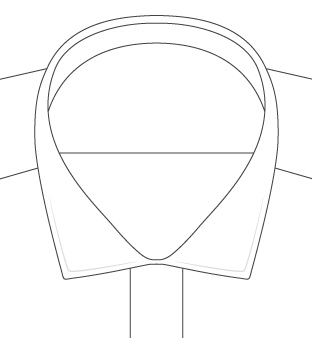 Soft Franklin Spread Collar
A casual spread collar of smaller proportions in a soft, unfused construction.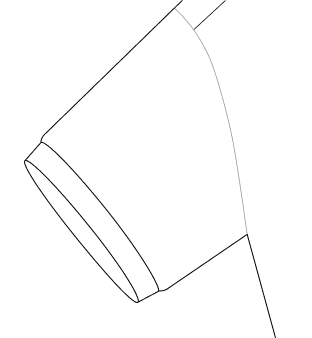 Polo Cuff Short Sleeve
A short sleeve option for knitted fabric with a 7/8" hem that gives your shirt a polo shirt look. Cuff will be 3/4" narrower in width than specified "short sleeve opening width".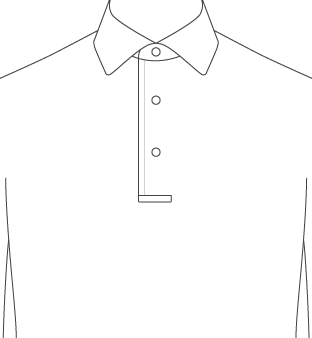 Two Button Polo, No Pocket
A timeless two-button polo front style exclusive to knit fabrics.
Buttons

Roma Buttons i

A beautiful off-white faux mother-of-pearl button. Made from a high quality plastic resin. Very durable.

Bottom Hem

Polo i

A polo shirt style, straight bottom hem. Shirt back length will be 1" longer than the specified size, while front length will match what is specified.
Change any of these shirt details, add a monogram, chest pocket, and more by customizing this shirt.
Fabric Info
Fabric Description
A unique knit with beautiful texture and softness.
This 40s single-ply knit piqué takes the classic polo to a new level of warm-weather comfort. The fabric is created from a unique blend of cotton, linen, Tencel™, and elastane that has superb breathability, a gently slubby texture, silky softness, and excellent stretch. A luxe alternative to your sportier polo shirts, it's extremely versatile and easy to dress up or down. This heathered slate blue is one of those shades we reach for over and over that'll lend some understated contrast to the rest of your weekend wardrobe.
Recommended Styling: The choice is yours. Our Soft English Spread collar and One Button or Two Button Polo front make a great classic long or short sleeve polo shirt, while our President Spread III collar, no placket, and Long One Button cuff is a more formal option.
Color & Pattern

Performance
4.74 / 5 Average rating
Recommended by 96%.
"One of my favorites - these casual piques are just fantastic"

DAN in West Roxbury, MA

"Nice soft and cool fabric."

Steve in Villanova, PA

"nice material. soft. Like the mixed color."

Tim in Leander, TX

"It's okay. My wife said it looked 'old-man-ish', but liked it better when it was on me. I like the fit a lot and have had trouble finding the right polo for myself."

Chris in SANTA MONICA, CA

"Had to wash it twice and then dry it with medium heat until it fit me. Was very loose to start with. I used my regular shirt size and should have made the armholes narrower and waist narrower for a polo. Also for some reason I used shirt ties with a polo? Not sure what I was thinking. Hangs like silk and emphasizes lo…ve handles and man boobs. Nice fabric but maybe not the best if you are not trim or for a polo shirt. I would like fabric with a little bit more structure. At least it made me realize I have to get back in shape."

Domenic in Cathedral City, CA

"It seemed a little large out of the package, but after a wash it is the perfect size"

Tim in Toronto, ON

"It is great"

Russell J in LOS ANGELES, CA

"Great fabric - be advised that it fits more loosely compared to others - most noticeably in the arms. You'll want to shave at least a half inch off the sleeve width. I also went with a single pleat forearm to further reduce the width in the forearm. Everywhere else my normal measurements were fine for this fabric."

Brint in Franklin, TN

"Fabric is very nice, stretchy. Good for spring/summer on East coast. Color is true to slate."

Craig in Telford, PA

"This fabric is very comfortable, but something about how it stitches together makes the seams the shoulders stick up a little bit."

Michael in New York, NY

"This makes a light and interesting polo"

John in Toronto, ON

"Crisp grey"

Juan in Brooklyn, NY

"I love the worn look of the fabric Its definitely a sporty fabric with 4-way stretch. I used a stand up placket and button-down collar and glad I did."

Michael in OCEANSIDE, CA

"Stretchy Pique cotton/linen blend. The stretch comes from the weave, not from spandex or whatever. It makes a gorgeous shirt. Mine is a no placket spread collar long sleeve that is unexpectedly awesome with the sleeves rolled up on the golf course and rogue smart in a suit."

John in Saint Paul, MN

↓

Rating Breakdown

Color & Pattern

Performance

No, would not recommend

"This is a beautiful fabric in terms of color but I found it a little too baggy after a wash or too. It started to lose it's shape. Would probably be better as a short sleeve polo than a long sleeve button down, which is what I ordered, and I don't wear polos."

Luke in Mahwah, NJ

"So soft"

William in New York, NY

"Looks great!"

Douglas in Livingston, NJ

"Light, flexible and comfortable. Great color. Expect the fit to be slightly larger due to its material."

Jason in Holland, PA

"Brilliant"

Marc in River Forest, IL

"My new favorite shirt. Really comfortable stretch linen fabric. Will have to find it in another color."

Morgan in CHARLOTTESVILLE, VA

"Not as dark as pictured, but very nice look and feel."

Sam in Batesville, IN

↓

Rating Breakdown

Color & Pattern

Performance

No, would not recommend

"This is sold as a thin fabric but it 2 ply when built."

MIchael in Ann Arbor, MI

"Terrific fabric - love the color, the texture, and the quality. I highly recommend it."

Doug in Salt Lake City, UT

"This shirt wears so much lighter because of the linen and tencel content. I love it."

Stanford in Ridgewood, NJ

"It's less luxurious than anticipated but good weight to it."

Dennis in PHOENIX, AZ

"Just added this color to the one I had"

Kevin in North Palm Beach, FL

"Well represented in the pictures. Vents well - good for summer."

Frank in Palatine, IL

"If you like linen, you'll like this shirt. It's soft and good for a casual wear."

Grant in OKLAHOMA CITY, OK

"Good shirt. Fabric is best for a polo shirt."

Ronald in Pasadena, CA

"Has a nice slubby texture to it, wears very cool. I'm tempted to replace all my polos with the Monterey cotton-linen blend."

Todd in Edina, MN

"Great texture!"

Tristan in CHICAGO, IL

"Just great on all!"

Andrea in Alexandria Bay, NY

"Interesting blend of color. The white really shows through. Soft and comfortable."

Jonathan in ROCKVILLE, MD

"Soft, light but substantial, drapes well. Like it a lot."

Andrey in New Canaan, CT

"Love the slate blue and this shirt could not get any softer!"

Mike in Raleigh, NC

"10/10. Perfect fit, perfect cloth."

Andrew in Bethabara, NC

"Excellent. If you like shirts that accentuate, not hide, the body, you'll love the way the fabric hangs. Also soft. And works with fairly warm weather."

Reuel in BETHESDA, MD

"Ajs"

Alexander in New York, NY

"Super lightweight to do a warm weather long sleeve"

Brett in WAYNESVILLE, NC

"Extremely soft and comfortable, but I feel like maybe it would be better as a t-shirt, it seems two casual even for a polo."

Noah in Portland, OR

"love"

Victor in Brooklyn, NY

"A shirt of superlatives: most soft, comfortable, stretchy, etc."

Nick in Southampton, NY

"Soft comfortable love this short for casual to business casual environments. Wish they had more colors as I would get others"

Andrew in Houston, TX

"The fabric looks and feels great. The linen adds a lightness, while the other materials prevent it from wrinkling too much. A great summer fabric."

GEM in Alexandria, VA

"Too stretchy"

Charles in Sherborn, MA

"Incredible texture and the handfeel is amazingly soft!"

Chris in NEW YORK, NY
FAQs
How do I get started?

First, welcome to Proper Cloth. We specialize in custom dress shirts, suits, jackets and pants.

The first step would be to create a size using our Smart Size Quiz. We'll use your answers and data from thousands of satisfied customers to generate custom dress shirt sizes in your account.

To order, you can browse our gallery of curated, pre-styled options and purchase them, made to order in your custom size (and style, just click 'Customize' to modify).

Or

You can use our Design-A-Shirt tool to create a custom designed shirt from scratch, selecting the fabric and all style details (collar, pocket, buttons, etc), before applying your custom size! We highly recommend only getting one shirt to start so we can lock down the Perfect Fit (Guaranteed!).
How long does it take to have a custom shirt made?

Standard finish, casual wash, and non-iron shirts generally take 12 to 14 days to produce and deliver. In all cases, the promised delivery date range at checkout should be accurate (if not slightly conservative). Click here to see our typical delivery times based on product.

Orders including shirts with any style of Mother of Pearl buttons must undergo special Fish and Wildlife inspections that may cause delays. For this reason, the expected delivery date range will be extended by an additional 14 days.
Can I change the collar or cuff style? Can I add a pocket? Short sleeves? etc.

As a made-to-measure shirtmaker, we offer a wide variety of style features. Proper Cloth shirts can be styled with any of our 30+ different collar styles, 12 different cuff styles, and one of our 9 different pocket options can absolutely be added.

Just click the 'Customize' button next to any of our pre-designed, photographed shirts to edit the design however you wish!

Short Sleeve shirts can be ordered by specifying as such under the Cuff/Sleeve section of the Design-A-Shirt tool.
Do you make shirts that can be worn untucked?
How do I order a short sleeve shirt?
Do you offer rush delivery?

Rush delivery is not available for custom made products. With ready-to-wear and stocked products, we have a little more flexibility.
Still have a question? Get in touch
Ready to create your custom shirt size?
Answer 10 easy questions about your body and fit preference to create a custom size.
Our Perfect Fit Guarantee
If you're not entirely happy with the fit of your custom shirt (or anything else about the shirt) you can return it to us for a complimentary remake in a new size or style. We excel at making remakes quick and hassle-free. If remaking the shirt doesn't suit you, you can also return the shirt for a full refund.