Mayfair Wrinkle-Resistant White Twill
$95
Select Shirt Size
Collar
i
Don't worry about shrinkage — we'll account for that automatically based on fabric choice. You can fine-tune your collar size down to 0.1" or adjust any of the 16 other customizable size parameters when you create a custom size.
Sleeve
i
Sleeve length is measured from the center back to the edge of the shoulder and down to the end of the cuff. Fine-tune your sleeve length down to 0.1" or adjust any of the 16 other customizable size parameters when you create a custom size.
Fit
i
Slim Fit will be nicely fitted, yet comfortable. Super Slim Fit is for those that prefer a particularly trim fit and are not bothered by slight tightness or limited range of motion. Classic Fit is a more generous, roomy fit that won't hug the body closely.
Shirt Style Details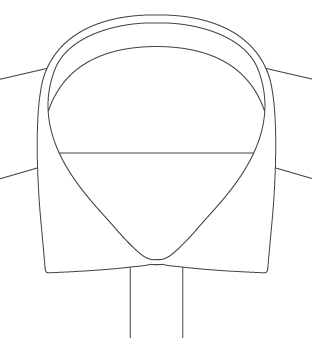 President Spread Collar
Our new and improved version of our most popular collar. We designed this to be a truly premium modern spread collar with timeless proportions.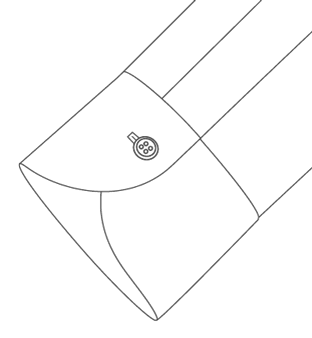 Long One Button Cuff
A slightly longer version of our one button barrel cuff. Fused. Great for for guys with longer arms.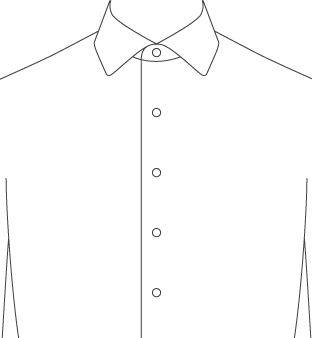 No Placket, No Pocket
The front of the shirt simply folds back on itself for a cleaner yet less structured look.
Buttons

Roma Buttons i

A beautiful off-white faux mother-of-pearl button. Made from a high quality plastic resin. Very durable.

Bottom Hem

Rounded i

A 2" curved front and back shirttail hem with reinforced side seam gussets.
Change any of these shirt details, add a monogram, chest pocket, and more by customizing this shirt.
Fabric Info
Fabric Description
A business staple that balances an incredible handfeel with outstanding anti-wrinkle performance. This densely woven twill has great body and a substantial feel, but still comes in at a weight that's perfect for year round wear. The 100s 2-ply thread count gives it great durability and makes it nice and smooth on the skin. The twill weave allows it to drape cleanly on the body and a strong wrinkle-resistant finish keeps it looking crisp all day long. Subtle shine and minimal texture make this an incredible shirt to wear with a suit or even a tuxedo. A great alternative to our Hudson White Wrinkle-Resistant Twill for guys looking for a bit more anti-wrinkle performance. Pair with a President or English Spread Collar for a truly versatile white dress shirt.
Color & Pattern

Performance
4.75 / 5 Average rating
Recommended by 95%.
"Nice twill weave and it felt very soft. Not as much wrinkling with this fabric."

John in BRONX, NY

"Smooth and strong."

Frank in Doncaster East, VIC

"Made a formal shirt from this elegant fabric. Workplace staple."

John in Burlingame, CA

"Nice feel and weight. Doesn't seem to wrinkle as you wear it (assuming it's been laundered and pressed)."

Brett in Laureldale, PA

"Just right."

Connor in CHICAGO, IL

"Feels good. No sweat stains"

Nicholas in Singapore, Singapore

"Simultaneously comfortable and refined."

Ed in Ridgefield, CT

"Great fit and wearability."

Joseph in STAMFORD, CT

"More translucent than anticipated but good quality shirt."

Vince in Oconomowoc, WI

"Nice white shirt material. Nothing crazy."

Michael in OAKLAND, CA

"awesome for business travel"

Lars in New York, NY

"The fabric is very good quality. I found to be a not shinny at all, little opaque and not super wrinkle resistance but I still like it."

Panagiotis in BALTIMORE, MD

"Nice and opaque. Withstands wrinkling well."

Scott in Boston, MA

"fabric exceeded expectations"

Brian in Wilmington, DE

"This fabric is just okay in my opinion. It looks great, but the opaqueness and wrinkle resistance were less than what I expected. My undershirt sleeves are clearly visible, and it wrinkles in the inner elbows quickly. With that said, I am still happy with the fabric, especially for the price. It just did not live up to… its ratings."

Jesiah in Golden Valley, MN

"Excellent"

John in TUPELO, MS

"High end, looks great."

Paul in Los Gatos, CA

"Designed as a tux shirt. Since I wont wear as often as others I sought out value. This shirt has it."

William in Hendra, QLD

"Love it. Sophisticated yet soft."

Wiliam in Brooklyn, NY

"I like the fabric a lot"

John in JERSEY CITY, NJ

"It's ok, but it would be preferred for something more seasonal in lighter weight."

Leonard in Southampton, PA

"Perfect for dress shirt."

Dwayne in Charleston, WV

"THIS IS S BIT YELLOW FOR ME. NOT THE CRISTAL CLEAR WHITE THAT I WAS LOOKING FOR. BUT PROPER CLOTH MADE IT RIGHT TO ME!"

Dale in Campbellsville, KY

"My favorite white twill shirt"

Patrick in Richland, WA

"Great"

Zhong Jin in Singapore, Singapore

"Classic white shirt; bit of a sheen, although that becomes less noticeable after a few washes."

Spencer in CINCINNATI, OH

"My go to for white dress shirt for the office"

Eddie in San Antonio, TX

"I have been specifically asking for opaque material that is wrinkle resistance. This material is NOT opaque. A white undershirt is clearly visible beneath the shirt. This material with a pattern is fine, but white is not. Very disappointed. Wrinkle resistance in very good. Now I have yet another white shirt from Pr…oper Cloth that I will not wear."

Douglas in Branford, CT

"It is a vibrant white. Brighter than the Supima that I had previously ordered"

Kevin in LAS VEGAS, NV

"Love this wrinkle resistant twill - looks crisp"

Craig in CHICAGO, IL

"Great fabric for daily office wear, a staple white shirt in your wardrobe."

Ryan in Burlington, Burlington

"Luxurios feel and appearance"

William in CHARLOTTE, NC

"Exactly as described. A medium weight twill that is soft and very comfortable but has a more formal look/finish. This is the shirt that took a few "attempts", but the process was simple and painless."

Mark in Ottawa,

"Great fabric and excellent construction!"

Chris in MINNEAPOLIS, MN

"Light and breethable."

Troy in Murray, UT

"Light, stretchy and a bit of a shine"

Stephen in New York, NY

"It's not at opaque or wrinkle resistant as the product description made me think it would be. Undershirts are clearly visible, and it takes only a few minutes for visible wrinkles to form in elbow bend."

Michael in Naples, FL

""

Mike in New York, NY

"Soft, and seems very durable."

BJ in COLORADO SPRINGS, CO

"Soft, and seems very durable."

BJ in COLORADO SPRINGS, CO

"Good texture, solid wrinkle resistance for daily wear."

Levi in Farmington, NH

"Amazing fabric order with confidence"

Lee in VERO BEACH, FL

"Good value white shirt with solid opacity"

Robert in New Canaan, CT

"Mayfair is always great!"

John in Weehawken, NJ

"so nice, perfect for my event!"

Kevin in Garden City, NY

"Love the finish"

STANLEY in Arlington, TN

"Perfect fit"

Min in HOUSTON, TX

"Great fit and shirt. Customer service was excellent as well."

Alexander in Chicago, IL

"Very nice fabric. Needs very little ironing."

Joseph in Vienna, VA

"Opacity is the problem. For a 100 dollar shirt I shouldn't be able to see anything through it."

David in Arcola, VA

"Good value for the price."

Jack in FALLS CHURCH, VA

"Average dress shirt. Can't really go wrong with a classic twill."

Kevin in WILMINGTON, DE

"Cuffs are a little shinier than expected but overall good construction"

Sang in Palisades Park, NJ

"It's my new favorite, go to fabric for a plain white shirt"

Eric in Salt Lake City, UT

"Wonderfully consistent and smooth"

Sean in San Francisco, CA

"Wears beautifully. Great look."

Roy in Caloundra, Queensland

"Good basic white dress shirt."

Craig in Encinitas, CA

"Medium, light, smooth, formal look."

Mark in New Hartford, CT

"Great shirt with business suits! Got this with french cuffs and I wear with a nice set of cufflinks. Holds a crease pretty well through out the day."

Roberto in SAN ANTONIO, TX

"Solid white that doesn't attract lint and is easy to clean. Workhorse shit material."

John in North Cambridge, MA

"A genuinely beautiful fabric. you immediately feel dressed up."

Philip in Columbia, MO

"Addressed my concerns from my last shirt of the fabric being slightly see through"

Kamden in Southlake, TX

"This is a lovely lightweight fabric. Drapes well."

Jason in Coralville, IA

"A workhorse in my closet."

Ryan in Pittsford, NY

"Terrible fabric. Wrinkles instantly."

Joshua in Campia, WI

"Pretty soft, doesn't wrinkle much, and is nice and opaque for a white shirt. Has been perfect for the office."

Chad in New York, NY

"Fabric feels very high quality, and is thick and opaque enough that I don't have to wear an undershirt underneath."

Carter in Toronto, Ontario

"A bit more sheer and sheen than expected, but a solid white shirt for all seasons"

Aaron in los angeles, CA

"Not as wrinkle resistants as I would have liked"

TOD R in Ketchum, ID

"first shirt I was not sure what I wanted. I have placed an additional order and I think I picked better fabric this time around."

Raymond in Renfrew, PA

"Silky. Looks great"

Morgan in Seattle, WA

"Holds up really well through travel"

Gregory in San Clemente, CA

"Great value, this should shirt/fabric should be in literally every man's closet"

Brandon in Greenwich, CT

"Very nice sheen on this fabric."

Barrett in LAKE OSWEGO, OR

"So far loving the fabric and construction, I love the brand and customer service"

Anmar in Ottawa, Ontario

"Seems like a great everyday kind of shirt"

David in ATLANTA, GA

"Very comfortable and would recommend"

Jason in Woodcliff Lake, NJ

"love the feel of this shirt"

Michael in Kensington, NSW

"As described"

Daniel in Sydney, New South Wales

"Good for fall/winter"

Tony in Sunnyside, NY

"love the shirt"

Aaron in Edmonton, Alberta

"Nice"

Nat in New York, NY

"Great white shirt"

William in Darien, CT

"Solid everyday shirt fabric"

Owen in WASHINGTON, DC

"Worked perfectly for a wedding I attended."

Dylan in Ridgeland, SC

"Nice feel and comfortable"

David in Chappaqua, NY

"The feel of the fabric is great and looks fantastic."

Nathan in AIKEN, SC

"Top tier dress shirt fabric"

Ben in New York, NY

"Very nice formal shirt"

Ian in La Salle, Manitoba

"This shirt is of understated excellence. Great fit"

Lansana in Le Grand-Saconnex, GE

"Great"

Dan in New York, NY

"Great sturdy feel for an everyday workhorse shirt. Will be getting a few more of these!"

Buck in New York, NY

"Great all around white shirt fabric. Soft, not scratchy at all and just needs a quick iron on the cuff, placket and collar."

Lee in NORWALK, CT

"A little more transparent than expected. Wrinkle resistance is strong, but means the shirt lacks crispness when ironed"

Gaurav in Glen Iris, Vic

"Good shirt."

Gregory in Hoboken, NJ

"Fantastic. Wrinkle resistance is the best."

John in Brooklyn, NY

"Very nice wrinkle-resistance without looking as "shiny" as other similar fabrics. Not see-through at all, and I'm planning to re-order an additional one soon."

Eric in New York, NY

"Great. Classy and comfortable."

Stephen in Calabasas, CA

"Light and cool. Very comfortable"

Matthew in READING, PA

"Truly wrinkle resistant"

joseph in Riverside, CT
FAQs
How do I get started?

First, welcome to Proper Cloth. We specialize in custom dress shirts, suits, jackets and pants.

The first step would be to create a size using our Smart Size Quiz. We'll use your answers and data from thousands of satisfied customers to generate custom dress shirt sizes in your account.

To order, you can browse our gallery of curated, pre-styled options and purchase them, made to order in your custom size (and style, just click 'Customize' to modify).

Or

You can use our Design-A-Shirt tool to create a custom designed shirt from scratch, selecting the fabric and all style details (collar, pocket, buttons, etc), before applying your custom size! We highly recommend only getting one shirt to start so we can lock down the Perfect Fit (Guaranteed!).
How long does it take to have a custom shirt made?

Standard finish, casual wash, and non-iron shirts generally take 12 to 14 days to produce and deliver. In all cases, the promised delivery date range at checkout should be accurate (if not slightly conservative). Click here to see our typical delivery times based on product.

Orders including shirts with any style of Mother of Pearl buttons must undergo special Fish and Wildlife inspections that may cause delays. For this reason, the expected delivery date range will be extended by an additional 14 days.
Can I change the collar or cuff style? Can I add a pocket? Short sleeves? etc.

As a made-to-measure shirtmaker, we offer a wide variety of style features. Proper Cloth shirts can be styled with any of our 30+ different collar styles, 12 different cuff styles, and one of our 9 different pocket options can absolutely be added.

Just click the 'Customize' button next to any of our pre-designed, photographed shirts to edit the design however you wish!

Short Sleeve shirts can be ordered by specifying as such under the Cuff/Sleeve section of the Design-A-Shirt tool.
Do you offer rush delivery?

Rush delivery is not available for custom made products. With ready-to-wear and stocked products, we have a little more flexibility.
Still have a question? Get in touch or start a chat
Ready to create your custom shirt size?
Answer 10 easy questions about your body and fit preference to create a custom size.
Our Perfect Fit Guarantee
If you're not entirely happy with the fit of your custom shirt (or anything else about the shirt) you can return it to us for a complimentary remake in a new size or style. We excel at making remakes quick and hassle-free. If remaking the shirt doesn't suit you, you can also return the shirt for a full refund.