Light Pink Heavy Oxford
$85
Select Shirt Size
Collar
i
Don't worry about shrinkage — we'll account for that automatically based on fabric choice. You can fine-tune your collar size down to 0.1" or adjust any of the 16 other customizable size parameters when you create a custom size.
Sleeve
i
Sleeve length is measured from the center back to the edge of the shoulder and down to the end of the cuff. Fine-tune your sleeve length down to 0.1" or adjust any of the 16 other customizable size parameters when you create a custom size.
Fit
i
Slim Fit will be nicely fitted, yet comfortable. Super Slim Fit is for those that prefer a particularly trim fit and are not bothered by slight tightness or limited range of motion. Classic Fit is a more generous, roomy fit that won't hug the body closely.
Shirt Style Details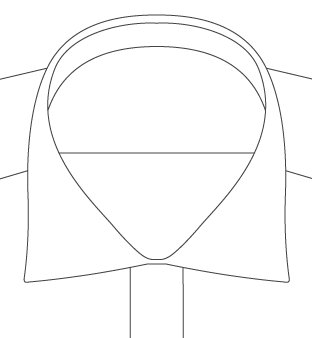 Roma Spread Collar
A tall spread collar with longer collar points made to tuck under jacket lapels.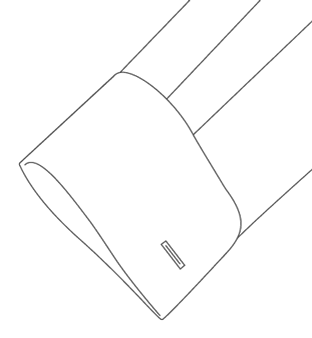 Rounded French Cuff
The go-to choice for tuxedo shirts. This crisp, fused cuff has a rounded corner on the back edge nearest to the wrist. Requires cufflinks.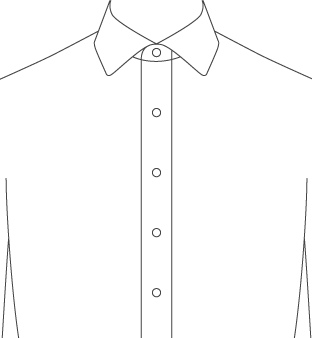 Front Placket, No Pocket
A slightly stiff, fused interlining runs down the front of the shirt behind the buttons for a crisp and structured look.
Buttons

Roma Buttons i

A beautiful off-white faux mother-of-pearl button. Made from a high quality plastic resin. Very durable.

Bottom Hem

Rounded i

A 2" curved front and back shirttail hem with reinforced side seam gussets.
Change any of these shirt details, add a monogram, chest pocket, and more by customizing this shirt.
Fabric Info
Fabric Description
Every man should own an oxford shirt. Comfortable, hard-wearing, and incredibly versatile, oxfords are an absolute wardrobe staple. Our heavy oxfords have just the right amount of heft to them—they're woven with a 40/1 x 21/2 construction for a fabric that feels substantial, but not overly thick. They're also highly resilient, meaning they'll last for years and only get better the more they're washed and worn. You can dress an oxford up under a sport coat or dress it down with your favorite pair of jeans. It's one of the few fabrics that can just as easily be worn with a tie as it can be worn rumpled and untucked. Our light pink heavy oxford is the perfect shade of pink that's easy to wear and a nice way to break up your white and blue shirts. Try it with our Soft Ivy Button Down Collar, Soft Front Placket, and a Soft One-Button Cuff for a classic oxford cloth button down (OCBD), or go with one of our soft spread collars for more of a sprezzy Italian vibe.
Fabric Details
Suggested Style

Casual

Weave

Oxford Clothi

Composition

100% Cotton

Thread Count

40s 2-plyi

Weight

Heavyweighti


Opacity Rating

5 / 5 · Maximum Opaqueness i

Wrinkle Resistance

3 / 5 · Slightly Wrinkle-Resistanti

Fabric ID

PCF529 →

Shrinkage

Please note that this fabric comes with an extra shrinkage allowance of 1% in the sleeve length and collar around. We suggest you wash and press this shirt for optimal size consistency with all of our other fabrics.
Color & Pattern

Performance
4.73 / 5 Average rating
Recommended by 96%.
"Comfortable and great look"

Scott in DALLAS, TX

"Good, but not a hefty as a previous shirt I had made a few years back."

Martin in TOWSON, MD

"Wears very well. Still looks new."

William in Locust Valley, NY

"Good texture. Easy to iron. My girlfriends favourite."

kelsey in New York, NY

"The heavy oxford is a bit stiff initially and prone to wrinkle a bit during the day while being worn. However, it seems to soften after several washes. Overall high quality and solid value."

Aaron in Philadelphia, PA

"Classic think quality fabric. Love it."

William in Lafayette, CA

"I haven't laundered it enough to soften it yet, but I assume it will."

Stuart in SAN FRANCISCO, CA

"Makes an incredible OCBD"

Kurt H. in CHARLESTON, SC

"Great color, love the fabric weight"

Premal in Los Altos, CA

"Good oxford shirt, great for WFH, but the fabric is a bit stiff and unforgiving!"

Jeremy in London, England

"Very nice pink, not too bright and a good weight without being too heavy. This is a nice summer shirt."

James in Chicago, IL

"This is a perfect pink. It's not blinding or reminiscent of bubble gum - it's soft"

Andrew in NAPLES, FL

"I may be wrong, but the fabric seems a little thinner than other colors of heavy Oxfords sold by PC."

David in Shinjuku-ku, Tokyo

"Lovely, thick material, gorgeous color."

David in New York, NY

"Nice and sturdy. Not overly wrinkle resistant."

Chris in Calgary, Calgary

"Sturdy broadcloth feel."

Jeffrey in Gratiot, OH

"Nice early spring or late winter fabric. Not too heavy but thick enough to keep you warm"

Adrian in Winterville, NC

"Great weight"

Doreen in Mountainside, NJ

"Nice and thick Oxford fabric with a beautiful texture that adds a satisfying depth particularly when coupled with the pink coloring."

Jonathan in Merion Station, PA

"Wrinkles easily. I will start using starch"

eric in Soldotna, AK

"The texture, the feel, the color. A custom shirt trifecta for this button down collar, French cuffs, no placket, no pocket, pleated sleeve best-shirt-ever."

Keith in STATEN ISLAND, NY

"Great traditional pink. Nice to finally find."

John in ALEXANDRIA, VA

"Really nice color, highly comfortable"

Ove Gunnar in Kvaloeya,

"This fabric is a traditional oxford cloth, substantial, robust and with a body of its own. It hangs well and is a touch dressier."

Thomas in River Hills, WI

"A very soft light pink. Don't be afraid of this color. It is quite flattering if you wear it properly. Really great fabric for a classic prep school look."

Grant in Shaker Heights, OH

"They tell you it is a thick fabric, but it was actually thicker than I expected. Like an old school oxford shirt...like I used to wear back in the 70s and 80s"

Bill in Atlanta, GA

"Perfect Oxford fabric at reasonable price"

Bruce in Newberry, FL

"My Favorite Shirts!!"

Mark Nathan in CHICAGO, IL

"Nothing unexpected. Quality seems good."

Bradley in Birmingham, AL

"This fabric makes a great oxford button down. I'm really happy with how it came out, it looks much better than any off the rack store bought shirt I've had."

Adam in Sands Point, NY

"I love the weight of the heavy oxfords PC offers. Great for the colder months. Dressed up or dressed down, hard to go wrong with this one. Thanks, Proper Cloth!"

William in MINNEAPOLIS, MN

"The heavy material holds up very well to washing and ironing"

David in Severance, CO

"PC's heavy oxford cloths are solid workhorses. This particular pink is just the right shade, IMO."

John in Phoenixville, PA

"Proper Cloth Oxford shirts are simply the BEST, and this attractive light pink OCBD is no exception. It's the perfect color of pink and a perfect compliment with chinos and Navy blazer."

NORMAN in CHARLOTTE, NC

"I love this fabric, it's the perfect casual shirt!"

Samuel in Boston, MA

"I have a few of the blue heavy oxfords and love them. This has the same hand and drape with a great colour. Great with a blazer or jeans."

Graham in Toronto, ON

"Really nice pink color but really not that thick. It's a little thicker than current Brooks Brothers OCBDs and on par with JCrew or Banana Republic, but no where near as thick as the older Brooks or Lands End OCBDs. Honestly, my Abercrombie OCBDs are thicker and better for winter weather."

David in Sammamish, WA

"This fabric seems like good value. The pink is light enough to work for the office."

Marcello in WASHINGTON, DC

"Just the Oxford cloth I wanted. Should get even better over time"

Duncan in RICHMOND, VA

"Can't go wrong!"

Doron in New York, NY

"A classic heavy Oxford - great for casual work and weekends too. Excellent especially for the price."

Chris in Brooklyn, NY

"Nice but a little too heavy for warm weather color"

Kelly in Jersey City, NJ

"Great product - worked really well"

Cody in Dallas, TX

"It's the perfect Oxford shirt."

Paul in St Albert, AB

"soft and comfortable"

Sam in LITTLE ROCK, AR

"Lovely colour"

Andrew in Glasgow,

"Proper has great Oxford Cloth much like the great shirt makers of the 60's when Oxford was the staple. If you are a fan of "beefy" oxford this is for you."

mike in knoxville, TN

"This shirt reminds me of shirts that I purchased in the early 70's from Gilman Brothers. The fabric is very substantial and will wear for years to come."

Patrick in Summerfield, NC

"Nice oxford shirt"

Mike in Des Peres, MO

"Excellent shirt!"

Ron in Shawnee, KS

"This might be my favorite shirt from Proper Cloth. The fit and fabric make it a homerun."

Lyle in NASHVILLE, TN

"stiff but comfortable"

Stephen in New York, NY

"Not so happy with this fabric--wrinkles the moment I put it on. That's just Oxford Cloth for you--never claimed to be wrinkle-free! (Construction of the shirt was excellent however)"

Dean in PHOENIX, AZ

"a subdued pink- great quality as always."

Aaron in Brooklyn, NY

"Richer pink than it appears on the website--almost a coral in some lights. Does shrink slightly, so add 0.1" - 0.2" to your typical measurements."

Jesse in MADISON, WI

"A really pleasant shade of pink. It's a little darker than the picture, but it's still understated."

Philip in Waynesboro, VA

"Very good"

Arne in Vejle,

"Like the heavy feel of this fabric."

Daniel in New York, NY

"Love this strong pink color…"

Daniel in Gallatin, TN

"Dresses up and down for a great look."

Gus in Oklahoma City, OK

"Looks great. Classic and bold at the same time. Nice and thick."

matthew in SAN FRANCISCO, CA

"Very appealing color. Durable but also luxurious."

Paul in Oxford, MD

"Great"

Ira in BEVERLY HILLS, CA

"This fabric is very nice."

Beau in Calgary, Alberta

"Very nice-like the shirts I used to buy years ago."

David in Glen Allen, VA

"Nice subtle pink, in a heavy cotton."

Shane in Calgary, Alberta

"Substantial fabric for fall."

William in North Vancouver, BC

"The material and color are perfect. They were exactly what I was looking for. I would also commend Proper Cloth for getting the traditional, soft button-down collar correct. It is exactly like it is supposed to be, unstructured with the perfect roll. It is not too short, which is where a lot of modern companies get it …wrong."

Chris in Pleasant View, TN

"Great. Except for the material being a little too heavy I loved everything about this color"

Carlos in Peyton, CO

"Pleasant color, rugged fabric."

Kendall in Gex, Ain

"Lived up to expectations"

Steven in Newport, RI

"Love this, like all the other heavy oxfords."

Jeremy in Clayton, NC

"Heavy. Great for cool summer evenings when you don't need a sweater...."

Joe in Bury St Edmunds, Suffolk

"Looks nice. Easy to care for."

Robert in Lebanon, NH

"Great color and I enjoy heavy Oxford cloth shirts"

James in Sewickley, PA

"I wore this one with a pink tie and a grey and pink pinstriped suit. This became a conversation piece."

Herman in Morristown, NJ

"This is a really great material. I bought eight of these shirts in various colors. I like them better than the Brooks Brothers shirts that I have worn in the past"

David in Punta Rassa, FL

"I love these oxford fabrics but wish it were a bit softer and more luxurious."

Nicholas in New York, NY

"Great wardrobe staple"

ezra in Long Branch, NJ

"Reliable heavy oxford from Proper Cloth"

Danny in Piedmont, SC

"Exactly as I expected"

James in RICHMOND, VA

"Love this pink color. Not so heavy as the other ones. Love it"

Minas in Kalamata, Messinia

"Lovely shirt fabric with plenty of depth"

Andrew in Bexhill,

""

Sham in Boston, MA

"I can't wear it. Even after washing/drying it 10 times it's too big. The cuff link was over 4" long and hung way beyond my arm. All other shirts and fabrics have been great just not this one."

david in Clayton, OH

"The heavy oxford is perfect ironed or line dried .....it has a great look."

Charles in Pocasset, MA

"Great go-to oxford fabric. Robust and hard-wearing."

Dylan in CLOVERDALE, Western Australia

"Great quality, a proper OCBD!"

Steven in London,

"Soft and Comfortable ....!!"

Don in Hutto, TX

"Beautiful yet masculine pink."

Alessandro in Kawasaki, Kanagawa

"Heavy, like oxford cloth should be."

Scott in Blue Ash, OH

"Love it!"

Aaron in Woodmere, NY

"Lovely shade of pink. Wrinkle resistance is as expected."

ARNOLD in Richmond, TX

"Beautiful color - a slightly lighter pastel shade of pink - very versatile. It looks like it will wear and age very well."

Seth in BAYSIDE, NY

"Bought to replace my Brooks shirt. Half the price for a MTM replacement. No-brainer! Couple washes and it will be perfect!"

Rodney in MAITLAND, FL

"The fabric is of a very high quality, resilient and irons well."

Elliott in Harrogate, North Yorkshire

"Very good quality and looks superb"

Colin in Brighton, East Sussex

"Very nice looking shirt."

Jim in ALBANY, NY

"Great colour and superb quality."

Ole in OSLO,

"Exactly what it says on the tin: a good, heavy oxford cloth. Fairly wrinkle-resistant."

Nicholas in Arlington, VA
FAQs
How do I get started?

First, welcome to Proper Cloth. We specialize in custom dress shirts, suits, jackets and pants.

The first step would be to create a size using our Smart Size Quiz. We'll use your answers and data from thousands of satisfied customers to generate custom dress shirt sizes in your account.

To order, you can browse our gallery of curated, pre-styled options and purchase them, made to order in your custom size (and style, just click 'Customize' to modify).

Or

You can use our Design-A-Shirt tool to create a custom designed shirt from scratch, selecting the fabric and all style details (collar, pocket, buttons, etc), before applying your custom size! We highly recommend only getting one shirt to start so we can lock down the Perfect Fit (Guaranteed!).
How long does it take to have a custom shirt made?

Standard finish, casual wash, and non-iron shirts generally take 12 to 14 days to produce and deliver. In all cases, the promised delivery date range at checkout should be accurate (if not slightly conservative). Click here to see our typical delivery times based on product.

Orders including shirts with any style of Mother of Pearl buttons must undergo special Fish and Wildlife inspections that may cause delays. For this reason, the expected delivery date range will be extended by an additional 14 days.
Can I change the collar or cuff style? Can I add a pocket? Short sleeves? etc.

As a made-to-measure shirtmaker, we offer a wide variety of style features. Proper Cloth shirts can be styled with any of our 30+ different collar styles, 12 different cuff styles, and one of our 9 different pocket options can absolutely be added.

Just click the 'Customize' button next to any of our pre-designed, photographed shirts to edit the design however you wish!

Short Sleeve shirts can be ordered by specifying as such under the Cuff/Sleeve section of the Design-A-Shirt tool.
Do you make shirts that can be worn untucked?
How do I order a short sleeve shirt?
Do you offer rush delivery?

Rush delivery is not available for custom made products. With ready-to-wear and stocked products, we have a little more flexibility.
Still have a question? Get in touch or start a chat
Ready to create your custom shirt size?
Answer 10 easy questions about your body and fit preference to create a custom size.
Our Perfect Fit Guarantee
If you're not entirely happy with the fit of your custom shirt (or anything else about the shirt) you can return it to us for a complimentary remake in a new size or style. We excel at making remakes quick and hassle-free. If remaking the shirt doesn't suit you, you can also return the shirt for a full refund.