Lafayette Light Blue Twill
$80
Select Shirt Size
Collar
i
Don't worry about shrinkage — we'll account for that automatically based on fabric choice. You can fine-tune your collar size down to 0.1" or adjust any of the 16 other customizable size parameters when you create a custom size.
Sleeve
i
Sleeve length is measured from the center back to the edge of the shoulder and down to the end of the cuff. Fine-tune your sleeve length down to 0.1" or adjust any of the 16 other customizable size parameters when you create a custom size.
Fit
i
Slim Fit will be nicely fitted, yet comfortable. Super Slim Fit is for those that prefer a particularly trim fit and are not bothered by slight tightness or limited range of motion. Classic Fit is a more generous, roomy fit that won't hug the body closely.
Shirt Style Details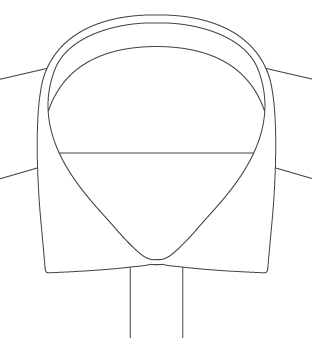 President Spread Collar
Our new and improved version of our most popular collar. We designed this to be a truly premium modern spread collar with timeless proportions.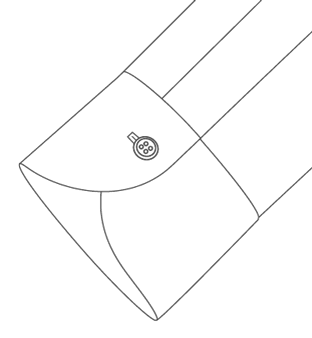 Long One Button Cuff
A slightly longer version of our one button barrel cuff. Fused. Great for for guys with longer arms.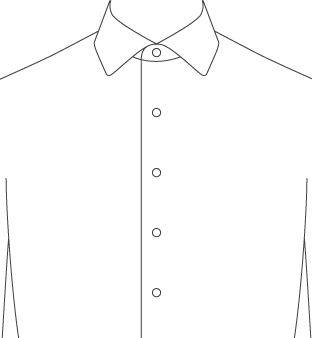 No Placket, No Pocket
The front of the shirt simply folds back on itself for a cleaner yet less structured look.
Buttons

Roma Buttons i

A beautiful off-white faux mother-of-pearl button. Made from a high quality plastic resin. Very durable.

Bottom Hem

Rounded i

A 2" curved front and back shirttail hem with reinforced side seam gussets.
Change any of these shirt details, add a monogram, chest pocket, and more by customizing this shirt.
Fabric Info
Fabric Description
A beautiful light blue fine twill with a soft color and smooth hand feel.
It's woven in a 80s 2-ply thread count, which gives it really great durability while still retaining a year-round weight. The twill weave allows this to drape really well so that it can lay clean across your chest — a nice touch for a sharp professional look.
We love the way it looks with a President Spread collar and a long one-button barrel cuff, or a French Front placket if you want a particularly clean look.
Color & Pattern

Performance
4.7 / 5 Average rating
Recommended by 94%.
"I thought is was a good value compared to other custom shirts"

thomas in Farmington, NY

"This has become one of my favorite shirts. I absolutely love it."

Andrew in CLIFTON, NJ

"Nice comfortable fabric"

Jake in Manhattan, KS

"High quality, soft"

Christopher in Miami,

"Soft, durable, and quality feel."

Pavel in JERSEY CITY, NJ

"Loved it"

Utah in Elyria, OH

"Great soft fabric. On the thin side but still very comfortable and perfect for wearing with a suit jacket."

Rodrigo in Palma, Baleares

"This fabric is pretty shiny. Looks dressy, but shiny"

Logan in Houston, TX

"Excellent value for money, lovely smooth fabric and wears very well"

Joseph in Kingston, ACT

"Impressively comfortable"

Brian in CHARLESTON, SC

"ordered with white contrast cutaway collar, recommend highly for a great suit shirt."

mike in knoxville, TN

"shipping too slow"

Steven in Charlotte, NC

"Excellent for professional use."

XIAOZHEN in Champs-sur-Marne,

"Beautiful everyday twill. I have this plus the whites - reasonbaly priced but very very luxurious for everyday work wear."

Rahul in Wels, Upper Austria

"Fabric is soft and high quality, but just a bit glossier than I'd like."

William in Los Angeles, CA

"Brilliant"

Mohammed in Hampden, PA

"Good Shirt. Use it when I wear suits. Color looks a little faded and not uniform throughout the fabric. Also, doesn't hold a crease well throughout the day and wrinkles quite easily."

Roberto in SAN ANTONIO, TX

"Great After the first two washes, the initial shine will be gone then. Great fabric for a business shirt"

Ronald in Auckland, Auckland

"I can't believe ate the product. It has not arrived"

Keith in Mableton, GA

"This was stolen by a "friend" who I hope is enjoying it."

Gregory in CINCINNATI, OH

"Slick really nice"

Philip in Rockingham, NC

"Fits well and looks perfect"

TOD R in Ketchum, ID

"I've had many blue twill shirts from several different labels in the past, but I think that this is the best one I've come across to date. Good value for the quality."

Norman in Suffern, NY

"very soft and light. Can wear in the winter with a sweater and summer with a light jacket. Highly recommend."

Mark in Sag Harbor, NY

"Great shirt after the wash, a little scratchy before."

Ronald in Jersey City, NJ

"A comfortable and durable fabric"

Christopher in Central Midlevels,

"Great value and perfect shade of blue for work shirts. After 2 years its starting to look a bit worn in places (eg tips of the collar) but nothing that makes it unwearable. Just the right amount of sheen for the office, can wear with formal or more casual suits."

Theron in Mid-Levels, Hong Kong

"It has a nice sheen and perfect versatile light blue shade."

James in DURHAM, NC

"The fabric is very soft and smooth. It feels luxurious."

Derek in Marksville, LA

"Fabulous fabric. Keep up with the great work!"

Brandon in HOUSTON, TX

"Great product overall."

Pritish in Branchburg, NJ

"Very well crafted and the fitment is spot on."

Josh in BENSENVILLE, IL

"Excellent light blue twill without additional fabric treatment."

Parth in FAYETTEVILLE, NC

"Love the color"

Dennis in TORRANCE, CA

"Durable and pretty"

Bryan in Larchmont, NY

"Very well put together. Clean. Fresh. Love."

Dave in SAINT LOUIS, MO

"This is a great quality shirt!"

Jon in Grimes, IA

"For the price of the fabric, the quality is pretty good. It seems to be a fairly durable and wrinkle resistant fabric."

Timo in New York, NY

"Smooth feeling fabric"

Gabriel in New York, NY

"Great fabric! Durable yet soft and maintains its color."

Michael in East Lansing, MI

"Fabric is a little thicker than I expected, but it is a twill. Has a nice luster."

Brent in Ponchatoula, LA

"Beautiful fabric, well constructed"

Peter in Brighton East, VIC

"Great"

Chris in Tiverton, Devon

"love love love"

Derek in Woodmere, NY

"Basic blue shirt. Good dense fabric. Nothing crazy but good idea if you need custom fitting."

Zachary in NEW YORK, NY

"Durable, stylish, business casual"

Adam in Dallas, TX

"It's a little bit shiny--I'd call this one a truly "dressy" light blue shirt. Fairly pale."

Joseph in Dumont, NJ

"Not a huge fan"

John in Weehawken, NJ

"Breathes well and holds up well in an office environment."

Jason in LEXINGTON, KY

"A lovely cloth which looks and feels luxurious. Does not crease when worn, and irons beautifully after washing."

Peter in Woking,

"A quintessential pale blue dress shirt. A lovely sheen for all business and business casual occasions. Not too think but hefty enough to have good opacity - no worries about transparency."

Robin in Elmhurst, NY

"Not the best but okey"

Eugenio in McAllen, TX

"a bit too shinny and polyesterish look"

Vuong in Clarkston, MI

"Yes"

James in BROMLEY,

"Overall good value for price"

Eric in Kingston, Ontario

"It's a great lightweight fabric. It does seem to wrinkle easily"

Jeff in SAINT JOSEPH, MO

"I like the feel of it. I live in Puerto Rico and it is hot here. The shirt feels cool and comfortable even in hot weather. I've had them for over a year and they still look and feel great."

Jason in SAN JUAN, PR

"This is an exceptional shirt. Highest quality. I am very impressed."

Byron in LOUISVILLE, KY

"Perfect work shirt for business/office."

Stephen in OKLAHOMA CITY, OK

"This specific shirt was not as thin as my others with the same "thin" rating. I little disappointing. Also this shirt had two different names, but with the same picture of the fabric which was odd. It was shinier then I thought."

Jesse in Burlington, ON

"It's a nice fabric."

Mark in Lethbridge, Lethbridge

"Good thickness."

Brian in FORT WAYNE, IN

"Minimal sheen, works great either independently or with a blazer."

Aaron in London, ON

"Very comfortable"

David in Oklahoma City, OK

"Value for money and the fit is perfecto..."

Mark in Estes Park, CO

"Great work shirt"

Ira in Huntington Woods, MI

"Great, timeless look. Lays on the body really nicely."

Whitney in Greenwood Village, CO

"This fabric is the perfect blue to be a staple in any wardrobe. There is nice balance of a shimmer to it which makes it versatile for almost any occasion."

Alexander in ORLANDO, FL

"Very nice, wrinkles slightly. Would buy again."

Christian in Helsinki, Uusimaa

"Great everyday dress shirt"

Abhaya in Toronto, ON

"Fabric was perfect and color is exactly what I wanted."

Brett in Elmhurst, IL

"By creating a shirt specific to my dimensions, I've cut down on alteration expenses and spending countless hours going to the store and shopping online to find a shirt that never truly fits as expected."

Scott in Lakewood, OH

"Great fabric"

Doug in WASHINGTON, DC

"Another great work shirt."

Matt in Brooklyn, NY

"Love the soft blue colour and it has a sheen to it that says quality."

Michael in Toronto, Ont

"Shiny and stiff"

Michael in CHARLOTTE, NC

"A touch heavy for my tastes, surprising since I have owned more than one of this shirt. Makes me wonder if the material has in some way changed. Regardless, I still think it is a great shirt and worth purchasing, especially for late-Fall to early-Spring use."

David in Roy, WA

"great basic sky blue dress shirt. one you buy 4 or 5 of."

James in New York, NY

"Simple with a subtle sheen. A soft blue that goes with everything. Time will tell how it holds up but PCs quality has always been exceptional."

Grant in Wake Forest, NC

"My favorite of the fabrics I've tried from PC. Very clean formal look, but can be dressed down."

George in New York, NY

"I have several - great shirt"

Sean in Darien, CT

"Has a pleasant sheen."

Maxwell in PHOENIX, AZ

"Great shirt"

Robert in Sheridan, WY

"Soft fabric that is comfortable."

Michael in Birmingham, AL

"I didn't care for the sheen of the fabric at all, which didn't come across in the photos. It wears fine enough, it was the appearance I didn't care for."

joshua in Dickinson, TX

"A truly solid shirt fabric. Great for the "office" or for dress up."

SCOTT in Ewing, NJ

"This is a beautiful fabric, a slight sheen that makes you want to touch it, the twill pattern is so subtle and the fabric is soft and rich. Even from a distance, the fabric shows its quality. Definitely a staple dress shirt."

Royce in UPLAND, CA

"Great everyday blue dress shirt."

Conor in WASHINGTON, DC

"the fabric is of excellent quality, wears and irons very well!"

Tom in Grimsby, ONTARIO

"This is a really nice shirt. Probably a bit shinier than I was expecting, but wears just beautifully."

Aaron in Flemington, VIC

"Worth the purchase"

Ernesto in Apollo Beach, FL

"Excellent quality"

Joseph in Township Of Washington, NJ

"I'm sorry, but this fabric feels cheap and it looks even cheaper. It has a shine to it, and you just regret the purchase immediately when you see it."

David in Gothenburg, Vastra Gotalands lan

"Solid for business shirt."

Joshua in New York, NY

"Awesome fit and fabric"

Joe in Oswego, IL

"This is my favorite fabric I've ordered from Proper Cloth (so far!). The blue-white shines a fantastic blue in certain light. It's an understated, mature look. The fabric also resists wrinkles nicely."

Sam in AUSTIN, TX

"Nice soft fee"

Robert in East Brunswick, NJ

"Ideal daily dress shirt. Irons crisply and drapes well."

Thomas in FALLS CHURCH, VA

"This is a nice fabric, fits well and holds up after hours of wear."

Ian in Edmonton, AB

"Love it"

Angelo in Markham, Ontario
FAQs
How do I get started?

First, welcome to Proper Cloth. We specialize in custom dress shirts, suits, jackets and pants.

The first step would be to create a size using our Smart Size Quiz. We'll use your answers and data from thousands of satisfied customers to generate custom dress shirt sizes in your account.

To order, you can browse our gallery of curated, pre-styled options and purchase them, made to order in your custom size (and style, just click 'Customize' to modify).

Or

You can use our Design-A-Shirt tool to create a custom designed shirt from scratch, selecting the fabric and all style details (collar, pocket, buttons, etc), before applying your custom size! We highly recommend only getting one shirt to start so we can lock down the Perfect Fit (Guaranteed!).
How long does it take to have a custom shirt made?

Standard finish, casual wash, and non-iron shirts generally take 12 to 14 days to produce and deliver. In all cases, the promised delivery date range at checkout should be accurate (if not slightly conservative). Click here to see our typical delivery times based on product.

Orders including shirts with any style of Mother of Pearl buttons must undergo special Fish and Wildlife inspections that may cause delays. For this reason, the expected delivery date range will be extended by an additional 14 days.
Can I change the collar or cuff style? Can I add a pocket? Short sleeves? etc.

As a made-to-measure shirtmaker, we offer a wide variety of style features. Proper Cloth shirts can be styled with any of our 30+ different collar styles, 12 different cuff styles, and one of our 9 different pocket options can absolutely be added.

Just click the 'Customize' button next to any of our pre-designed, photographed shirts to edit the design however you wish!

Short Sleeve shirts can be ordered by specifying as such under the Cuff/Sleeve section of the Design-A-Shirt tool.
Do you offer rush delivery?

Rush delivery is not available for custom made products. With ready-to-wear and stocked products, we have a little more flexibility.
Still have a question? Get in touch
Ready to create your custom shirt size?
Answer 10 easy questions about your body and fit preference to create a custom size.
Our Perfect Fit Guarantee
If you're not entirely happy with the fit of your custom shirt (or anything else about the shirt) you can return it to us for a complimentary remake in a new size or style. We excel at making remakes quick and hassle-free. If remaking the shirt doesn't suit you, you can also return the shirt for a full refund.