Hudson White Wrinkle-Resistant Twill
$95
Select Shirt Size
Collar
i
Don't worry about shrinkage — we'll account for that automatically based on fabric choice. You can fine-tune your collar size down to 0.1" or adjust any of the 16 other customizable size parameters when you create a custom size.
Sleeve
i
Sleeve length is measured from the center back to the edge of the shoulder and down to the end of the cuff. Fine-tune your sleeve length down to 0.1" or adjust any of the 16 other customizable size parameters when you create a custom size.
Fit
i
Slim Fit will be nicely fitted, yet comfortable. Super Slim Fit is for those that prefer a particularly trim fit and are not bothered by slight tightness or limited range of motion. Classic Fit is a more generous, roomy fit that won't hug the body closely.
Shirt Style Details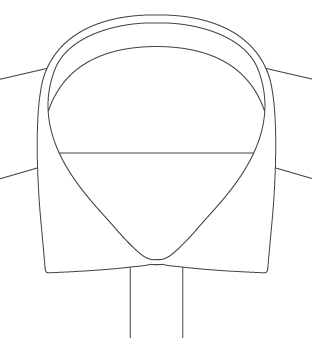 President Spread Collar
Our new and improved version of our most popular collar. We designed this to be a truly premium modern spread collar with timeless proportions.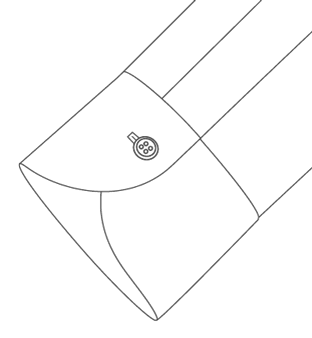 Long One Button Cuff
A slightly longer version of our one button barrel cuff. Fused. Great for for guys with longer arms.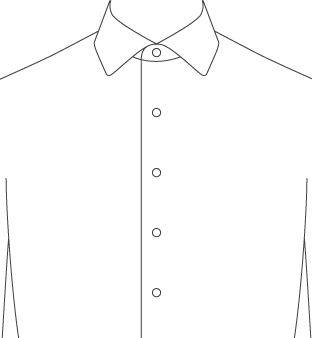 No Placket, No Pocket
The front of the shirt simply folds back on itself for a cleaner yet less structured look.
Buttons

Roma Buttons i

A beautiful off-white faux mother-of-pearl button. Made from a high quality plastic resin. Very durable.

Bottom Hem

Rounded i

A 2" curved front and back shirttail hem with reinforced side seam gussets.
Change any of these shirt details, add a monogram, chest pocket, and more by customizing this shirt.
Fabric Info
Fabric Description
Our go-to white dress shirt under $100.
Woven with a 100s 2-ply fine twill construction, the Hudson delivers with the perfect balance of luxurious handfeel and great durability thanks to the double-twist yarn. The twill weave gives it a bit of shine which makes this a really sharp fabric for pairing with a suit and tie. It's a medium weight that's perfect to wear year round and has enough heft to drape super cleanly and be fairly opaque. While it requires ironing or pressing, a light wrinkle-resistant treatment helps this fabric stay crisp and professional throughout the day.
Whether you need a solid rotation of white dress shirts for work, or just need a single white shirt for special occasions, the Hudson is an incredible value. You can't go wrong with our President Spread collar or English Spread collar on this one.
Color & Pattern

Performance
4.67 / 5 Average rating
Recommended by 94%.
"Great fabric, soft and good looking. Have to iron at least on the first wear, wrinkles/creases would not come out in dryer"

Steven in COLUMBIA, SC

"Great"

Quentin in Charlotte, NC

"Luxurious."

William in Washington, DC

"My new go-to workhorse white at a fair value for quality"

Benjamin in Los Angeles, CA

"Great lighter option."

Cy in New York, NY

"My new staple white shirt. Perfect weight and a good amount of wrinkle resistance."

Blake in Boston, MA

"Best quality and fit"

Brian in Glen Mills, PA

"Great. Very pleased."

John in Shizuoka,

"Pretty wrinkly shirt."

Brian in PHILA, PA

"It is a little bit too light but it is good for a white shirt."

John in SAN DIEGO, CA

"Just enough shine & weight very comfy"

Alain in Terrebonne, Quebec

"Good quality"

Victor L in RALEIGH, NC

"Fabric is the perfect blend for breathability and quality."

Ryan in Henderson, NV

"Would like a little more opacity (my tattoos can be seen through the shirt)."

Howard in Hoboken, NJ

"little heavier than expected but good shirt."

Tyler in Brea, CA

"A great feeling fabric, soft and white as snow!"

Paul in St Albert, AB

"great color!"

Ali in New York, NY

"heavier than expected, but excellent shirt"

Tony in ALEXANDRIA, VA

"Fabric on the shirts is amazing I've got a few and they were reasonably priced but there is also some high-end options available I like being able to choose my own options as far as type of collar and cuffs and buttons I can make the shirts with or without a pocket"

Michael in Nashua, NH

"Nice shirt"

Kyle in Chicago, IL

"Good texture on the fabric. Like all white shirts you can see an undershirt, but overall pretty good. No complaints."

Paul in Lenexa, KS

"Classic white shirt fabric. Excellent quality for a basic shirt and I highly reccommend it."

Ron in Toronto, ON

"Wish it was a slightly brighter white color and more wrinkle-resistant."

Nathan in Ozark, MO

"not as comfortable as 100 percent cotton but it looks great all day at work"

charles in Melbourne, FL

"I own several now, its my favorite work shirt!"

Sean P. in Sacramento, CA

"A nice white shirt fabric. Really fond of mine. Ran it through washer + hang dry and it didn't shrink noticeably."

Nicholas in SCOTTSDALE, AZ

"Very nice quality and great feel. The fabric drapes nicely on the body and is superb for the cost."

Cooper in Roseland, NJ

"Great fit. Love the length."

Terence in Camden Wyoming, DE

"love this fabric."

Brian in Edmonton, AB

"Very comfortable and elegant looking"

Jay in LOS ANGELES, CA

"Good"

William in Oyster Bay, NY

"A little lighter than I had expected, but still a nice addition to my wardrobe."

Michael in Fredericksburg, VA

"Terrific!"

James in Darien, CT

"Superb quality and craftmanship."

SAMUEL in GUAYNABO, PR

"Feels like a millionaire when wearing."

George in Doylestown, PA

"Fabric was soft and did not wrinkle."

Reynold in Cheyenne, WY

"Great balance between care and quality."

Andrew in Indianapolis, IN

"Nice weight."

Glenn in Sonoma, CA

"I was looking for a white dress shirt that wasn't too transparent and came across this, and this shirt is exactly what I wanted. It's comfortable, simple and the most versatile shirt in any wardrobe."

Joseph in New York, NY

"I ordered my second of three shirts in this fabric in a lavender colour. Shirt is fine but perhaps a bit more 'rigid' a fabric than I might prefer; not sure if it's because it wrinkle resistant or just the weave. Any thoughts?"

Hugh in North Vancovuer, British Columbia

"This is now my go to "white shirt" for suits and dressing up. Several compliments. Crisp, solid, performs well...I will buy more."

Heath in Grosse Pointe, MI

"Very soft fabric So pleasant to wear"

Vincent in Reze, Loire Atlantique

"Perfect everyday office option. Not too heavy, not too light, wrinkle-resistant for longer days. Excellent."

Alex in Meridian, ID

"Great"

Richard in SPRINGFIELD, OH

"Really like it. Not too much of a shiny sheen on it, which I was glad about."

Ryan in Washington, DC

"Superb!"

Rafael in Norwich, Norfolk

"Great fabric! It wrinkles like any normal shirt so you'll need to iron/steam it every so often"

Matthew in AUSTIN, TX

"Perfect fabric for the basic white dress shirt."

Marc in ALEXANDRIA, LA

"Love this shirt!"

James in Cumming, GA

"become my #1 dress shirt"

Zach in Weston, MA

"It's very soft, the only problem I have with this shirt was the fit (which was my fault)"

Matthew in San Francisco, CA

"Nice fabric and shirt quality. I will be ordering the same exact shirt again."

Jesse in Brooklyn, NY

"Wonderful feel and quality!"

arthur in Calistoga, CA

"Slightly shinier than my liking. The amazing feel helped me get over it."

Patrick in Pawleys Island, SC

"I liked this fabric, makes for a great shirt that get a lot of use"

Sam in Northumberland, PA

"ok"

jingyu in Vidalia, GA

"Should travel well for business."

Gene in Howell, NJ

"Really like it!"

John in Amherst, NY

"It is hard to get excited about a white dress shirt, but I pimped this up a bit with mother of pearl buttons. It looks great and feels great. If I was back in a shirt-and-tie office I would buy half a dozen of these."

Robert in Oberlin, OH

"Very sturdy fabric"

Michael in Los Alamos, NM

"Softened up after a couple of trips to the Dry Cleaner"

Tony in RALEIGH, NC

"Super soft and the fit is perfect, there is a small sheen to the fabric though"

James in Cutlerville, MI

"So far so good, good solid white shirt."

Greg in King Of Prussia, PA

"Love it. Classic white shirt that I intend to use for business."

Christopher in Studio City, CA

"Still not as good as boreks bothers fabric."

John in New York, NY

"The fabric is attractive, with a faint sheen. I will definitely have more shirts made from this fabric."

Don in MESA, AZ

"Very high quality material and construction"

Avery in BROOKLYN, NY

"No complaints."

Ira in Ramsey, NJ

"Perfect level of sheen. Wrinkle resistant is spot-on!"

Evan in Woodinville, WA

"I have not worn the shirt so I have no comment on the fabric. Again, please send me a shirt with a pocket."

Dean in GARDENA, CA

"Great fabric, looks great with or without a jacket, slight shine to the fabric gives it a more formal look."

Ryan in Burlington, Burlington

"The shirt is high quality and very opaque, but would still recommend wearing a white t-shirt underneath. It's very good for a mid-weight fabric."

John in BRONX, NY

"Excellent clean white shirt with good weight"

Christopher in WINNIPEG, Manitoba

"Beautiful looking fabric. Pairs well with blazer."

Mason in RICHMOND, VA

"I love the fabric"

Corey in Highland Park, MI

"Love the quality and fit.."

Denis in Laurel, MD

"Really nice fabric. Not itchy, washes great"

Stephen in New York, NY

"The twill has held up really well for nearly four years and is still very crisp."

Kevin in ROCHESTER, NY

"Excellent shirt"

Sha in OVERLAND PARK, KS

"Fabric wore very nice for a wedding and has held up in subsequent washes/wears."

Derek in Burbank, CA

"Favorite white shirt"

Paul in Brooklyn, NY

"Very heavy. Best for cooler climate"

Kent in Houston, TX

"Comfortable, breathable, wrinkle-resistent."

Kevin in Cambridge, ON

"Good"

Bill in Sydney, Nsw

"has become my go to fabric for my go to work shirts, the best there is!"

mike in knoxville, TN

"Great look for classic work shirt"

James in Aurora, ON

"Perfect"

William in Tuscaloosa, AL

"This is my go to white shirt. Could wear it to the board room, or with a blazer and jeans. Spectacular!"

J. Louis in TUCSON, AZ

"Very soft yet durable fabric"

Michael in Holyoke, MA

"Classic white dress shirt in a twill that helps keep the shirt wrinkle-free. Great to have in your closet for any occasion."

Ben in CHICAGO, IL

"Customer service to alter the shirt was great."

Sandra in Western Springs, IL

"This is probably the go to fabric for a basic white dress shirt. Excellent."

Stephen in BERKELEY, CA

"Just perfect for a tuxedo shirt"

Matthew in New York, NY

"Thick and not see through - exactly what I was looking for."

Micah in CAMBRIDGE, MA

"Light and breathable."

Troy in Murray, UT

"Feels great"

Christopher in Laguna Beach, CA

"The fabric is flexible so I like how it moves with me."

Rob in Corinth, TX

"Excellent!"

James in Scarsdale, NY

"NO NO NO NO NO NO"

Chadwick in NEW YORK, NY

"The lightweight fabric is cool in the summer, with a crisp feel."

Matthew in MESA, AZ
FAQs
How do I get started?

First, welcome to Proper Cloth. We specialize in custom dress shirts, suits, jackets and pants.

The first step would be to create a size using our Smart Size Quiz. We'll use your answers and data from thousands of satisfied customers to generate custom dress shirt sizes in your account.

To order, you can browse our gallery of curated, pre-styled options and purchase them, made to order in your custom size (and style, just click 'Customize' to modify).

Or

You can use our Design-A-Shirt tool to create a custom designed shirt from scratch, selecting the fabric and all style details (collar, pocket, buttons, etc), before applying your custom size! We highly recommend only getting one shirt to start so we can lock down the Perfect Fit (Guaranteed!).
How long does it take to have a custom shirt made?

Standard finish, casual wash, and non-iron shirts generally take 12 to 14 days to produce and deliver. In all cases, the promised delivery date range at checkout should be accurate (if not slightly conservative). Click here to see our typical delivery times based on product.

Orders including shirts with any style of Mother of Pearl buttons must undergo special Fish and Wildlife inspections that may cause delays. For this reason, the expected delivery date range will be extended by an additional 14 days.
Can I change the collar or cuff style? Can I add a pocket? Short sleeves? etc.

As a made-to-measure shirtmaker, we offer a wide variety of style features. Proper Cloth shirts can be styled with any of our 30+ different collar styles, 12 different cuff styles, and one of our 9 different pocket options can absolutely be added.

Just click the 'Customize' button next to any of our pre-designed, photographed shirts to edit the design however you wish!

Short Sleeve shirts can be ordered by specifying as such under the Cuff/Sleeve section of the Design-A-Shirt tool.
Do you offer rush delivery?

Rush delivery is not available for custom made products. With ready-to-wear and stocked products, we have a little more flexibility.
Still have a question? Get in touch or start a chat
Ready to create your custom shirt size?
Answer 10 easy questions about your body and fit preference to create a custom size.
Our Perfect Fit Guarantee
If you're not entirely happy with the fit of your custom shirt (or anything else about the shirt) you can return it to us for a complimentary remake in a new size or style. We excel at making remakes quick and hassle-free. If remaking the shirt doesn't suit you, you can also return the shirt for a full refund.