Greenwich White Twill
$145
Select Shirt Size
Collar
i
Don't worry about shrinkage — we'll account for that automatically based on fabric choice. You can fine-tune your collar size down to 0.1" or adjust any of the 16 other customizable size parameters when you create a custom size.
Sleeve
i
Sleeve length is measured from the center back to the edge of the shoulder and down to the end of the cuff. Fine-tune your sleeve length down to 0.1" or adjust any of the 16 other customizable size parameters when you create a custom size.
Fit
i
Slim Fit will be nicely fitted, yet comfortable. Super Slim Fit is for those that prefer a particularly trim fit and are not bothered by slight tightness or limited range of motion. Classic Fit is a more generous, roomy fit that won't hug the body closely.
Shirt Style Details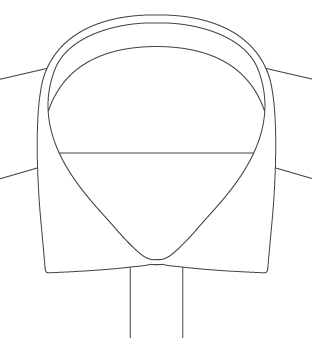 President Spread Collar
Our new and improved version of our most popular collar. We designed this to be a truly premium modern spread collar with timeless proportions.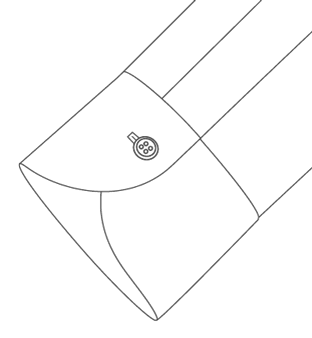 Long One Button Cuff
A slightly longer version of our one button barrel cuff. Fused. Great for for guys with longer arms.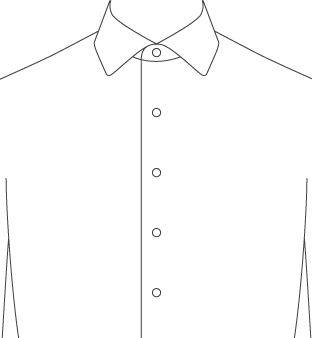 No Placket, No Pocket
The front of the shirt simply folds back on itself for a cleaner yet less structured look.
Buttons

Roma Buttons i

A beautiful off-white faux mother-of-pearl button. Made from a high quality plastic resin. Very durable.

Bottom Hem

Rounded i

A 2" curved front and back shirttail hem with reinforced side seam gussets.
Change any of these shirt details, add a monogram, chest pocket, and more by customizing this shirt.
Fabric Info
Fabric Description
A luxurious, densely woven twill that's perfect for the office or your next big event. Our popular Greenwich twill quality is woven in Europe using a 100s 2-ply thread count for a resilient yet comfortable fabric with a notably silky finish. The twill weave gives this fabric a pinch of shine for a dressier look and allows it to drape incredibly well. This brilliant white works beautifully for formal events, business, or any time you need to look your best. Try it with either our President Spread or Roma Spread Collar. Go with our Long One Button Cuff for the office or a French cuff if you plan to wear it more formally.
Color & Pattern

Performance
4.74 / 5 Average rating
Recommended by 96%.
"I absolutely LOVE the accent options! So stylish!"

James in Coeur D Alene, ID

"This is a very nice fabric!"

Patrick in Montreal, Quebec

"Quite comfortable, but wish it was a little softer. Understandably hard to achieve that balance with a fabric intended for formal wear."

Nikhil in CHARLOTTE, NC

"love it"

michael in BRONX, NY

"Great shirt. Material and fit are great."

M. in Studio City, CA

"Comfortable."

Douglas in Anchorage, AK

"Wore this for my wedding and it was absolutely perfect. Great weight, texture, and opacity. Very formal without being shiny or gaudy."

Andrew in Toronto, ON

"Nice texture."

Peter in PROVIDENCE, RI

"Very nice"

Mark in GRAND RAPIDS, MI

"Great"

Jamison in Dallas, TX

"Good."

Donald in SIMPSONVILLE, SC

"Fabric a little shinier than regular white shirt fabric. Stands out beautifully."

John in Morris, IL

"Good weigh, releases wrinkles."

Matt in Kenilworth, IL

"The fabric looks fine, though not particular interesting. The twill doesn't really pop, nor does it shine. However, if you're not looking for either of those two things, then this might be the fabric for you. However, the fabric is also surprisingly rough and scratchy. Almost like a linen."

Brent in Leesburg, VA

"The fabric is high quality in feel and look."

Robert in St. Catharines, ontario

"Great Fabric. Cut was off"

Chad in SAN FRANCISCO, CA

"Nice fabric, feels like quality"

Lawrence in Broad Brook, CT

"Would chose a softer fabric next time."

FORBES in Edinburgh,

"Very nice fabric weight compromise, not overly thick or too thin. Best white dress shirt I've ever owned."

Johnathan in Wayne, NJ

"great!"

Chris in New York, NY

"Good balance of weight and weave. Strong value for quality."

Steve in Atlanta, GA

"Great General use white shirt"

david in Charlotte, NC

"Great"

Glenn in louisville, KY

"Everything from website to ordering to fit was superb."

Benjamin in Chagrin Falls, OH

"Great 4 season shirt"

Andrew in Perry, OH

"The fabric is very comfortable"

David in Bluffdale, UT

"Nice shine nice feel feels cool"

Thomas in CHARLOTTE, NC

"I have not worn the shirt thus no comment on the fabric"

Dean in GARDENA, CA

"Love this fabric. The non-iron holds up extremely well even after a 12+ hour day. I love the every so slight sheen - no too much, not too little."

Mark in LEXINGTON, KY

"Excellent!"

Thomas in Ridgefield, CT

"Easily my go-to white shirt. Not too transparent"

Danny in BROOKLYN, NY

"Love the feel"

Dan in Riverton, WY

"Great handfeel"

Asher in Brooklyn, NY

"Nice fabric, just opaque enough to wear without an undershirt, which was my goal."

Roman in RICHMOND, VA

"Great shirt"

Ryan in Saint George, UT

"Beautiful shirt"

Henry in Nantucket, MA

"Best shirt I have in my closet. Spectacular fit and comfort. Plan to replace at least half my dress shirts with these beauties."

Cy in New York, NY

"Excellent"

Stephen in Dallas, TX

"High quality fabric"

Michael in La Canada Flintridge, CA

"solid white dress shirt"

patrick in West Hartford, CT

"Formal for sure, but a stiffness that goes great under a suit."

Justin in PALO ALTO, CA

"Awesome fabric, wears well & irons perfect. Would recommend"

Matthew in San Diego, CA

"Good fabric"

Brian in New York, NY

"Outstanding fabric. Will buy in blue and pink."

Arthur in Herndon, VA

"Brilliant. First white shirt I have found where my tattoos don't show through."

James in Woking, Surrey

"Nice"

Kelly in Jersey City, NJ

"nice feel"

Jeffrey in FORT LAUDERDALE, FL

"Upscale office daily fabric or a great base shirt for a tux if you like a little sheen."

Robert in New York, NY

"As billed."

Andrew in Seattle, WA

"Looks great and is durable. Opacity is very good as well."

Mark in Montrose, CO

"Not wornyet"

Stuart in Encinitas, CA

"Classy. Great standard dress shirt."

Benjamin in Washington, DC

"Beautiful"

William in New York, NY

"Great feeling shirt."

Robert in Valley Cottage, NY

"Looks great with a sport coat or suit. A shirt to be worn with slacks for certain as it is a bit too dressy for casual wear."

Kholton in Wichita, KS

"It's the perfect weight for a dress shirt"

John in Marion, MA

"nice, medium weight fabric. Feels sturdy but not stuff. Great for use with a suit."

Jeff in LAS VEGAS, NV

"Can never have too many whites!"

Doron in New York, NY

"Good value, quality fabric, custom fit."

Monty in Cary, NC

"Material is a little scratchy at first, and wrinkles somewhat easily, but that is characteristic of 100% untreated cotton. A great fabric IF that's what you want."

Jackson in New York, NY

"Beauty feel"

Paul in Toronto, ON

"Great shirt to pair with a tux/formalwear!"

Christopher in Mid City West, PA

"Nice wrinkle-resistant properties. I do wish it was a bit softer to the touch."

Matthew in Arlington, VA

"I wanted an opaque white with a bit of shimmer that would resist wrinkling without being too heavy for formal events. This fabric was close to perfect."

Ryan in SALT LAKE CITY, UT

"Very elegant fabric, and sufficiently opaque that it can be worn without an undershirt."

Christopher in Vancouver, BC

"It was soft and of high quality."

James in Newtown Square, PA

"Your site does a nice job in describing each fabric including pluses and minuses. I got what I expected although feeling the fabric and wearing it is ultimately the only way to know."

Jon in Westlake, OH

"Perfect for my wedding suit except I would have liked it slightly thicker."

Sean in Goleta, CA

"Fabric is luxurious and opaque enough to not need a undershirt."

Christian in Jacksonville, FL

"Great shirt. Good quality."

Larry in Philadelphia, PA

"Fine."

Thomas in Nunica, MI

"The fabric is a great workhorse white shirt but it is a quite rough. I will explore other options before I order this one again."

Clayton in Dallas, TX

"A good option for a high quality 'special occasion' white shirt. Very fine material. Relatively wrinkle resistant, slightly sheer though and not perhaps as opaque as I would like."

Michael in Bilston, Roslin,

"Don't see the reason for the $50 up charge over the Mayfair"

Philip in ROCHESTER, NY

"Luxurious, perfect white twill."

Pepe in New York, NY

"great weight"

Chris in Chicago, IL

"Beautiful fabric"

Joe in Saint Paul, MN

"Silky smooth and has a nice sheen."

Jimmy in ANN ARBOR, MI

"Needs breaking in, but very crisp."

Harry in Toronto, Ontario

"Great formal/business shirt. Sturdy and comfortable. Would buy again."

Stephane in Tarrytown, NY

"Excellent feel and fit"

James in New York, NY

"Best all around fabric - business or casual"

Daniel in Venetia, PA

"too easily wrinkled"

DAVID in SINGAPORE, N/A

"Excellent shirt"

Irfan in Houston, TX

"Very luxurious feel reasonably priced for high quality."

Paul in Oxford, MD

"Love it"

Robert in Pearl City, HI

"Good drape and true color (white)"

David in Chicago, IL

"Great shirt"

Gregory in Hoboken, NJ

"excellent fabric and look"

Stephen in Houston, TX

"I love the new non-iron shirts"

Chris in PASADENA, CA

"A bit stiff, at least for now - will see if it breaks in. Not lots of performance, and needs an iron for sure each wear. Overall very nice fabric though."

Devir in Lawrence, NY

"great quality"

Matthew in Chatham, NJ

"Very much. Soft and looks good"

Paul in CORPUS CHRISTI, TX

"Okay."

Ibrahim in Patterson, NY

"Good drape, perfect for business settings."

Aaron in London, ON

"NIce fabric, poor fit"

Jon in Rye, NY

"Super comfortable, great look and cut!"

Rudolph in Menlo Park, CA

"Great material and fit."

Bobby in BOSTON, MA

"Another of my go to shirts."

Scott in Westport, CT

"Comfortable cloth and has a nice glow"

Charles in Toronto, Ontario
FAQs
How do I get started?

First, welcome to Proper Cloth. We specialize in custom dress shirts, suits, jackets and pants.

The first step would be to create a size using our Smart Size Quiz. We'll use your answers and data from thousands of satisfied customers to generate custom dress shirt sizes in your account.

To order, you can browse our gallery of curated, pre-styled options and purchase them, made to order in your custom size (and style, just click 'Customize' to modify).

Or

You can use our Design-A-Shirt tool to create a custom designed shirt from scratch, selecting the fabric and all style details (collar, pocket, buttons, etc), before applying your custom size! We highly recommend only getting one shirt to start so we can lock down the Perfect Fit (Guaranteed!).
How long does it take to have a custom shirt made?

Standard finish, casual wash, and non-iron shirts generally take 12 to 14 days to produce and deliver. In all cases, the promised delivery date range at checkout should be accurate (if not slightly conservative). Click here to see our typical delivery times based on product.

Orders including shirts with any style of Mother of Pearl buttons must undergo special Fish and Wildlife inspections that may cause delays. For this reason, the expected delivery date range will be extended by an additional 14 days.
Can I change the collar or cuff style? Can I add a pocket? Short sleeves? etc.

As a made-to-measure shirtmaker, we offer a wide variety of style features. Proper Cloth shirts can be styled with any of our 30+ different collar styles, 12 different cuff styles, and one of our 9 different pocket options can absolutely be added.

Just click the 'Customize' button next to any of our pre-designed, photographed shirts to edit the design however you wish!

Short Sleeve shirts can be ordered by specifying as such under the Cuff/Sleeve section of the Design-A-Shirt tool.
Do you offer rush delivery?

Rush delivery is not available for custom made products. With ready-to-wear and stocked products, we have a little more flexibility.
Still have a question? Get in touch
Ready to create your custom shirt size?
Answer 10 easy questions about your body and fit preference to create a custom size.
Our Perfect Fit Guarantee
If you're not entirely happy with the fit of your custom shirt (or anything else about the shirt) you can return it to us for a complimentary remake in a new size or style. We excel at making remakes quick and hassle-free. If remaking the shirt doesn't suit you, you can also return the shirt for a full refund.