Blue Indigo Chambray Soft Roma Spread
$105
Estimated Restock: Late July
Shirt Style Details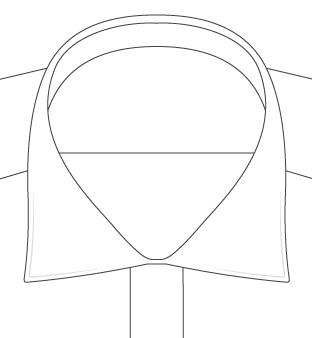 Soft Roma Spread Collar
A relaxed take on our tall spread collar with points that tuck under jacket lapels very well.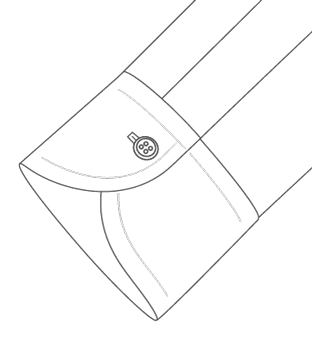 Soft Long One Button Cuff
The same shape as our long one button barrel, but without the stiff fusing. Soft, comfortable, and a good match for casual style shirts.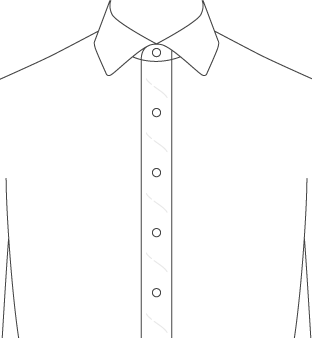 Soft Front Placket, No Pocket
Great for casual shirts. A soft, unfused front placket makes for a relaxed look.
Buttons

Roma Buttons i

A beautiful off-white faux mother-of-pearl button. Made from a high quality plastic resin. Very durable.

Bottom Hem

Rounded i

A 2" curved front and back shirttail hem with reinforced side seam gussets.
Change any of these shirt details, add a monogram, chest pocket, and more by customizing this shirt.
Fabric Info
Fabric Description
Woven and indigo dyed chambray is the real deal.
The slightly uneven weave gives this light indigo chambray incredible visual texture. The indigo dye will also fade out over time, meaning this shirt gets better the more you wear it. Since this fabric is woven with an indigo-dyed thread in the warp and white thread in the weft, out of the box it appears somewhat dark, but after washing the indigo deposits on the white thread, giving the shirt a softer, more even blue tone. As such, only wash with like colors. It will also soften up and break in significantly after the first wash, like the classic chambray shirt you've always wanted.
Recommended Styling: Definitely go with a soft collar, cuff and placket on this one; our Soft President Spread collar gives it a Western shirt vibe, or go for a Colorado Button Down for a solid casual look.
Color & Pattern

Performance
4.76 / 5 Average rating
Recommended by 95%.
"I Love this fabric. This fabric is a good color and design and ordering a larger size helps to fit my covid lockdown fattened body."

Marc in Dumfries, VA

"A nice fabric, but it has shrunk a lot more than others I've ordered."

Sam in Chicago, IL

"I was expecting much more wrinkle resistance so they woudn't require ironing."

Paul in Biddeford, ME

"I like it. It was what I wanted."

Richard in CINCINNATI, OH

"Very useful 3 season weight and color"

Greg in NEW YORK, NY

"It's nice and unique."

Andrew in NEW YORK, NY

"I like this shirt, but overall preferred the Japanese Indigo Chambray (which I also have). This one feels lighter-weight, and the colour is a bit 'warmer'."

Srivatsa in SAN FRANCISCO, CA

"The fabric is good. I live in Arizona and it breathes well enough for our high temperatures."

Jonathan in Cave Creek, AZ

"Dressy denim."

Kurt H. in CHARLESTON, SC

"Very nice fabric, comfortable to wear"

Jos in Cambridge, Cambridgeshire

"Good quality chambray fabric. For me, the color in person was a little darker than I expected."

Gregory in ATLANTA, GA

"Love it"

Sergio in Oak Ridge, NC

"Classic chambray - well made, fairly light, and easy wearing. It is a pain to iron, however."

Michael in O Fallon, MO

"One of my favorite shirts"

Alekandr in Budd Lake, NJ

"Medium weight chambray and very soft."

bob in Cary, NC

"Appears to be a durable fabric. More structured than the Japanese Light Indigo Slub Chambray from 2020 so I expect it to hold up over time. Versatile enough that you could wear with a tie and/or suit jacket."

Matt in Valley, NS

"Overall, I like this quite a bit. The collar creased a bit and might have been too long but the fabric is terrific."

Jason in Phila, PA

"Perfect to pair with khakis, jeans, or five pocket casual slacks."

Tom in TUSCALOOSA, AL

"Very soft"

Mark in GRAND RAPIDS, MI

"I love this fabric. It's good for both business casual wear to the office and for casual wear outside. I recommend the Colorado button down style."

Thanh in LAREDO, TX

"Fabric is a little thicker than expected and very uniform in color. It'll be perfect in a year."

Brian in Buffalo, WY

"Great casual over-shirt. Pairs nicely with t-shirt and jeans."

Ken in Los Alamitos, CA

"Beautiful fabric"

Mohammed in Hampden, PA

"nice fabric"

theo in esbly, Ile de France

"Just what I wanted."

GREGORY in Velarde, NM

"I tad lighter than expected, but overall a nice fabric."

Joaquin in NASHVILLE, TN

"-"

Satyajit in Singapore, SINGAPORE

"a total staple in any man's closet."

Scott in MOUNTAIN VIEW, CA

"great fabric"

Brian in Wilmington, DE

"Nice"

Craig in San Francisco, CA

"Great working shirt. Tough but light for spring/summer days"

Riley in New York, NY

"Has one foot in casual and the other in business. Can go either way depending on your mood."

Chris in Victoria, British Columbia

"I dress this one down a bit. Great with dark jeans."

Keith in Woodend, VIC

"Love this shirt."

Robert in Needham, MA

"."

Elvin Ray in NORTH HOLLYWOOD, CA

"Great color. The weave and style is such that it can be versatile for a few seasons. Recommended."

Mark in Saint Charles, IL

"Nice fabric that I made into a more business casual shirt. I think the fabric runs large. I sent it out to be professionally cleaned and it was large. After washing it in warm myself it shrunk to the perfect size. Just something to consider. I took PC recommended Presidental Button Down Collar. I love this collar for b…usiness or if you think you will wear a blazer."

Craig in Encinitas, CA

"I love this shirt. It is a versatile fabric that is pleasant to wear and looks amazing!"

Nicholas in MONROE, GA

"A perfect blue chambray."

Doug in Creve Coeur, MO

"Fabric was not up to what I expected. Lower quality; not as comfortable."

David in PHILADELPHIA, PA

"Comfortable, a little too thin to wear in colder months."

Brady in Oshawa, ON

"Very comfortable fabric, looks like a quick iron will be needed."

Daniel in Hartland, WI

"Comfortable. Able to dress down or up."

Alan in Roseville, CA

"Great quality and very comfortable."

Tom in Hoboken, NJ

"Solid denim shirt. Cant get this anywhere else"

Zachariah in Dallas, TX

"Really love everything about this fabric"

Andrei in Bucharest,

"Nice soft feel and the texture and color are beautiful. Great value at this price"

Luke in Long Island City, NY

"color is great, fabric is soft and nice."

James in Brewster, NY

"Beautiful shirt"

Dimitrios in NEWARK, NJ

"Fabric fades to fast. I'd like a chambray fabric that is more resistant to fading. My 15 dollar Amazon chambray shirt. Still looks good after one year of hard wearing. The proper cloth one has a faded collar after 5 wears."

Dirk in Enschede, Overijssel

"Great chambray -- would recommend in more casual cuts."

Liam in LONDON,

"Solid, performance fabric for casual wear."

Kirk in Chapel Hill, NC

"Classic, hardwearing chambray shirt. Very comfortable even though it is sturdy, and I'm sure it will continue to break in nicely."

Ben in CHICAGO, IL

"New favorite shirt."

Matt in Richardson, TX

"The perfect chambray. Soft and can be dressed up or down."

Travis in COLUMBIA, SC

"Fantastic."

Benjamin in Brooklyn, NY

"."

Tom in Ridgewood, NJ

"Love the look and feel of it. I imagine it will gain a sort of patina after some wears."

Jason in CHULA VISTA, CA

"Timeless"

Doron in New York, NY

"Proper Cloth's Chambray fabrics are CAN'T MISS. Here's another one... Thanks Proper Cloth!"

William in MINNEAPOLIS, MN

"A lot."

Cameron in WASHINGTON, DC

"Soft with a little stretch and feels like a hug! I styled my shirt to be more business casual but I just want to wear this fabric around the house too. I styled with with the soft president collar but the side that doesn't have the placket tends to fall down more than the other side so it's a little unbalanced. I t…hink I would have preferred non soft collar and normal fused placket for business casual."

Kirk in ROSEVILLE, CA

"Literally the perfect chambray. Just enough weight, very classic texture, and a beautiful blue grey colour. I might even get another in a short sleeve setup."

Jonathon in Boya, Western Australia

"Great fit, fabric drapes really nicely"

Daniel in New York, NY

"Nice chambray."

Juho in Helsinki,

"Shrank a bit more than expected. Good weight."

Joel in SEATTLE, WA

"Great shirt for casual wear but still looks sharp. It has a super soft fold."

James Alexander in AUSTIN, TX

"Great color and unique sheen which I appreciate. Not very wrinkle resistant."

Chase in New York, NY

"Nice midweight, doesn't feel flimsy."

Jean-Rene in Toronto, Ontario

"Great denim shirt option."

Tyler in CHICAGO, IL

"Fabric is like a soft denim."

Jay in Hacienda Heights, CA

"I think this is a good value and nice quality fabric."

Peter in TOLEDO, OH

"A very nice fabric."

Slater in TALLAHASSEE, FL

"Love the indigo fabric, really sharp looking for a "dressed up" casual look"

Daniel in Bay Shore, NY

"Very high quality, hard wearing"

Nicholas in Sunderland, England

"This fabric is so soft. It makes for a very comfortable fit and shirt."

Grant in OKLAHOMA CITY, OK

"Great for a casual look with a sports coat."

Jon in Inverness, IL

"The perfect chambray shirt!"

Mike in Orlando, FL

"Not as casual as expected, but still nice"

Josh in Alphington, Victoria

"great lighter weight chambray"

GLEN in Dallas, TX

"Great weekend shirt"

Paul in Toronto, ON

"Nice medium blue color, could dress it up or down. Feels soft enough, but wrinklier than I would have expected, hoping some washing and ironing will fix it."

Bryan in Maplewood, NJ

"Every person should have a Proper Cloth Blue Indigo Chambray shirt."

Jin in Brooklyn, NY

"This shirt's color didn't quite work for me. I found it a little flat, but it's a chambray - so it's probably about what you would expect!"

Lyle in NASHVILLE, TN

"The fabric is just as described. It's thicker than some other chambrays, but still soft and drapes well."

John in BALTIMORE, MD

"Wonderful casual fabric. Resists wrinkles. Looks good with the sleeves rolled up."

Andrew in London, ON

"Great shirt, but wish I upgraded to mother of pearl buttons."

Konstantin in New York, NY

"Soft and comfortable everyday fabric. This shirt can be washed or dry cleaned and have two totally different looks. I'm very happy with my purchase."

David in Hinsdale, IL

"Not as good-looking in person as it is on the website. Stick with denim if you're going for this kind of shirt."

Jesse in MADISON, WI

"Great casual shirt fabric addition to the Heavy Oxford - looks great with chinos"

Ken in London, Ontario

"Great shirt!"

Blake in Albany, NY

"Good quality chambray. Love the fabric."

Masahiro in Meguro-ku, Tokyo

"Great shirt and fit for the price!"

Joseph in OKLAHOMA CITY, OK

"This is a great "tweener" fabric. It works great with a casual tie and sportcoat, but also looks great with a pair of khakis or five pocket pants. Perfect year round shirt."

John in Melrose, TN

"Shrunk significantly over time, wrinkles instantly"

Scott in DALLAS, TX

"My favorite."

Todd in OKLAHOMA CITY, OK

"Denim all day"

Jeo in New York, NY

"Elbow fabric failed. Had shirt made twice and back fit was never quite right."

Lawrence in Bozeman, MT

"A must have for your closet."

Chris in CHARLOTTE, NC

"Liked it so much I ordered two!"

Charles in Bellaire, TX
FAQs
How do I get started?

First, welcome to Proper Cloth. We specialize in custom dress shirts, suits, jackets and pants.

The first step would be to create a size using our Smart Size Quiz. We'll use your answers and data from thousands of satisfied customers to generate custom dress shirt sizes in your account.

To order, you can browse our gallery of curated, pre-styled options and purchase them, made to order in your custom size (and style, just click 'Customize' to modify).

Or

You can use our Design-A-Shirt tool to create a custom designed shirt from scratch, selecting the fabric and all style details (collar, pocket, buttons, etc), before applying your custom size! We highly recommend only getting one shirt to start so we can lock down the Perfect Fit (Guaranteed!).
How long does it take to have a custom shirt made?

Standard finish, casual wash, and non-iron shirts generally take 12 to 14 days to produce and deliver. In all cases, the promised delivery date range at checkout should be accurate (if not slightly conservative). Click here to see our typical delivery times based on product.

Orders including shirts with any style of Mother of Pearl buttons must undergo special Fish and Wildlife inspections that may cause delays. For this reason, the expected delivery date range will be extended by an additional 14 days.
Can I change the collar or cuff style? Can I add a pocket? Short sleeves? etc.

As a made-to-measure shirtmaker, we offer a wide variety of style features. Proper Cloth shirts can be styled with any of our 30+ different collar styles, 12 different cuff styles, and one of our 9 different pocket options can absolutely be added.

Just click the 'Customize' button next to any of our pre-designed, photographed shirts to edit the design however you wish!

Short Sleeve shirts can be ordered by specifying as such under the Cuff/Sleeve section of the Design-A-Shirt tool.
Do you make shirts that can be worn untucked?
How do I order a short sleeve shirt?
Do you offer rush delivery?

Rush delivery is not available for custom made products. With ready-to-wear and stocked products, we have a little more flexibility.
Still have a question? Get in touch
Ready to create your custom shirt size?
Answer 10 easy questions about your body and fit preference to create a custom size.
Our Perfect Fit Guarantee
If you're not entirely happy with the fit of your custom shirt (or anything else about the shirt) you can return it to us for a complimentary remake in a new size or style. We excel at making remakes quick and hassle-free. If remaking the shirt doesn't suit you, you can also return the shirt for a full refund.