Black Heavy Oxford
$90
Select Shirt Size
Collar
i
Don't worry about shrinkage — we'll account for that automatically based on fabric choice. You can fine-tune your collar size down to 0.1" or adjust any of the 16 other customizable size parameters when you create a custom size.
Sleeve
i
Sleeve length is measured from the center back to the edge of the shoulder and down to the end of the cuff. Fine-tune your sleeve length down to 0.1" or adjust any of the 16 other customizable size parameters when you create a custom size.
Fit
i
Slim Fit will be nicely fitted, yet comfortable. Super Slim Fit is for those that prefer a particularly trim fit and are not bothered by slight tightness or limited range of motion. Classic Fit is a more generous, roomy fit that won't hug the body closely.
Shirt Style Details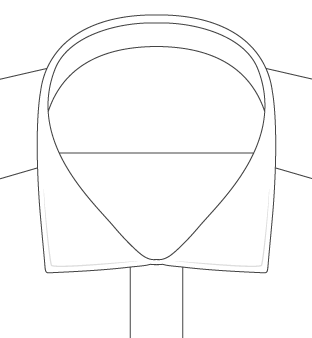 Soft President Spread Collar
Our new and improved version of our popular soft president spread collar. If you are looking for an off-duty collar, but button-down collars aren't your thing, this is going to be a great option.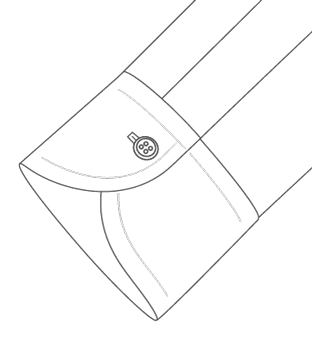 Soft Long One Button Cuff
The same shape as our long one button barrel, but without the stiff fusing. Soft, comfortable, and a good match for casual style shirts.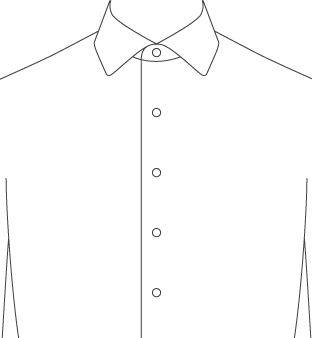 No Placket, No Pocket
The front of the shirt simply folds back on itself for a cleaner yet less structured look.
Buttons

Black Buttons i

Made from strong, black resin, these go well with dark navy or black shirt designs.

Bottom Hem

Rounded i

A 2" curved front and back shirttail hem with reinforced side seam gussets.
Change any of these shirt details, add a monogram, chest pocket, and more by customizing this shirt.
Fabric Info
Fabric Description
Every man should own an oxford shirt. Comfortable, hard-wearing, and incredibly versatile, oxfords are an absolute wardrobe staple. Our heavy oxfords have just the right amount of heft to them—they're woven with a 40/1 x 21/2 construction for a fabric that feels substantial, but not overly thick. They're also highly resilient, meaning they'll last for years and only get better the more they're washed and worn. You can dress an oxford up under a sport coat or dress it down with your favorite pair of jeans. It's one of the few fabrics that can just as easily be worn with a tie as it can be worn rumpled and untucked. Our black heavy oxford is the perfect fabric for a casual black shirt. We love how this classic fabric gets a little edge from this rich black colorway. Try it with our Soft Ivy Button Down Collar, Soft Front Placket, and a Soft One-Button Cuff for a classic oxford cloth button down (OCBD), or go with one of our soft spread collars for more of a sprezzy Italian vibe.
Color & Pattern

Performance
4.62 / 5 Average rating
Recommended by 90%.
"It's still early days, and this is my first heavy oxford, but so far I'm a big fan."

Philip in Burlington, ON

"Absolutely love it. Thick but great"

Michael in St Kilda, VIC

"Nice substantial OBCD shirt."

Chris in Dayton, OH

"Love it"

Konrad in DALLAS, TX

"This shirt can be everyday white shirt,that can use for any occasion."

Gary in Clemmons, NC

"The fabric is heavy upon arrival but softens up after a couple of trips to the cleaners"

Wil in Barrington, RI

"love it"

Patrick in Minneapolis, MN

"A bit too "waxy" for my liking"

Evan in Slave Lake, Alberta

"Great, solid and ages well"

Andy in London, London

"Some other fabrics are more stunning than pictured, but this fabric is captured quite accurately by the photo — it's a straightforward black oxford that is slightly shiny. It has a nice weight that isn't noticeably thick."

Evan in SAN FRANCISCO, CA

"Soft hand but sturdy."

Chad in South Jordan, UT

"A little stiff out of the box and after one wash"

MICHAEL in Trenton, MI

"very durable, and holds its colour well."

Eric in Squamish, BC

"A great stiff heavy oxford. I styled it as a more formal piece but it would work well as a more casual thing, especially the more it is washed. This black fabric in particular seems to hold it's blackness well as compared to other black fabrics which tend to fade"

Luke in Mahwah, NJ

"love it"

Naveed in Audubon, PA

"It's ok"

Zhong Jin in Singapore, Singapore

"Not very drapy but a good addition to any wardrobe for black button downs"

Nik in SACRAMENTO, CA

"very nice fabric color is great"

Michael in Waseca, MN

"Great fabric"

Ben in Mount Vernon, NY

"Love the lighter weight oxfords"

James in Apex, NC

"Buttons perfect match quality high"

RON in Edison, NJ

"Fabric is exactly as stated."

Ken in Los Alamitos, CA

"Stiff and sturdy, yet breathable and moveable."

Greg in Austin, TX

"The fabric is a little rigid"

Michael in OAKLAND, CA

"Perfect OCBD"

James in LAFAYETTE, LA

"Good value, what I had hoped for"

Charles in BOISE, ID

"Heavy fabric, wish it was slightly lighter but wears well overall. does attract lint though."

NM in Pasco, WA

"This is the epitome of a Heavy Oxford. It needs time to be its best. You need to work in the fabric, and after some use and a few washes, the fabric gains softness and structure in a way that no Oxford that I tried before has. Excellent!"

Miguel in BROOKLYN, NY

"A heavy material and not very flexible, but a good choice for more of a formal feel. No noticeable shrinkage after washing and hanging to dry, and ironed well."

Scott in Fort Collins, CO

"more wrinkly than I want - the button is not working as well as others"

Francis in River Forest, IL

"Love this fabric."

Brian in Edmonton, AB

"A striking and bold black fabric. I received several compliments. Comfortable cloth as well. Really enjoy this shirt."

Grant in Shaker Heights, OH

"Love the shirt"

mark in Forsyth, GA

"Nice weight and very comfortable."

Marc in PORTLAND, OR

"The fabric was heavier than I thought it would be. I really liked it...more like a denim weight. It's also surprisingly wrinkle resistant. I'll definitely order this fabric again."

Rudy in Snohomish, WA

"I like the feel and weight of this fabric to wear all year."

Gene in Howell, NJ

"Go-to oxford"

Peter in SAN FRANCISCO, CA

"Not a great feeling fabric. Feels like a cheap work shirt."

Paul in Calgary, AB

"Nice thick fabric, will last a long time. I got one with black buttons and one with horn and like both."

Theo in Boone, NC

"Love the look of it!"

Shawn in SAN FRANCISCO, CA

"Heavy as indicated. Best for cooler climate"

Kent in Houston, TX

"This shirt was perfect in every way and is the reason for my continued customer loyalty, however the last 2 purchases had minor discrepancies."

SHERMAN in Upper Marlboro, MD

"I love it, I've been living in it for weeks and it's great. About to order a white one. Wish there was a dark gray option, then I'd get two."

Matt in Fayetteville, AR

"Amazing value"

Doron in New York, NY

"Nice"

Ronnie in Porter, TX

"The fabric is heavy, as advertised, but it's also stiff. I was hoping it would be significantly softer."

Scott in Chappaqua, NY

"Great oxford. Not as heavy as I was expecting, though very structured. Not quite for me, seems very formal - but that can definitely be a good thing in the right situations, of course."

Eli in OAKLAND, CA

"It's fine and holdig up nicely."

Tom in San Marcos, TX

"Solid oxford- what I was looking for. Deep black."

Josh in New York, NY

"Worked well as a black casual business fabric"

Derek in St Catharines, ON

"Overall the shirt is great! Fabric is just a little heavier than I anticipated."

Aaron in London, England

"The fabric is quite thick, which doesn't always make for the most comfortable wear, but everything else about this shirt is amazing. It's very high quality material and looks great. Also never gets a single wrinkle on it no matter how hard I try."

Travis in SAN FRANCISCO, CA

"This fabric is more of an oxford than a smooth dress shirt - it's good, but buyers should be aware of the texture."

Eric in Los Angeles, CA

"appropriately heavy for winter"

Zev in New York, NY

"A sturdy fabric that loosens up and gains texture after a couple of washings"

David in SANTA FE, NM

"It perfectly fit my expectations. Quality fabric."

William in Hartford, CT

"An elevated basic"

John in Toronto, Toronto

"Very solid, I use this for official concerts, otherwise probably too heavy for casual wear"

Dumitru in Montreal, QC

"A warmer alternative than some others, but a little on the stiff side."

Ben in VIRGINIA BEACH, VA

"nice"

Joseph in Colts Neck, NJ

"Great stuff! Maybe a little bit too thick but still a very good choice!"

Jochen in Erzhausen, Hessen

"Great heavy oxford. Shrinkage after washing is a real thing, make sure to adjust measurements accordingly."

Jacob in LOS ANGELES, CA

"Good quality cotton. Excellent construction. Not a single loose thread in the stitching."

Kevin in OAKLAND, CA

"IT WAS MORE NOT AS HEAVY AS I THOUGHT IT WOULD BE WHICH WAS A GOOD WT.FOR ME"

Ray in BIRMINGHAM, AL

"Very good."

Howard in Ossining, NY

"Very nice weight fabric"

Leighton in Toronto, Ontario

"Great fall/winter"

joseph in Riverside, CT

"I really love this shirt!"

David in Punta Rassa, FL

"A great fit and material, as usual…"

Arad in San Bruno, CA

"A little heavy for my taste, definitely uncomfortable under a vest and jacket, the collar did not hold its shape, this material wrinkles very easily"

Carlos in Peyton, CO

"Sturdy and yet comfortable. Black seems to be a rare color for oxfords."

Diego in New York, NY

"Amazing fabric. This, in a button-down with a pair of jeans, couldn't be more of a classic fall staple (unless they figure out how to make it "pumpkin spice" I guess)"

Geoff in Whitchurch-Stouffville, ON

"When they say "heavy" they mean it! Rugged and tough, this shirt should easily last a decade! Wash in cold water and use a color safe detergent."

Bill in Easton, PA

"It's great"

Jim in Addison, TX

"Good heavy fabric - gets more comfortable with each wear. Doesnt stay crisp but works well with Jeans"

Michael in Roswell, GA

"Perfect on all counts"

Adriel in West Hollywood, CA

"This heavy oxford fabric is very durable, resistant to wear, and keeps its shape well. The black color is rich and deep. Highly recommended."

Andrew in Cheektowaga, NY

"Nice hefty fabric as with all the oxfords they have. Can't beat the price for the quality"

Riley in New York, NY

"Very good material just like in the web site says"

CARLOS in Hidalgo, TX

"Great heavy fabric"

Jeff in Gainesville , TX

"I think this has already been submitted"

Steven in Lower Hutt, Wellington

"Great weight and hand."

Ben in Tuscaloosa, AL

"I love this fabric! The thickness is just what I want and it launders well."

Ronald in RALEIGH, NC

"Basic black, very durable, takes laundering quite well."

John Robert in Honolulu, HI

"Awesome fabric - fairly wrinkle resistant for an Oxford cloth as well"

Gregory in Dulles, VA

"So happy with this shirt"

Oswaldo in GUADALAJARA, Jalisco

"Great!"

Matthew in Hillsdale, NJ

"Definitely a go-to shirt for the week-end."

Leslie in Bordentown, NJ

"Perfect fabric weight. Very saturated color."

megan in Spicewood, TX

"All good"

James in Hutto, TX

"Yes. Love the heavy oxford."

Craig in ATLANTA, GA

"The fabric was good and the way I create my own shirt in this website was so easy and I'm really happy with it"

Garen in Glendale, CA

"Grrreat starchability...."

Scott in Dallas, TX

"This fabric is a clean, sharp look. I wear this to work in a business casual setting."

Kathryn in Erie, CO

"This was a bit heavier than I expected. Also didn't seem as durable as other shirt fabrics I've gotten. If you're looking for something warm to be outdoors, but wasn't quite what I expected."

Adrian in New York, NY

"It s a heavy oxford and it looks solid. Great for a casual shirt to wear with jeans."

Michael in Brossard, QC

"The cut was good"

Kevin in Atlanta, GA

"Great shirt. Looks awesome received numerous acknowledgements with this shirt!"

Charles in Drexel Hill, PA

"Great"

Gary in New York, NY

"Love this shirt"

Christopher in Double Springs, AL
FAQs
How do I get started?

First, welcome to Proper Cloth. We specialize in custom dress shirts, suits, jackets and pants.

The first step would be to create a size using our Smart Size Quiz. We'll use your answers and data from thousands of satisfied customers to generate custom dress shirt sizes in your account.

To order, you can browse our gallery of curated, pre-styled options and purchase them, made to order in your custom size (and style, just click 'Customize' to modify).

Or

You can use our Design-A-Shirt tool to create a custom designed shirt from scratch, selecting the fabric and all style details (collar, pocket, buttons, etc), before applying your custom size! We highly recommend only getting one shirt to start so we can lock down the Perfect Fit (Guaranteed!).
How long does it take to have a custom shirt made?

Standard finish, casual wash, and non-iron shirts generally take 12 to 14 days to produce and deliver. In all cases, the promised delivery date range at checkout should be accurate (if not slightly conservative). Click here to see our typical delivery times based on product.

Orders including shirts with any style of Mother of Pearl buttons must undergo special Fish and Wildlife inspections that may cause delays. For this reason, the expected delivery date range will be extended by an additional 14 days.
Can I change the collar or cuff style? Can I add a pocket? Short sleeves? etc.

As a made-to-measure shirtmaker, we offer a wide variety of style features. Proper Cloth shirts can be styled with any of our 30+ different collar styles, 12 different cuff styles, and one of our 9 different pocket options can absolutely be added.

Just click the 'Customize' button next to any of our pre-designed, photographed shirts to edit the design however you wish!

Short Sleeve shirts can be ordered by specifying as such under the Cuff/Sleeve section of the Design-A-Shirt tool.
Do you make shirts that can be worn untucked?
How do I order a short sleeve shirt?
Do you offer rush delivery?

Rush delivery is not available for custom made products. With ready-to-wear and stocked products, we have a little more flexibility.
Still have a question? Get in touch
Ready to create your custom shirt size?
Answer 10 easy questions about your body and fit preference to create a custom size.
Our Perfect Fit Guarantee
If you're not entirely happy with the fit of your custom shirt (or anything else about the shirt) you can return it to us for a complimentary remake in a new size or style. We excel at making remakes quick and hassle-free. If remaking the shirt doesn't suit you, you can also return the shirt for a full refund.