American Pima Light Blue Heavy Oxford
$130
Select Shirt Size
Collar
i
Don't worry about shrinkage — we'll account for that automatically based on fabric choice. You can fine-tune your collar size down to 0.1" or adjust any of the 16 other customizable size parameters when you create a custom size.
Sleeve
i
Sleeve length is measured from the center back to the edge of the shoulder and down to the end of the cuff. Fine-tune your sleeve length down to 0.1" or adjust any of the 16 other customizable size parameters when you create a custom size.
Fit
i
Slim Fit will be nicely fitted, yet comfortable. Super Slim Fit is for those that prefer a particularly trim fit and are not bothered by slight tightness or limited range of motion. Classic Fit is a more generous, roomy fit that won't hug the body closely.
Shirt Style Details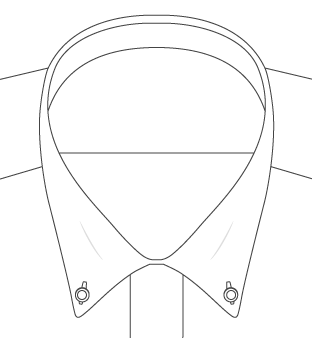 Soft Ivy Button Down Collar
Collar roll. And plenty of it. This decidedly casual collar style is more expressive than most modern button down collars.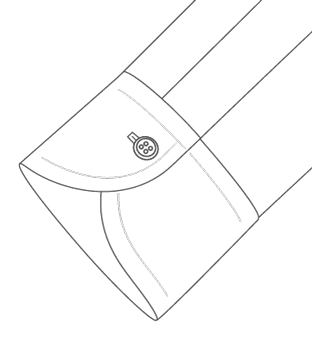 Soft Long One Button Cuff
The same shape as our long one button barrel, but without the stiff fusing. Soft, comfortable, and a good match for casual style shirts.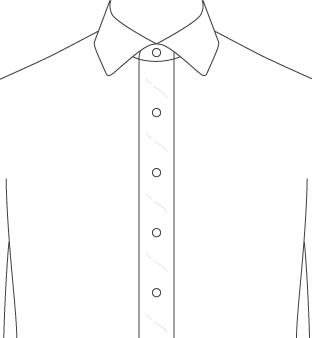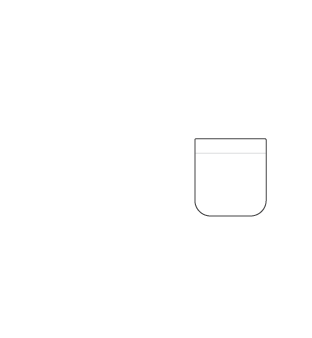 Soft Wide Front Placket, Rounded Pocket
A traditional take on the casual soft placket. The wider 1.5" unfused front makes for a perfect relaxed look.
Buttons

Roma Buttons i

A beautiful off-white faux mother-of-pearl button. Made from a high quality plastic resin. Very durable.

Bottom Hem

Rounded i

A 2" curved front and back shirttail hem with reinforced side seam gussets.
Change any of these shirt details, add a monogram, and more by customizing this shirt.
Fabric Info
Fabric Description
A classic heavy oxford in versatile light blue.
Woven with an 80s 2-ply construction, this fabric has a similar heft to our classic heavy oxford but with a slightly different matte finish. Hardy, remarkably soft, and incredibly resilient, American Pima cotton is ideal for oxford shirts and its look and feel only improve with wash and wear. This soft light blue is an all-rounder that belongs in every guy's closet. It looks effortless whether it's worn untucked with jeans or tucked into chinos under a sport coat.
Recommended Styling: Try it with our Soft Ivy Button Down collar, Soft Front placket, and Soft One Button cuff for a classic OCBD, or go with the Soft Roma Cutaway collar for more of a sprezzy Italian vibe.
Color & Pattern

Performance
4.81 / 5 Average rating
Recommended by 96%.
"Outstanding"

Franklin in Buies Creek, NC

"Slightly more prone to wrinkling than the standard heavy Oxford, and a bit softer. I like it, and will standardize on this for future OCBDs."

Roderick in Deep River, ON

"great oxford shirt"

Nicholas in HOUSTON, TX

"Good fabric for this time of year"

joseph in Ellicott City, MD

"Robust yet soft; will only get better with wear."

Blake in Cambridge, OH

"Great weight for colder months."

Rob in North Vancouver, BC

"The most plush oxford fabric I've ever come across. Absolutely wonderful."

Noah in West Bethesda, MD

"Great standard Oxford cloth. Very comfortable."

Chi in New York, NY

"Comfortable and easy to wear. Like the weight and opacity of the fabric on this shirt."

Michael in Silver Spring, MD

"Classic oxford - can't go wrong"

Will in New York, NY

"Nice oxford fabric, as expected"

Blair in Aurora, CO

"Great fabric very durable yet comfortable"

Spencer in Los Angeles,, CA

"Love this heavy oxford cloth. Really looks crisp!"

Brent in Fort Worth, TX

"VERY heavyweight and lovely color - almost iridescent. Perfect cooler weather slightly-more-formal-than-business-casual shirt. Would look great with trendier slacks or chinos."

Daniel in Mendota Heights, MN

"Nice standard oxford"

David in SAN JOSE, CA

"A little brighter color and lighter hand than expected, but still really like it."

Beau in Piedmont, CA

"Slightly thinner than the less affordable option. Very soft. Perfect light blue color. Highly recommended, my favorite Oxford shirt I own."

Jason in HOUSTON, TX

"Very light blue, not a soft blue either. More of an electric blue if that makes sense (skews closer to teal than navy). Good weight and quality though. Collars suddenly seem bigger."

Kirk in INDIANAPOLIS, IN

"It seems substantial. I haven't worn yet and will know more after I do."

Jeff in Ladera Ranch, CA

"Very stable requirement for any wardrobe."

Thomas in Kansas City, MO

"Great wardrobe staple. Have it in all colors."

ezra in BROOKLYN, NY

"Excellent weight very light blue oxford fabric, unfortunately the shirt itself shrinks much more than others so beware of some trial and error"

Peter in Siblingen, Schaffhausen

"Fabric is thicker and softer than the standard oxford. A major upgrade worth the extra money."

Matt in Downers Grove, IL

"Fabric is soft and color is accurate to website. I am very pleased."

Scott in Syosset, NY

"A really interesting combination. Somehow because of the lightness of the color it looks like a light shirt, but has a really beefy hand. This shirt feels like it will last for decades and break in beautifully."

Tim in Cos Cob, CT

"Beautiful material."

Clay in NAPLES, FL

"Fabric is high-quality and elegant yet durable. I often have to the wear the shirts on travel and for long days/meetings."

Daniel in ALEXANDRIA, VA

"Love the color and weight of the fabric, light enough for summer and heavy enough for fall. Fabric wrinkles very easily."

James in Jacksonville, FL

"Easily my favorite oxford fabric. Lighter blue than the traditional heavy oxford."

Gregory in SEATTLE, WA

"Great colour"

lachlan in Brisbane, Queensland

"Classic oxford pattern but quite heavy - couldn't wear this in the summer"

Andrew in NASHVILLE, TN

"light yet sturdy. Great value!"

Andrew in SANTA MONICA, CA

"I love the color and hope (!?) it will get softer with wear. It's still a bit stiff."

Brian in Allendale, NJ

"Nice classic oxford"

Maciej in Wellington, Wellington

"Sturdy fabric, great 3-season shirt"

Thomas in New York, NY

"My wife's favorite. Classic and hardy. I like the lighter feel compared to the generic "heavy" oxford cloth. Worth the extra price."

Tyler in Madison, WI

"fair"

Moshe in Potomac, MD

"Nice and sturdy, but could have better wrinkle resistance."

Chris in Calgary, Calgary

"Nice all around fabric. A staple in my closet."

Patrick in Sylvania Township, OH

"Not my favorite of the PC shirts I've bought to date. It feels great on the skin, but "looks" cheap and more casual than in photos."

Sameer in WASHINGTON, DC

"Not wrinkle resistant at all the fabric is heavier than I thought it would be."

David in YORBA LINDA, CA

"really nice shirt"

Adam in Hoboken, NJ

"Fabric is ok. Seems a bit rough and casual. Stitching the larger problem. See above."

Steve in Washington, DC

"The best!"

Brian in ALEXANDRIA, VA

"This is my new favorite office shirt!!"

Chris in MINNEAPOLIS, MN

"Perfect Oxford cloth - thick and sturdy. Great color too."

patrick in Bexley, OH

"Really nice and soft, very comfortable to wear"

Jos in Cambridge, Cambridgeshire

"Great fabric - definitely a little softer and lighter than the heavy oxford cloth and love the light blue color"

Kevin in HOUSTON, TX

"Like all of the products i've purchased the feel is top quality."

Douglas in Fredericksburg, VA

"Heavy oxford cloth that drapes well, and is comfortable to wear. Good to dress up jeans."

Ashley in Madison, WI

"Terrific sturdy fabric that becomes softer with washings."

ALBERT in New York, NY

"Really nice handfeel and color, which is slightly more saturated than in the pictures. The perfect blue oxford."

Herv in Westborough, MA

"Fair. Way too much shrinkage"

Kelly in Jersey City, NJ

"The shirt is a perfect weight."

ben in SACRAMENTO, CA

"Fabric is rigid prior to washing but does soften up quite a bit after a couple of washes. Color is classic light blue OCBD. Fabric is lighter than the standard PC OCBD fabric"

Ayan in NEW ORLEANS, LA

"Really excellent OCBD! First-Class Oxford fabric."

NORMAN in CHARLOTTE, NC

"Nice thick oxford, great shade of blue."

Robert in Valley Cottage, NY

"This is a great fabric. I've had a lot of oxfords and this one is high quality!"

Matthew in Calgary, Alberta

"More natural looking that the standard heavy oxford. Perfect."

Gregory in New York, NY

"Great, slightly lighter and easier wearing take on the heavy Oxford. Great for a "universal shirt" that can work under a jacket for work or alone casually."

Kenneth in Beverly Hills, MI

"Good solid oxford cloth for a wardrobe staple ocbd. This one is a little more on the dressy side due to the tight texture and lack of color variegation. I'm hoping this will take on a more laid back feel after a few washes"

Adam in PORTLAND, OR

"I can wear this fabric on both formal or casual dress code."

Huan in Philadelphia, PA

"Classic fabric for a classic semi-casual shirt."

Jerome in Sebastopol, CA

"nice weave"

David in PORTSMOUTH, VA

"Great everyday shirt. Fabric works in most climates."

Jason in Wilmington, NC

"Nice fabric. Just as described"

William in Dundee, Dundee

"Soft and suppke"

Steven in Lincroft, NJ

"Durable and comfortable. Will get better with repeat washings."

Christian in Houston, TX

"Great fabric, brighter than I saw online"

James in Hudson, NY

"Great fabric"

Ryan in Fort Collins, CO

"Good fabric for an everyday button down with jeans."

Chris in Windsor, NS

"Great!"

Glen in Potomac, MD

"Thick, but still breathable. Resists wrinkles and looks excellent with dress pants or jeans."

Jennifer in BOSTON, MA

"classic, will wear in nicely and last a long time"

Tom in DENVER, CO

"Great look / very comfortable"

Mark in BROOKLYN, NY

"high recommend nice fit and texture"

Stefano in Agno, Ticino

"Nice shirt"

samuel in SAN MATEO, CA

"Classic oxford shirt. Can't go wrong"

Adam in Scarsdale, NY

"As advertised. If you are looking for a traditional OCBD, this is your fabric. Just wish Proper Cloth would lower the collar buttons slightly as their current placement causes an exaggerated collar roll."

Peter in Philadelphia, PA

"Looking forward to winter!"

James in Coventry, -

"Love this fabric. The weight and texture is awesome."

Sagan in New York, NY

"The fit is still too loose after 2 sessions of being remeasured."

Shiful in Flushing, NY

"The best oxford fabric in my experience. Feels borderline formal / casual and would as either dress or semi-casual work. Oxford weave is not very noticeable which makes the shirt feel like a dress one."

Denis in Jersey City, NJ

"A substantial, breathable, and comfortable plain light blue oxford fabric. Checks all the boxes!"

Daniel in London, London

"Classic oxford cloth, quite heavy. Does wrinkle but that's pretty normal for an oxford cloth."

Scott in Coburg, Victoria

"Very sturdy. I love the heaviness. It takes starch well."

Randall in Houma, LA

"Classic Oxford shirt."

Rob in Burlington,

"A+"

Steve in West Chester, PA

"Wonderfully soft"

Joshua in Pineville, NC

"I like the fabric. Have always worn Brooks Bros, GANT and SERO oxfords. Yours are as good, or better."

Stuart in Burlington, VT

"Great experience overall. One issue I have had with the two shirts I ordered is the fabric. Since there are no samples available, it is hard to determine the feel of the fabric including the thickness from the web site. My last order was for a flannel shirt. It was flannel but much thinner than I wanted almost like a… standard cotton shirt. So it did not meet by expectations. Is there a way to get fabric samples to determine what fabric to order?"

Tom in PONTE VEDRA, FL

"Great oxford fabric."

Benjamin in Madison, WI

"A great winter fabric that is not see through at all."

Kamil in Springfield Gardens, NY

"Everyone should have this shirt. The quality is just amazing!"

Mohamed in KNOXVILLE, TN

"It shrinks more than anticipated."

Matt in New Canaan, CT

"The American Prima fabric is absolutely worth the premium over the basic heavy oxford fabric. The softness of this fabric is incomparable. The light blue fabric is the epitome of what I would think of as the classic light blue oxford shirt."

Hudson in Coatesville, PA

"Just as desired."

Reynolds in Florence, SC

""

Todd in Helmetta, NJ

"Wonderful weight and heft to this shirt"

Michael in Northbrook, IL

"Excellent Oxford cloth with a great drape and good fit. Obviously needs ironing but provides a great line with a good set of trousers."

Shyam in London, London
FAQs
How do I get started?

First, welcome to Proper Cloth. We specialize in custom dress shirts, suits, jackets and pants.

The first step would be to create a size using our Smart Size Quiz. We'll use your answers and data from thousands of satisfied customers to generate custom dress shirt sizes in your account.

To order, you can browse our gallery of curated, pre-styled options and purchase them, made to order in your custom size (and style, just click 'Customize' to modify).

Or

You can use our Design-A-Shirt tool to create a custom designed shirt from scratch, selecting the fabric and all style details (collar, pocket, buttons, etc), before applying your custom size! We highly recommend only getting one shirt to start so we can lock down the Perfect Fit (Guaranteed!).
How long does it take to have a custom shirt made?

Standard finish, casual wash, and non-iron shirts generally take 12 to 14 days to produce and deliver. In all cases, the promised delivery date range at checkout should be accurate (if not slightly conservative). Click here to see our typical delivery times based on product.

Orders including shirts with any style of Mother of Pearl buttons must undergo special Fish and Wildlife inspections that may cause delays. For this reason, the expected delivery date range will be extended by an additional 14 days.
Can I change the collar or cuff style? Can I add a pocket? Short sleeves? etc.

As a made-to-measure shirtmaker, we offer a wide variety of style features. Proper Cloth shirts can be styled with any of our 30+ different collar styles, 12 different cuff styles, and one of our 9 different pocket options can absolutely be added.

Just click the 'Customize' button next to any of our pre-designed, photographed shirts to edit the design however you wish!

Short Sleeve shirts can be ordered by specifying as such under the Cuff/Sleeve section of the Design-A-Shirt tool.
Do you offer rush delivery?

Rush delivery is not available for custom made products. With ready-to-wear and stocked products, we have a little more flexibility.
Still have a question? Get in touch
Ready to create your custom shirt size?
Answer 10 easy questions about your body and fit preference to create a custom size.
Our Perfect Fit Guarantee
If you're not entirely happy with the fit of your custom shirt (or anything else about the shirt) you can return it to us for a complimentary remake in a new size or style. We excel at making remakes quick and hassle-free. If remaking the shirt doesn't suit you, you can also return the shirt for a full refund.